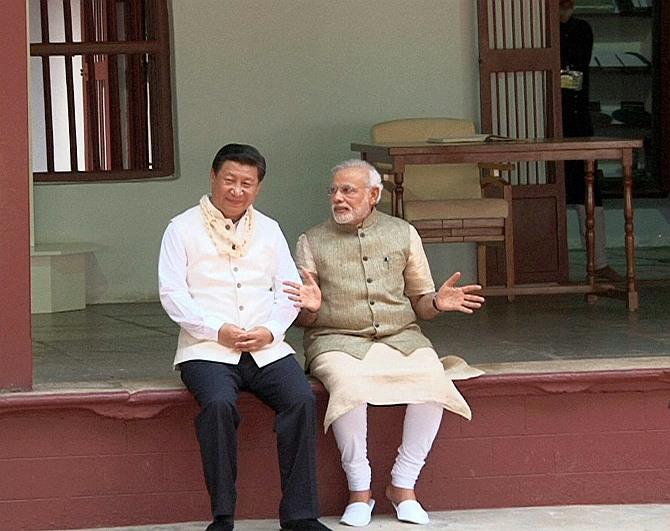 'While visits and personal meetings are useful, changes of strategic significance have occurred recently with Beijing trying to take the lead, which Modi must take note of.'
Srikanth Kondapalli warns of the pitfalls that await the prime minister as he prepares to visit China.
Prime Minister Narendra Modi is no stranger to China, having visited that country four times previously as Gujarat chief minister. Hence, his visit to China this fortnight is expected to be smooth. He has also met with the current political dispensation in China at various fora.
He met President Xi Jinping at Fortaleza in Brazil at the BRICS meeting on July 14 last year; during Xi's visit to India in September; at the G-20 meeting in Australia, and with Premier Li Keqiang at Naypyidaw, Myanmar, at the East Asian Summit last November.
Meetings with State Councilor Yang Jiechi and Foreign Minister Wang Yi must have also provided the prime minister with a peek into the Chinese thinking process.
While these visits and personal meetings are useful in the 'learning curve' on China, a number of changes of strategic significance have occurred recently, with Beijing trying to take the lead.
First, Modi needs to understand that tactical measures will not suffice to address China's current strategic rise. China has grown to such an extent that it is today trying to actively influence global and regional environments and reshape the system to its advantage. It is reviving the Middle Kingdom phenomenon.
Of late, China is surprising the international community with its grand initiatives, even as it provides the least inclination to the international community about its real intentions.
Xi's May 2014 CICA Summit meeting speech on Asia for Asians or the continental and maritime Silk Roads initiatives in 2013, the Asian Infrastructure Investment Bank in 2014 and the Bandung Conference speech in April 2015 are the latest.
Moreover, in a strident note, Xi, in a speech on foreign policy in November 2014, vowed to protect China's 'legitimate rights and interests,' 'protect China's overseas interests and continue to improve our capacity to provide such protection' and oppose 'the arbitrary use or threat of force' -- indicating China's expanded missions in global domains, including in areas of Indian influence.
Second, Modi needs to understand that the ground reality in Asia is changing fast. China's outwardly Monroe Doctrine has held sway over the East and South China Seas, where its anti-access and area denial strategies have imposed high costs on the United States even as the regional powers are too busy fending for themselves.
Towards the western regions, China's initiatives today have integrated these regions to feed into China's rise. Kazakhstan and Turkmenistan today are too dependent on China to follow autonomous policies. Smaller countries like Nepal, Myanmar, Pakistan, Malaysia, Mongolia and others are engrossed with domestic issues and worried about Chinese wrath.
In other words, China is looking for regional satraps in this global and regional transition period. India then has to be clear-headed on the tectonic shifts unfolding in Asia currently and at a minimum see that it is not marginalised.
While asymmetries in power between Beijing and New Delhi are increasing, India should understand that even though similar asymmetries in power existed between the US and China, the latter elicited concessions from Washington.
Third, Modi needs to understand that China follows the policy of 'talking sweetly, yielding none' on contentious bilateral issues. This is generally adopted to buy time or influence and soften the other side through business deals.
For instance, the 'breakthrough' visits by Jawaharlal Nehru in 1954 and Rajiv Gandhi in 1988 hardly yielded positive results for India on contentious issues like Kashmir, the territorial dispute, Pakistan and on others.
Indeed, when then prime minister Atal Bihari Vajpayee raised the issue of the Sakshgam Valley (which Pakistan transferred to China in 1963) at the commanders conference in 2000, China has since almost shut down any concrete discussion on the territorial dispute with India.
Fourth, Modi needs to understand that with China's rise there has also been a rise in its Cold War mentality. Many officials, scholars and media personnel in China, in the light of the two decades of high growth rates, as well as due to China's traditional policy of balancing India with Pakistan, sport a Cold War mentality towards India. Unfortunately, one finds very few sane voices in China on India.
Fifth, Modi needs to understand that China follows a liangshou (two hands -- soft and hard) approach of blowing hot and cold, sometimes simultaneously. In the run-up to Prime Minister Modi's visit, several statements from China indicated the revival of 'India as an important neighbour', 'emerging country' in addition to the traditional slogans on being 'large neighbours', 'civilisational States' and the like.
Beyond this veneer, India needs to act based on any attempts by China to changes borders, the Indian Ocean or in other areas.
ALSO READ
Image: Prime Minister Narendra Modi with Chinese President Xi Jinping at the Sabarmati Ashram in Ahmedabad.
Srikanth Kondapalli is Professor in Chinese Studies at the Jawaharlal Nehru University, New Delhi.