The judgment in the 2G case is a huge, huge, indictment of the criminal investigation and justice system, says R Jagannathan.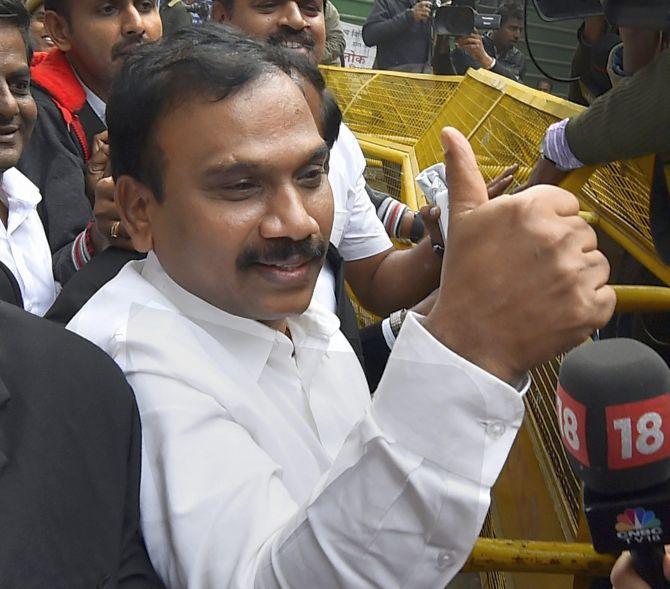 IMAGE: Former telecom minister A Raja speaks to the media after he was acquitted by a CBI special court in the 2G scam case on December 21, 2017. Photograph: Kamal Singh/PTI Photo
The CBI special court's decision to acquit all the accused in the 2G scam -- including Andimuthu Raja and M K Kanimozhi, M Karunanidhi's daughter -- is essentially a big win for crony capitalism.
Or, rather, crony socialism, since the whole justification for giving spectrum in 2008 at 2001 prices was post facto justified by the need to make telecom prices affordable.
This was the crux of then communication minister Kapil Sibal's 'zero-loss' theory.
Judge O P Saini -- who previously exonerated former finance minister P Chidambaram because no case was made out that he benefited from going along with Raja's flawed decisions -- has essentially ruled that the prosecution has to prove actual skulduggery to make an executive decision a mala fide one.
Without closing the financial loop connecting ministerial decisions to favours, the case does not stand.
No less than three politicians (Raja and Kanimozhi of the DMK, and Chidambaram of the Congress party), two bureaucrats working with Raja (Siddharth Behura, then telecom secretary, and R K Chandolia, Raja's private secretary), and 15 businessmen and top executives, including those from two big business groups (Anil Ambani and the Ruias) were among the accused at various stages.
Chidambaram, who was finance minister when Raja was busy pulling off his 2G caper, was the target in a separate case filed by the irrepressible Subramanian Swamy who wanted him included as one of the accused in the scam.
He got his reprieve early in 2012 when the same judge exonerated him by observing that merely going along with Raja's decisions on spectrum pricing or allowing companies who got under-priced spectrum to sell shares at huge premiums did not amount to any criminal conspiracy on his part.
This is a huge, huge, indictment of the criminal investigation and justice system that what looked like an open-and-shut case of favouritism by A Raja -- which both then prime minister Manmohan Singh and then finance minister Chidambaram probably suspected and tried to prevent ineffectually -- is now being made to look like a case of major victimisation of the innocent.
The damage done to the cause of justice is incalculable.
The Saini verdict also indirectly shows the Supreme Court in bad light, for the highest court had in 2012 cancelled all the 122 licences allocated by Raja on the ground that this was done in a 'totally arbitrary and unconstitutional' manner, with three telecom companies being asked to pay a fine of Rs 5 crore each for offloading their shares to foreign partners without starting any business.
An inkling of the CBI court's final verdict could probably have been discerned in 2012 itself when Judge Saini let off Chidambaram from being added as an accused in the 2G scam case. The judge said in his order: 'In the end, Mr P Chidambaram was party to only two decisions, that is, keeping the spectrum prices at 2001 level and dilution of equity by the two companies (Swan and Unitech). These two acts are not per se criminal.'
'In the absence of any other incriminating act on his part, it cannot be said that he was prima facie party to the criminal conspiracy.'
Last Thursday's verdict only takes the same logic forward. The CBI, which put the losses due to Raja's 'arbitrary' decisions on spectrum allotment at Rs 30,000 crore, has been told that its entire case is built on sand -- a mere conjecture that losses to the exchequer effectively meant that there was some hanky-panky and corruption.
The need to prove the financial trail by linking executive decisions to actual pecuniary advantage gained by them has not been proven.
The logic given to exonerate Chidambaram has probably been used to give the same benefit of the doubt to the main and subsidiary accused.
It is possible that the CBI will try to seek a review of the judgment by filing an appeal, but in the absence of direct evidence of someone making money from the decisions, it is difficult to see the possibility of a total reversal of the verdict.
Even if it comes, it may take years to come.
While we will have to wait for Judge Saini's full judgment to figure out the logic that decided his verdict, there is little doubt that a crime was committed, and most of the key players knew something wrong was about to happen in 2007-2008.
From then PM Manmohan Singh, who tried to dissuade Raja from allotting spectrum at 2001 prices, to Chidambaram and his finance secretary D Subbarao, who wanted spectrum sold through a market-discovered price, the top ministers knew what Raja was up to, and what he was about to do may be morally indefensible.
More so when Raja additionally and arbitrarily advanced the cut-off date for licence allotment from October 10, 2007, to October 1, thus eliminating 408 of the 575 applications for telecom licences, which included free spectrum to anyone who paid Rs 1,650 crore for the licence.
If Manmohan Singh was not worried about Raja's decision, his principal secretary would not have written to the telecom ministry after the licences were allotted on January 10, 2008, that 'the prime minister wants this informally shared with the department (that) he does not want a formal communication and wants PMO to be at arm's length.'
However, this was not to be, and Raja's principal argument throughout his trial, in which he represented himself, was that there can be no conspiracy when he had kept everyone informed of what he was doing.
By bringing in Manmohan Singh and Chidambaram, he effectively made it impossible for the judicial system to convict him without implicating -- at least morally -- the highest political executives in the land.
The worst indictment of the system is that a decade after the alleged crime, all those who went after the corrupt have egg on their faces while the accused are celebrating.
The scam happened in 2007-2008, the comptroller and auditor general came out with his revenue loss figure of Rs 1.76 lakh crore in November 2010, Raja was arrested in February 2011, the charges were framed in October that year, the trial began in November 2011, the Supreme Court cancelled 122 licences in February 2012, and five-and-a-half years later, no one is guilty.
R Jagannathan is Editorial Director, Swarajya.