Mira's films are alive, rocking and so true to the reality I know.
They are gifts that I keep revisiting, and I cannot wait for what more she will share with us, notes Aseem Chhabra.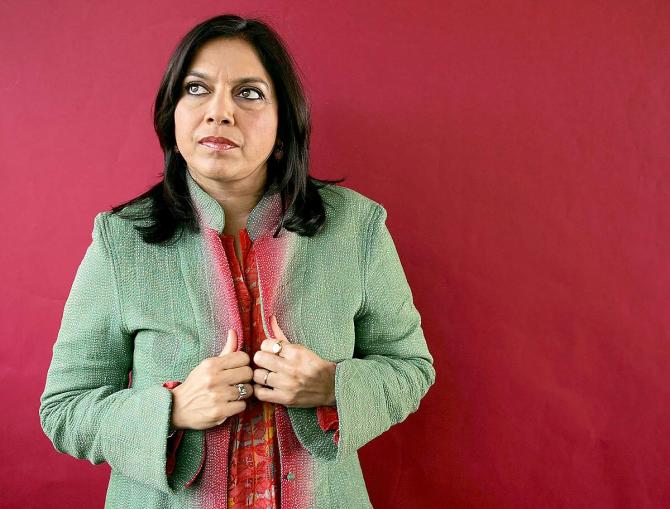 In 1983, my late journalist friend Arthur J Pais told me that he was going to interview film-maker Mira Nair for India Abroad. The interview was for her 52-minute long documentary, So Far From India./p>
I had seen the charming film -- the story of a Gujarati immigrant in New York, who works at a subway station newsstand on Manhattan's Upper West Side and his trip back to India to visit his family, including wife and a newborn baby he had not met.
I had loved the film and had insisted that Arthur take me along with him, as his assistant. He agreed saying I could be his photographer.
We did not have a flash, and Mira, being a director, politely told us there was not enough light for me to take photographs.
But it was fascinating listening to her speak.
It was first time in my brief career as a journalist where I had seen a film and then heard the director speak about it.
As I have told Mira a couple of times in all these years, that interaction convinced me I wanted to become a film journalist, to speak to film=makers and share their voices with the readers.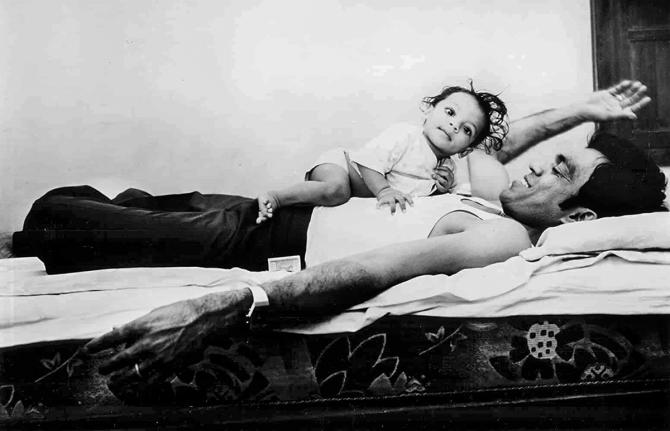 Last week -- 37 years after I first met her -- Mira Nair was presented with the Jeff Skoll Award for Impact Media, one of the Toronto International Film Festival's tributes.
Other tributees included Kate Winslet, Anthony Hopkins and Chloé Zhao, whose film Nomadland won the audience award at this year's TIFF.
Mira was presented the award by Tabu, who has worked on two projects with the director -- The Namesake and A Suitable Boy (this year's closing night event at TIFF).
In accepting the award, Mira said, 'I have often said if we don't tell our own stories, no one else will. But it doesn't stop there. In telling these stories, I have also discovered the power of listening, of the possibility of making bridges, the possibility of translation, of being porous.'
'The award tells me that my art and my films have actually made change. That is such a beautiful feeling.'
It is a well deserved recognition for Mira, as a woman director, a person of colour and an immigrant in the US and Uganda, while she also makes her third home in India.
Baring a few projects where she was the director for hire, Mira has consistently strived to make films that made a difference in the lives of the audience, while also enthralling and entertaining them.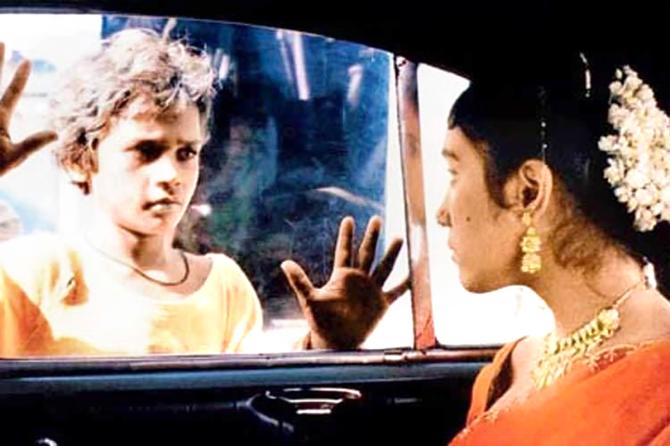 After So Far From India, Mira went on to make her first feature Salaam Bombay -- a heartbreaking and yet often delightful tale of street kids in Bombay, written by Sooni Taraporevala, her friend from Harvard University.
She cast real street kids, had them participate in a workshop conducted by her theatre guru Barry John. And then she made the film with some trained actors but mostly young kids who were playing scenes out of their own lives.
Salaam Bombay went to receive an Oscar nomination in the Foreign Language Film category (only one of three Indian films to be nominated). It is an essential film, a slice-of-life story about the street kids of Bombay that few of us ever acknowledge.
I have lost count of the number of times I have seen the film and how it always makes me cry, the haunting soundtrack by L Subramaniam and the story of a young boy lost in the big bad world of Bombay.
His only desire is to escape the life of drudgery, drugs and the world of prostitutes and pimps.
But alas, he is never able to save enough money and does not know where his home is.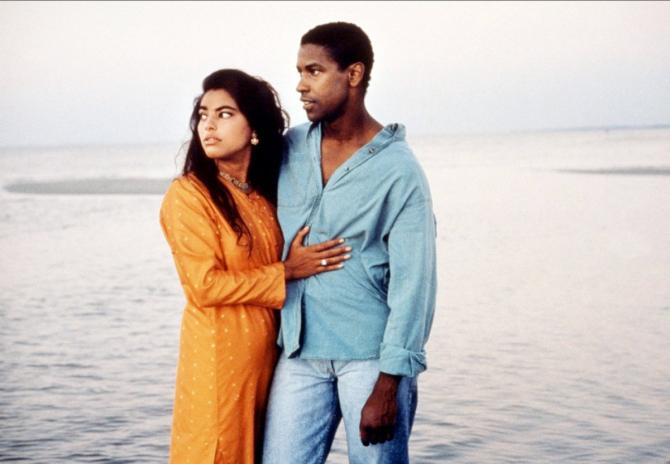 For her second film, Mississippi Masala, Mira and Sooni traveled through America's South, threading together stories of Indian motel owners, some who had fled Idi Amin's Uganda.
They weaved a complex narrative of displacement, migration, and an inter-racial romance that featured a first time actress -- the British-Indian Sarita Choudhury and the young Hollywood star, Denzel Washington, who had already won an Oscar in the Best Supporting Actor category.
It was while watching Mississippi Masala that I realised why Mira Nair's voice mattered.
Trained as a documentary film-maker at Harvard, she had started to observe and develop narratives around the lives of immigrants, stories she understood, that were a part of who she was.
Mississippi Masala opened in 1991.
I had already been in the US for 10 years.
Hanif Kureishi wrote about his Pakistani-British life in scripts of My Beautiful Launderette (1985) and Sammy and Rosie Get Laid (1987), and later in his novels, The Buddha of Suburbia (1990), The Black Album (1995), plus the short story My Son The Fanatic (1994).
A couple of years after Mississippi Masala, British-Indian film-maker Gurinder Chadha exploded on the screen with her film Bhaji On The Beach (1993).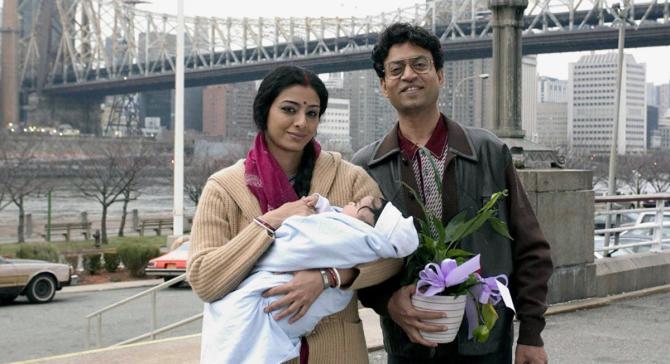 But I was looking for my experience as an immigrant in America.
With Mira's films, I felt she could read my heart, my struggles, my longing to be an Indian, as well as an American.
She did it with a dose of humour, and often a tinge of sadness.
I am not Gujarati, nor do I know about motel life, but Mississippi Masala spoke to me, as did Mira's finest film of her career, The Namesake, based on an equally brilliant novel by Jhumpa Lahiri.
Again, my immigrant experience and even my background in India was much different than that of The Namesake's Ashoke and Ashima Ganguly. But I recognised their lives, understood their confusions and identity crisis in a foreign land.
The Namesake -- the book, but more so Mira's film -- felt like home to me.
It was the comfort I was seeking in cinema and arts, while living as an Indian-American in New York City.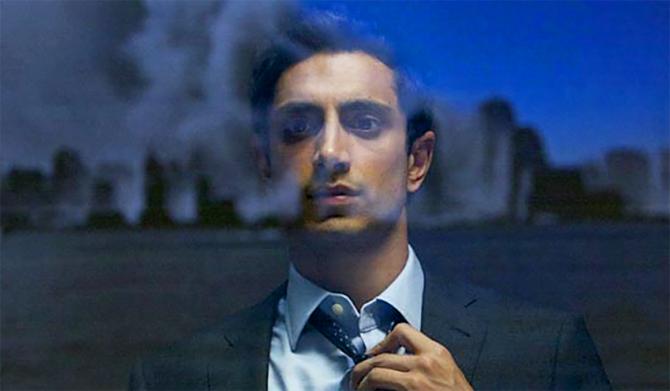 Later, Mira developed a film about a Pakistani-American immigrant.
The Reluctant Fundamentalis (2012) went beyond the thin novel that Mohsin Hamid wrote in 2007.
Although it did not wholly succeed, Mira captured the warmth of Pakistani homes, including that fabulous opening party hosted by Om Puri and Shabana Azmi's characters, with qawwali by Abu Muhammad and Fareed Ayaz.
For all of us who lived through the September 11 terrorist attacks and the hate crimes that were inflicted on brown immigrants, whether Arabs or South Asians, the film showed us our worst fears. Those were memories that frightened us.
But the film was also important in making us understand how a man, who loved America, could change so dramatically.
The disillusionment Changez, Mira's lonely Pakistani protagonist (played with a lot of empathy by the wonderful Riz Ahmed), feels with America is so believable and relatable.
His mind is equally questioning the ethical decay of the capitalist system.
And so when Atif Aslam sings Faiz Ahmed Faiz's poetry Mori Araz Suno, one cannot help but care for this young man, even weep a little with him.
He had everything going for him in the US, yet now he feels an alien in a world where he stands out, as brown, as Muslim, as a Pakistani.
Earlier, Mira had examined the plight of Cuban immigrants in her 1995 film, The Perez Family.
The characters arrive in Miami as part of the Mariel boat lift, facing hardships in the new land, but Mira beautifully paints the film with brushstrokes of humour, sensuality, memories and nostalgia for what they have lost.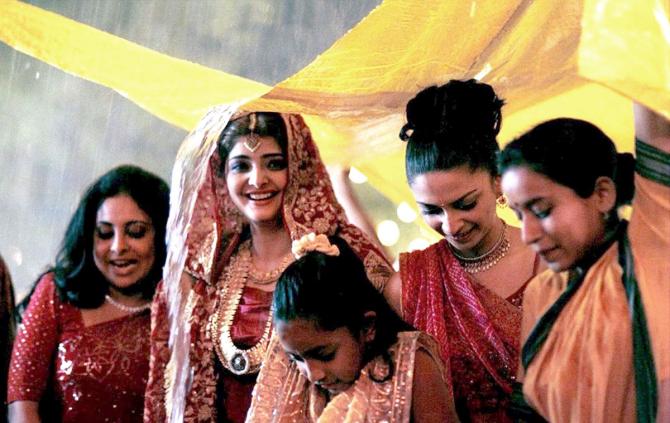 How can I forget the Golden Lion winner from Venice, Monsoon Wedding, where Mira examines post-liberalisation India, the exuberant Punjabi culture of Delhi and an upstairs-downstairs story that has all heart? Gosh, what an amazing soundtrack the film had!
I danced at so many parties to Sukhwinder Singh's voice when he belts out the song Aj Mera Jee Karda.
Sometimes I feel Mira Nair makes her films just for me.
I am sure many of her fans around the world also believe that.
We see ourselves in her films, even when she sets the plot in the early 1950s -- her recent foray into making a series based on Vikram Seth's A Suitable Boy.
Watching A Suitable Boy, I began to imagine that all of the show's characters were my friends.
I wanted to visit them in their homes, sit in their living rooms and gossip with them over tea, wear their clothes and fall in love as they did.
Mira's films are alive, rocking and so true to the reality I know.
They are gifts that I keep revisiting. And I cannot wait for what more she will share with us.