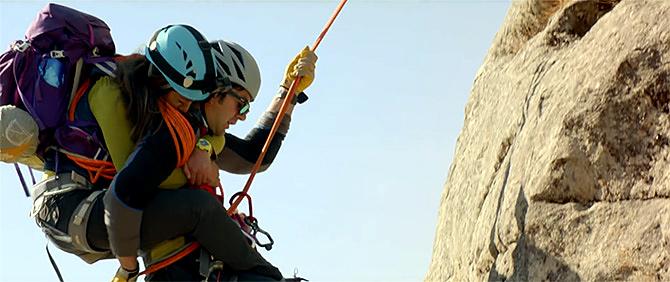 Daredevilry is second nature to Bollywood actors.
Be it riding horses, leaping off cliffs or sprinting atop moving buses and trains, the crazier the better.
You can only imagine how much adventure sports appeal to the adrenaline junkie in them.
In Sunny Deol's Pal Pal Dil Ke Paas, his debutant son Karan plays a Manali adventure guide, skilled in the field of rock climbing and rappelling.
Both Deol Jr and his debutante co-star Sahher Bambba went through extensive training in these techniques before shooting.
Sukanya Verma lists popular adventure sports you'll spot in Bollywood movies.
Bungee jumping, Main Prem Ki Deewani Hoon
Hrithik Roshan and Kareena Kapoor's whirlwind romance in Sooraj Barjatya's Chitchor rehash involves song, dance and adventure-filled dates involving bungee jumping and what not in New Zealand passed off for India.
Scuba diving, Blue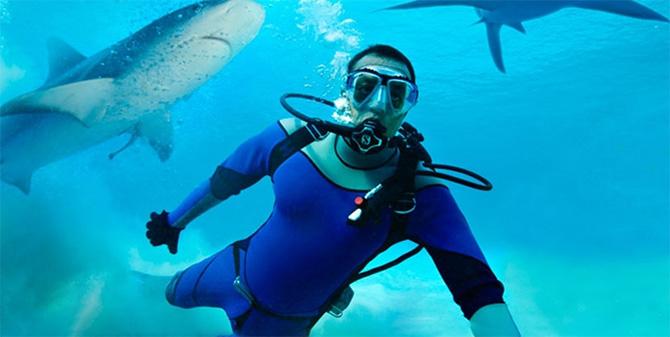 A good deal of the dreadful Blue takes place underwater when Akshay Kumar, Sanjay Dutt and Zayed Khan scuba dive in pursuit of a treasure inside a sunken ship.
While Blue scores on striking visuals, its ambitions ring hollow.
Snorkelling, Ek Villain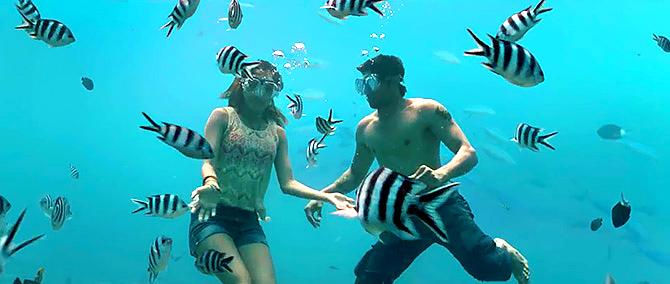 Bollywood's terminally ill characters have a thing for daredevilry.
Shraddha Kapoor's dying character has quite a lot on her mind and bucket list in the desi version of South Korea's I Saw the Devil. Beau Sidharth Malhotra joins in as the two find much to snorkel and snuggle in the chartbuster Galliyan.
Sky diving, Zindagi Na Milegi Dobara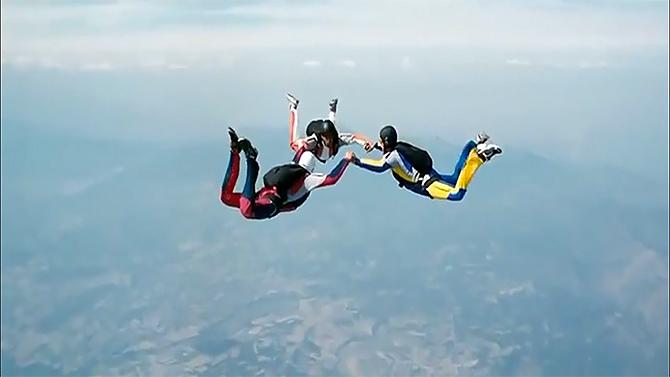 In Zoya Akhtar's scenic slice of friendship, three buddies go on a trip to Spain as part of one's bachelor party holiday.
They have a unique pact wherein every single one will pick an adventure sport of their liking that all three must participate in.
There's scuba diving, a bull race and sky diving.
Ice climbing, Shivaay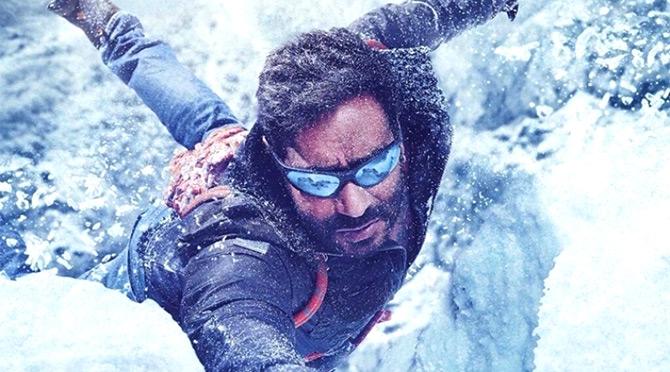 Ajay Devgn's acts, produces and directs this slick production that fans his machismo but makes little sense.
And his stylish introduction scene where Devgn shows off his self-styled ice climbing skills against a thumping Shiva chant is part of his 'piece of cake' swagger.
Jet skiing, Partner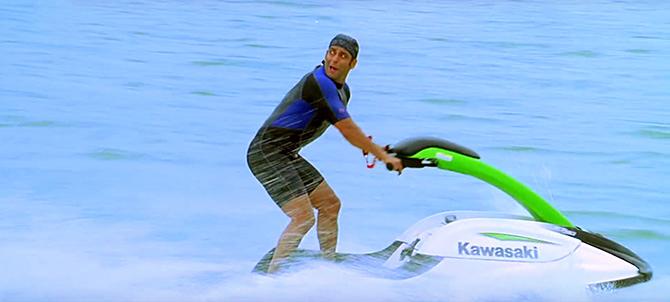 In this Hitch rip-off, Salman Khan plays a love guru helping Govinda date the girl of his dreams.
Part of its mindless comedy involves Salman's jet skiing adventure cut short after his nephew's not-a-toy rocket activates and all hell breaks loose.
Mountain trekking, Yeh Jawaani Hai Deewani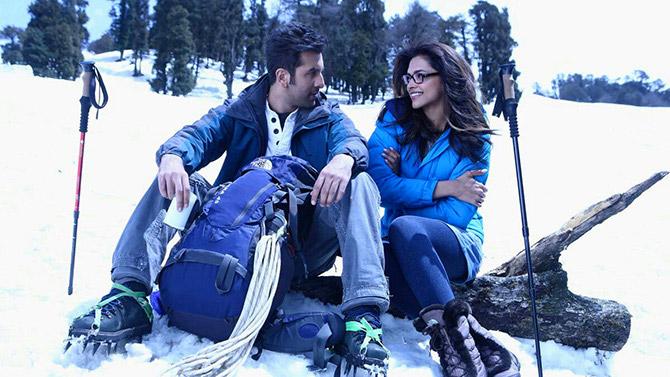 College friends go hiking into the Himalayas and discover feelings for each other in Ayan Mukerji's breezy romance.
Apart from providing picturesque splendour, the sequence opens us to Ranbir Kapoor's wandering soul and Deepika Padukone's unflinching passion.
Parasailing, Dulhan Hum Le Jayenge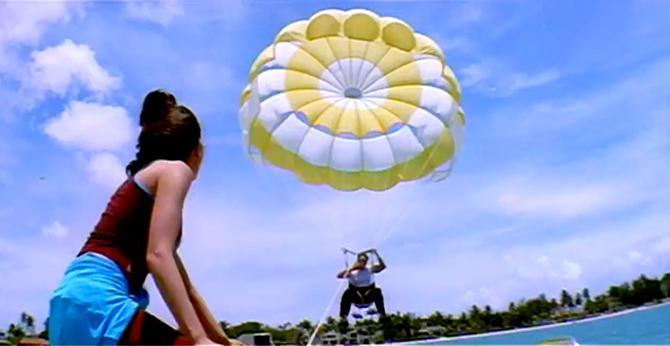 Often songs shot on the beach or sea involve fun and games.
One gets a glimpse of this trend in Salman Khan and Karisma Kapoor's parasailing adventures while shaking a leg to a Himesh Reshammiya song in Dulhan Hum Le Jayenge.
Skiing, Mujhse Dosti Karoge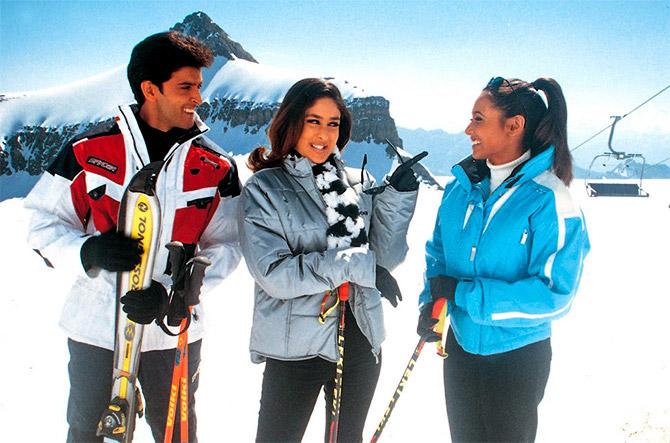 Hrithik Roshan, Kareena Kapoor and Rani Mukerji flirt and flurry over a skiing session in Yash Raj Films' second home Switzerland to highlight the lifestyle of the rich and beautiful in typical silver screen tradition.
River rafting, Jab Tak Hai Jaan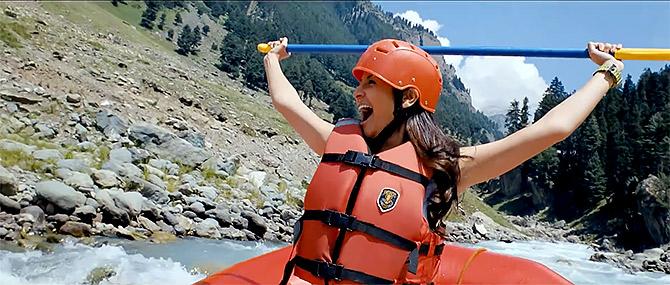 Anushka Sharma is a picture of overjoy as she has the time of her life river rafting in Jab Tak Hai Jaan.
Paragliding, Dhoom 2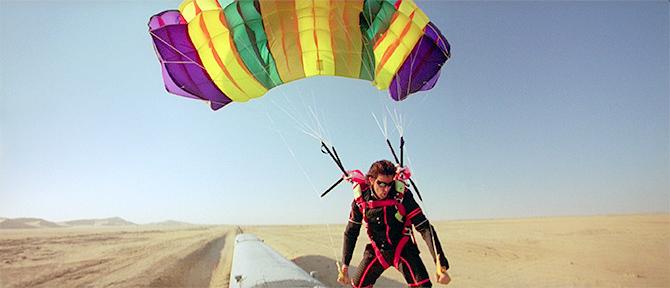 Thrills and tricks are the heartbeat of Dhoom movies.
Hrithik, Bollywood's resident daredevil, doles out both in abundance to leave a lasting impression as the smooth con artist in Dhoom 2. His parasailing entry scene in Namibia desert is a case in point.
Water skiing, An Evening In Paris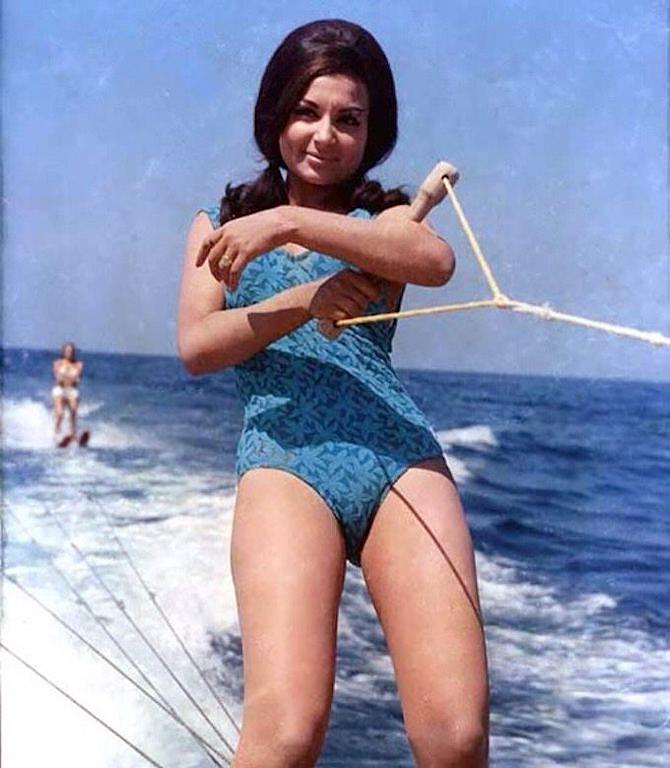 Who can forget a water skiing Sharmila Tagore in that iconic bikini while Shammi Kapoor, dangling from a helicopter, courts her to the tune of Aasman se aaya farishta?
Water skiing, Samundar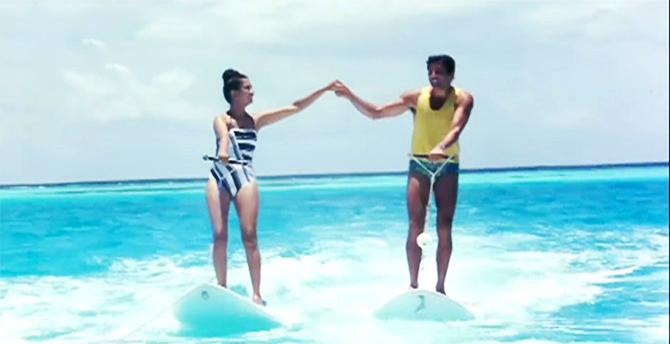 There's also Sunny Deol and Poonam Dhillon engaging in all sorts of water sports, including water skiing in the Rahul Rawail's Samundar, which was filmed in Maldives.
Hand gliding, Yaarana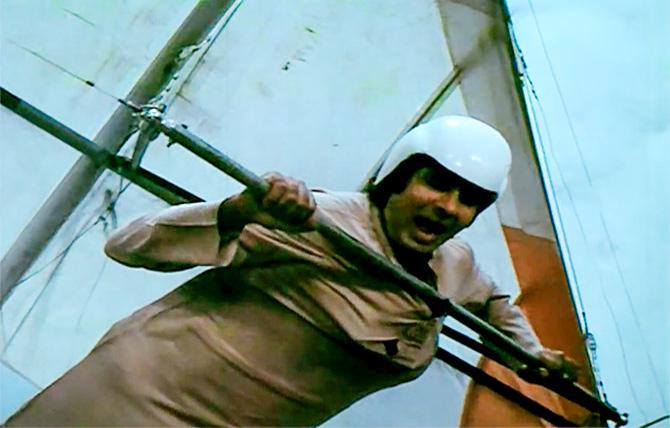 Much hilarity and excitement ensue when Amjad Khan encourages his village pal Amitabh Bachchan to go hand gliding on his 'vilayati patang' in Yaarana.