Decoding the Sanju myth, baking for the Avengers and more in Sukanya Verma's Super Filmi Week.
Monday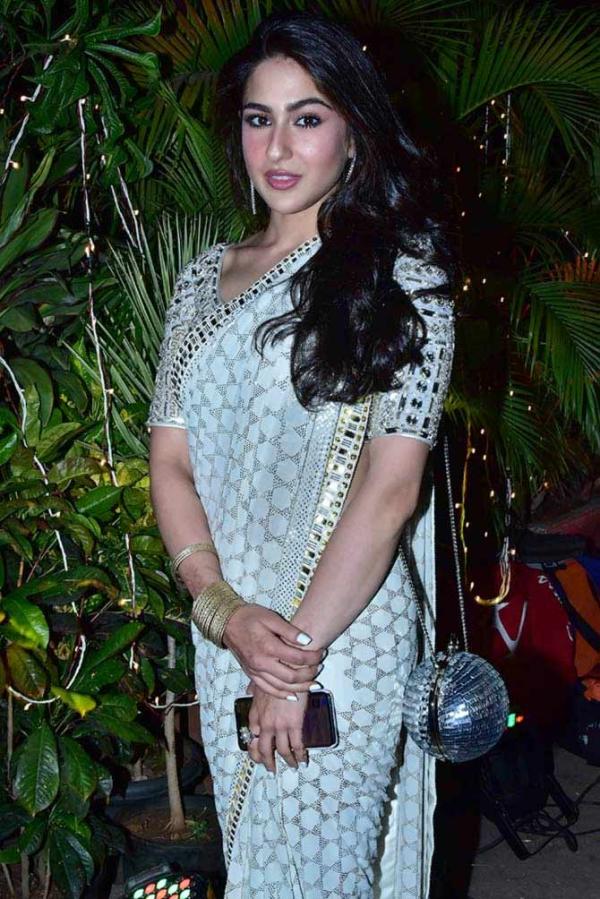 The Internet is abuzz with videos of Sara Ali Khan swaying to Saat Samundar Paar at family friend designer Sandeep Khosla's wedding party for niece Saudamini Mattu.
I don't know about acting, but dancing is definitely in Sara's genes.
In that brief clip, she conveys the grace and rhythm of Bollywood's top-most leading ladies.
Nothing about her free-flowing confidence comes as a surprise though.
Or maybe I still nurse a soft corner for the knee-high cutie I met on the stairs nearly two decades ago.
Sara must have been around five or six when I ran into her at mum Amrita Singh's Lokhandwala Complex bungalow, north west Mumbai.
I had dropped by (back when they were still married to each other) to interview Saif Ali Khan just before the release of Sooraj R Barjatya's Hum Saath Saath Hain.
Dressed in a bright pink lehenga with bangles adorning her wrist and hair tied in a messy ponytail, the little moppet stopped me on the way to her father's room and insisted I play with her in a manner kids usually do.
As tempting her offer was, duty beckoned.
Barely few months in the job, I had secured the appointment with great difficulty.
With a heavy heart, I persuaded Sara how I need to chitchat with daddy first and would join her cosplay session once I was done.
A pity, I never did.
But I look forward to catching her grown up game on the big screen.
Tuesday
The teaser of Rajkumar Hirani's hugely hyped Sanjay Dutt biopic is here. As expected, the social network is astir with reactions.
Titled Sanju, the minute-long promo rattles off various stages of Dutt's turbulent, controversy-ridden, existence involving drugs, jail, shame, loss, 308 girlfriends and AK-56 rifle in an uncharacteristically upbeat tone.
Ranbir Kapoor's pre-eminence is a no-brainer. The actor is so comprehensively invested in his subject's skin, it is like he is not even there -- like it's all Sanjay Dutt.
On the other hand, it is quite obvious that Hirani's rose-tinted view of reality that made the Munnabhai movies, 3 Idiots and PK such a riot applies to Sanju as well.
The truth of Dutt's life is dark and complex. It is a bit bizarre to see how a candy-coated retelling absolves it altogether.
But on second glance, that's precisely what makes Sanju a tad more personal than a run-of-the-mill narrative of news, hearsay and prejudice.
Reality is lived once. The rest is all interpretation.
Even our memories are not exact replicas of the actual moment. They are dressed up or dressed down as per our whims.
With Sanju, Hirani is revealing the person he knows and whose honesty he recognises through the impropriety or despite it.
This Sanju may be mythical, but so are unicorns. Colour me fascinated.
Wednesday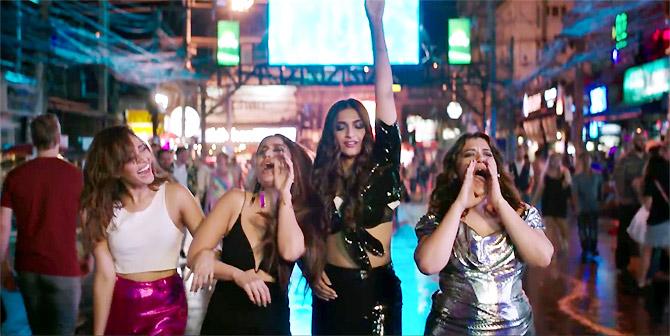 Another day. Another trailer.
It is always fun to see movies about girls flouting convention. But never did I imagine Veere Di Wedding to be somewhat of a companion piece to Luv Ranjan's brand of cinema.
The trailer is glossy and vibrant, but conveys just two things -- gaalis and guy hatred.
There's nothing untoward or unusual about women cussing.
But it is probably a big deal in the movies where they are still lauded for doing stuff like that last scene of Padmaavat.
Somewhere, this intention to shock interrupts with the spontaneity and Sex in the City vibe its nonconforming women are going for.
Thursday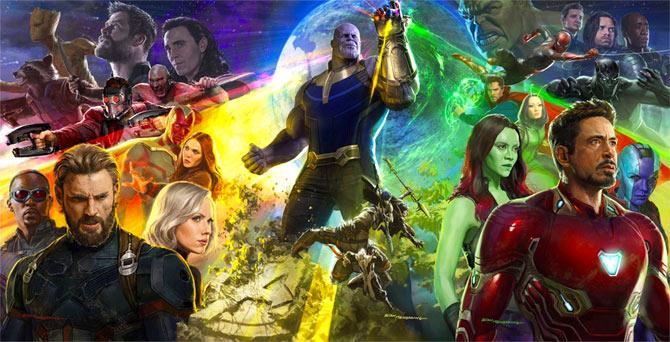 Distracted by my two-and-a-half-year old nephew's toy fight while writing the Avengers: Infinity War review.
Here, I am gushing about the profound savagery of its mighty antagonist Thanos while he is busy beating the bejesus out of the purple Mad Titan at the hands of a Thor action figurine.
Narratives change by the hour when an imp is at the helm.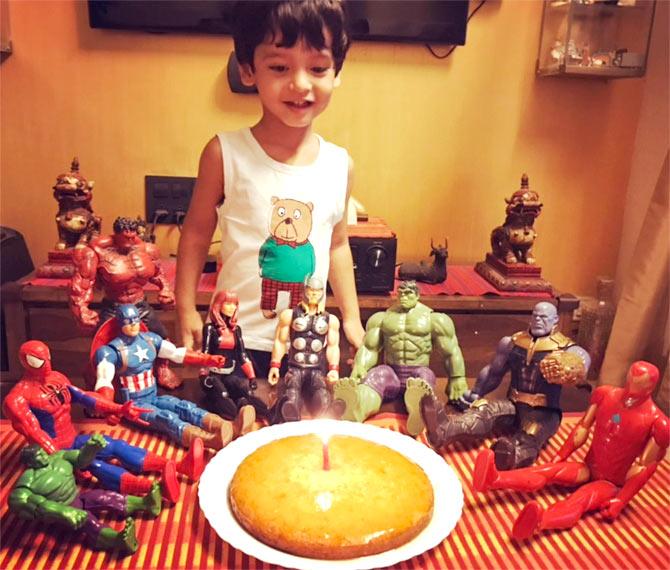 Ergo, two days later, Thanos is no longer 'naughty' and permitted to hang out with the entire Avengers gang for a birthday party the nephew is throwing and yours truly has baked a scrumptious orange walnut cake.
Suffice to say, things play out a lot differently in the movie, which concludes on a massive cliffhanger.
As eager I am to know whether the events of the final scene are a done deal or deception, I don't want to be a geek about it.
Over-analysing the tiniest of clues painstakingly and prematurely takes the fun out of a surprise.
Friday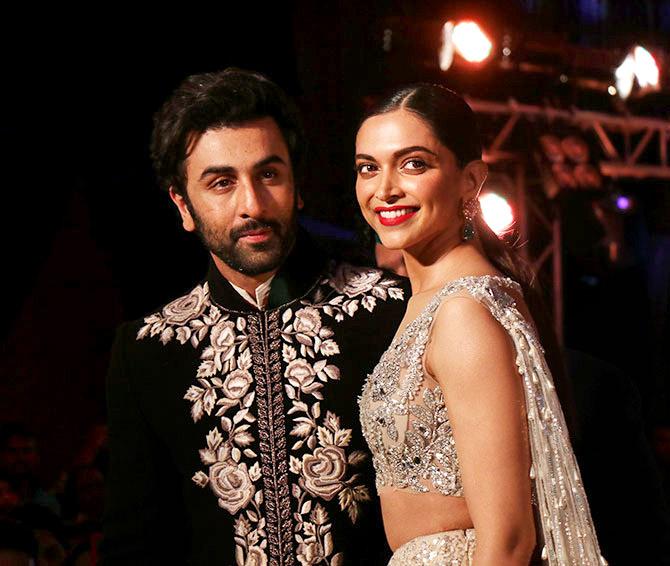 Our preoccupation with happy endings isn't limited to the movies.
While browsing through Instagram, I chance upon some comments posted under a photograph featuring Ranbir Kapoor and Deepika Padukone.
The ex-couple recently walked the ramp, hand in hand, for designer Manish Malhotra's Mijwan fashion show.
In the pictures, Deepika is beaming like a bulb whereas Ranbir appears somewhat subdued.
Adamant to read more into it, fans of the two spam the comments section arguing how the Tamasha pair is made for each other, how miserable Ranbir is without Deepika and how happy she is around him.
Their concern is both amusing and absurd in the knowledge of how little they know yet how convinced they sound.
Still, this isn't as pathetic as the obsession with the Brad Pitt-Jennifer Aniston saga.
It has been years and years since they got married, divorced, remarried, divorced, but this irrational hope of a reunion refuses to die down.
Every single day a bunch of Web sites religiously manufactures news of their romantic reconciliation for the foolish gossip-lover's consumption.
Every single day some dum-dum takes the bait.
Saturday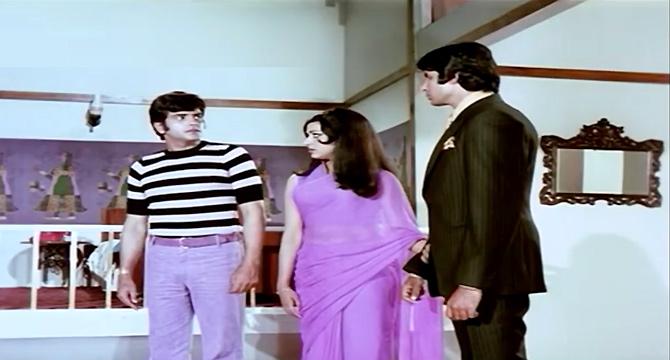 Meri pant bhi purple. Meri belt bhi purple. Meri sari bhi purple.
Pantone colour of 2018, anyone?
Maybe it's the Thanos after-effect, but I cannot get over the sheer purpleness of this frame from Gehri Chaal.
Sunday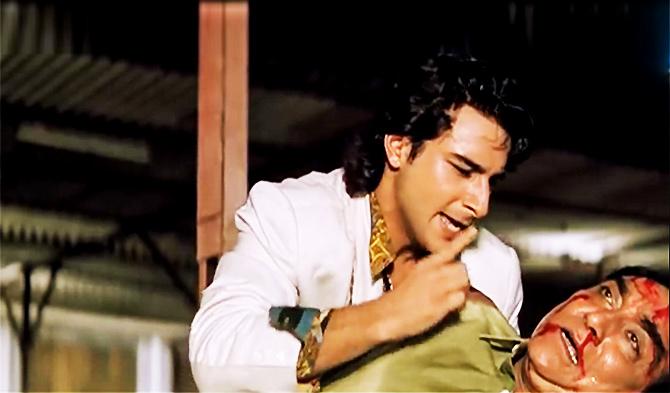 It is not every day I get nostalgic about Goga Kapoor, much less from inside a hospital.
While waiting inside the Jaslok hospital lobby to wish a friend a speedy recovery, I am reminded of a droll scene from Main Khiladi Tu Anari.
So basically, Goga Kapoor plays a local Mumbai don and bullies Saif Ali Khan to act in a seedy movie he is producing. Super cop Akshay Kumar intervenes and clobbers Goga vigorously.
Before leaving, he instructs Saif to admit him to Jaslok for bandage and balm.
Only Saif is much too bowled over Akshay's daredevilry to pay attention to banged up Goga's relentless cries of 'Jaslok... Jaslok.'
The khiladi-anari's first face-off wouldn't be half as humorous or memorable without a groaning Goga.