The good old days...
Dharmendra and Jaya Bachchan's is a bonding that is special and rare in an industry where friendships are ephemeral.
Karan Johar's Rocky Aur Rani Ki Prem Kahani is their sixth film together, after Guddi, Samadhi, Phagun, Chupke Chupke and Sholay.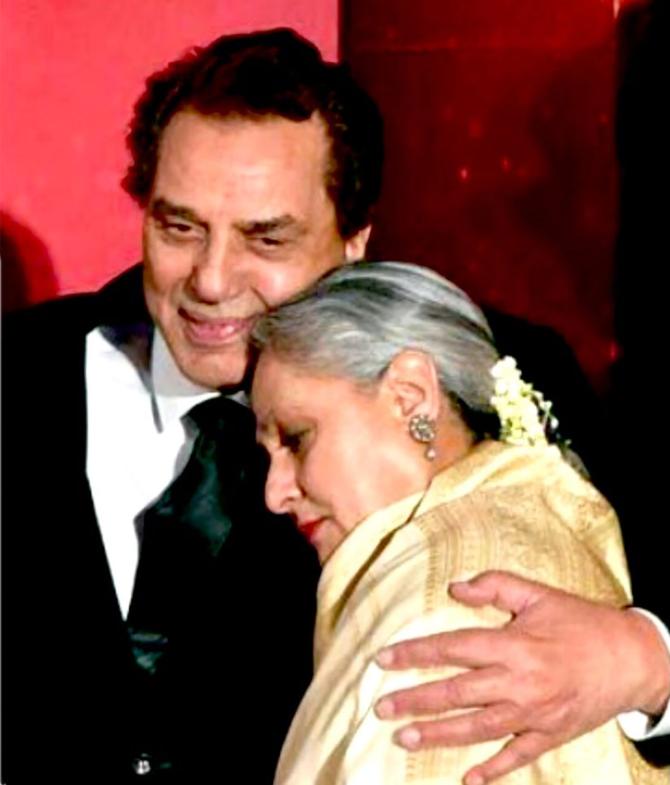 She started her journey with him 50 years ago in a Hrishikesh Mukherjee film.
Today, when they have reunited for Karan Johar's next, Dharmendra tells Jaya Bachchan that the years may have flown by, but she hasn't changed, not one bit.
When Jaya protests, saying, 'Main ab Guddi nahin rahi', he tells her firmly, 'Mere liye to tum hamesha Guddi rahogi.'
Theirs is a bonding that is special and rare in an industry where friendships are ephemeral.
In Jaya's golden jubilee year in Hindi cinema, her 'hero' rewinds to their first meeting when she admitted to him that she was one of his biggest fans, even in real life.
"She's family and will always remain a little baby for us," Dharmendra tells Rediff.com Senior Contributor Roshmila Bhattacharya.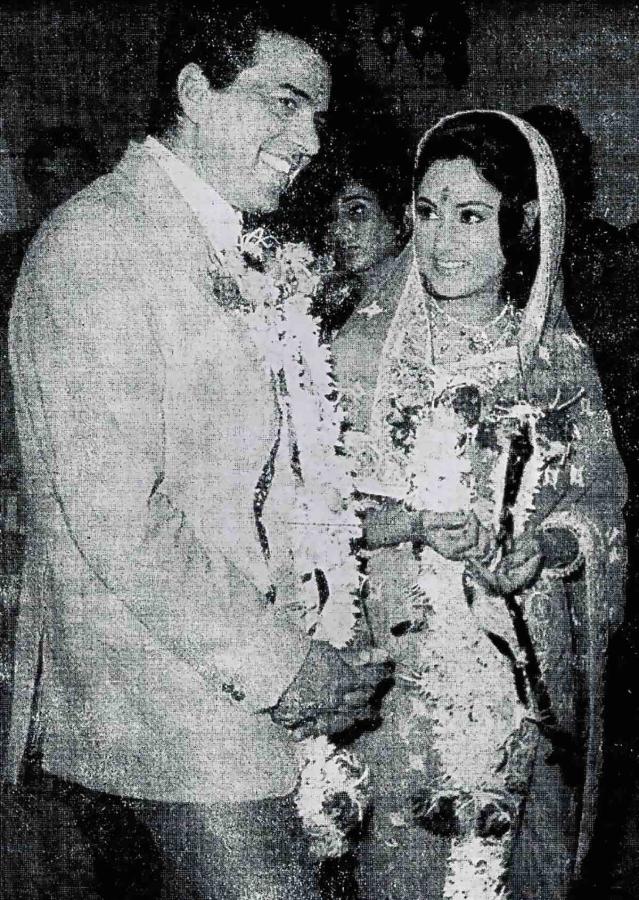 On July 25, Dharmendra tweeted a picture of Jaya Bachchan and him, above, with the intriguing caption, 'Barson baadh... Apni Guddi ke saath... Guddi... jo kabhi badi fan thi meri... A happy news'.
Turns out, the post was an announcement for Rocky Aur Rani Ki Prem Kahani, their sixth film together, after Guddi, Samadhi, Phagun, Chupke Chupke and Sholay. The duo had also shot for Nabendu Ghosh's Daktar Babu in the eighties, based on Phanishwarnath Renu's book Maila Aanchal, but the film remained incomplete.
Jaya made her debut as Madhavi Mukherjee's teenage sister-in-law Bani in Satyajit Ray's 1963 Bengali film, Mahanagar.
After that, Hrishikesh Mukherjee, while at the Film and Television Institute of India in Pune, saw her in a diploma film and offered her the title role in his next film.
Guddi, her first Hindi film, released on January 1, 1971, and it made the petite 'schoolgirl' actress with the girl-next-door appeal and heart melting smile a household name.
Uphaar came in the same year, but Jaya is often referred to as Guddi, including her present co-star.
Dharmendra played himself, a reigning matinee idol, in their first film together, which has since become a cult classic.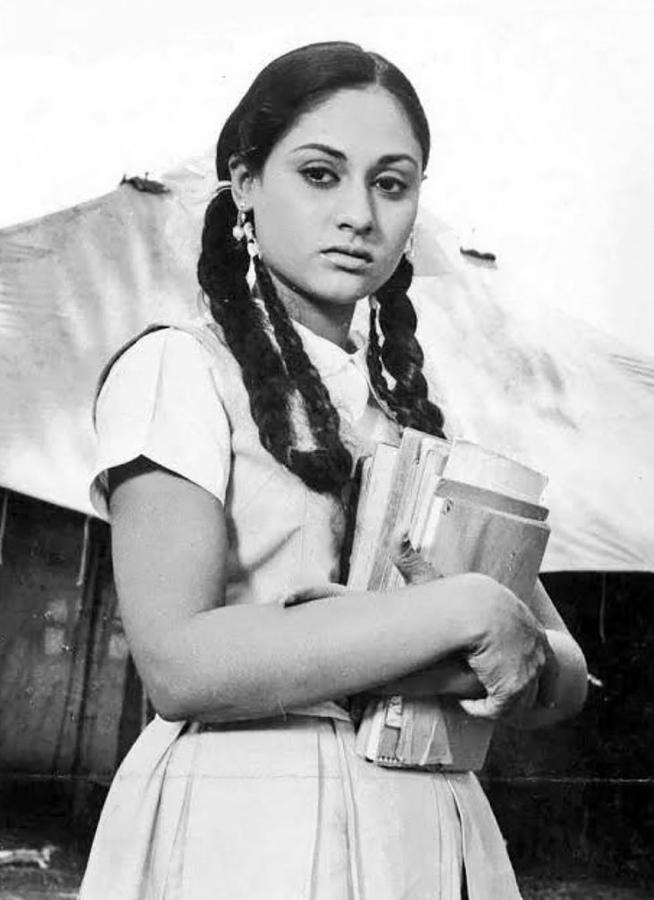 "For me, she is still Guddi, with that same lovely smile. The years have flown by, but she hasn't changed, not one bit. Of course, when I tell her this, Jaya protests, saying, 'Main ab Guddi nahin rahi', but as I tell her, 'Mere liye to tum hamesha Guddi rahogi.' She's family and will always remain a little baby for us," Dharmendra laughs fondly.
He recalls one of their early meetings at his residence, soon after they had been signed for Guddi.
"During that photo-session, she shyly confided that she was my biggest fan," he remembers.
Guddi, he points out, wasn't just another film.
It was a film with a message for youngsters that all that you see on screen, which makes an actor a hero to a naïve, starry-eyed, infatuated teenager like Kusum aka Guddi, is nothing more than playacting.
Cinema is a make-believe world where all that glitters is not gold and even the glitter fades with time. Like the spotlight that was pointed out to Guddi and which lit up so many beautiful faces once, now lies broken and forlorn in an abandoned studio.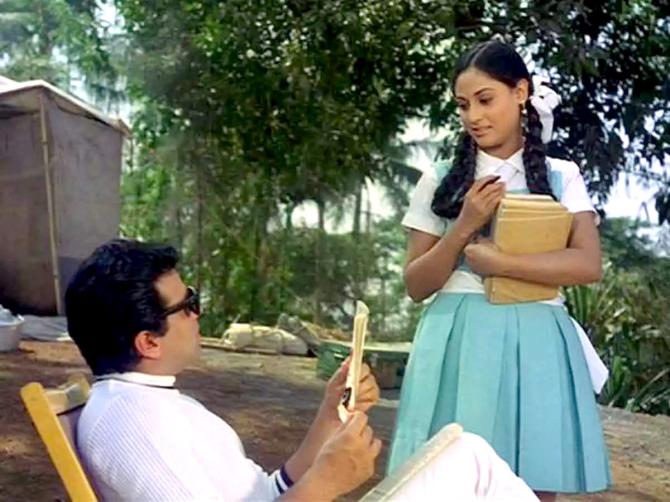 To deliver this textbook lesson, Dharmendra needed to be stripped of all his stardom and herogiri.
While he was brave enough to completely surrender to what his favourite director wanted, he sometimes wondered if he would remain a 'hero' after the film was released.
To his astonishment, he became an even bigger one.
"Schoolgirls would troop up to me and hold out their palms or their dupattas, asking for my autograph," he admits bashfully.
Prod him on whether Jaya has ever asked him for his autograph, as the schoolgirl Guddi does in the film, and he points out that there are more ways of showing your love and respect for a person.
"Jab bhi milti hai hamesha pyaar se milti hai, she is so affectionate," he asserts.
Dharmendra was Hrishikesh Mukherjee's favourite actor, just as Jaya was his favourite actress, the only one to call him Kaku.
Dharmendra and the director shared a common connection in Bimal Roy, who had brought Hrishida as he was fondly known, with him when he came to Mumbai to direct his first film, Maa. It was edited by him.
He went on to edit several of Bimal Roy's films, including Do Bigha Zamin, Parineeta, Madhumati and Yahudi.
Hrishida also wrote the 'scenario' of Do Bigha Zamin, and assisted on it, before branching out as a director with Musafir in 1957.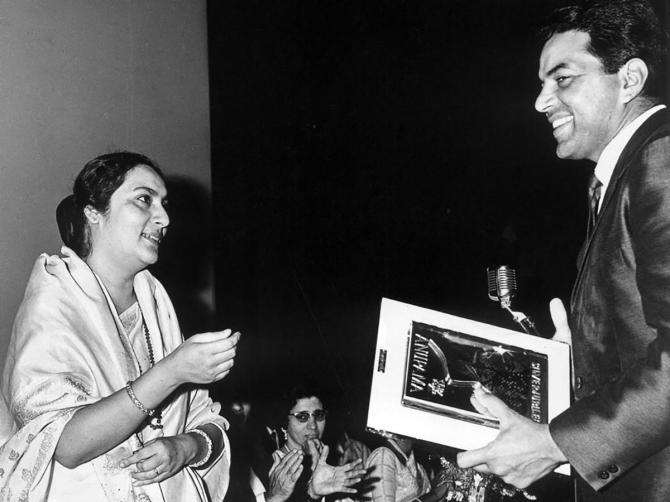 The first film Dharmendra signed was Bimal Roy's Bandini in 1958.
However, it was released only five years later in 1963 and he made his debut in dental surgeon-turned-director Arjun Hingorani's Dil Bhi Tera Hum Bhi Tere in 1960.
However, Bandini is remembered to this day for its handsome prison doctor who many, including Bimal Roy's wife Manobina, believed should have got the girl, Nutan's Kalyani, at the end.
Mention Mrs Roy and Dharmemdra's face lights up, "She was such a wonderful lady, she would cook machli (fish) for me. She presented me with the trophy I won for Anupama."
Anupama, in which he played the writer-teacher Ashok that Sharmila Tagore's Uma falls in love with, was also directed by Hrishida.
As was Majhli Didi, India's official entry for the 41st Academy Awards, and Satyakam, which remains one of Dharmendra's finest performances.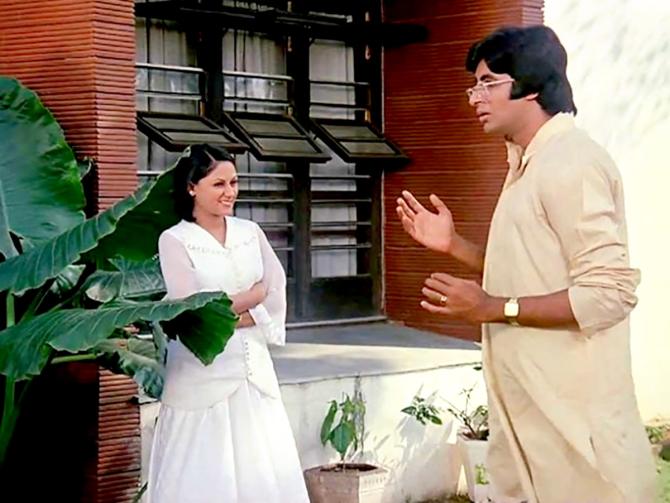 These films released before Guddi and according to Dharmemdra, Anand should have been his too. He reveals that Hrishida had narrated the story to him on a flight from Bombay to Bangalore and told him 'Yeh role tum hi karoge.'
"I was looking forward to playing Anand when I heard that Rajesh Khanna was doing the film. I was shooting in Madras then and was heartbroken. Those days I used to drink, and that night, after one peg too many, I called up Hrishida and chided him for taking another actor. He tried to calm me down, saying several factors had prompted the decision."
"But I kept him awake all night, calling him every 15 minutes and reminding him that he had wanted me to play Anand," Dharmendra narrates, able to laugh off the disappointment today.
He did get to do Guddi.
Then, Chupke Chupke and Chaitali, the latter produced by Manobina Roy after her husband's untimely demise.
Though once again she was not paired with him, his 'Guddi' was in Chupke Chupke, opposite Amitabh Bachchan with whom she also did Abhimaan and Mili. Jaya also featured in Hrishikesh Mukherjee's Bawarchi.
"I can watch Chupke Chupke anytime, from any point. Every frame is unforgettable. It is the Sholay of comedy," asserts Dharmendra, adding that Hrishida was a great editor and director, and even off camera, they were very close.
"He would drop by to meet my parents, occasionally make them happy by telling them, 'Dharam bahut achcha hai, he will do well'."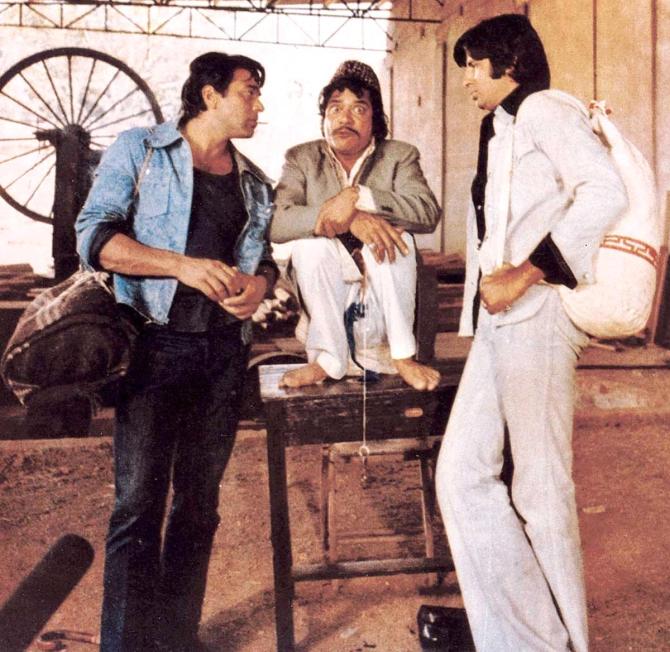 When Hrishida was unwell, Dharmendra would visit him at his Carter Road bungalow in Bandra, north west Mumbai.
"I even went to the hospital. He was hooked up to so many tubes. He gestured to me to take them off. I couldn't, and upset, I hurried away in tears. That was the last I saw him. I miss him everyday," he chokes up.
Dharmendra and Jaya went on to do Ramesh Sippy's Sholay, in which she played the widowed Radha and he the vivacious Veeru.
Once again, she was the 'love' of Amitabh Bachchan, the brooding Jai.
"I played Jaya's father in two films, Samadhi, which had two lovely songs, and Phagun, which had a beautiful emotional moment where I hold her close, but she pulls away slightly, saying, 'Baba, daadi chubti hai.' How can I forget those days?" Dharmendra murmurs, adding that now, on the sets of Karan Johar's film, Jaya and he often share stories of the good old days.
"She is so sweet and loving, such a fine actress, so natural even in her first film. The industry is so proud of her."