At one point in her career (1973-75), Jaya Bhaduri was a bigger star than Amitabh Bachchan.
Her much-lauded performances in Abhimaan, Uphaar, Kora Kagaz, etc, need no recommendation.
But what about her master performances that you may have missed?
As Jaya Bachchan turns 73 today, Subhash K Jha remembers her lesser known -- but worth watching -- roles.
Bawarchi, 1971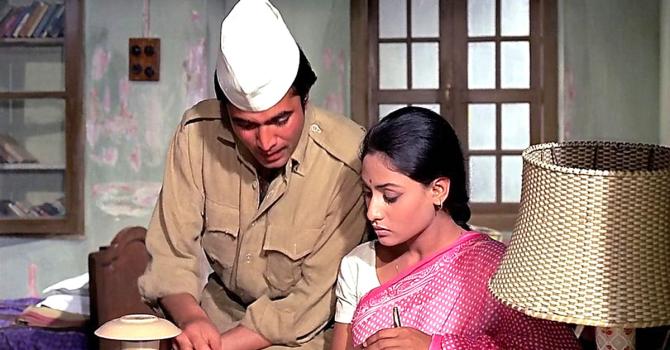 Among all the films that she did with her favourite Hrishi Kaku (Hrishikesh Mukherjee), Bawarchi is the least celebrated, probably because Jaya had a relatively briefer role than she did his Abhimaan or Mili.
As the quiet underdog of a large squabbling joint family, Jaya spoke more through her eyes than her other voluble roles (Guddi , Uphaar) in 1970-71 allowed her to.
Bawarchi was also the only film that brought the two superstars of the early Seventies, Rajesh Khanna and Jaya Bhaduri, together. But only because they couldn't say no to Hrishida and only because they were not paired opposite one another.
It is common knowledge in the film industry that the mighty Khanna didn't like working with heroines who didn't pander to his ego.
Piya Ka Ghar, 1972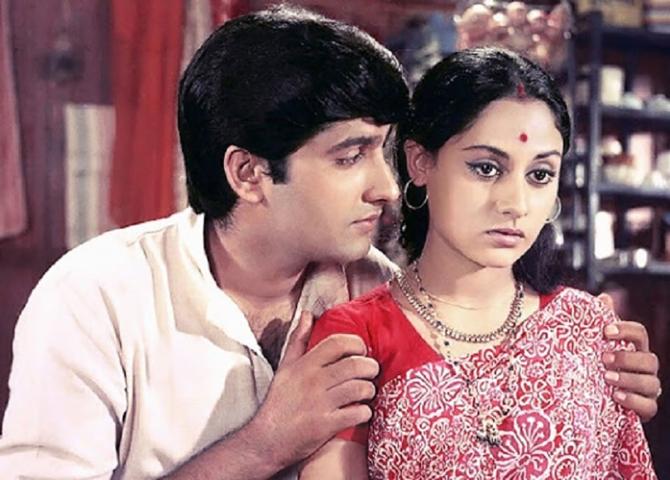 In 1971-72 when Jaya was the toast of the nation for her performances in Guddi, Uphaar, Parichay and Koshish she featured in two films with Anil Dhawan.
Among the two, Annadata was touching in its portrayal of human compassion. The other, Basu Chatterjee's Piya Ka Ghar, was splendidly plebeian.
In one of her quietest performances, Jaya played a newly married wife craving privacy with her husband amid a joint family living in a tiny home in a chawl.
Watch her attempts at trying to get her husband's attention in a room full of raucous relatives.
Anamika, 1973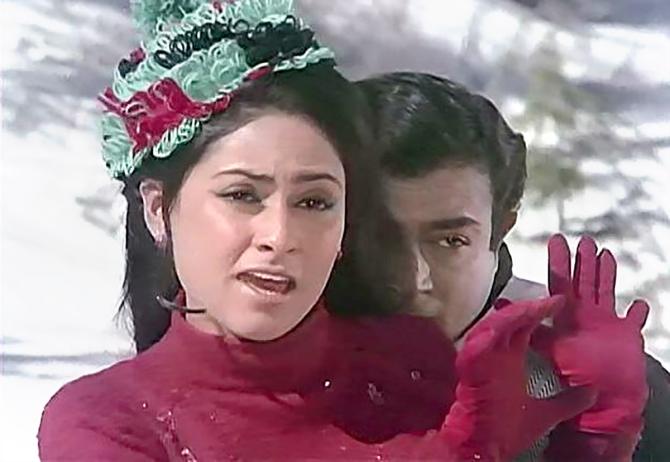 In the year of Abhimaan and Zanjeer, came Anamika where Jaya starred as a woman apparently suffering from amnesia who Sanjeev Kumar picks up on the road and brings home, with moving and hilarious consequences.
It is remembered to this day for one of Lata Mangeshkar's most popular songs, Baahon mein chale aao. But that was not the only thing the film boasted of -- the lead pair's brilliant chemistry kept audiences glued to their seats.
See them together in this film and you'll know why Jaya's favourite co-star was her 'Haribhai', the much-missed Sanjeev Kumar.
Desh, 2002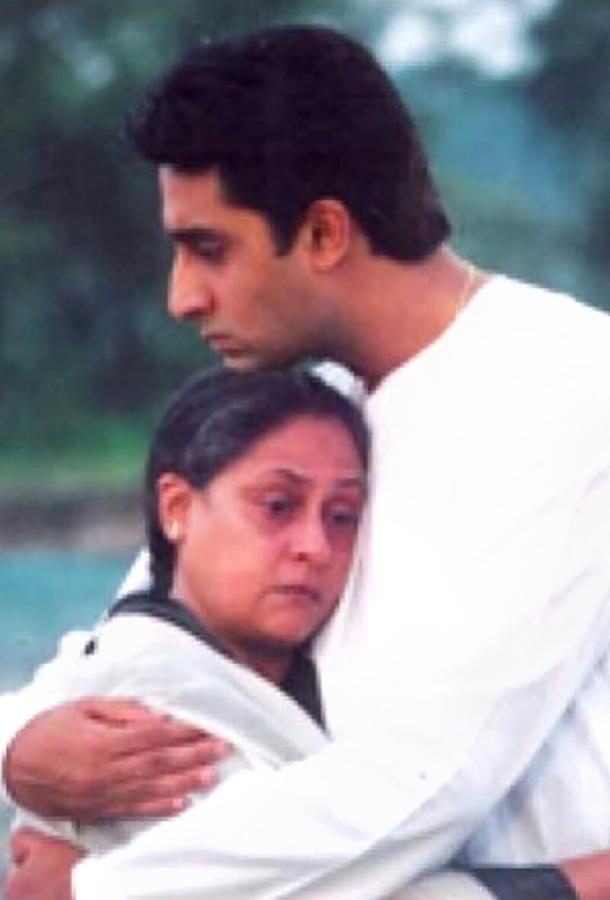 This is one of Jaya's personal favourites, as she got to play her son's mother on screen.
This elegiac Bangla film directed by Raja Sen (not the film critic and former Rediff.com staffer) is about a woman having to choose between joining her son in the US and helping a young woman fight a corrupt politician in Kolkata.
Jaya's inner strength as a human being was never more visible on screen.
Abhishek made an appearance at the end of the film as her son.
Hazaar Chaurasi Ki Maa, 1998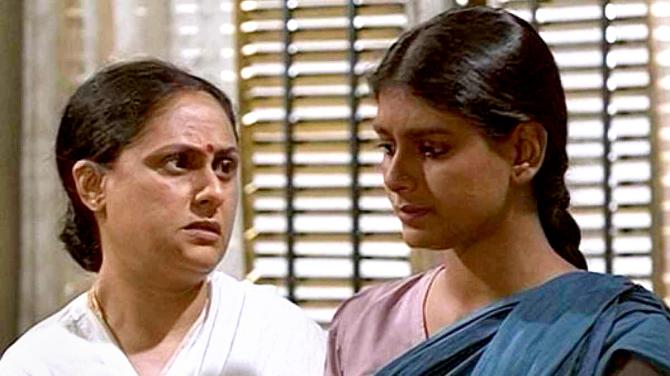 Govind Nihalani persuaded Jaya Bachchan out of retirement to play a powerful matriarch with a wimpy husband (Anupam Kher) whose only son (played brilliantly Joy Sengupta) dies suddenly.
The devastated mother revisits her son's life after his death to discover some dark, uncomfortable truths about him.
This is a nerve-wracking, life-changing film that is meant to challenge how we look at our lives vis-a-vis those closest to us.
Jaya admits it was the toughest, most challenging and most rewarding role of her career.
Try to find it on one of the OTT platforms. It must be out there somewhere.