Let's lighten up the January-end blues with a fun poll.
People age at a different rate. Even science says so.
And so while Rishi Kapoor was still romancing Divya Bharti in Deewana, his colleague Dalip Tahil, who's the same age as Chintu, was playing his niece Karisma's daddy in her debut, Prem Qaidi.
You may recall Shashi Kapoor playing Sanjeev Kumar's son in Trishul. Both legends share the same year of birth: 1938.
Here's looking at other Bollywood stars, who're the same age but don't really look it.
Aamir Khan, Shah Rukh Khan, Salman Khan (1965)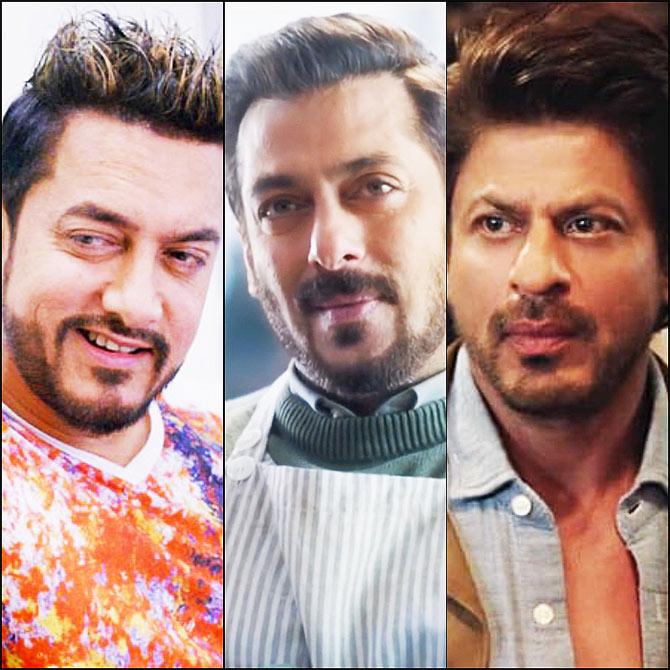 The triumvirate that rules Bollywood shares a lot more than success and surnames in common. They were born in the same year as well.
If Aamir's boyish looks helped him pull off a college student in his 40s, Shah Rukh continues to be the poster boy for first love whereas strapping Salman's shirtless outbursts continue to impress the frontbenchers.
Who do you think looks youngest of them all?
Vidya Balan, Bipasha Basu (1979)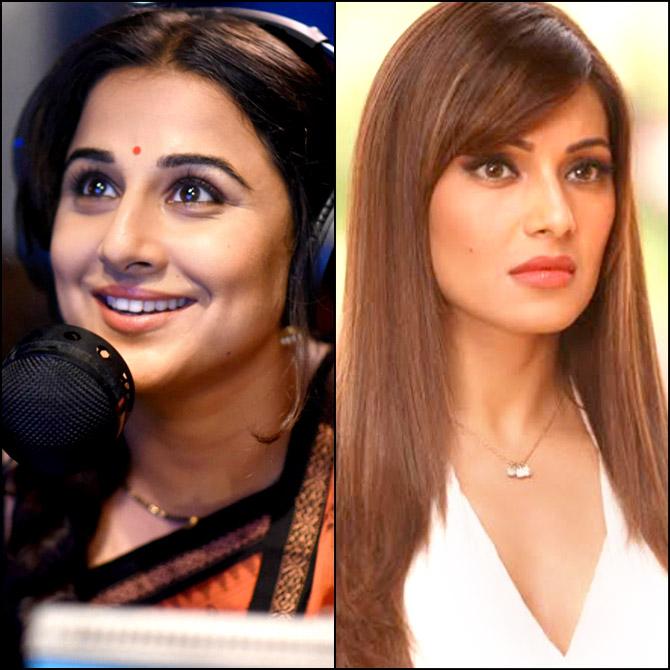 Love me, love my curves -- Vidya Balan is not interested in Bollywood's idea of fashion or beauty.
Tumhari Sulu's box office response proves her point triumphantly.
And then there's fellow Capricornian Bipasha Basu whose dedication to fitness is hardly a secret.
Sadly, everyone's go-to scream queen hasn't hit a jackpot in a long time.
Shraddha Kapoor, Kangana Ranaut (1987)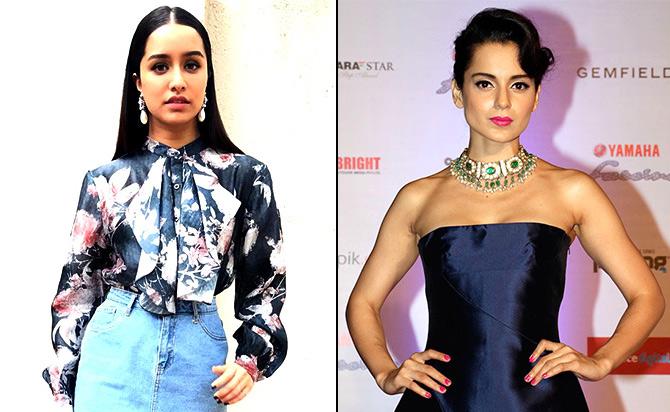 Photographs: Kind courtesy Shraddha Kapoor/Instagram, Pradeep Bandekar
Shraddha and Kangana couldn't be more different.
One was born in a movie family; the other had nothing to do with it.
One keeps a safe, sweet profile; the other is all about bindaas candour.
One has yet to prove her worth as an actress, the other is a three-time National Award winner.
And they are both 30.
Nawazuddin Siddiqui, Hrithik Roshan (1974)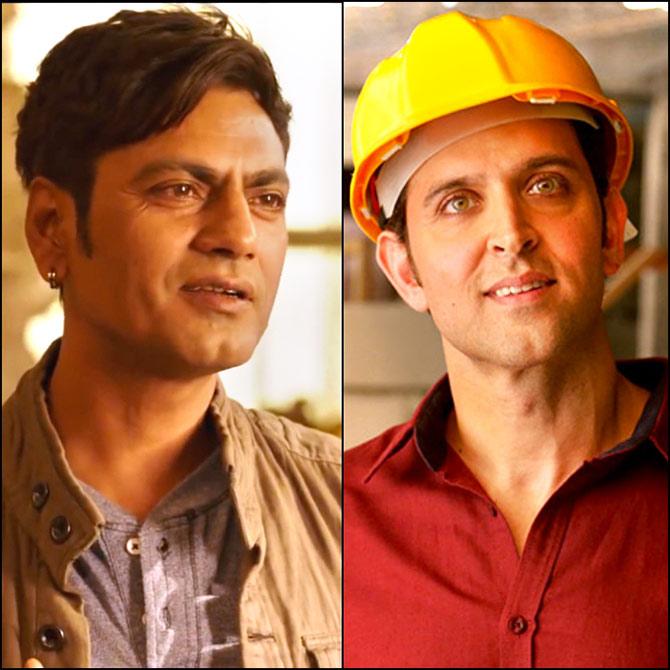 Both these talented actors courted controversy in recent times after their romantic liaisons became public knowledge.
Other than that, you'll find little in common between Hrithik's dashing, dynamic, imagery and Nawaz's edgy, intense, persona.
Akshaye Khanna, Mahesh Babu (1975)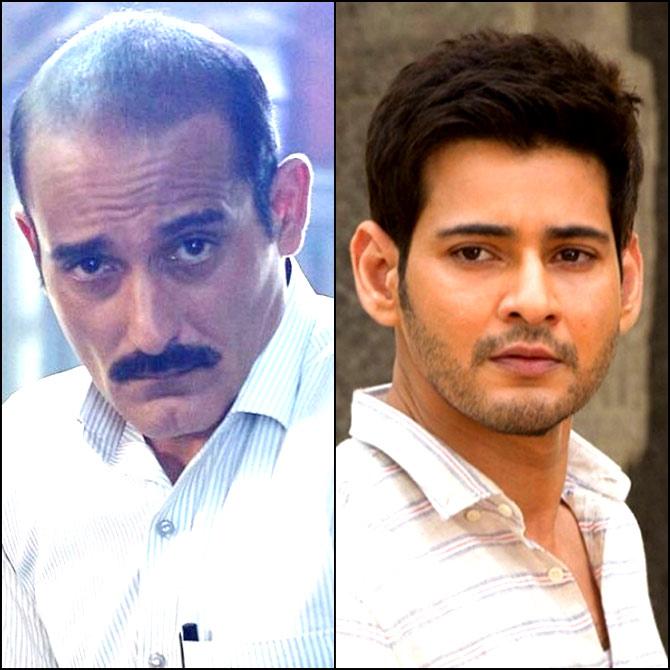 Akshaye Khanna's receding hairline may or may not be responsible for his brief run as leading man.
But there's no denying he's a pleasure even in the lamest of movies.
Ditto for Telugu superstar Mahesh Babu who hasn't aged a day since his debut.
Aishwarya Rai Bachchan, Tisca Chopra (1973)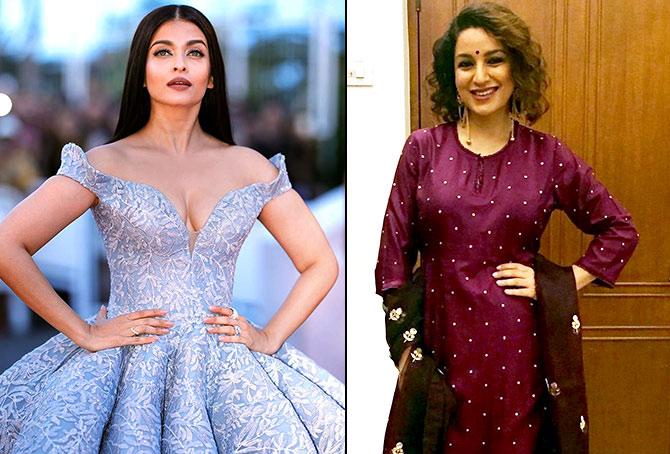 Photographs: Andreas Rentz/Getty Images; Kind courtesy Tisca Chopra/Instagram
Did you know Aishwarya and Tisca were born on the exact same date: November 1, 1973?
If Ash is synonymous with beauty and grace, Tisca has carved a niche for herself as a fine actress.
Wouldn't it be cool to see the two together in a movie?
Priyanka Chopra, Nimrat Kaur (1982)

Photographs: Kind courtesy Priyanka Chopra/Instagram; Nimrat Kaur/Instagram
From Miss World to notable Hollywood projects, Priyanka Chopra's flair for international fame is well documented.
In comparison, Nimrat Kaur may have joined the party a tad late, but the response to her work in The Lunch Box and Homeland was well worth it.
Both women turn 36 this year.