Do you know Ashaji crooned a seductive night club song, Zooby Zooby Je L'aime Vous for An Evening In Paris?
Asha Bhosle sang some of her best songs for film-maker Shakti Samanta, and their friendship goes right back to the 1950s.
On the occasion of the legendary singer's 88th birthday, September 8, Ashim Samanta, Shakti Samanta's son, picks his favourite Asha songs.
"The combined magic of (composer) O P Nayyar, Ashaji, Madhubala and dad hasn't faded even after six decades," Ashim tells Rediff.com Contributor Roshmila Bhattacharya. "Even today, when she sings it at shows or they see it on television or YouTube, people across generations fall in love with it instantly."
Aaiye Meherban, Howrah Bridge, 1958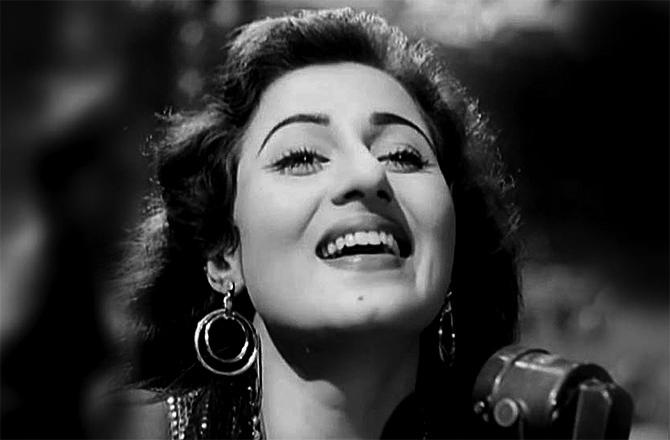 One of my favourite Asha Bhosle songs from dad's films.
The combined magic of (composer) O P Nayyar, Ashaji, Madhubala and dad hasn't faded even after six decades.
Even today, when she sings it at shows or they see it on television or YouTube, people across generations fall in love with it instantly.
This was one of those rare instances when one saw Madhubala in a glamorous, Westernied avatar, crooning in a night club.
In fact, she was so kicked about playing Edna, a character whose broken Hindi brought on peals of laughter during the narration, that she gave the nod to dad without even listening to the story.
She lied to her father, Ataullah Khan, saying she had told him to take Rs 1 from dad as the signing amount even though he had gone to her with Rs 11,000.
The film had another beautiful Ashaji solo, Yeh Kya Kar Dala Tu Ne, which has been completely over-shadowed by Aaiye Meherban.
Deewana Hua Badal, Kashmir Ki Kali, 1964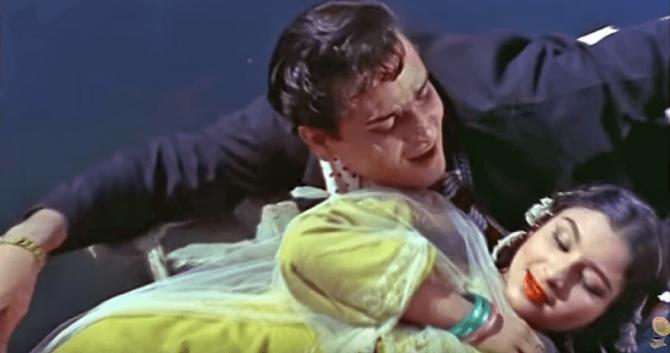 One day, O P Nayyarji called dad, requesting that he come over and listen to some songs he had composed.
Dad went across, more out of courtesy, and came back floored, after hearing 70-80 songs that the composer had played for him.
He shortlisted around 50 and the next day, he asked Shammi Kapoor to go back with him and take his pick.
'But we have already decided on Shankar-Jaikishan for Kashmir Ki Kali,' Shammi uncle protested.
Dad assured him that he just wanted him to listen to the songs.
He agreed, reluctantly.
Deewana Hua Badal was the first song that O P Nayyarji played for him.
Shammi uncle wanted it immediately.
It was picturised on Sharmila Tagore and him on the Dal Lake and even today, (Mohammed) Rafisaab and Ashaji's voices makes us sigh over their technicolour romance.
By the end of that memorable evening, Shammi uncle had selected a dozen songs.
Dad recorded and picturised nine of them for Kashmir Ki Kali, including the Rafi-Asha duets, Isharon Isharon Mein Dil Lene Wala and the zabardast Bhangra track, Haye Re Haye.
But two of Ashaji's solo numbers, including the beautiful Balma Khuli Hawa Mein, were left out because the film was getting too long and had to be trimmed.
Two years later, in the musical romance Sawan Ki Ghata (1966), dad was able to use four of the remaining songs, including two Rafi-Asha duets, Hoton Pe Hansi, Aankhon Mein Nasha and Zulfon Ko Hata Le Chhere Se.
The way Ashaji sings the line Jab dali nazar, dil moh liya in Hoton Pe is lovely.
Raat Ke Humsafar, An Evening In Paris, 1967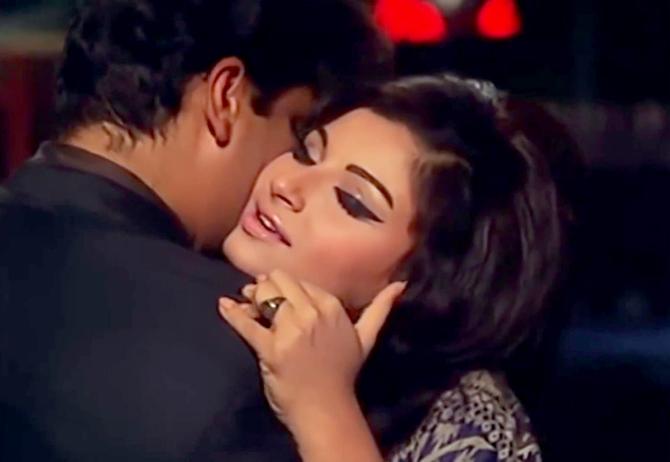 The film had a memorable score by Shankar-Jaikishan, mostly Rafi solos.
Ashaji joined him for this gloriously romantic duet shot in the streets of Paris at night.
That particular day Sharmila Tagore and Shammi Kapoor had had a tiff and were not speaking to each other.
But you would never guess it.
Their chemistry on screen was crackling and Ashaji and Rafisaab's voices added to the magic.
Ashaji also crooned a seductive night club song, Zooby Zooby Je L'aime Vous.
Gun Guna Rahe Hain Bhanware, Aradhana, 1969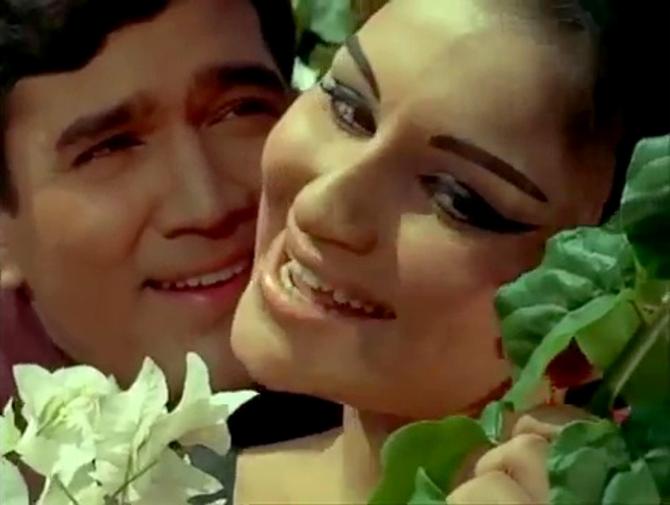 Ashaji had just one duet with Rafisaab and she made Gun Guna Rahe Hain Bhanware flirtatious, playful and special.
The blanket of snow enhanced the song.
It had snowed all night and continued even in the morning. Just when everyone was wondering if they would be able to shoot that day, the skies suddenly cleared around 10 am and everything was white, bright and beautiful.
Mera Naam Hai Shabnam, Kati Patang (1970)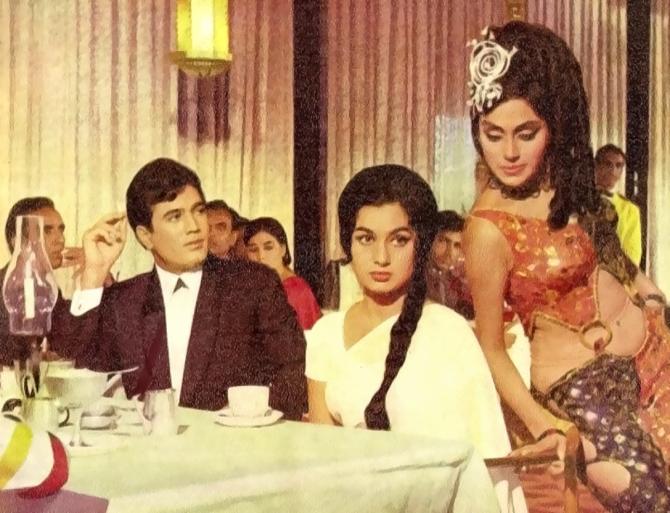 This album was a showcase for Kishore Kumar with unforgettable songs like Yeh Sham Mastani, Pyar Deewana Hota Hai, Yeh Jo Mohabbat Hai and his festive Holi song with Lata Mangeshkar, Aaj Na Chodenge.
But Panchamda (R D Burman) and Ashaji really shook things up with the nightclub zinger, Mera Naam Hai Shabnam.
So many people told us later that when watching the film in the theatres, this song brought them to the edge of their seats.
They would go, 'Oh my God, no!' every time Bindu came close and crooned, Mera naam hai... Shabnam.
During that dramatic pause before Shabnam, they would wonder if she would unmask Asha Parekh.
It wasn't just a song.
It was a performance.
Full marks to Ashaji for building up the tension so effectively.
Teri Meri Yaari Badi Purani, Charitraheen, 1974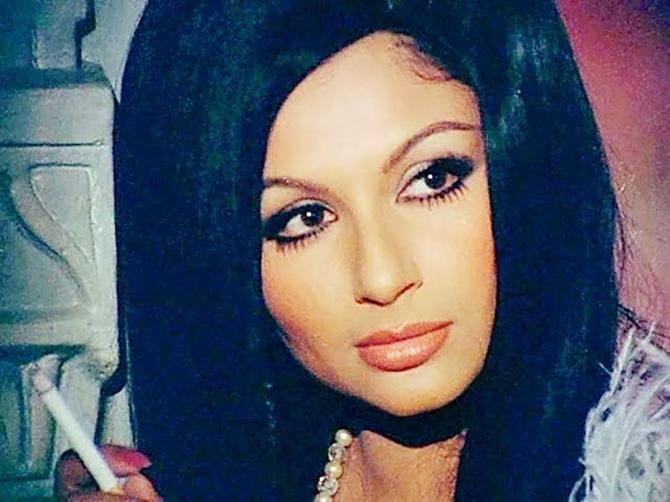 This was a Hindi remake of a 1970 Bengali film called Kalankito Nayak, which had featured Uttam Kumar, Sabitri Chatterjee and Aparna Sen.
Dad's close friend, Debesh Ghosh, wanted him to direct it for him.
I remember it for Ashaji's Teri Meri Yaari Badi Purani, which was picturised really well with Sanjeev Kumar stumbling across his lost love Sharmila Tagore in a nightclub only to discover that Rama had turned into Rosy, who sipped her drink, puffed on a cigarette and swayed sexily to this tune.
Sara Pyar Tumhara, Anand Ashram (1977)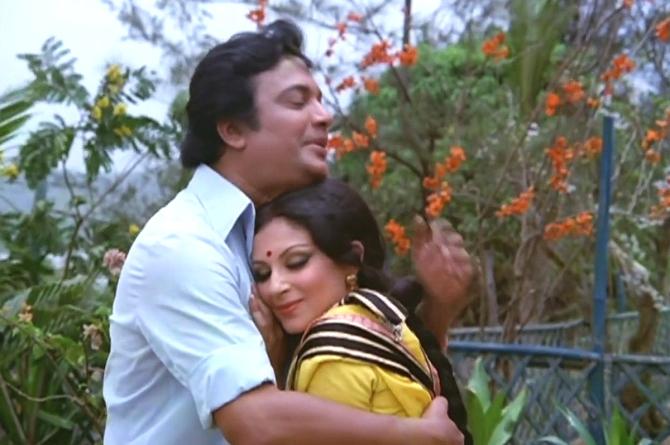 Earlier, dad had dubbed Amanush in Bengali and re-released it a year after the Hindi original in 1975.
The Bengali version was a blockbuster.
Even Aradhana had been dubbed in Bengali.
Encouraged by their success, he made Anand Ashram as a Hindi-Bengali bi-lingual and released both versions on the same day.
The songs were first made in Hindi, then the lyrics were written in Bengali. After that, they were recorded by the singer on the same day.
So Ashaji's Gun Guna Rahe Hain Bhaware became Gunjone Dole Je Bhramor in the Bengali version of Aradhana while Amanush's Kal Ke Apne Na Jaane Kyun turned into Jaani Na Aaj Je Apon, Kal Se Keno Por Hoye Jaye.
Her duet with Kishore Kumar in Anand Ashram, Sara Pyaar Tumhara, also had a Bengali version called Amar Sapna Tumi Ogo Chirodiner Shathi.
I returned with dad to the village he had built in the Sunderbans for Amanush. We renovated it and shot the scenes from Uttam Kumar and Sharmila Tagore's life together in the village, including this song.
It was a beautiful location, in the midst of wilderness.
But you had to travel for miles in a boat to get even a screwdriver.
Dad brought electricity and constructed pucca houses for his cast and crew to stay in during the duration of the shoot, then he left what he had built to the locals there.
Do Lafzon Ki Hai Dil Ki Kahani, The Great Gambler (1979)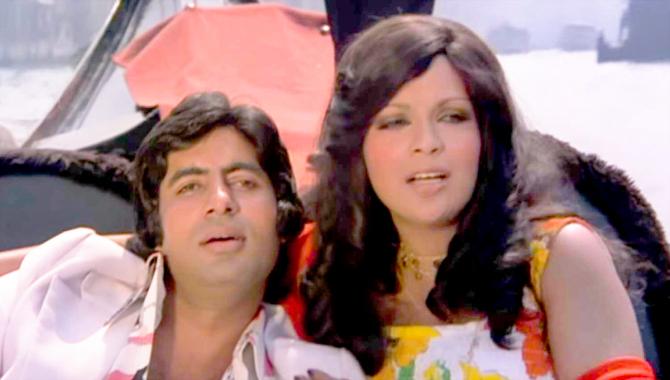 Ashaji was the female voice for all the songs, but the one that the film is remembered by is undoubtedly Do Lafzon Ki Hai Dil Ki Kahani.
It is my other favourite from dad's films, after Aaiye Meherban.
Dad and I had visited Venice in 1970.
Fascinated by the canals and the gondolas, he had decided to return there to shoot a song for one of his films.
He got Bakshiji (Anand Bakshi) to write this song for The Great Gambler and Panchamda to set it to music.
Then he created a situation for it in the action thriller.
He then flew down Amitabh Bachchan and Zeenat Aman to Venice, for this song to be picturised on the Grand Canal.
He also called for an Indian actor-singer by the name of Sharad Kumar Bader, who had made a name for himself in the '60s and '70s for his Elvis Presley imitative renditions. He crooned the lines in Italian which the gondolier sings at the beginning.
Kabul Se Aaya Hai Mera Dildar, Palay Khan (1986)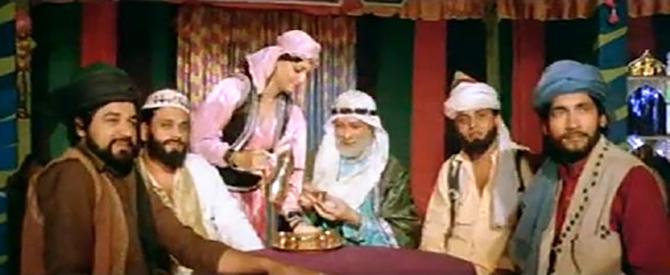 Panchamda had composed this fabulous song for Palay Khan, which was produced by dad and directed by me.
Ashaji rendered it beautifully.
Unfortunately, the picturisation could not do justice to their genius.
I had wanted Aruna Irani, but my choreographer P L Raj, insisted on another actress, who was not known to be a dancer. He promised me that he would make her dance and reluctantly, I gave in.
It was a decision I regretted on the first day of the shoot itself.
I wanted to pack up immediately, but it was too late.
Ashaji was really excited about the song and wanted to see what I had done with it.
I didn't know what to tell her.
After watching it, she told me despondently, 'Ashim, you have murdered my beautiful song.'
I shared her disappointment.
Dad had a close friendship with Ashaji who had sung for him even when he was a director in films like the 1956 thriller, Inspector. Songs like Mere Nainon Ki Tez Kataar and Bada Muskil Hai, under Hemant Kumar's baton.
She continued to lend her voice to his films, right up to dad's last directorial, Devdas, in 2002.
The Bengali film featured Prosenjit Chatterjee, Arpita Pal and Indrani Halder as Devdas, Parbati and Chandramukhi.
It had music by Babul Bose and Ashaji sang Shoromer Orna Chre and Mon Niye Shobai Ashey. She was as good with Bengali songs as she was with Hindi.
In fact, she had a way with English tunes too.
I remember once when she had dropped by our place, I was listening to a record. I can't recall the name but it was an English song.
When I got up to switch it off, she stopped me, saying, 'It's a nice song, let it play.'
We listened to it together and then, she hummed the mukhda and I was amazed.
After hearing it just once, she had got the words, the tune and the accent bang on.
What a phenomenal talent!