Dinesh Raheja doffs his hat to the movie legend, who will be honoured with the Dadasaheb Phalke Award this year.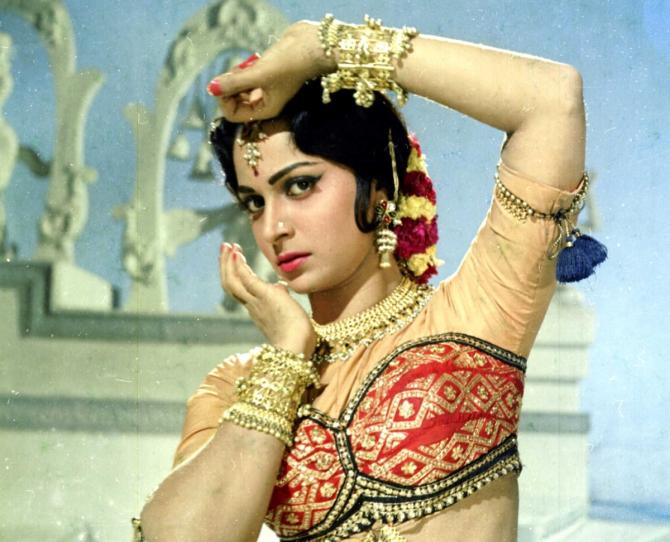 Rati Agnihotri confides breathlessly, "I was overjoyed when I got a chance to work with my favourite Waheeda Rehman in Mashaal. On the first day, I entered her makeup room and told her I was just going to sit there and gaze at her. That's precisely what I did."
Waheeda is also on the favourite heroines' list of both Amitabh Bachchan and son Abhishek Bachchan.
Her simple beauty and refreshingly natural style of acting gave her an edge over the carefully-lacquered bouffant brigade of the 1960s.
She did have a penchant for picking three melodramas (Palki, Dil Diya Dard Liya, Aadmi, Neel Kamal) but even there, Waheeda consciously steered clear of glycerine overdoses and histrionics.
Probably Waheeda's early training under mentor-director Guru Dutt, a cinematic genius, stood her in good stead.
Her emoting was understated but effective, her thrush-sweet voice subdued in the loudest of scenes.
Perhaps it was also a reflection of her own quiet personality.
In Pyaasa, there was a scene where she hears of Guru Dutt's death and has to scream.
Waheeda opened her mouth. No sound came out.
Guru Dutt started laughing, saying she was the first girl who couldn't scream.
He signed on Hyderabad-based Waheeda for a Hindi film. She had worked in Telugu films like Jayasimha and Rojulu Marayi.
Dutt gave her a vampish role in his production, CID (1956).
The Bharata Natyam exponent stepped on the rungs on the ladder of stardom with her fleet-footed dancing to the Geeta Dutt hit, Kahin Pe Nigahein Kahin Pe Nishana.
Impressed, Guru Dutt promoted her to playing one of the leads in Pyaasa.
Dutt had the author-backed role of an emotionally spent, penniless poet in Pyaasa (1957) but Waheeda left an indelible mark too as Gulab, the sweet-faced streetwalker who comforts the poet stung by societal barbs.
After Pyaasa, Waheeda's thirst for work was amply slaked.
She had a contract with Dutt but he magnanimously permitted her to work in outside films (Solva Saal, Twelve o'clock, Kaala Bazaar).
Dutt next cast his muse Waheeda as the solo heroine in his cinemascope epic, Kaagaz Ke Phool (1959).
A scathing comment on the transient nature of stardom, the film was rejected by the audience.
Waheeda and Dutt's next collaboration, a purely commercial Muslim social, Chaudhvin Ka Chand (1960), fared better at the box office. The title song has endured over four decades.
Fired by her critical successes, Waheeda was keen on playing the doomed and drunken Chhoti bahu of Dutt's Sahib Bibi Aur Ghulam (1962).
But Dutt deemed her too young for the role and cast doyenne Meena Kumari.
Waheeda was a breath of fresh air in the heavy film; Meena's role was, of course, unforgettable.
This was Waheeda and Dutt's last film together. Ironically, their Kaagaz Ke Phool had also talked of the distance that develops between a mentor and his discovery after her success.
After breaking free from Dutt's banner, Waheeda continued to flourish.
She won critical acclaim for her role of a danseuse in love with a dacoit (Sunil Dutt) in Dutt's home production, Mujhe Jeene Do, and struck gold with the spooky Bees Saal Baad.
Waheeda teamed up with thespian Dilip Kumar in Dil Diya Dard Liya (inspired by Wuthering Heights), Aadmi and Ram Aur Shyam.
But Dil Diya... proved to be an expensive flop and Ram Aur Shyam was a double treat of Dilip Kumar; her contribution to what was probably the biggest blockbuster of her career, was limited.
Waheeda reached her acme in the Dev Anand-produced Guide (1965), based on R K Narayan's classic novel.
The film over the years attained an exalted cult status.
Waheeda's producers were aghast when she accepted the role of an adulteress in Guide: 'Aap apne pairon pe kulhadi maar rahi hain.'
The English version of the bilingual Guide (directed by Ted Danielski) didn't create many ripples but the Hindi version (directed by Vijay Anand) is a cinematic milestone --- S D Burman's mood-enhancing musical score, Dev's best ever performance and Waheeda.
Hers was a soul-in-her-eyes performance as Rosy, a danseuse who walks out on her impotent and imperious husband for a career and a new life with an encouraging guide (Dev Anand).
Rosy's life is no bed of roses. The guide too exploits her emotionally and financially.
Besides giving her a chance to break the taboo against grey-shaded roles, Guide also showcased Waheeda's dancing expertise -- watch her on a precarious ledge to the strains of Shailendra's life-affirming, Aaj Phir Jeene Ki Tamanna Hai.
Subsequent hits like Patthar Ke Sanam (1967) and Neelkamal (1968) enhanced Waheeda's star status.
But while Teesri Kasam (a rustic love story between a nautankiwali and a yokel) and Khamoshi (a tragic romance between a nurse and her psychologically-affected patient), were artistically satisfying, their black-and-white format in an era of riotous colour curtailed their box office chances.
Early 1970s saw Waheeda's career unravelling. Big-budget ventures like Dev Anand's Prem Pujari and Sunil Dutt's Reshma Aur Shera bit the dust.
In 1974, Waheeda tied the knot with former actor Kamaljeet, 10 years after they played romantic leads in Shagun.
She shifted to a sylvan farmhouse in Bangalore.
Two children -- son Sohail and daughter Kashvi -- and a success story in the business of breakfast cereals completed the happily-ever-after family picture.
Waheeda has flown down to Mumbai since to work with big names like Amitabh (Kabhi Kabhie, Adalat, Namak Halal) or Yash Chopra (Chandni, Lamhe).
After an extended break, Waheeda was set to star in Kabhi Khushi Kabhie Gham but the sudden demise of her husband Kamaljeet on November 20, 2000, had her opt out at the nth hour.
Today, Waheeda lives with her children in her sea-facing bungalow at Bandra, north west Mumbai.
She enjoys gardening and gabfests with good friends over seafood at Mahesh Lunch Home and is content to do an occasional film.
This feature was first published on Rediff in March 2002.