In recent years, Yash Chopra has been labelled King Of Romance, when in fact, his best film, Deewar (1975) did not have a chiffon-clad heroine dancing in the snow.
Unfortunately, it is not available on a streaming platform.
The first few films he directed were under his brother B R Chopra's banner, the journalist-turned-film-maker, who migrated to India during Partition and established himself as a movie-maker of note and made several socially relevant films.
In keeping with the tenor of BR films, Yash Chopra's first film was Dhool Ka Phool (1959), which is available on OTT. But the more powerful and brave anti-communalism movie Dharmputra (1961) is not.
It's a varied filmography and very tough to choose, but Deepa Gahlot lists the most popular Yash Chopra films -- the ones he directed, not produced (yes, so that means no DDLJ) -- that can be watched on OTT.
Dhool Ka Phool, 1959
Where to watch? Amazon Prime Video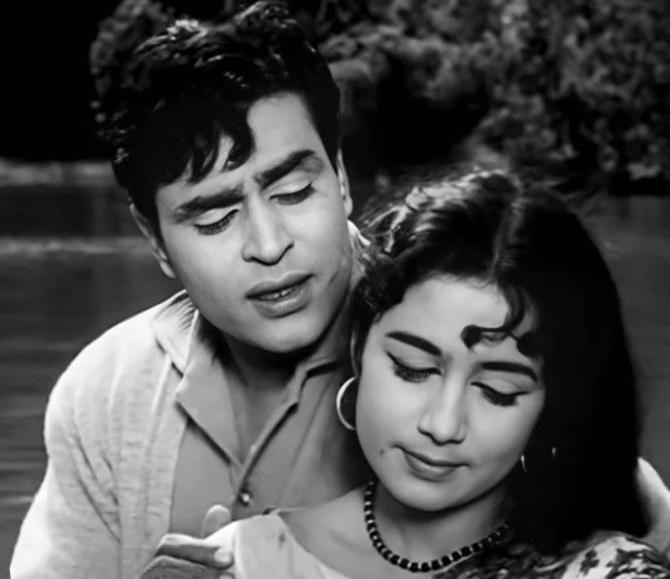 Yash Chopra, as an enthusiastic 27 year old, had been assisting his brother, and was given his first break as an independent director.
The story he picked was the kind his brother preferred: A message wrapped in entertainment.
Thanks to B R Chopra's clout in the industry, a young Yash got the top cast and the best music.
Mahesh (Rajendra Kumar) and Meena (Mala Sinha) have an affair, which leaves her pregnant. He refuses to accept paternity and marries another woman (Nanda).
Meena abandons the baby in a forest, where he is found by Abdul (Manmohan Krishna).
He names the boy Roshan (Sushil Kumar) and raises him as his own, singing Tu Hindu Banega Na Musalman Banege, Insaan Ki Aulaad Hai, Insaan Banega to the kid.
But society is not that understanding, and Roshan lands up in court for a crime he did not commit, where his real father is judge, and his mother's husband (Ashok Kumar), unaware of Meena's past, defends him.
Right at the start of his career, Yash Chopra displayed a flair for handling melodrama and for getting good performances, even from actors considered wooden.
The film was a huge hit, which goes to show that audiences then were open to thought-provoking mainstream movies.
Waqt, 1965
Where to watch? Amazon Prime Video and Disney+Hotstar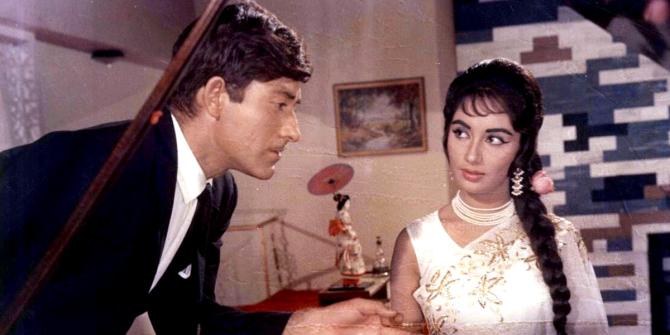 Waqt was one of the early multi-starrers that added glamour and star power to the lost and found story, once very popular with Bollywood film-makers.
Balraj Sahni plays Lala Kedarnath, who has an established business, a lovely wife (Achla Sachdev) and three young sons. He tempts fate by boasting about his success, and in the blink of an eye, an earthquake destroys everything.
His home and shop are destroyed, his family scattered.
The oldest son Raja ends up in an orphanage, the middle son Ravi is adopted by a wealthy couple, and the youngest Vijay remains with his mother who believes her husband perished in the quake.
Years later, they grow up to be Raaj Kumar, Sunil Dutt and Shashi Kapoor, whose paths keep crossing, without them realising their relationship, till there is an emotion-soaked reunion in a courtroom.
There are the gorgeously styled Sadhana and Sharmila Tagore as the love interests, and hit songs like Aye Meri Zohra Jabeen, Aage Bhi Jaane Na Tu, Din Hain Bahaar Ke, Kaun Aaye Ke and others written by Sahir Ludhianvi and composed by Ravi.
The film was a blockbuster, won five Filmfare Awards and laid the foundation for Chopra's long-lasting and successful career as a trend-setting film-maker.
Ittefaq, 1969
Where to watch? Amazon Prime Video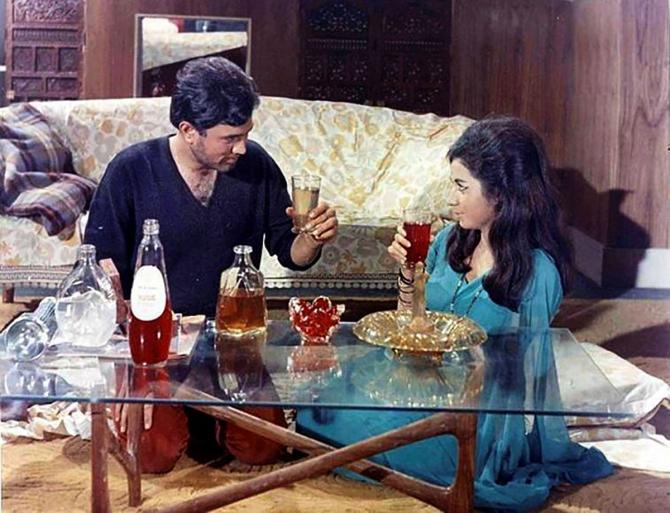 Based on the 1965 Hollywood film Signpost To Murder, which was adapted from a play, hence the stagey structure, Ittefaq was the last film Yash Chopra directed under the BR banner.
For mainstream Bollywood, it was a rule breaker -- no songs (though the background music was composed by Salil Chowdhury) and no intermission.
Rajesh Khanna was in his superstar phase of consecutive hits, but still took a chance on this subject.
He plays a painter, Dilip Roy, accused of murdering his wife, the sole witness being her sister Renu (Bindu).
He is sent to a psychiatrist (Gajanan Jahagirdar) for evaluation of his mental state, from where he escapes and enters the home of a rich woman Rekha (Nanda).
Her husband is not home and he forces her to shelter him and lie to the cops. But he finds a corpse in her bathroom and is in a worse mess than before.
The film is fast-paced and full of suspense, with terrific twists and turns.
It was not a major hit, but was appreciated for being offbeat for its time and also won Yash Chopra a Best Director Filmfare Award, one of the many over his career.
Kabhi Kabhie, 1976
Where to watch? Amazon Prime Video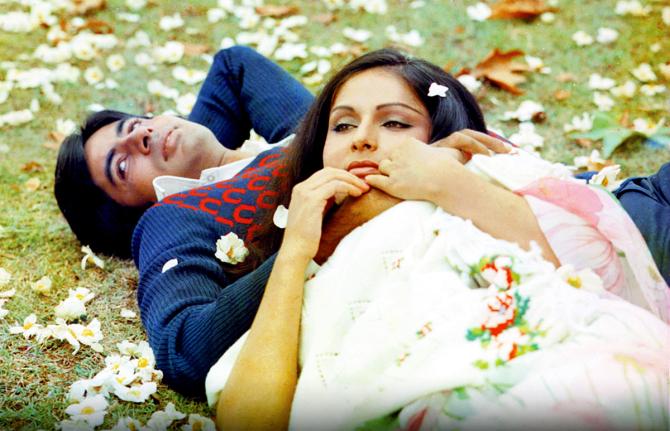 In 1970, Yash Chopra established his own production company and made Daag under his banner.
The film starring Rajesh Khanna, Sharmila Tagore and Raakhee was a hit, but has not aged too well.
He had commitments to Producer Gulshan Rai, so he directed Joshila (1973) and Deewar (1975) for him, before returning to his home banner to make Kabhi Kabhie that had faint echoes of Dhool Ka Phool, but glammed up with a high-powered cast and fabulous music by Khayyam.
Kabhi Kabhie involved Amit (Amitabh Bachchan) and Pooja (Rakhee), whose passionate romance is broken up by her parents. She is forced to marry Vijay (Shashi Kapoor) and an angry Amit marries Anjali (Waheeda Rehman).
Vijay-Pooja have a son, Vicky (Rishi Kapoor) and Amit-Anjali a daughter Sweety (Naseem).
Another love triangle is drawn when Sweety falls for Vicky and he falls in love with Pinky (Neetu Singh), who unknown to them all is Anjali's daughter, born out of wedlock and given up for adoption.
After much drama and tears, the tangled threads are sorted out and the bitter past wiped out.
The film was a big hit, the songs -- Kabhi Kabhie Mere Dil Mein, Main Pal Do Pal Ka Shayar Hoon, Tere Chehre Se, Pyar Kar Liya To Kya -- ruled the air waves.
Trishul, 1975
Where to watch? ZEE5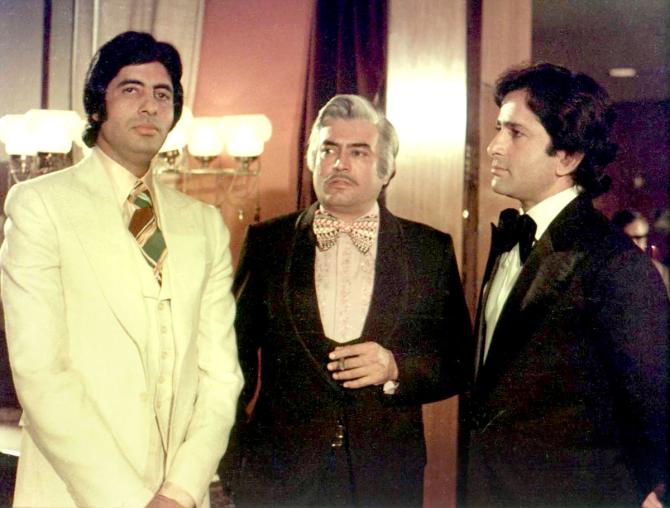 After this film produced by Gulshan Rai and, like Deewar, written by the top screenwriters of the time, Salim-Javed, Yash Chopra never stepped out of his own production company.
The film had Amitabh Bachchan playing another angry role as Vijay, whose mother Shanti (Waheeda Rehman) was dumped by her boyfriend RK Gupta (Sanjeev Kumar) when she was pregnant.
She raises him to be tough and extracts a promise that he will avenge her humiliation.
Gupta had married another woman and has two children, a son, Shekhar (Shashi Kapoor), who is a happy-go-lucky man, in love with Sheetal (Hema Malini) and a daughter, Kusum (Poonam Dhillon), romancing Ravi (Sachin) against her family's wishes.
Gupta does not know what hit him when Vijay targets his business and then his family, to cause him maximum damage.
On his side is the quiet and dignified Geeta (Raakhee), who leaves Gupta's company on being accused of spying.
Khayyam waved his magic wand again with songs like Mohabbat Bade Kaam Ki Cheez Hai, Jaaneman Tum Kamaal Karte Ho and even the odd Gapoochi Gapoochi Gam Gam.
After Kaala Patthar set around a coal mine a year later, Chopra's King of Romance phase began, with just Mashaal (1984) breaking the flow.
Silsila, 1981
Where to watch? Amazon Prime Video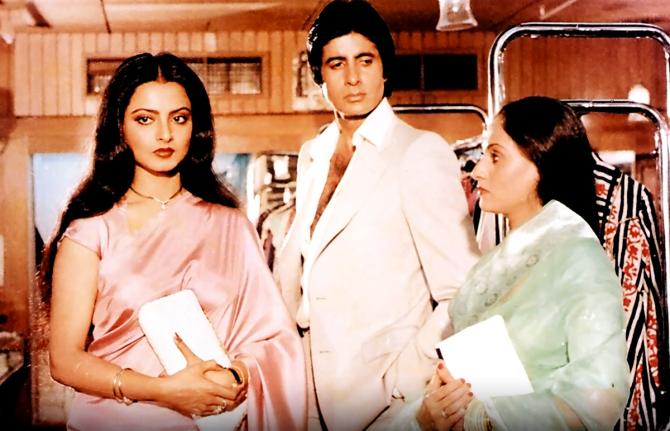 The gossip media of the time was slavering over the trouble in the marriage of Amitabh and Jaya Bachchan, due to his alleged romance with Rekha.
Imagine the casting coup that Yash Chopra pulled off by getting the three together in roles that vaguely reflected their real-life situation.
Amit (Bachchan) is in love with Chandni (Rekha), while his brother Shekhar (Shashi Kapoor) is paired with Shobha (Jaya Bachchan).
When Shekhar dies in battle, and Shobha is pregnant, Amit is compelled to marry her.
A heartbroken Chandni marries Dr Anand (Sanjeev Kumar).
Shobha miscarries, and with no love to bind them, Amit rekindles his romance with Chandni behind her husband's back.
The two decide to end their marriages and get together, but circumstances prevent them from doing that.
The film, despite great Shiv-Hari music -- Yeh Kahaan Aa Gaye Hum, Rang Barse, Dekha Ek Khwab -- superb visuals in Amsterdam (those tulip fields!) and Kashmir, disappointed the audience.
Perhaps because people either could not stomach adultery or the cop out ending.
Chopra, who was passionate about the subject, was deeply disappointed by its failure.
But he wasn't done with his beautiful, ultra-feminine Chandni, and named a film after her.
Chandni, 1989
Where to watch? Amazon Prime Video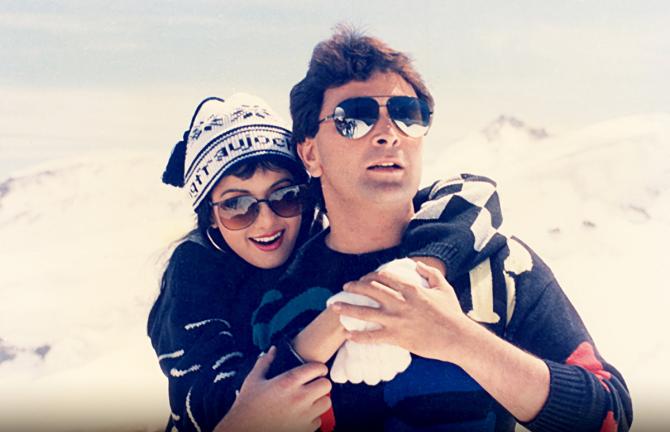 Despite the failure of his two previous films, Faasle and Vijay, Sridevi, reportedly signed this film without even hearing the story. The only thing she was worried about was the white wardrobe.
But the film changed her image, made her the top female star of the time, and flowing chiffon became the mark of Yash Chopra's romantic heroines.
The huge success of this simple, emotionally intense love triangle put Chopra firmly back on track.
It also had the best selling music album of the decade, with Shiv-Hari chartbusters like Mere Haathon Mein Nau Nau Choodiyan, Chandni O Meri Chandni and Lagi Aaj Sawan Ki.
Chandni is a middle-class girl, who meets Rohit (Rishi Kapoor) at a wedding and they fall in love. His wealthy family is not happy about their relationship, but he is besotted.
While he is showering her with petals from a helicopter, the plane crashes and Rohit is paralysed.
His family blames Chandni for the accident and he breaks up with her so as not to bind her to an invalid.
A shattered Chandni leaves Delhi and moves to Mumbai to work in the travel agency owned by Lalit (Vinod Khanna).
The older widower falls in love with Chandni and proposes to her and she reluctantly accepts.
While visiting Switzerland, Lalit meets Rohit who is undergoing treatment and they become friends. They share their love stories, unaware that it is the same woman they are talking about.
Rohit returns hoping to reignite the spark with Chandni, only to discover that she is to marry his friend.
One heart is bound to break.
With this film, Yash Chopra got everything right. This film also gets a large share of the credit of ending the era of violence in mainstream Hindi films and bringing back romance and social dramas.
Lamhe, 1991
Where to watch? Amazon Prime Video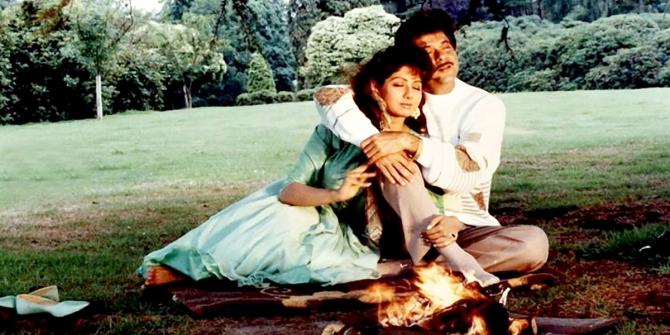 This film with its Mills & Boon formula got a mixed response when first released. Time has been kind to it, and Shiv-Hari's music like Morni Bagha Ma>/em>, Kabhi Main Kahoon and Megha Re, Meri Bindiya remains evergreen.
A young Viren (Anil Kapoor agreed to shave his moustache for a Chopra film) comes from London to Rajasthan and falls madly in love with Pallavi (Sridevi). She does not reciprocate and marries Siddharth (Deepak Malhotra).
A heartbroken Viren returns to his home in London.
Pallavi and Siddharth die, leaving their daughter Pooja behind in the care of a caring Daai Ja (Waheeda Rehman).
Viren never meets Pooja while she is growing up, so when he meets an adult Pooja, he is shocked to see Pallavi's face looking back at him.
Pooja falls in love with Viren without knowing about his past with her mother, and Viren keeps denying his attraction towards Pooja because she is much younger and like a daughter to him.
But he is forced to admit his feelings in the face of Pooja's stubbornness.
With Sridevi's double role, Anil Kapoor's mature performance and the unusual love story, the film was a bigger hit abroad than in India. But it is often listed as Yash Chopra's personal favourite.
Darr, 1993
Where to watch? Amazon Prime Video
The ultimate stalker film turned Shah Rukh Khan into the major star he went on to become; playing the unhinged Rahul Mehra, a part other stars turned down as a possible career-killer.
Rahul's unrequited love for Kiran (Juhi Chawla) turns to obsession and reaches dangerous levels when she marries her boyfriend, naval officer Sunil (Sunny Deol).
He calls her relentlessly (K-K-K Kiran!), makes attempts to get close to her and when his mind tips over, he tries to kill Sunil.
When Kiran and Sunil go abroad, he makes an elaborate plan to find out their location, killing an innocent man in the process.
Were it another actor, Rahul would have been a despicable character, but Chopra made use of Shah Rukh Khan's charming, dimpled, non-threatening, image to make him a sympathetic, motherless, stuttering young man, desperate for love.
As a result, it had no negative impact on Khan's career.
Seen in the post #MeToo era, Darr is a truly a scary film. It showed that stalkers are not harmless flirts, who sometimes cross a line. They are dangerous criminals.
Veer Zaara, 2004
Where to watch? Amazon Prime Video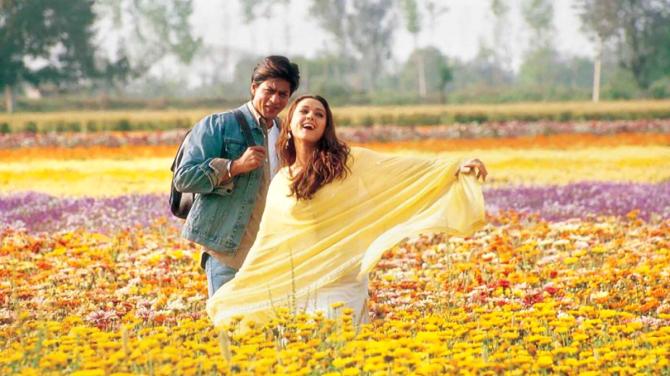 If it's a toss between the generic 'young' romance, Dil To Pagal Hai, and the all-heart Veer Zaara, the latter wins, even with its somewhat implausible story and full-on melodrama.
Collaborating with son Aditya Chopra on the script, Yash Chopra told the tragic love story of an Indian Air Force pilot Veer (Shah Rukh Khan) and Zaara (Preity Zinta), the daughter of a Pakistani politician.
Understanding that they can never be together, the two part ways. But twists of fate land Veer in a Pakistani prison as an Indian spy.
For 22 years, Veer, believing that Zaara had got married to Raza (Manoj Bajpayee), a man of her parents' choice, stays silent, and Zaara thinks he died in a bus crash.
Then, Samiya (Rani Mukerji), a Pakistani human rights lawyer, takes up his case and does all she can to dig out the truth.
The climax of the film was Yash Chopra at his best, leaving no dry eye in the audience. He said in interviews that Veer Zaara was a tribute to his Punjabi roots.
Even though the family had been uprooted during Partition, there is no bitterness towards Pakistan.
If there is the vengeful Raza, there is also the compassionate Samiya, and love conquers all in the end.
Chopra directed just one more film, Jab Tak Hai Jaan, in 2012, which was released after he passed away, leaving a legacy of memorable films and unforgettable songs.