Ram Gopal Varma's last few films were so cringingly bad that a new generation of film-goers might not even remember that he was once admired as a maverick, who marched to the music of his own drum, instead of bowing to Bollywood diktats.
An engineer by training, and self-taught film-maker, he brought a noir-ish realism and technical flourish realism to his films, without sacrificing mainstream elements.
His favourite genres were crime and horror, but he also threw in surprises like Naach and Nishabd.
He has had more flops than hits, but the biggest stars of Telugu and Hindi cinema wanted to work with him.
Some of his earlier films, which he also wrote, have come to be considered as classics of the crime genre, and many of them -- with notable exceptions like Kaun? -- are available on streaming platforms.
A few are available in their Telugu versions.
Deepa Gahlot picks a list of 10 essential RGV movies though there are 84 to wade through.
Shiva, 1989
Where to watch? Amazon Prime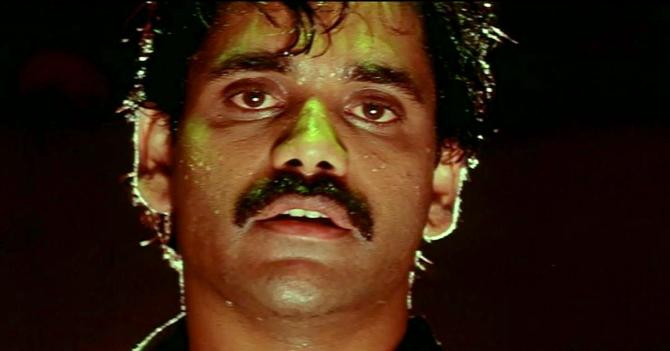 Ram Gopal Varma's first film, starring Nagarjuna and Amala, was angry and violent. College student Shiva's normal, middle-class life is disrupted when he fights with a gangster's henchman and college union president JD (Chakravarthy) for harassing his girlfriend.
His popularity with students catches the eye of the gangster, Bhavani (Raguvaran), and without meaning to, Shiva is drawn into the dark world of violence and crime.
The film was a huge hit in Telugu, and remade a year later in Hindi. It established Varma as a film-maker to watch out for.
Kshana Kshanam, 1991
Where to watch? Disney+Hotstar and Amazon Prime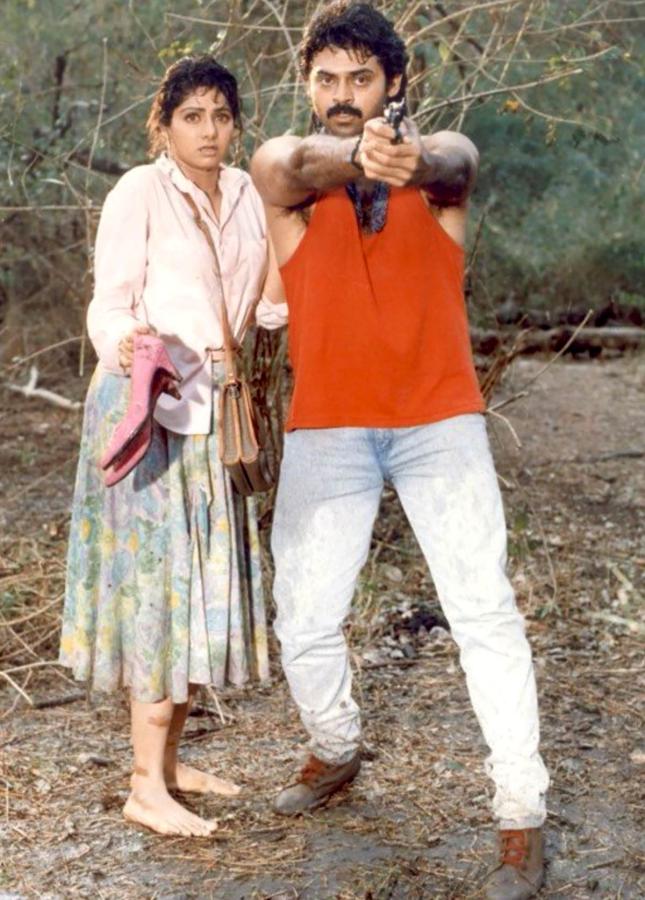 Varma has often declared that he was a fan of Sridevi and she agreed to star in his road movie, opposite Venkatesh.
Sridevi played Satya, an ordinary working girl, who is being chased by gangsters because they want an envelope in her possession. The envelope has a clue to reach the loot from a bank heist.
She is helped in her escape and adventure by Chandu, a petty criminal, who first takes her hostage and then joins her to grab a share of the stolen booty.
The fast-paced comedy-thriller was a success, cementing the director's position as one who could deliver hits.
Varma later remade this film with some changes as Daud (1997), with Urmila Matondkar and Sanjay Dutt, but it did not work too well at the box office.
However, the director returned to the road movie format a few times in his career.
Drohi, 1992
Where to watch? ZEE5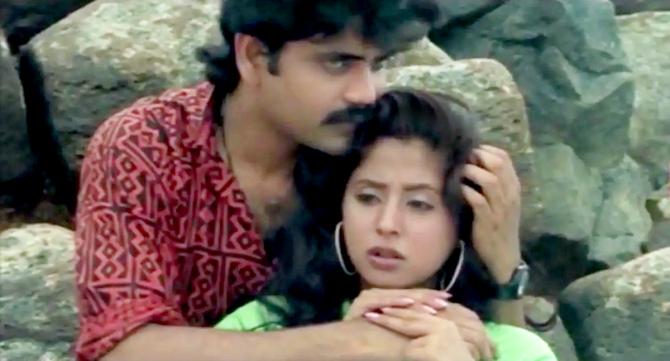 The film, also made in Telugu as Antham, used the classic plot of a man reformed by love. Raghav (Nagarjuna) is a hitman for a gangster (Danny Denzongpa).
He leads a secretive life away from people, particularly women, till he meets an ornithology student Bhavana (Urmila Matondkar), and falls in love.
He tries to hide his true identity from her, but cannot quite shake off his past, more so because Bhavana happens to be the sister of the cop (Salim Ghouse), who is on his trail.
The film is one of Varma's better films but was not as successful as his first crime movie.
Interestingly, the film had music composed by R D Burman, one of the last films he did before he passed away in 1994.
Raatri, 1992
Where to watch? Amazon Prime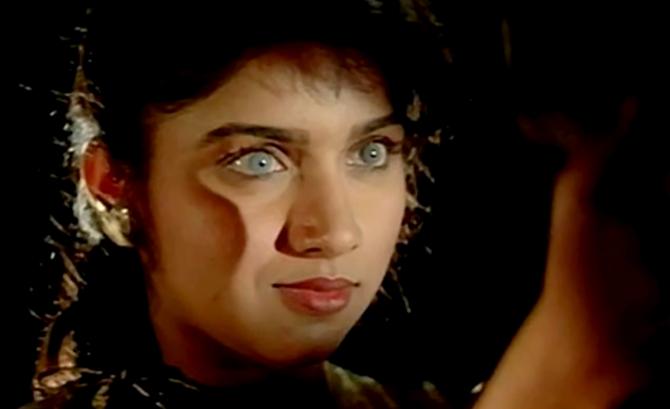 Titled Raat in Hindi, this Revathi-starrer is a horror film that audiences have appreciated in retrospect.
A family of four moves into a house that is believed to be haunted.
Spooky things happen, a cat is a recurring horror motif, and the college-going daughter, Mini, starts behaving strangely.
When people drop dead, Mini's parents seek help from an exorcist as well as a psychiatrist, who seeks to debunk the occult mumbo-jumbo surrounding Mini's behavior.
Obviously inspired by the Hollywood horror classic, The Exorcist, the film delivered its share of chills and was technically more advanced than the schlock horror movie made until then.
Rangeela, 1995
Where to watch? Amazon Prime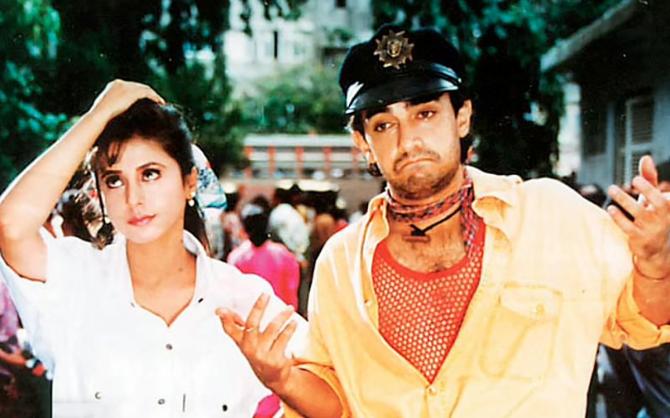 AvR Rahman composed some of his best tunes -- Tanha Tanha Yahan Pe Jeena, Aayi Re, Kya Karen and Rang Rangeela Re -- for Varma's biggest hit, in fact, the only blockbuster of his career.
It's a love triangle between Raj Kamal, a movie star (Jackie Shroff), a junior artiste Mili (Urmila Matondkar) and Munna (Aamir Khan), a street-smart seller of film tickets in 'black'.
Mili dreams of becoming an actress and she gets there with Raj's help. But then, she has to choose between love and success.
Neeraj Vora and Sanjay Chhel's dialogue contributed to the appeal of the film (the 'AC ghuma' line is a zinger), and the complete Manish Malhotra magic makeover Urmila Matondkar was made to undergo by the obviously besotted director, gave her a new, sexy image.
However, there was a public falling out between Varma and Aamir Khan and the two never worked together again.
Satya, 1998
Where to watch? Amazon Prime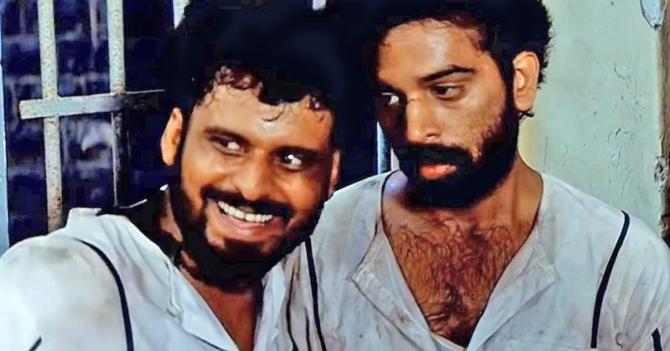 This gritty gangster drama remains Varma's best known films. It has echoes of Shiva in the way a common man is drawn to crime.
Satya (JD Chakravarthy) comes to Mumbai to look for a livelihood, and is befriended by a gangster, Bhiku Mhatre (Manoj Bajpayee), the cheerful but deadly underworld guy who declares himself 'Mumbai ka king'.
Alongside the brutal killings, extortion and other criminal rackets is the love story of Satya and his neighbour Vidya (Urmila Matondkar), an aspiring singer who is unaware of his reality.
As the inter-gang rivalry escalates, an upright cop (Aditya Shrivastav), with the police commissioner's encouragement, is determined to destroy the city's underworld.
In an unlikely partnership, Gulzar wrote lyrics for songs like Goli Maar Bheje Mein and Sapne Mein Milti Hai composed by Vishal Bhardwaj.
The film boosted the careers of Manoj Bajpayee, plus the writers Anurag Kashyap and Saurabh Shukla, who got Mumbai's slang spot on.
Company, 2002
Where to watch? ZEE5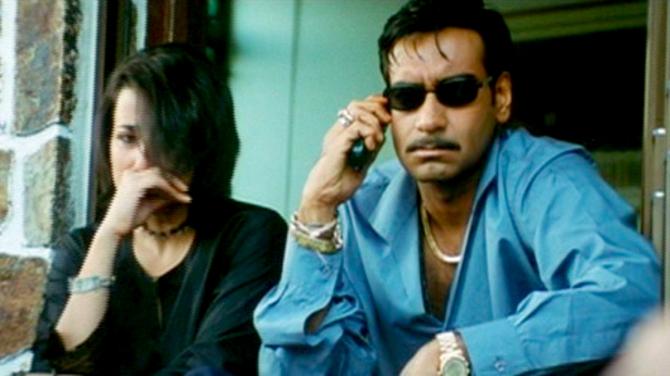 Company launched Vivek Oberoi's career, as he played Chandu Nagre, a henchman of gangster Malik (Ajay Devgan), from whom he breaks away after a disagreement, a thinly veiled movie recreation of the rift between Dawood Ibrahim and Chhota Rajan.
The joint commissioner of police -- played by Malayalam superstar Mohanlal (in his first Hindi film), inspired by real cop D Sivanandan -- takes advantage of this gang warfare to wipe out Mumbai's mafia.
Like Satya, this film was also brutal and violent and did reasonably well at the box office.
Varma completed his Mumbai Gangster trilogy with D, which he wrote and produced but did not direct (Vishram Sawant did).
Bhoot, 2003
Where to watch? Amazon Prime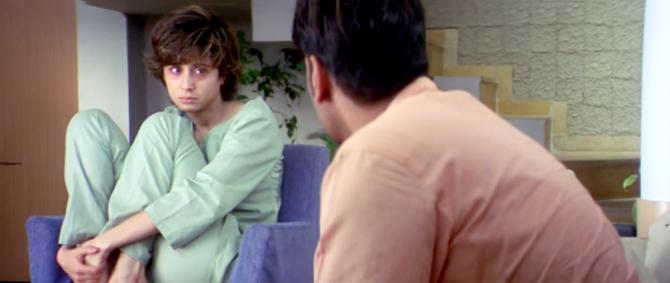 Varma returned to the horror genre with another haunted house plot.
Vishal (Ajay Devgan) and his wife Swati (Urmila Matondkar) get a flat at a low rent in Mumbai because of a murder-suicide that took place there.
Vishal hides this from his wife, though she finds out and is disturbed by it. Vishal does not believe in ghosts, but is forced to change his mind when Swati behaves oddly and commits a murder when possessed by a vengeful spirit.
Inspector Qureshi (Nana Patekar) comes to investigate and gets suspicious of the couple's weird demeanour.
An exorcist (Rekha) is summoned and she gets to the root of the mystery and the real culprit (Fardeen Khan) is exposed and punished.
The film used the usual supernatural tropes but was visually more polished than most films of this kind. It was lifted a few notches by the cast.
Sarkar, 2005
Where to watch? Disney+Hotstar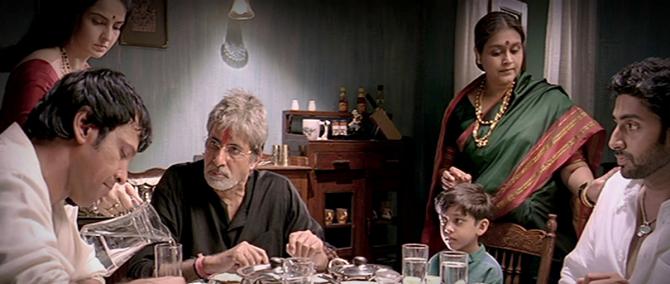 Varma created the character of Subhash Nagre (Amitabh Bachchan) by mixing The Godfather and Thackeray family politics. Called Sarkar by his followers, he has a large following for meting out justice when the law fails.
His older son Vishnu (Kay Kay Menon) is a loose cannon, while the younger, obedient son Shankar (Abhishek Bachchan) returns after studying abroad, accompanied by his girlfriend, Pooja (Katrina Kaif).
The family drama is the foreground for a whole lot of criminal and political wheeling-dealing for money and power.
Sarkar is framed in a murder and imprisoned, and there is an attempt to murder him in jail.
Shankar, who was unaware of his father's misdeeds and yet driven by loyalty, eliminates his enemies, including his own brother.
Varma was so enamoured of the character of Sarkar that he made two sequels that failed to live up to the success of the first.
Naach, 2004
Where to watch? MX Player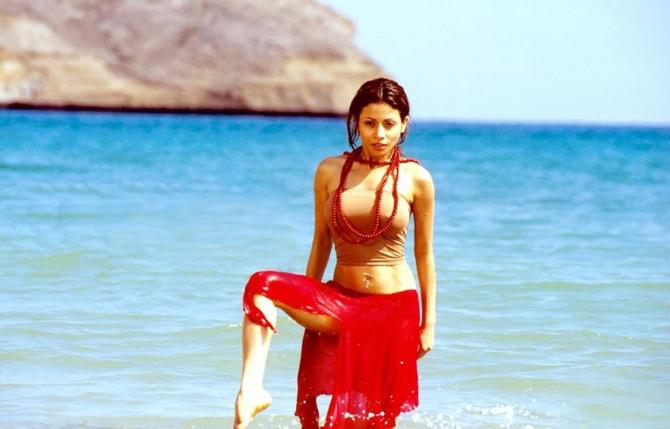 Naach is a stylish and bizarre film, with echoes of Rangeela ringing through it.
But it has a brooding, melancholy look to it.
Rewa (Antara Mali) is an aspiring choreographer while Abhinav (Abhishek Bachchan) is an aspiring actor.
He needs to learn to dance to make it in the movies, and she can teach him. Her approach to dance is almost worshipful. She wants success but on her terms.
Abhinav gets success on the industry's terms, and they part bitterly.
When they meet again, Rewa has become a star.
Diwakar (Ritesh Deshmukh) does not understand her mind, but is willing to see things from her point of view.
It is not the plot, but the way Varma approaches it that makes this a curiosity in his filmography.