Anil Kapoor, now aging gracefully into older gentleman roles, has had quite a chequered career.
Luckily for popular actors, audiences have short memories and forget their screen missteps, or he would never have lived down the really awful films like Benaam Badshah and Mr Bechara.
Some of his best films that established him as a dependable actor were in the early days of his career, and sadly, Woh Saat Din and Eeshwar are not on any streaming platform; neither are his offbeat films like Kahan Kahan Se Guzar Gaya, Saaheb, Chameli Ki Shaadi and Calcutta Mail.
His multiple Oscar-winning Slumdog Millionaire is missing on OTT too.
AK was among the first stars to do a TV show like 24, but that's not on OTT either.
As we enjoy his thrilling The Night Manager series, Deepa Gahlot looks at 10 Anil Kapoor films on OTT that shows off his versatility and star power.
Mr India, 1987
Where to watch? ZEE5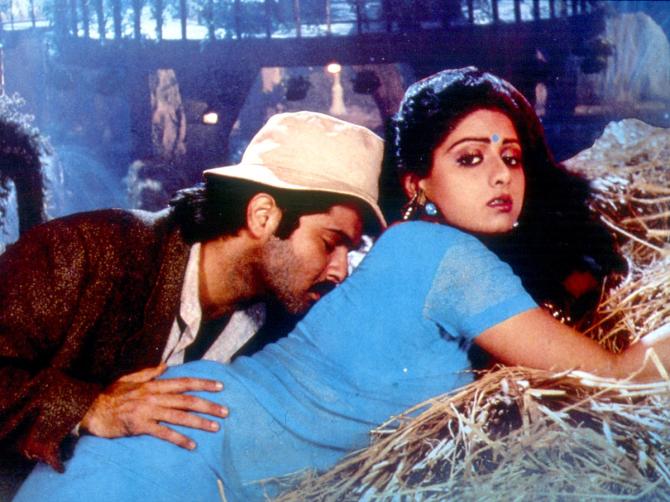 After having started his acting career in 1979, Anil Kapoor was coasting along, had done a mix of hits and bombs. Then came one of those career-defining films, directed by Shekhar Kapur and written by Salim-Javed, in which he got to channel his inner Raj Kapoor and play an ordinary man with a superpower.
Arun Verma runs a shelter for orphans and is always strapped for cash, when he discovers a gadget that makes him invisible.
He stood out as the golden-hearted guy in a film studded with memorable characters, like a perky journalist played by Sridevi, the cook called Calendar (Satish Kaushik) and Amrish Puri as Mogambo, one of the best Bollywood villains of all time.
Mr India turned Anil Kapoor and Sridevi into a hit pair. They did over a dozen films together, and later, she married his brother, Boney Kapoor.
The film ended the golden run of the Salim-Javed screenwriting partnership.
Tezaab, 1988
Where to watch? Amazon Prime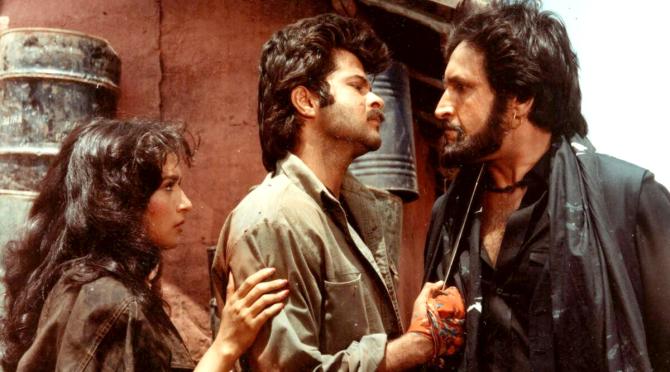 Anil Kapoor played a tapori many times, but N Chandra's film combined elements of commercial cinema with a kind of Mumbai street realism, allowed the actor to excel in the role of Munna, who wanted to bring down Lotiya Pathan (Kiran Kumar), who was responsible for the destruction of his family.
The film helped form another successful pairing of Anil with Madhuri Dixit and they went on to star in about 15 films.
This one showed that the star could dial up the Angry Young Man intensity to screen-scorching levels if required.
Ram Lakhan, 1989
Where to watch? Amazon Prime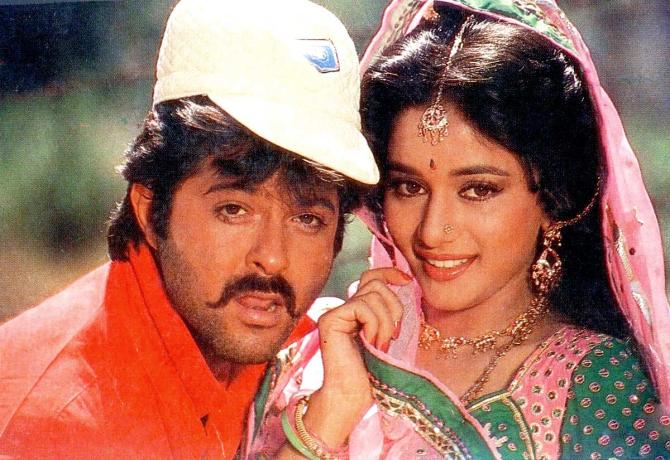 If Tezaab had him play with fury, in Subhash Ghai's film, he was the happy-go-lucky charming dude, who had to be reined in by his serious cop brother, Ram (Jackie Shroff). They had to avenge the murder of their father by their villainous cousins (Amrish Puri and Paresh Rawal).
As plots go, it was the standard revenge template, but Anil's exuberance was partly responsible for its blockbuster fate.
This was also the film which made AK's catchword 'jhakaas' his signature line till today.
It was then said in jest, that forget the heroines, Anil formed the longest-running pair with Jackie Shroff and they did at least 12 films together.
Parinda, 1989
Where to watch? Amazon Prime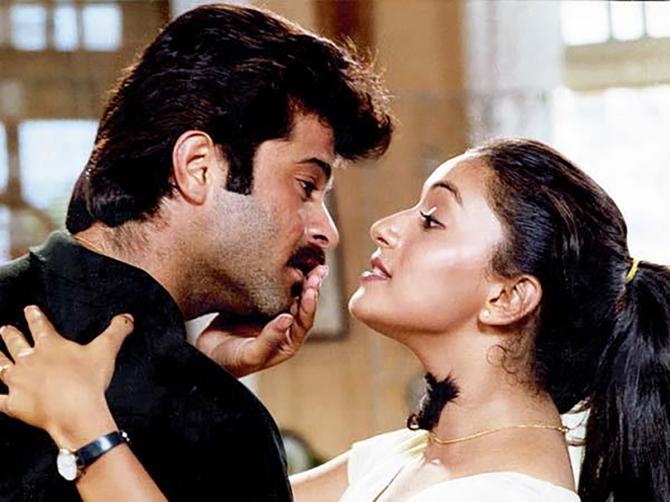 After playing the various shades a leading man could play in mainstream Bollywood, Anll Kapoor convincingly pulled off innocence in Vidhu Vinod Chopra's film.
He played Karan, the younger brother of Kishan (Jackie Shroff), who has been kept away from the underworld by his brother, who works for the crazy gangster Anna (Nana Patekar).
Then the cop brother (Anupam Kher) of his sweetheart Paro (Madhuri Dixit) is gunned down in front of Karan, and some of the muck of crime sticks to him.
It was a quietly effective performance, that generously gave space to Shroff to shine, and it was said back then that this film made an actor out of Shroff, but it also burnished Anil Kapoor's star halo.
Lamhe, 1991
Where to watch? Amazon Prime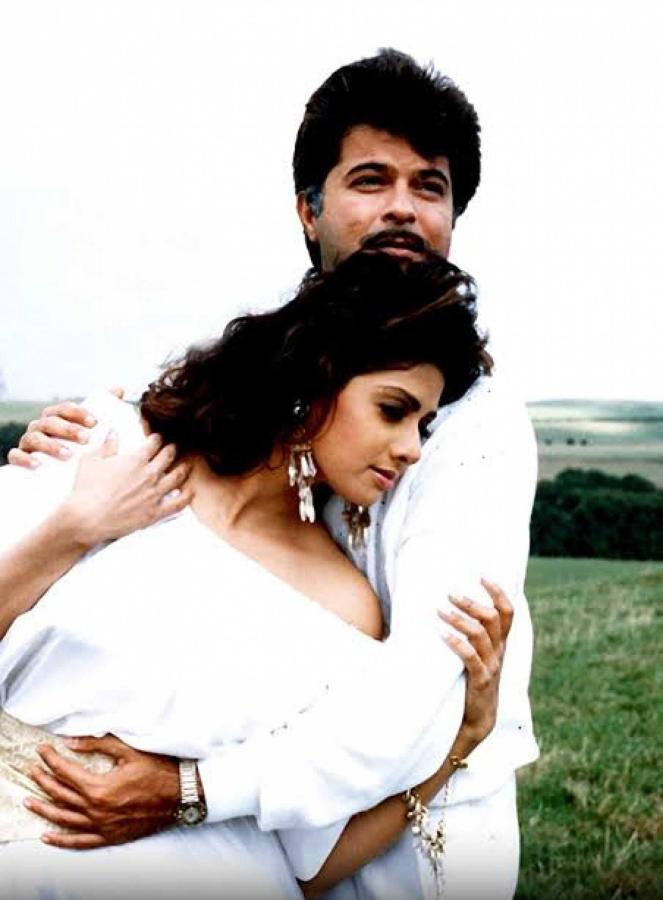 With the frivolousness typical of film media of the time, much was made of Anil Kapoor shaving off his mustache, but if Yash Chopra asked, who could refuse?
It was necessary to change his look from the young man, who fell in love with the older Pallavi (Sridevi), and the dignified, grown-up and mustachioed Virendra Pratap Singh, who is faced with her lookalike daughter Pooja, and has his mind scrambled by confused emotions.
Sridevi got to do the double role, but by this time, Anil Kapoor had acquired the maturity to play the character at two different ages and portray the inner change as convincingly as the outer.
A mustache was a small sacrifice.
Viraasat, 1997
Where to watch? Amazon Prime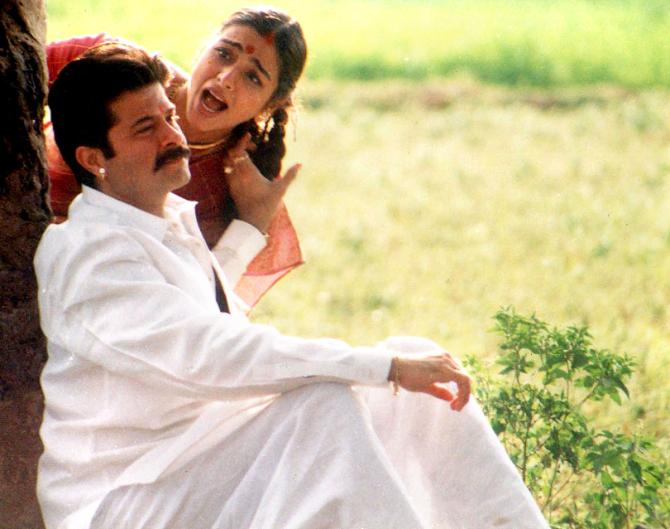 Kamal Haasan had written and starred in this Priyadarshan-directed Tamil film Thevar Magan, remade with Anil Kapoor in the lead.
Anil, who had done the Eeshwar remake before, was obviously not too bothered about comparisons.
He played Shakti Thakur, son of a zamindar (Amrish Puri), who returns from the US with his girlfriend (Pooja Batra).
He wants to sell his share of his property and leave, while his father wants him to use his education for the betterment of the village.
Circumstances force him to become a leader and work for the villagers and also marry a local girl (Tabu).
The film had a strong plot and a great part for the leading man -- the one who puts family and village above himself can never go wrong -- and Anil Kapoor played Shakti with remarkable understanding.
Pukar, 2000
Where to watch? ZEE5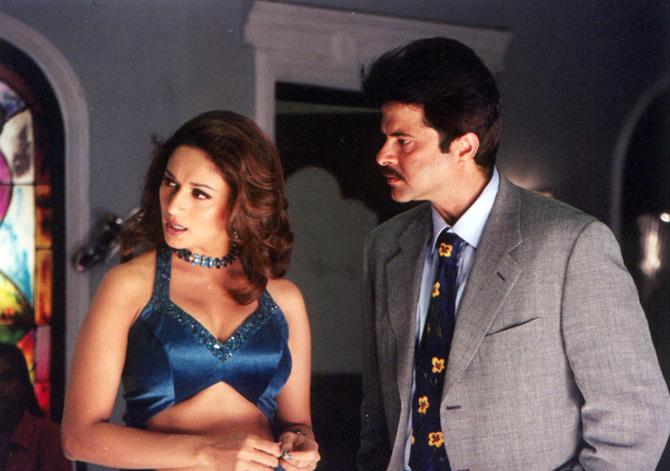 Rajkumar Santoshi's Pukar won Anil Kapoor a National Award, amidst much 'partiality' controversy.
The film had him playing Major Jaidev Rajvansh, who gets into trouble because of a jealous Anjali (Madhuri Dixit), who loves him and wants to teach him a lesson for jilting her.
She steals a secret code that enables a dreaded terrorist (Danny Denzonpa) to escape, leading to Jai's court martial.
He has to redeem his reputation by recapturing the fugitive.
A passable film, it is a landmark in the star's career for the coveted award, which he deserved for other, better films.
Nayak: The Real Hero, 2001
Where to watch?Disney+Hotstar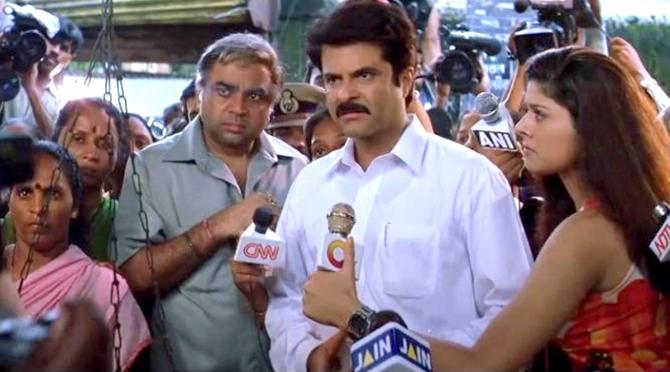 Directed by S Shankar, the Hindi version of his hit Mudhalvan, Nayak is a modern-day fairytale of a television reporter named Shivaji Rao Gaekwad (Rajinikanth's real name!), who accepts the challenge of the chief minister, Balraj Chauhan (Amrish Puri), to take his place for a day.
Of course, a common citizen with the desire to do good, can accomplish in 24 hours what politicians cannot do in years, and he has to face the consequences of his bravery.
Anil Kapoor played the part with such earnestness that he made the preposterous idea believable.
Dil Dhadakne Do, 2015
Where to watch? Amazon Prime, Netflix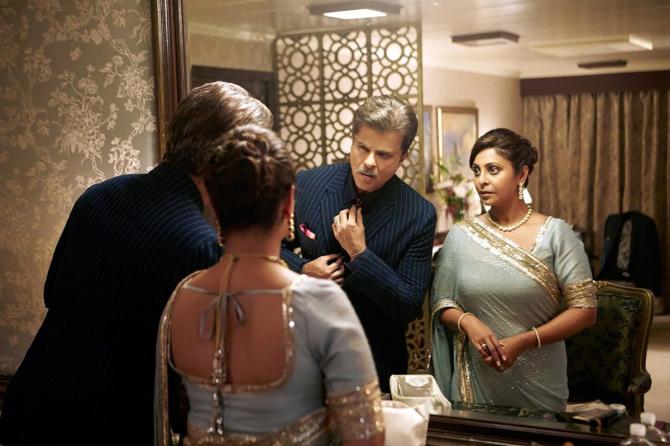 When the always youthful star got grey in his hair and started playing the daddy, it came as a mild shock.
In Zoya Akhtar's film, he played self-made industrialist Kamal Mehra, who is facing a cash crunch, but to keep up pretences, he still goes ahead with a cruise to celebrate the 30th anniversary of his marriage with Neelam (Shefali Shah).
Like other Bollywood leading men, he could have played romantic hero opposite Priyanka Chopra, but he took on the role of her father (and Ranveer Singh's).
He practically held the film together with his performance as a not very likeable man.
AK vs AK, 2020
Where to watch? Netflix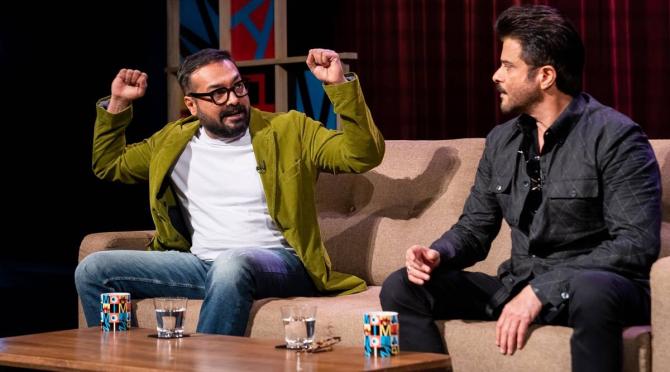 Vikramaditya Motwane's comedy-thriller was one of those meta movies that Anil Kapoor must have done out of curiosity and maybe a sense of what-the-hell fun.
He plays himself with the other AK being Anurag Kashyap, also playing himself.
After a public spat with the star, Kashyap kidnaps his daughter (real-life daughter Sonam) and makes Kapoor search for her while his assistant (Yogita Bihani) films them as part of his next project.
Made by Netflix as original Indian content and released on the platform on Anil Kapoor's 64th birthday (December 24), the film not just proved that the 60-plus star was game for anything unusual, it also eased his way into adventurous projects on OTT, including Thar and The Night Manager.