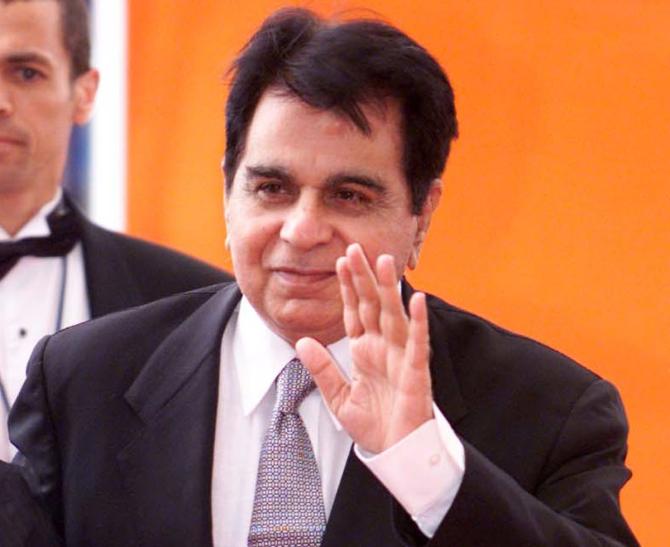 On the eve of the release of the coloured version of Mughal-e-Azam, Dilip Kumar spoke to Patcy N/Rediff.com in an exclusive interview. This feature was first published on Rediff.com on November 12, 2004.
It is funny how people keep asking me how I feel now that the coloured version of Mughal-e-Azam has been made. So many years, so many movies, but always the question of how I feel.
Even today, after I've stopped acting, the question haunts me. From the days of Aan to Ganga Jamuna to Devdas to Mughal-e-Azam all over again, the media wants to know how I feel before a film's release.
The black and white version obviously wouldn't have worked today. It was made for a different time.
If we'd released the same film all over again, would it have caused such a massive stir? Would it have brought us back into the limelight? No. I wouldn't even have been here being interviewed.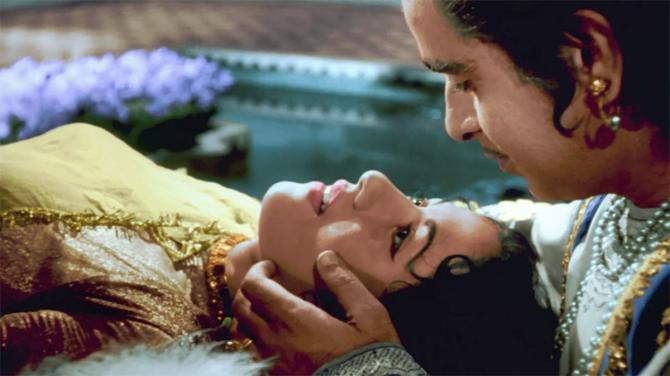 The film was made over a period of more than 10 years; we all had great expectations that it would finish some day.
Now, strangely, we are seeing that same film released not just once, but twice.
When you're working, you have to build up faith. You have to work hard, with confidence and consistency.
There are certain films that we make with the hope that, if everything works out well, it will turn out to be a classic. Sometimes, these hopes are fulfilled. This is one such instance.
Personally, I certainly prefer the coloured version. What they've done, technically, is quite an achievement. The overall effect is splendid.
Of course, in changing from that version to this, several things have changed: Some things stand out more, some get spoiled, but the overall effect is very good.
The fact that big movies like Mughal-e-Azam, Veer-Zaara, Aitraaz and Naach are all being released together does not bother me. It's not that big an issue.
All the time, in the past, big films would release simultaneously because of problems with release dates and theatre availability. Sometimes the producers had no choice. But if a film was good, it would always work.