'Because of Nadeem-Shravan, even a lyricist like me was given VIP treatment by producers,' says Sameer, who penned simple, hummable, words to Nadeem-Shravan's breezy tunes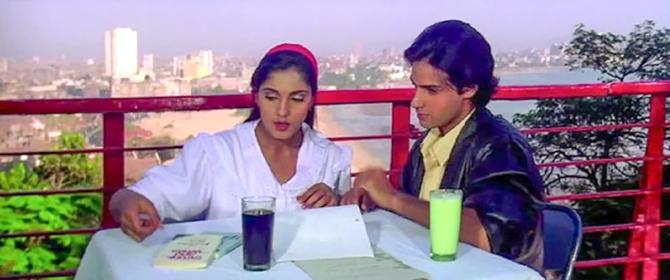 Shravan Rathod, whose partnership with Nadeem-Shravan yielded some of the most hummed film songs of the 1990s, comes from a family of musicians.
His brothers Roop Kumar Rathod and Vinod Rathod are well-known singers.
Lyricist Sameer Anjaan recalls Shravan as a humble, extremely talented musician.
"Between them, Shravan and Nadeem had divided the composing chore just like Laxmikant and Pyarelal had done. Nadeem would sing the tune and Shravan would play it on the harmonium as if it was Nadeem's voice."
Sameer -- who wrote almost all of Nadeem-Shravan's hits, including Aashiqui, Sajan, Dil Hai Ki Manta Nahin, Raja Hindustani and Dhadkan =---- reveals how they began their popular collaboration.
"I met Nadeem and Shravan through film-maker Aziz Sejawal, who wanted me to collaborate with them for a film called Ilaaka. But Nadeem rejected the offer outright, saying I was too new.
"When I was about to leave, Nadeem called after me and gave me a line -- Pyar se bhi zyada main tumse pyar karta hoon. 'See if you can write a follow-up line to this,' he threw a challenge at me."
Sameer recalls, "I thought about the line and called Nadeem on reaching home (there were no mobile phones those days).
"My next line was Yaad tujhe ek pal mein baar baar karta hoon."
That did it.
"Nadeem, who called me Samraat, decided to work with me.
"Ilaaka was our first film together.
"My association with Nadeem-Shravan was historic. Since Nadeem woke up late after partying, I would jam with Anand-Milind in the morning and then proceed to jam with Nadeem-Shravan in the afternoon."
What followed was a slew of blockbuster soundtracks with Nadeem-Shravan.
Recalls Sameer, "Aashiqui, which changed the course of film music, has an interesting history.
"It was originally planned by music baron Gulshan Kumar of T-Series as a non-film album to promote (singer) Anuradha Paudwal.
"It was called Chahat and I wrote the title song Main duniya bhula doonga teri chahat mein.
"But then Mahesh Bhatt heard the first three songs of the album and decided to make a film written around the songs. That's how Aashiqui was born."
Sameer reveals how, at one point, Gulshan Kumar wanted to scrap the project.
"He thought the songs sounded like non-film ghazals. And he didn't like the look of the lead pair.
"Mahesh Bhatt offered to solve that problem: He covered up the faces of Rahul Roy and Anu Aggarwal with a coat on the posters."
Aashiqui was released and became a thundering hit.
"It was followed by an endless chain of blockbusters where I wrote simple, hummable words to Nadeem-Shravan's breezy tunes.
"Do you know, Saajan was to have music by Laxmikant-Pyarelal? They even composed a song.
"Producer Sudhakar Bokade scrapped it and got Nadeem-Shravan and me for the music. Because of Nadeem-Shravan, even a lyricist like me was given VIP treatment by producers."
Producer-director Suneel Darshan, who collaborated with Nadeem-Shravan over several soundtracks, says, "I have such fond memories of having worked with Shravanji, both in my movies Ek Rishtaa, Haan... Maine Bhi Pyaar Kiya, Andaaz, Barsaat, Mere Jeevan Saathi, Dosti: Friends Forever as part of the Nadeem-Shravan team, as well as on Talaash: The Hunt Begins... where he mentored his sons Sanjeev and Darshan as composers.
"He will be remembered for decades for the outstanding repertoire of blockbuster music of the 1990s and 2000s.
"I am a Nadeem-Shravan fan and admire almost all their titles, right from Aashiqui to Dosti: Friends Forever, with Deewana, Sadak, Saajan, Dil Hai Ke Maanta Nahin, Phool Aur Kaante, Raja Hindustani, Pardes, Dhadkan, Raaz... the list of their record-breaking melodies is endless!"
Singer Hariharan, who sang the chartbuster I love my India in Pardes for Nadeem-Shravan, says, "Shravanji's death is very tragic. He was a very humble and gentle person! Shravanji was a great composer and tabla player. Very easygoing. They were both cool guys. Very professional. God bless his soul."
Singer Alka Yagnik, who sang a majority of Nadeem-Shravan's songs says, "Heartbreaking. It is devastating. I've no words.
And singer Shailendra Singh recalls Shravan Rathod as "a very humble and talented composer. Never compromised on melody. God bless his soul."