Drugs, divorces, terrorism charges, prison time, Sanjay Dutt's story is stuff of fiction.
Nargis and Sunil Dutt's son has caused so much controversy that even the biopic Sanju -- an undoubtedly sympathetic one at that -- could barely scratch the surface.
With so much focus on the drama in his real life, Dutt's growth as an actor got completely overshadowed.
Though his roles in Naam, Saajan, Sadak, Khalnayak, Vaastav, Kaante, Mission Kashmir and the Munnabhai series brought him acclaim, some of his other interesting work remains largely underrated.
As the 'Deadly Dutt' turns senior citizen, Sukanya Verma looks back at 10 of his most underrated performances. Vote for your favourite in the poll below.
Kabzaa
After an impressive comeback in Mahesh Bhatt's Naam, Dutt explored his explosive intensity to convey a youngster's return of conscience in Kabzaa.
Hathyar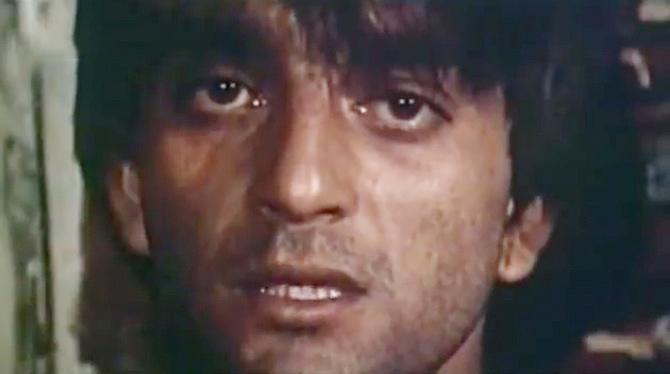 Dutt's proficiency at playing the good guy seduced into wrongdoing is reiterated most memorably in J P Dutta's Hathyar. The heartbreaking vulnerability he imbues in Kabzaa's opening scene and Hathyar's climax rank among his career's best.
Inaam Dus Hazaar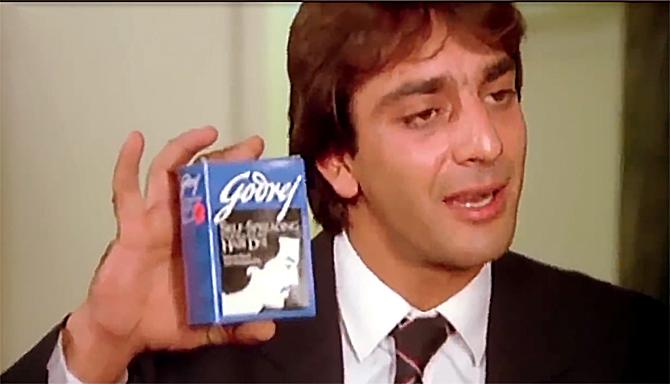 Let not Dutt's tough guy imagery overpower his ability to have fun on screen.
For 1987's Inaam Dus Hazaar, which takes ample inspiration from Alfred Hitchcock's North By Northwest, the star turns on his charm to full to play a regular salesman pursued by both cops and a crime syndicate.
Kshatriya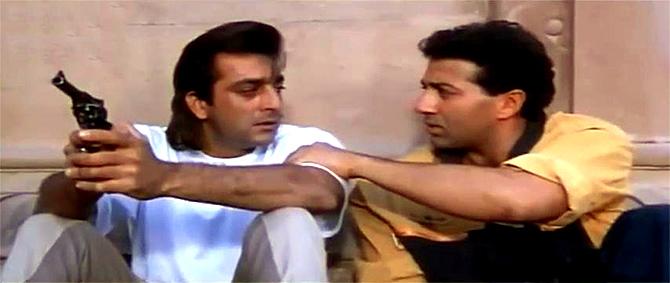 As the reluctant Rajput put off by the sounds of shooting, Dutt balances swagger and sensitivity before stepping up to face fellow muscleman Sunny Deol in a fight of supremacy.
Dutt delivered some solid work under Dutta. Too bad their collaboration, Chooriyan -- co-starring Madhuri Dixit and Raveena Tandon -- got shelved following his arrest.
Gumraah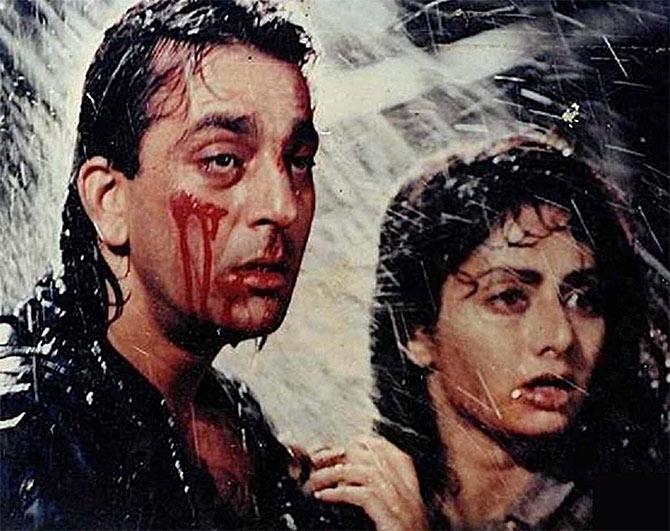 In this Sridevi-centric rip-off of Bangkok Hilton, Dutt plays the endearing fan to her rescue. Full of wit and warmth, he's the only ray of sunshine in an otherwise harrowing drama.
Lamhaa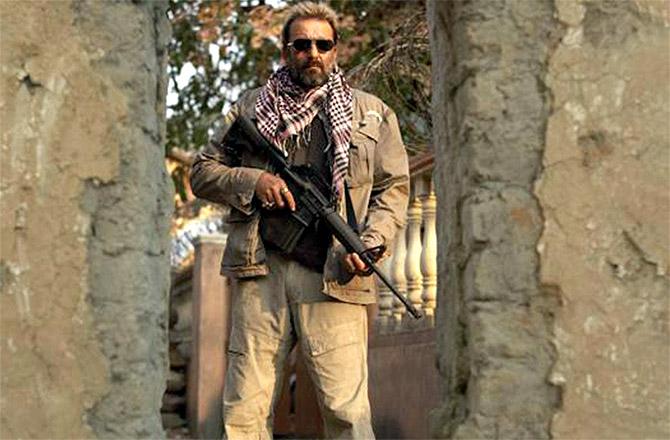 The sort of heft and heroics Sanjay Dutt brings to his larger-than-life portrayal in Rahul Dholakia's Lamhaa is in sync with the sensibilities of its dynamic Kashmir story.
Shabd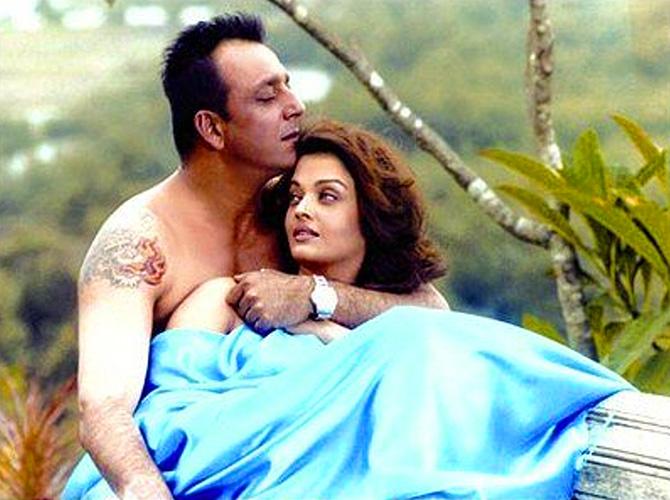 As our review states, Dutt is the biggest asset of Leena Yadav's Shabd.
The actor plays an author suffering from more than a writer's block and 'fires up the screen with a superlative performance. He can be Godlike, arrogant, vulnerable, calculating. He rocks!'
Eklavya: The Royal Guard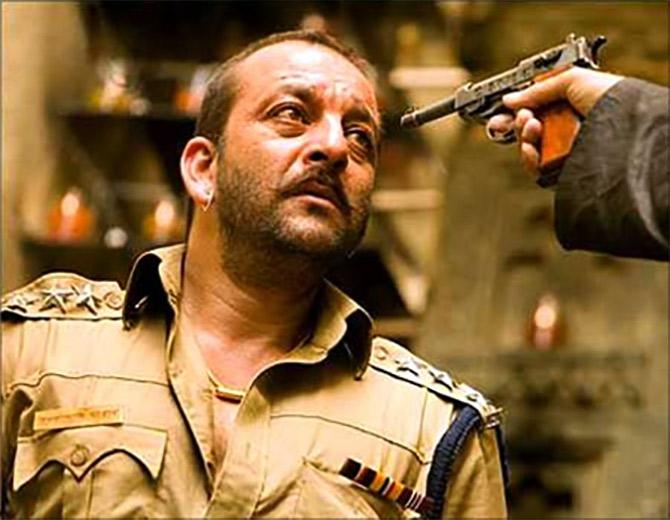 Although he shows up much later and for a few scenes only in Vidhu Vinod Chopra's Eklavya, Dutt steals the show in his portrayal of a blunt yet cheeky cop investigating murderous threats within a royal family.
PK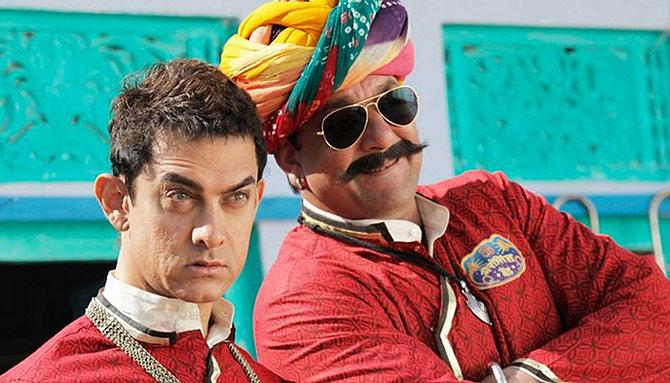 Once again, Dutt proves his worth in an extended cameo in PK as the Rajasthani bandmaster, who teaches a clueless alien a thing or two about earthly ways.
Agneepath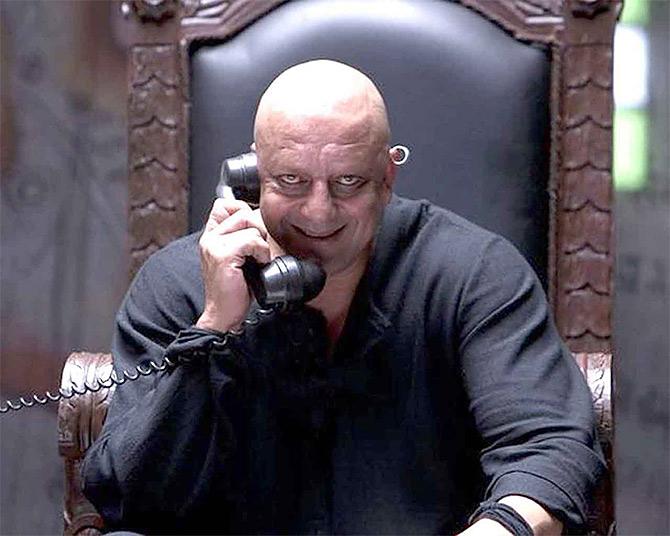 His get-up -- reminiscent of Marlon Brando's look in Apolocalypse Now -- is so fierce and striking, you might almost overlook the menacing glee in his delivery. From full-on hero to flat out villain, Dutt goes deadly and how.