'People gravitate towards me with their problems.'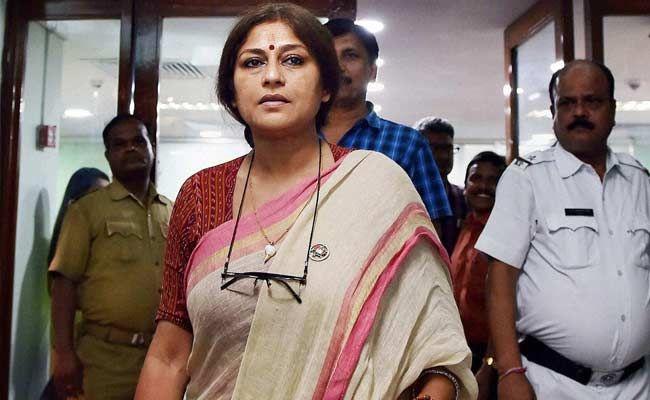 October 2, 1988, and May 22, 2016 are two dates etched permanently in actress-activist-parliamentarian Roopa Ganguly's life.
On October 2, 1988 began the telecast of Mahabharat where she played Draupadi.
"How was I to know that was just a rehearsal for what happened on May 22, 2016 when I was attacked at Diamond Harbour (near Kolkata)?" she asks Subhash K Jha.
"I was beaten to the ground by a bunch of goons, my sari was torn off. My head was repeatedly banged against my car. Did they mean to kill me? Maybe not. That would have created stink for Mamta Banerjee's government. But they meant to leave me seriously injured," she adds.
Roopa remembers being worried about the safety of her convoy.
"There were women with me. While I was being brutally thrashed, I kept gesticulating to them to flee. Later when I was left for half-dead, I drove myself to the hospital while my female companions gave me direction. I couldn't see through my eyes. I'm still partially blind in one eye."
But the wounds inside are deeper.
"When a woman is subjected to physical violence, she is scarred forever," she says. "I had bruises all over me; they healed. But the pain and humiliation within remains. I remember feeling concerned about the rape victim for whom I was fighting for justice."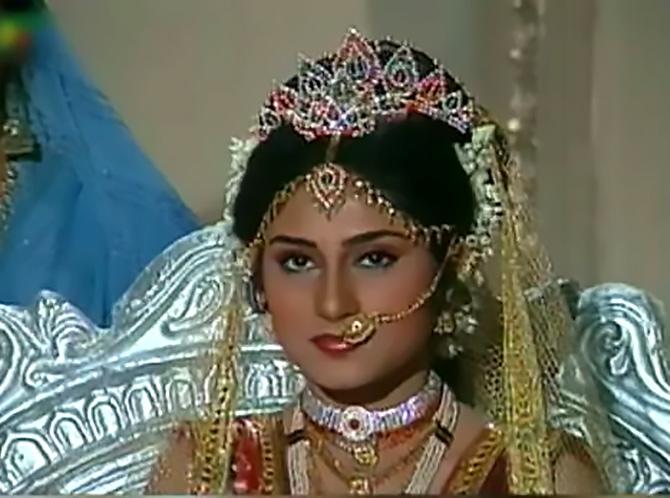 Roopa has always been a vocal protester against injustice.
"That's how I was brought up. Even before I played Draupadi, I spoke up against injustice. I was so moohphat (outspoken) that my family feared for my well being. They still do."
After the horrific incident, Roopa was provided security.
She was also elected as a Rajya Sabha member which she finds constraining in some ways. "Earlier, I was free to take on any situation that I found unjust in any way that I wanted. But now I have to work within the parameters prescribed by Parliament."
But Roopa isn't complaining.
"Life is what you make of it. When I got the offer to play Draupadi in B R Choprasaab's Mahabharat, I was already doing very well for myself in Bengali cinema, working with the best of directors. So in Bengal, I am not known for playing Draupadi alone."
But Roopa, whose performances in Gautam Ghose's Padma Nadir Manjhi, Aparna Sen's Yugant and Rituparno Ghosh's Antar Mahal are still talked about, admits her role in Mahabharat was a highlight in her career.
"I still remember when the offer came to me through a director-friend. I was flown to Mumbai and for the first time in my acting career, I did an audition. After the audition, I was taken to meet 'Papaji' the great patriarch of the Chopra family, Mr B R Chopra."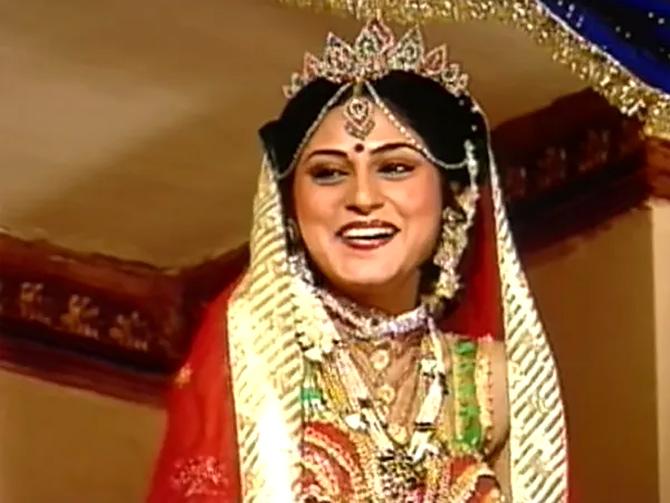 Once the shooting for Mahabharat started, there was no time for anything else.
"I was looked after like a queen. I was paid a basic fee of only Rs 3,000, but everything during my visits to Mumbai were taken of, from hotels, to taxis to food... They looked after me like my own family."
The vastraharan sequence was not easy.
"I actually fell to the ground and was dragged across the floor. Vinod Kapoor, who played Dushasan, was petrified of hurting me. But I was determined to keep it as authentic as possible. After the sequence was shot, I couldn't stop crying."
Roopa is a born crusader.
"I must have been Draupadi in my real life. People gravitate towards me with their problems. In my home, I've two cupboards filled with letters from aggrieved souls. Some day I hope to solve each one of those problems."
She won't allow herself to be disheartened by the lockdown.
"If I ever feel stifled at home, I only have to look at the thousands out there who have no homes, no food, nowhere to go."