'We have fewer actors in every scene.'
'We don't have family scenes or scenes that involve a lot of people.'
'We are not doing scenes which are intimate or require closeness.'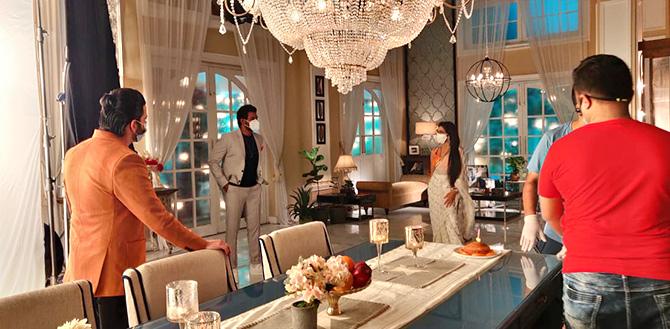 With the Maharashtra government allowing shoots to resume, the sets of television serials have started buzzing again after more than three months.
A lot has changed in these 100 days.
Keeping up with social distancing and the long list of guidelines issued by the state government, the shows will now have no romance, no family scenes, no dining table scenes and minimal action.
The casts and crews confront this challenge and are trying their best to adhere to these guidelines and precautions while creating quality content.
"New kinds of challenges keep popping up every day," says Yehh Jadu Hai Jinn Ka Producer Gul Khan.
"Shooting is a hectic job; it consumes 24 hours. Since shooting hours have been cut down, we have come up with a double track in the show. Now, shooting happens at two different places simultaneously," says Khan.
"Work has also been simplified. The (television) channel did not want to put us under pressure, so action sequences, graphics and lighting have been reduced to a minimal. Writing has become friendly to a smaller crew shoot," he adds.
"There are lots and lots of rules," agrees Bhabhiji Ghar Par Hain Producer Benaifer Nakra Kohli.
"We have to sanitise the sets every day as well as in the nights, so we have special shifts of spot boys just for that. The fumes that come out from the disinfectants are so strong that they might make a person unconscious! So whenever we spray, we don't allow the crew to enter for half an hour at least," says Kohli.
"We spray sanitisers on the clothes too. Since we work under heavy halogen lights, I am more scared of people catching fire than coronavirus," she adds.
"We can't begin on time because everyone is tested first. We check their temperatures and oxygen levels every day, so everything gets delayed," Kohli points out.
What if someone gets infected?
"We are making sure that everyone is safe, so we have reduced the number of people on the set," says Khan.
"The set strength has gone down by 66 per cent. Everyone is trying to stay away from each other. There is a huge set of guidelines that are followed. Every department has a head, so they monitor everything."
"This is the monsoon season," says Kohli. "If someone gets typhoid or malaria, I will have to wait and test them. And what if somebody else gets it (coronavirus)? That pressure is always on me. What will I show on air if something like this happens?"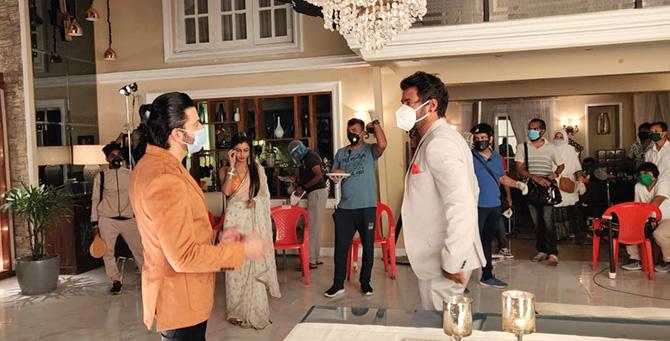 The new writing style, laced with precautions, revolves around just two, three characters who are asked to say their lines standing a few feet away from their co-actors.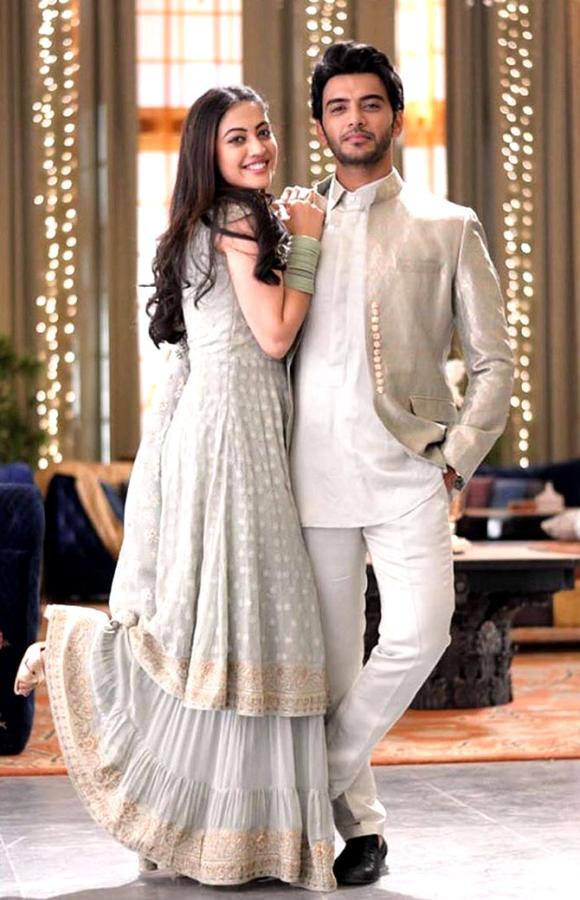 "There is excitement, but at same time, there is anxiety also," says Vikram Singh Chauhan of Yehh Jadu Hai Jinn Ka.
"I was wondering if proper care would be taken and if everyone would wear a mask. Thankfully, when we went to the set, everything was taken care of. The entire unit was wearing masks, shields and PPE suits, so the fear was little less when we started shooting."
"We have designated chairs with our names on them, so that nobody else uses them," he adds.
"I faced the camera after three months. I wasn't very comfortable on the first day, but as the day progressed, I got my confidence back," says Chauhan.
"We have to maintain social distancing. We cannot do scenes that demand proximity with other actors. Earlier, I used to confidently say that I connected to the scene and the character and delivered my best," adds Chauhan, "but now, I cannot just flow in the scene and get close to my co-actor, so it does hamper authenticity."
"The economy is going down. People are dying more of hunger than COVID-19. When I talk to the crew on set, they tell me the most positive thing that has happened to them in 2020 is the resumption of work," Chauhan says.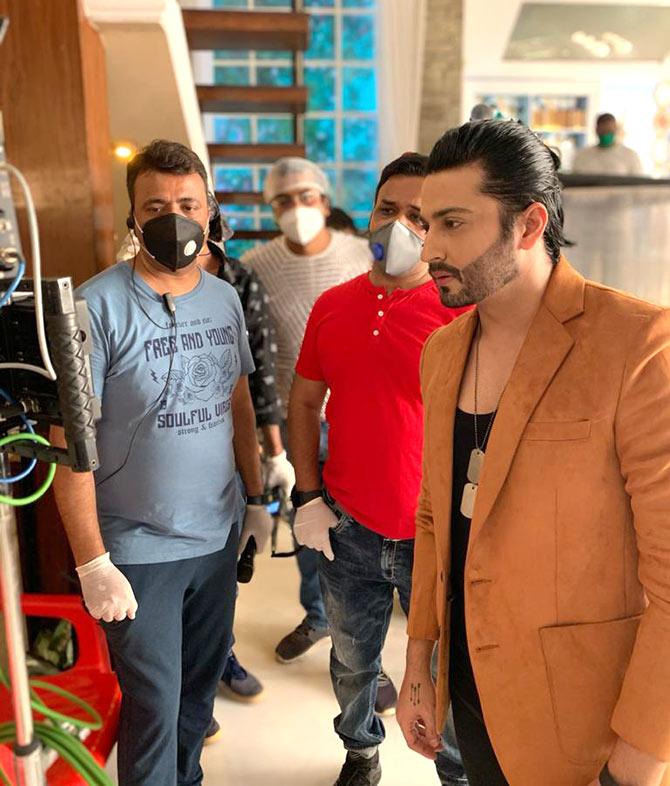 "When we perform, we remove the mask, and then wear it again," says Dheeraj Dhoopar of Kundali Bhagya.
"Wearing masks makes the head heavy, as we are inhaling the same carbon dioxide again and again. Whenever I get a chance, I go to my vanity van, remove the mask and sit alone for some time," he adds.
"I met my co-actors after almost 100 days," says Dhooper, "but we could not hug each other or shake hands. We said hello from a distance."
"There are around 35 people on the sets so we, as actors, are at maximum risk, as we remove our masks," he adds. "I don't think there will be any physical contact while performing. We shot our closeups from home."
"Content wise, it's more of an editing job, so even if I say my lines from a few feet away, it won't make a difference on camera. The chemistry will show," Dhoopar assures us.
"I don't think the content will suffer. People have been waiting to see us on screen, so I am glad we resumed work."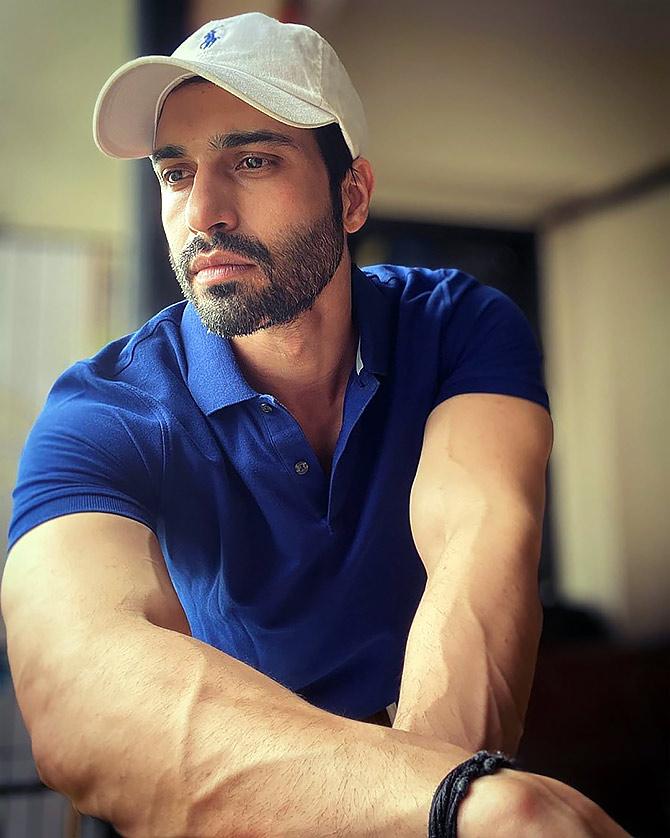 "The manpower is so less that the process of taking a shot becomes very long," says Vijendra Kumeria, who acts in Naagin 4.
"We are not able to shoot a lot of footage these days. We have fewer actors in every scene. The writers are also writing it that way. We don't have family scenes or scenes that involve a lot of people. We try to shoot with two-three people," he adds.
"We are not doing scenes which are intimate or require closeness. Earlier, in one-and-ahalf weeks, we used to make two episodes. Now, we take two weeks to finish two episodes," says Kumeria.
"With so many procedures, the production cost will increase."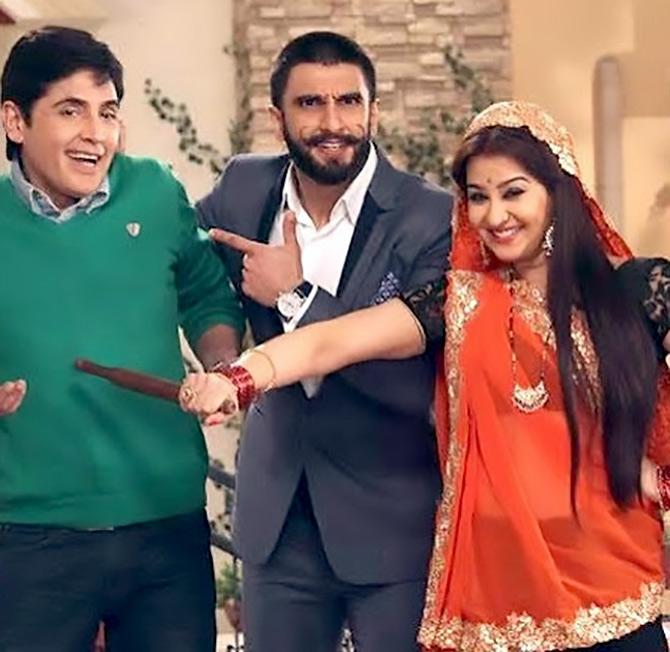 "We get scared, but how long are we going to sit at home and wait for COVID to get over?" asks Aasif Sheikh of Bhabhiji Ghar Par Hai.
"The way we are taking precautions, I think we are coping very well," says Sheikh. "The only problem with masks is that it is very difficult to recognise people. But we have not encountered any problem yet to hold the shoot."