'I hear of so many people not getting their money and producers not taking their calls to pay them.'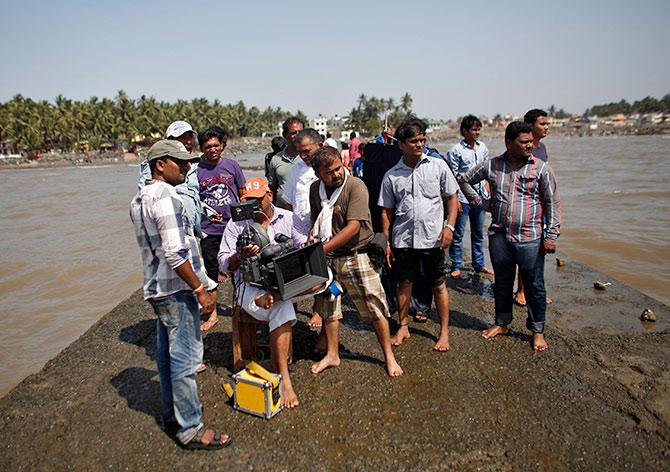 The coronavirus pandemic, followed by the never ending lockdown, has shut down the means of livelihood for many people in the entertainment industry.
With shoots coming to a halt, many actors and technicians are struggling to make ends meet.
A 90-day delay in receiving payments after the work is done has pushed some of them over the brink.
Television actor Manmeet Grewal and Crime Patrol actress Preksha Mehta committed suicide in May.
"There are two parts to it," says actor Ronit Roy. "When an actor gets a job, he signs a contract. If there is a 90-day clause (regarding the delay of payment), then it is because of the cycle of money. Having said that, if the dues have not been paid, they should be."
"But in such times, contracts don't matter. The shoots stopped in March. The payments must be pending from January, so how does an actor survive for six months?" Roy asks.
"Everyone has an emergency corpus, and the concerned people should pay the actors on humanitarian grounds from this corpus."
"Nobody expected things like these to happen," says Hiten Tejwani. "This industry is not easy, one has to come prepared. Secondly, living in a city like Mumbai can be a tough proposition."
"These suicides are an eye-opener for all of us," says Tejwani. "Nobody knows what their situation was, but it is sad that they took their lives."
"Let's face it, in this industry you are working for 15 days or for a year, but the whole idea is you should have something to back you up because there will come a time when you will have no work for months," he adds.
"How will you survive then? This should be clear to all who are coming into this industry -- they will get money only after three months."
"There should also be some counselling," says Tejwani, "so they understand that whatever they earn, they have to keep some money aside for a rainy day so they don't take a drastic step when there is no work."
Highlighting the disparity that exists in the industry, Arjun Bijlani says, "Every contract is different. When you become a known star, you call your shots and ask for payment after a month. If they want you, they will pay you."
"From the humanitarian perspective, it's wrong. Why should somebody be paid after three months and someone else after one month when they are doing the same job?" Bijlani asks.
"I want everyone to be paid on time so that people at the bottom don't suffer."
"A lot of producers delay payment," explains Bijlani. "The saddest part is that it's not like they are suffering losses, but it's a part of their plan to hold back payment."
"This whole three-months credit period should change because every actor does not have money to run his house, especially newcomers," he adds.
"I have been in this industry for 15 years. I have seen success, whatever little, now. Sometimes when there is no work, it does not mean you are not good or you won't get work," Bijlani explains.
"Right now, nobody has work in this lockdown. I know it is difficult, but taking your own life is not a solution."
"It's a tough time for people for different reasons," says Ridhi Dogra. "Now is the time to reach out to people and give strength to each other. It's heartbreaking when someone gives up."
"We have all gone through dark days in life, but there is always light at the end of the tunnel."
"There won't be actors stepping up to take this profession because of some cruel producers don't pay up, but are having a rollicking time in this lockdown," says Gurdeep Kohli. "It's unfair.
"How can someone just sit on someone's money and not pay up? I hear of so many people not getting their money and producers not taking their calls to pay them. CINTAA (Cine and TV Artistes Association) alone cannot do anything. The actors' unity is very poor."
"We need to be strong and stand up for one another. I feel the government has to intervene in this lockdown."
"In the current scenario," points out Gaurav Chopraa, "the entertainment industry might not be needed for a very long time."
"I never bought anything if I thought I could not afford it. I never took a loan. I never bought a house. If I can afford something, I will buy it," says Chopraa.
"So if tomorrow, I say no to work, I have something to fall back on."
"There is no stability, no regular income, so you have to make investments continuously while you work. Lifestyle is not more important than savings.
"There have been times when I have gone to CINTAA and they have not been able to help me. There is no law that favours you. When people want work, they say yes to the 90-day delay (in payment)," he says.
"Nobody wants to fight because the whole lobby is run by producers," says Chopraa. The government and labour ministry will have to come up with some ruling, saying you cannot make people work for so many hours, you cannot delay their payment... Let them make these rules and everything will fall into place."
"We have been following the payment issue for a long time," says CINTAA General Secretary Sushant Singh. "We have received an order from the information and broadcasting ministry that producers have to clear pending dues, so that part at the government level is taken care of."
"Now, producers need to comply. Secondly, those in dire need have been provided financial assistance for the lockdown period," says Singh, himself a wellknown actor.
"For mental health issues, we have been arranging clinical psychologists to reach out to people," he adds.
"There are cases where producers are absconding or switching off the phone. In such cases, we are helpless. We have been demanding a separate law for the industry and our report has been tabled in Parliament," adds Singh. "We have made several presentations to government after government, but nobody has bothered."
"A producer is looked upon as a provider. It is his duty to provide. He is not obliging them. It is their well deserving money. Producers also suffer losses due to various aspects, but these losses are not that big that you deny people their remuneration," says prominent actor, director and producer J D Majethia.
"If you have a genuine problem, share it with your team. They will stand by you. But you can't make it a habit," says Majethia.
"Ninety days is a long time. Beyond that, if you cannot pay people, you are not fit to be in this industry," he says.
"The number of defaulting producers has reduced considerably," Majethia points out, "as broadcasters have now started taking action against such producers."