'I just offered her a rose.'
'She said thank you.'
'And I took a photograph with her.'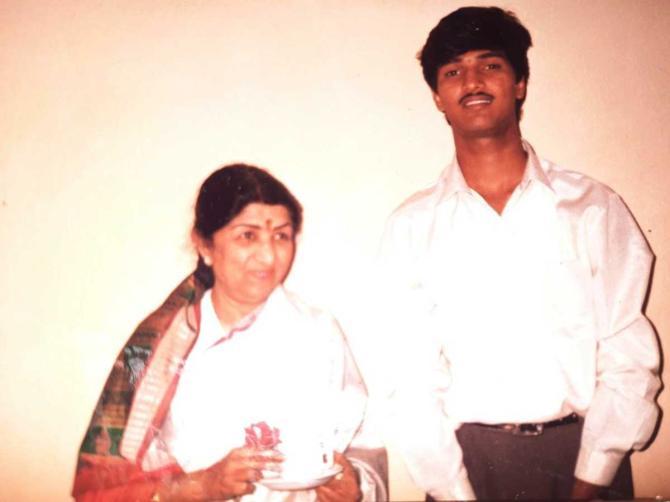 Niraj Hedaoo remembers her politeness and warmth. And how easy it was to approach her.
And her welcoming smile.
He also remembers it was the most important moment of his life.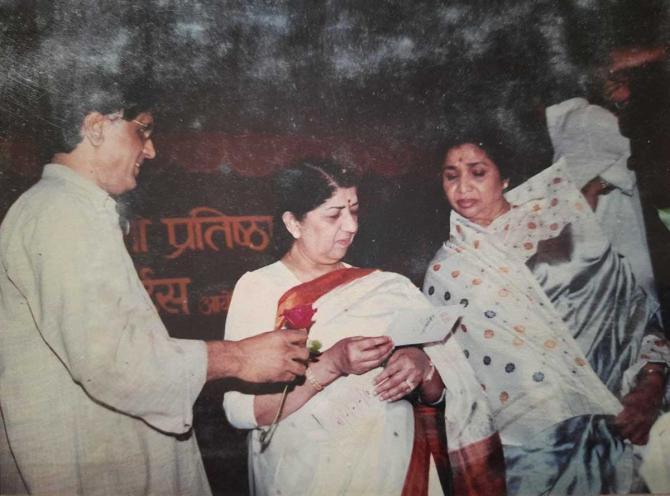 Niraj, who now works for Kurate Digital Consulting, recalls he was in college. It was probably 1999.
It was at a Mumbai function that he bumped into India's most famous singer. She was attending it along with singer Arun Date and Shiv Sena politician Pramod Navalkar. He bravely decided to present her with a red rose.
And like his father Arun Hedaoo invariably did, Niraj requested a picture with her.
"I just offered her a rose. She said thank you.
"And I took a photograph with her.
"She was very nice. Warm.
"No attitude, not like a celebrity.
"When I went with the rose, she smiled nicely.
"I said to her in Marathi: 'I wanted to meet you and I got this rose for you and hoped to have a photograph with you, if you don't mind'.
"And she said: 'Yes, yes, absolutely' and immediately allowed my dad to take the photograph."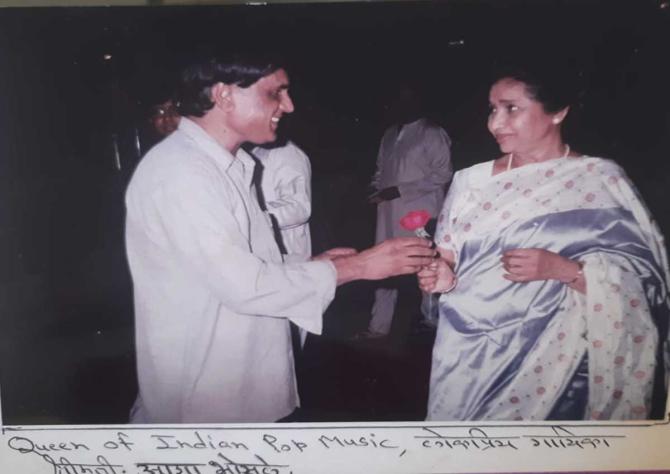 Niraj's father, who unfortunately died of COVID-19 in May last year at the age of 75, had made a lifetime hobby of collecting photographs of himself with celebrities.
And Niraj spent his childhood and youth absorbing his dad's knack of approaching a star or an icon and subsequently started a compilation of his own.
The senior Hedaoo -- who hailed from Khamgaon, Buldhana, and whose job with Maharashtra State Cooperative Bank involved liaising with the Maharashtra government for loans -- had albums and albums of himself with a whole range of celebs, most from Bollywood and the Hindi and Marathi singing industry, but even with VIPs from other walks of life.
"He had a collection with over 1,000 personalities from across industries -- Ashok Kumar, Dev Anand to Pandit Bhimsen Joshi, Amitabh Bachchan, Anil Kapoor, Aamir Khan, politicians like Sharad Pawar, Vilasrao Deshmukh, T N Seshan to cricketers like Sachin Tendulkar, Sanjay Manjrekar, Polly Umrigar, Dilip Vengsarkar, even the South African cricket team!" says Niraj.
"He attended all kinds of functions, went to different shootings, and sometimes I would go along with him, right from my schooldays."
It all started with a particular letter Arun Hedaoo was able to obtain from the office of the chief minister at the Maharashtra government headquarters, Mantralaya, and an urgent desire to watch Ramanand Sagar's Ramayana shooting at the studios in Umbergaon, Gujarat.
"He took all of us to Umbergaon, and the moment they saw it was a letter from the CM's office, they arranged a stay for one night and we were able to see the shooting, take photographs with all the characters of the Ramayana. That was the start.
"After that he started visiting different studios and various kinds of functions and he always carried a camera," recalls Niraj.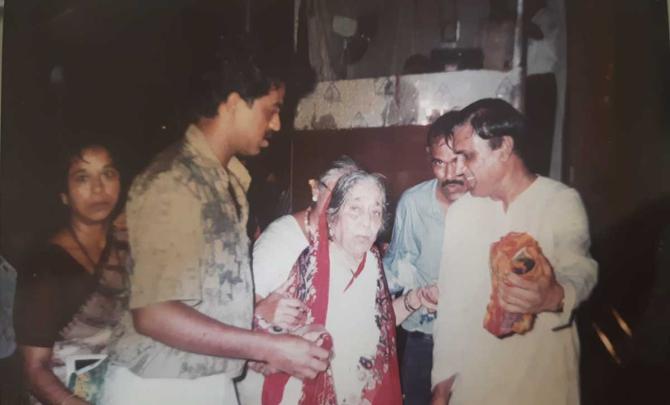 But Lataji had a special place in Arun Hedaoo's heart.
"He was very fond of Lata Mangeshkar. He liked her songs.
"He had even gone to their home and met Usha Mangeshkar.
"My father also attended many of the Master Dinanath Mangeshkar Smruti Pratishthan functions."
Hence, this special selection of pictures with the Mangeshkar family, including a rare one with Maai Mangeshkar, the matriarch.
Niraj too loves Lataji's unforgettable songs.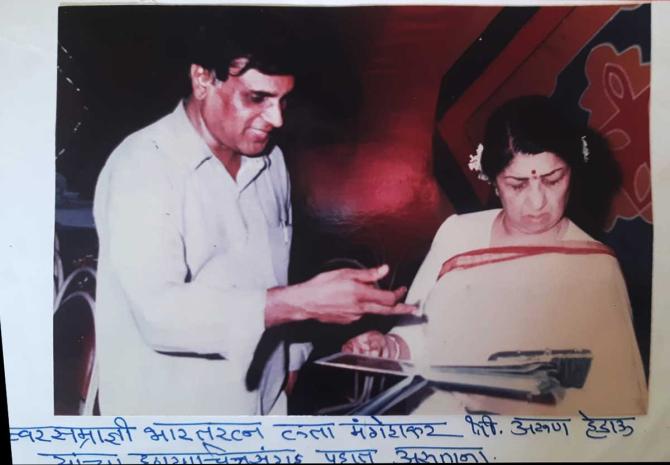 His favourites?
Of course: "Lag Ja Gale Ke Pir Yeh Haseen Raat Ho Na Ho and Aaja Piya Tohe Pyar Doon."
---
Dear Reader: Have you ever had the honour of meeting Lataji?
Did you take your photograph with her?
If you have, please tell us about your memories of that meeting.
Do share your recollections, pictures and videos of your encounter with the great Lataji.
Please mail it to us at moviesdesk@rediff.co.in with the subject line 'When I met Lataji' along with your name and information about your meeting with her.
Feature Presentation: Ashish Narsale/Rediff.com