'I kept thinking the bedroom door would open any minute and Didi Atya would step out.'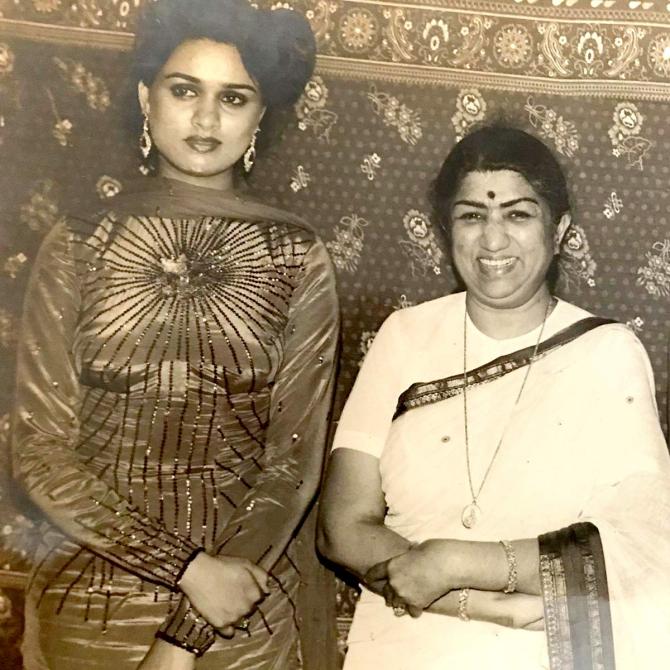 Padmini Kolhapure's Instagram post mourns, 'Wo din ab naa rahen!' following which the actress asserts, 'Blessed to be a part of your life. Will miss you Didi Atya. I love you,' with four hearts, the last one cracked.
The two pictures she has appended to the post, one dreamy and black-and-white, the other, smiling and in colour, tells us that she is speaking about Lata Mangeshkar, her much-loved aunt, whom she lost on February 6.
Opening her heart out to Rediff.Com Senior Contributor Roshmila Bhattacharya, Padmini remembers the simple, grounded lady who sang for her in so many films, and even last year, lent her voice to Hum Hindustani, a track released on Independence day, for her son Priyank Sharma's newly launched record label.
"Who knew then that this would the last song she would lend her voice to?" she rues.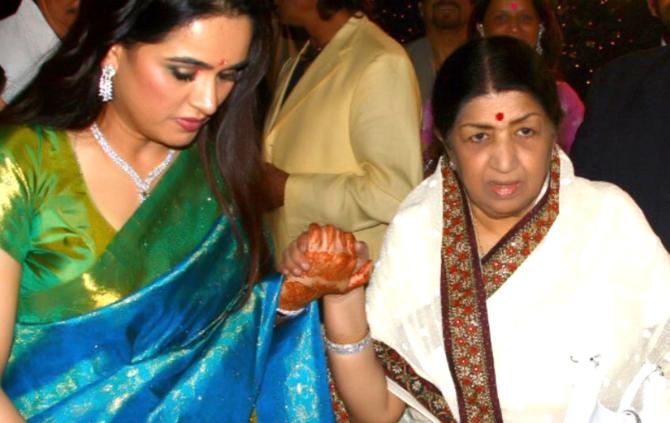 For us, she was family: my father's (vocalist and rudra veena exponent Pandit Pandharinath Kolhapure) sister, whom he addressed simply as Lata. For me, she was always Didi Atya, a much-loved aunt.
It was only when I grew up and started working that I realised that this simple, grounded lady, who during her visits to our home or our visits to hers never once made us feel she was a celebrity, was the Lata Mangeshkar, India's Melody Queen.
Her father, Master Dinanath Mangeshkar, my grandfather Pandit Krishnarao Kolhapure and Chintamanrao Kolhatkar founded the Balwant Sangeet Mandali in 1918. My father told us amusing stories from their theatre days.
Back then, there would three bells to alert the audience that the play was about to begin.
One night, after the first two bells had sounded, a nervous Didi Atya who was playing the role of Latika, if I remember right, in a play, fainted. Everyone was running around helter skelter backstage, trying to revive her, minutes before the curtain went up.
My father would also reminisce about how his first cousin and he would run around on the tin roof. The two of them, along with Meena (Mangeshkar) tai did a lot of masti. Ashatai was a baby then.
He would also rave about how his guru bhai, Pandit Kumar Gandharva, and Didi Atya were the only two who were truly God-gifted. Phenomenal talents!
I come from a musical family and there was always music around us.
Subconsciously, I learnt from just being there and listening to Didi Atya sing.
I was a knee-high moppet when Shivangi (her elder sister Shivangi Kapoor) and I, who had started giving playback from a very young age, joined my aunt to sing the title track of Yaadon Ki Baaraat.
I had to stand on a stool to reach the mike and I remember telling Didi Atya not to sing at her usual high pitch but on a lower note so it wouldn't be too difficult for us.
She sang Yashomati Maiyya Se Bole Nandlala for me in Raj (Kapoor) uncle's Satyam Shivam Sunderam.
On the day of the recording, I was pulled out of school and rushed to the studio.
There, Didi Atya made me sit on a stool beside her, and asked me to sing.
Looking at her listening intently to me, I was wondering why she would want me to sing her song.
I understood only later when I heard it, that she had sung it exactly like me, imitating my childish voice to the extent that even though they are aware it was Lata Mangeshkar's voice, many people to this day ask me, 'Woh gaana aap ne gaaya tha kya?? (Did you sing that song?)'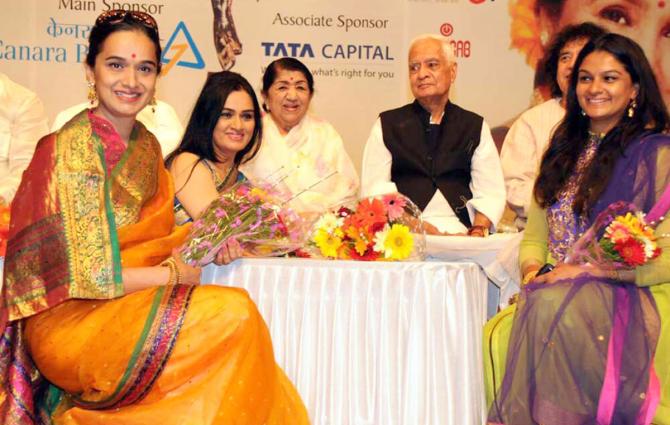 Didi Atya gave playback for me in several films, including Souten, Prem Rog and Woh Saat Din.
She watched the films too.
Prem Rog was a favourite and she would say, 'No one can cry better than Padmini on screen.'
Prem Rog's Yeh Galiyan Yeh Choubara is my favourite, along with Zindagi Pyaar Ka Geet Hai (Souten), Tumse Milke Na Jaane Kyun (Pyar Jhukta Nahin) and the Yaadon Ki Baaraat title track.
Over the last few years, we did not meet often because of the ongoing pandemic, but Didi Atya stayed in touch.
Every second day, she would send me a Whatsapp. Sometimes it was a photograph, sometimes one of her songs.
When my son Priyank Sharma got married, she sent gifts for all of us and a handwritten note specially for him.
Like me, Priyank realised a little late that his Aji was the Lata Mangeshkar.
When he started Dhamaka Records, his own record label with his partner Paras Mehta, he approached her for the first track, Hum Hindustani, launched on Independence Day last year.
The patriotic anthem with its message of unity is a tribute to the frontline COVID warriors and features 15 voices, from Amitabh Bachchan, Alka Yagnik, Sonu Niigam and Kailash Kher to Priyaank's cousins, Shraddha and Siddhanth Kapoor, Sonakshi Sinha and Shruti Haasan among others.
We wanted to start the song with Didi Atya, have her bless us with her voice. She hadn't been singing for a while, but agreed because the thought was so pure.
We marveled at how she knew exactly what she wanted to say. She was all there and sent an audio track recorded in her home.
Who knew then that this would be the last song she would lend her voice to?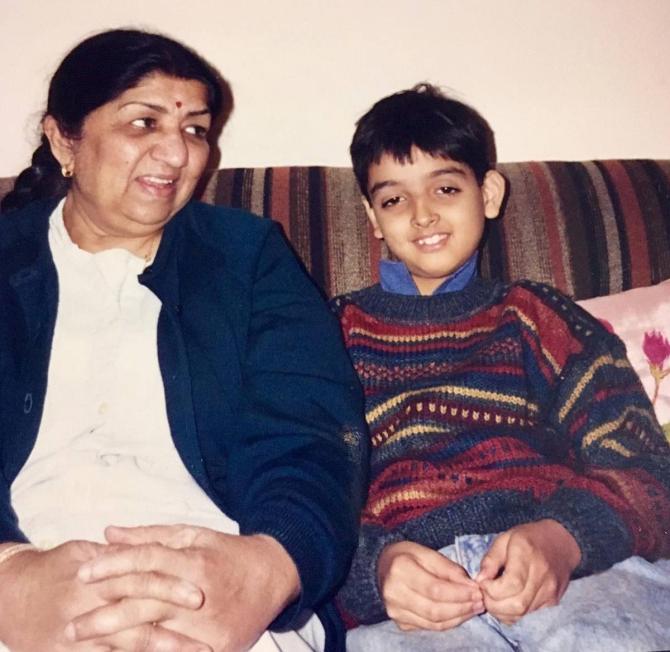 Hum Hindustani was a huge success and after that my son wanted to recreate Didi Atya's iconic Yeh Galiyan Yeh Chaubara with me singing it.
When he sounded her out, she was very excited and personally spoke to the music company Sa Re Ga Ma (earlier HMV), who have the rights to the song, to give us permission to recreate it. She really loved Priyank.
I sang the song like a prayer, as an expression of reverence and devotion to the lady who has always epitomised music for me.
After the song was released, I sent it to her with a voice note in Marathi saying I was too scared to call her and ask her how I had sung it.
She sent a message back saying, 'Ghabro naya (don't be scared)... Tu chan gayalese (you have sung well).'
After praising my singing, she asserted, 'Gata raha (Keep singing).'
I had never imagined that Didi Atya would go away one day.
Even when I went to the hospital on February 5 and looked at her from a distance since we were not allowed in, I was waiting for a miracle to happen. She lying so still in the ICU.
But the next morning she was gone.
At the funeral, they were playing her songs.
It was traumatic then, but this morning, a Japanese lady messaged me, saying my aunt was so popular in her country that she had made it to the news in Japan.
That was the magic of Lata Mangeshkar!
She might well have been the Nightingale of India, but her voice touched people across the world.
And her golden voice will never be silenced.
What a lady!
What a voice!
A class apart!
I don't have a television in my bedroom.
I start my day with retro songs on the radio, and end my day with them.
Now, these songs will bring Didi Atya back to me.
I was at her residence, Prabhu Kunj (the day after she passed away).
It didn't feel like she was gone.
I kept thinking the bedroom door would open any minute and Didi Atya would step out.