Love pours in from all around the globe!
The news of Sridevi's death was a huge shock.
The iconic actress left behind memories and movie experiences for her fans around the planet.
We had asked readers to share their fondest Sridevi memories.
Sridevi's fans write in to tells us what she means to them. The first lots of memories: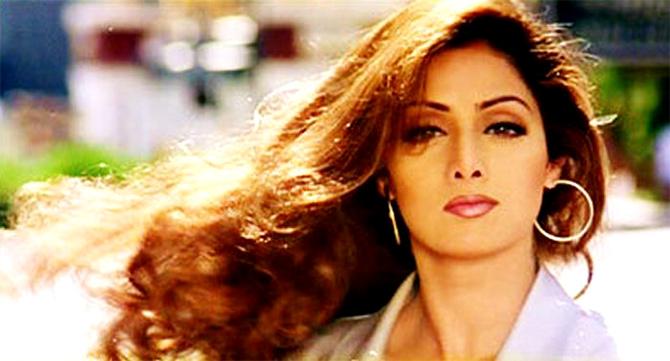 IMAGE: Sridevi in Judaai,
Name: Shahnawaz Khan
Age: 26
Hometown: Islamabad, Pakistan
My Ode to Sridevi....The greatest female actor ever...
Judaai was my first introduction to Sridevi and her marvelous talents.
I was only a kid of 5 to 6 years back then and what all I remember about her from that movie was that she sells her husband to another woman for a crore.
She was greedy, eccentric, but then in the end, she cries and gets her husband back.
I rooted for her to get her husband back despite her being really mean to him throughout...
Such was the power of her portrayal.
Next up, I saw her in Laadla, where again she played a devilish boss cum wife to Anil Kapoor.
She absolutely made me hate her, but there was a scene where Anil Kapoor slaps her really hard and I remember that I felt bad at that.
"Understand... You better understand" was my takeaway from that.
Another one of my childhood memories was the song Main hoon roop ki rani from the ultimate big budgeted turkey, Roop Ki Rani Choron Ka Raja in which during the course of the song, she displays amazing verve and loots a diamond necklace and runs away into thin air.
Once I was travelling in a bus between Islamabad and Lahore and the movie Gumrah was played. It was so dark and gritty.
Sridevi's husband cons her into carrying drugs to Thailand and she gets caught at the airport and gets a lifetime sentence.
Her ordeal in jail and how she is proved innocent, made me believe that truth wins in the end.
I then moved to boarding school and I could only get to watch movies during my 3 months vacation in winters. I would watch a lot of movies.
I remember watching Chandni. With her amazing performance and the cute songs, she won my heart. I was 14 by then. She became my ultimate favorite.
Those were my Class 10 vacations when I binge watched her movies available on YouTube... and fell in love with her.
I would go to Wikipedia and search for her filmography and note down her movies' names co-starring Anil Kapoor and Rishi Kapoor and find them on YouTube and watch them as I thought older movies with older heroes won't be any good.
I watched the supernatural thriller Nagina and the song Main teri dushman won my heart. I watched its second part -- which was a colossal flop -- Nigahen too.
I watched Mr India, Banjaran, Khuda Gawah and Gurudev and was amazed.
Then I used to search about her movies on the Internet and I found names like Sadma (Tragedy starring Kamal Hassan where he looks after an ailing Sridevi with memory loss and once she gets her memory back she forgets all that) and found her to be at the top of her game.
Chaalbaaz introduced me to her amazing comic timing and her 'Balma' still echoes in my mind.... the breakthrough moment, the moment when everything disappeared from my mind and I went into a trance of deciding to even watch her movies starring Jeetendra and Rajesh Khanna came when I watched Lamhe...
I was enthralled, amazed, awestruck for days. The movie had her playing mother and daughter.
Viren fell in love with her and I couldn't stop myself from that either despite her being older in age to me.
Morni baga ma, Meri bindiya teri nindiya, Kabhi main kahoon Megha re megha, Mohe chero na .. need I give more reasons...
I used to forward movie songs as I found them lengthy and boring, but not with Lamhe. I watched them over and over again.
It's 2018 and I still have these songs in my playlist along with Hawa Hawai and Tere mere hoonthon pe.
Then I started watching her movies starring Jeetendra and Rajesh Khanna and my course of action used to be writing down the names of movies co-starring them from Wikipedia, finding them on the Internet and watching them all.
I was born in the 1990s and my parents would laugh at this...But nevertheless I watched Himmatwala, Mawaali, Tohfa, Balidaan, Masterji, Ghar Sansar, Karma, Suhagan, Aulad, Nazrana and Majaal.
She came back with a bang in English Vinglish and I lapped it up like a crazy maniac.
The last movie she did was Mom. She moved me. I cried being a 26 year old and I found her revenge to be justified.
She is no more today as she has passed away into the ages at the young age of 54.
I do not know what happens from here on. She has a special appearance in SRK's Zero and I would pay anything to watch that.
Shiddat, co-starring Alia Bhatt, Varun Dhawan, her and Sanjay Dutt, won't ever get made and Mr India 2 as well....it makes me really, really sad, and at loss of words...
I woke up to this news and I literally cried, Then I decided that I have to pen down my impressions of her and how I loved her.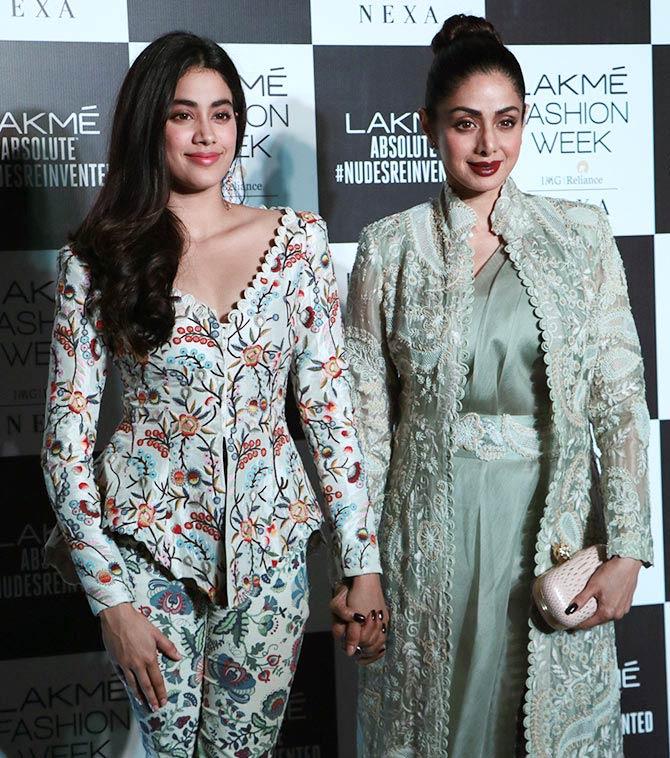 IMAGE: Janhvi and Sridevi Kapoor attend Anamika Khanna's show at the Lakme Fashion Week. Photograph: Hitesh Harisinghani/Rediff.com
People say her elder daughter looks like her, but for me there cannot be and there won't be someone like her ever again...
YEH LAMHE, YE PAL HUM, BARSO YAAD KARAINGAY
YEH MAUSAM CHALAY GAYE TOU, HUM FARYAAD KARAINGAY
***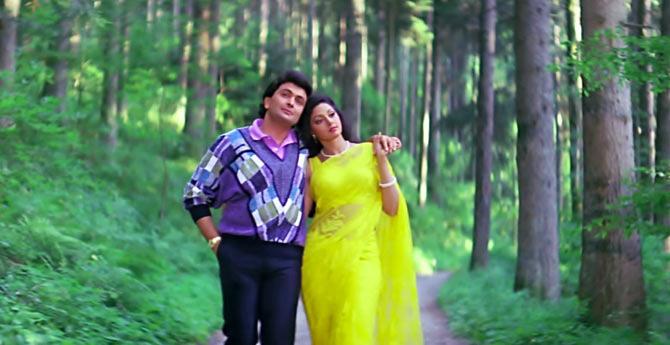 IMAGE: Sridevi in Chandni.
Name: Umar Khan
He pens a beautiful poem making use of her movie titles:
Vo 'chandni' na rahi
Gerha 'sadma' de gayiZindagi bohot 'chaalbaaz' nikli
Sabse 'judaai' de gayi
Bohot 'lamh' jeene baki the
Badi jaldi 'Aakhree Raasta' se chali gayi
Kaash koi 'Mr India' aaye
Aur vo 'Nagina' lauta de.
***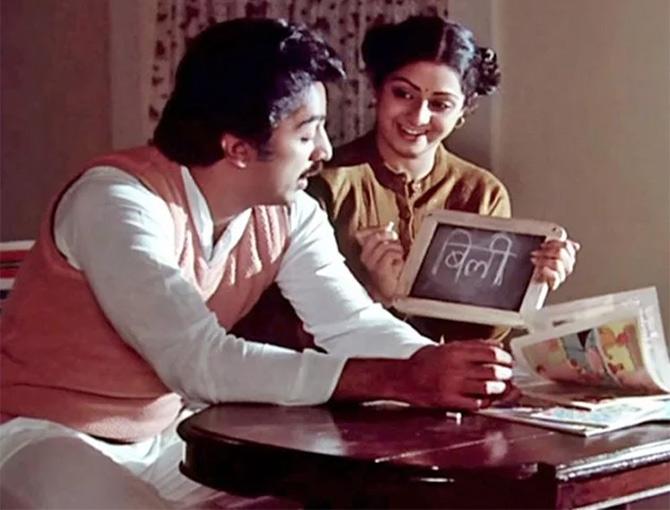 IMAGE: Sridevi in Sadma.
Name: Rakesh Laxman
Age: 43
Hometown: Hyderabad
With Sridevi's death, an era of modern cinema comes to an end.
What makes her a stalwart amongst the men-ruled industry is her simplicity and charm that resonated in her movies.
To my memory and an ode to this beautiful soul, I give my choice of 2 most memorable roles that immortalised her.
1. Her role in Sadma.
Never before and never again can this role be replicated.
Her sensitivity and charm holds her own space in front of a stalwart like Kamal Hassan.
She complimented his screen presence and rose up to his level with every second scene.
For ages, this role will pose a challenge for every actor for all generations to come.
2. Her role in Mr India.
Cheeky, sweet, charming, boisterous, loving...
All adjectives fail to describe her presence in this movie.
And one part steals the thunder -- her portrayal of Chaplin which can never be redone or should I say can be reacted by anyone, except SRIDEVI.
She has left a challenge to all her contemporaries and newbies...
I dare all the Bollywood starlets to match her. Don't fake her, emulate her. Don't copy her, rise up. If you ever shadow her, do so out of respect to her.
RIP Sridevi
***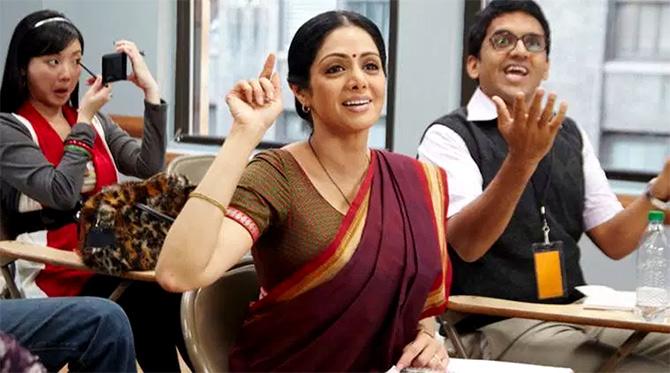 IMAGE: Sridevi in English Vinglish.
Name: Priya
Age: 28
Hometown: Singapore
When Indian screen legend Sridevi triumphs in a gentle, but affecting, story of a woman's awakening self-respect in English Vinglish.
Growing up watching her on our TV screens at home to seeing her make a comeback.
Admired for her sparkling comic timing, dancing prowess and acting chops.
***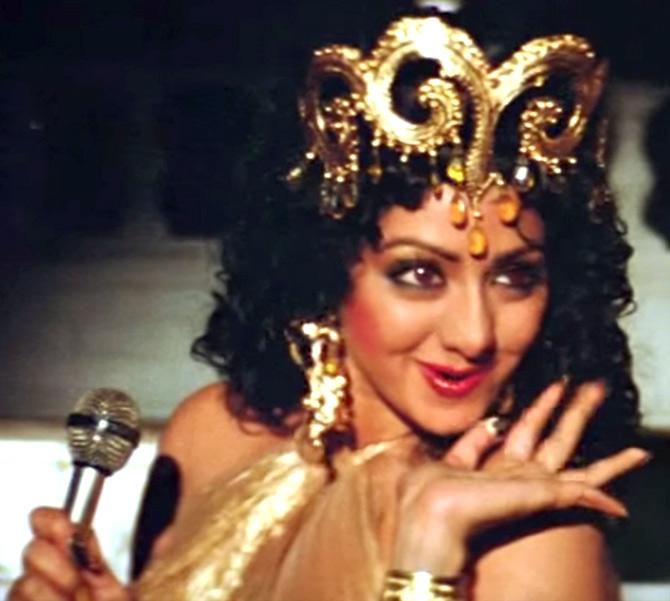 IMAGE: Sridevi in the song Hawa Hawai from Mr India.
Name:Parishmita Dutta
Age: 26
Hometown: Jorhat, Assam
Sridevi. The name itself says how beautiful she was. No need to have second thoughts to remember her.
She was her own identity.
I used to think I am the big fan of hers, but seeing all those tweets and comments I realised that she impressed everyone by her beauty, elegance and mostly by that talent she possessed, acting.
I cannot say that I have one particular favourite Sridevi moment. There are many or I can say every movie of hers that I have watched. but if there is to mention one I would say my most favorite Sridevi moment is the song "HAWA HAWAI.."
I get traumatised by the way she moves her eyes, her beautiful smile the whole time I see that song.
It is the best possible way somebody can flatter everyone. We'll miss her.
What does Sridevi mean to you, dear reader?
Write in to us at moviesdesk@rediff.co.in (Subject line: Favourite Sridevi moment) with your NAME, AGE and HOMETOWN.
We'll publish them right here on Rediff.com