One good dancer burns the dance floor, two great ones bring the house down.
Deliberate or subconscious, there's something electric about watching Bollywood's accomplished dancers battle for supremacy.
In War, two of the best dancers in the business -- Hrithik Roshan and Tiger Shroff -- match wits and steps in their own inimitable style leading to much dazzle and delight.
A self-confessed Hrithik fanboy, Tiger appears visibly chuffed dancing alongside his idol in Jai Jai Shiv Shankar.
One's vibe, the other's vigour, the energy is hard to miss.
Meanwhile, Sukanya Verma looks at some of the dance-offs that regaled us in the past.
Bajirao Mastani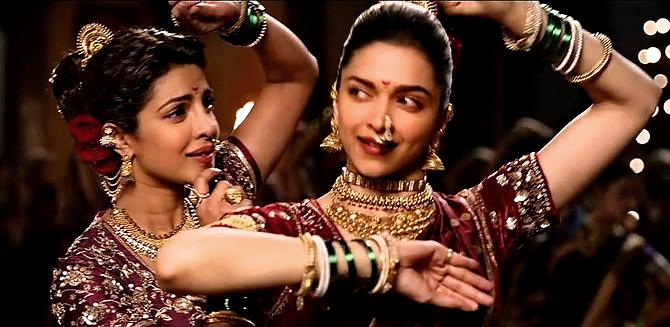 Priyanka Chopra and Deepika Padukone play romantic rivals in Bajirao Mastani but the nimble Pinga moves of these two dazzling ladies shows they're more sync than spat.
Devdas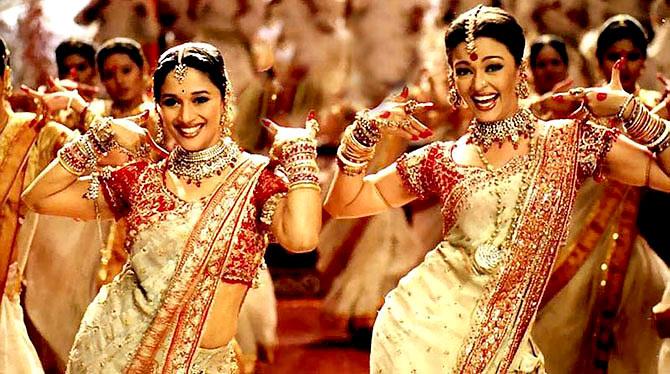 In Sarat Chandra Chattopadhyay's book, Paro and Chandramukhi never meet.
In Sanjay Leela Bhansali costume drama Devdas, they not only exchange hellos but dance too. Except who can resist the sight of two of our marvelous dancers and beauties Madhuri Dixit and Aishwarya Rai gyrating to Dola re?
Dil To Pagal Hai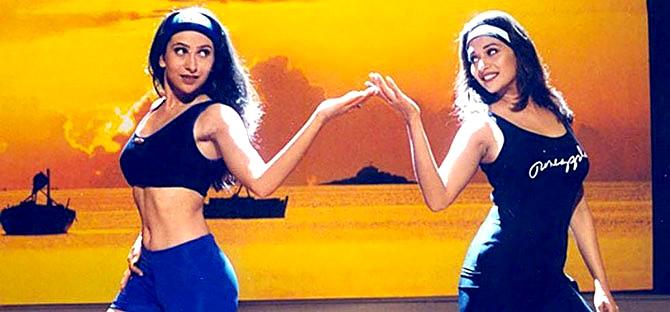 It's called the Dance of Envy but Madhuri Dixit's poise and Karisma Kapoor's agility render their breathtaking encounter more awe than enmity.
Student of the Year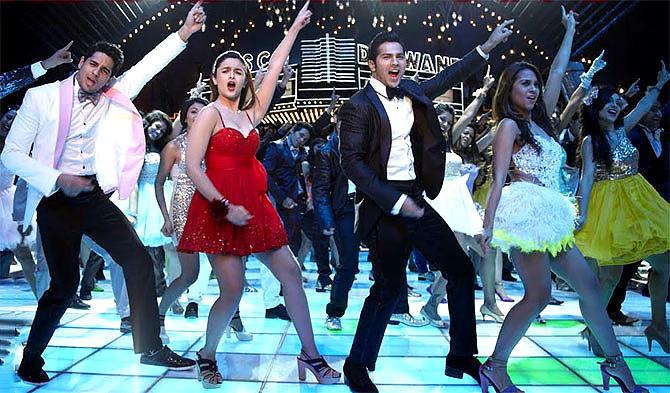 Karan Johar's love for song and dance writes itself into the fancy syllabus of the school Alia Bhatt, Varun Dhawan and Sidharth Malhotra attend.
Outdoing each other at dancing to the Disco Deewane remix and nabbing the Student of the Year trophy is part of that curriculum.
Student of the Year 2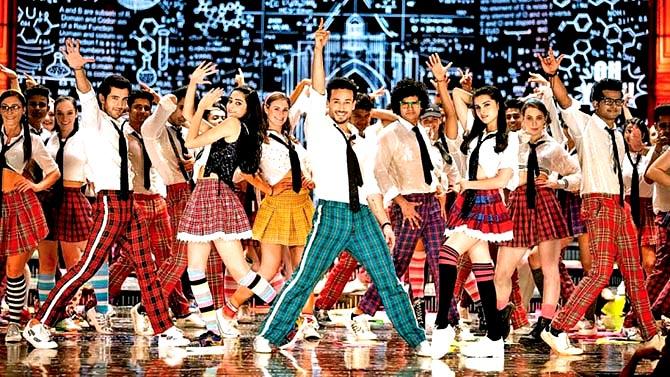 Its decidedly lesser and lousy sequel repeats the gimmick remixing Jawani Diwani's title track around Tiger Shroff, Tara Sutaria, Ananya Pandey and Aditya Seal. There's Will Smith too for additional star value.
Jhoom Barabar Jhoom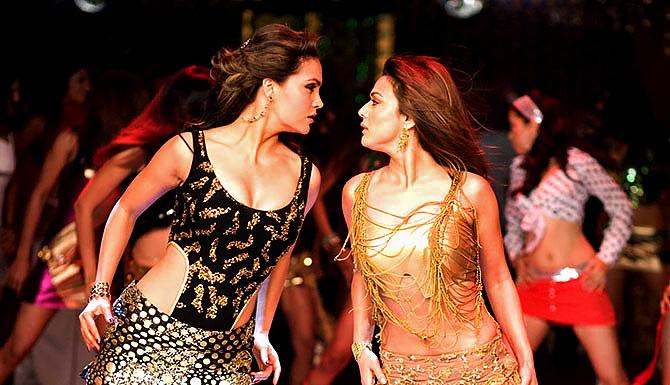 Shaad Ali's musical is best remembered for its lilting soundtrack and energetic dance off between Team Bobby-Preity and Team Abhishek-Lara. Imagine if they'd got some real dancers for this one?
Pukar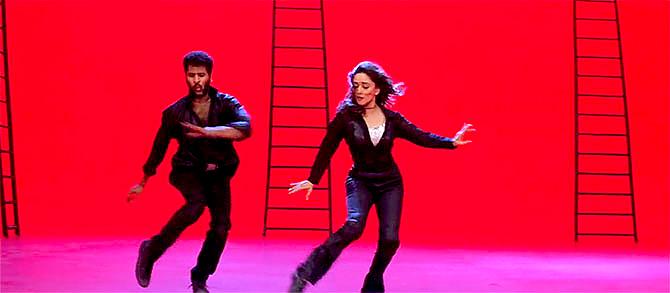 Despite her dancing diva reputation, Madhuri Dixit was worried sick about matching steps with the extraordinarily elastic Prabhudeva in Que sera sera. But fans of dance and the duo could not be happier.
Aatish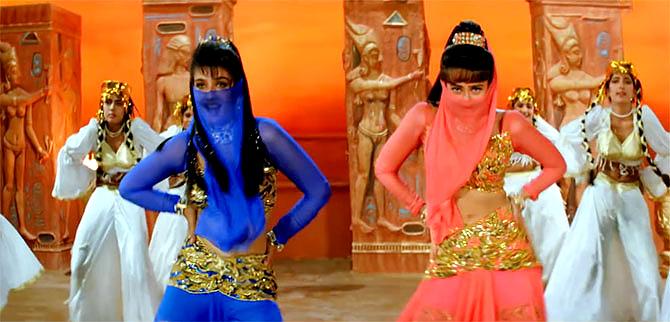 It's not a dance off on screen as much as it was off it.
Back in the 1990s, Raveena Tandon and Karisma Kapoor didn't see eye to eye and their need to outshine each other during Ya Dilruba resulted in the song becoming less of a celebration and more of contest.
100 Days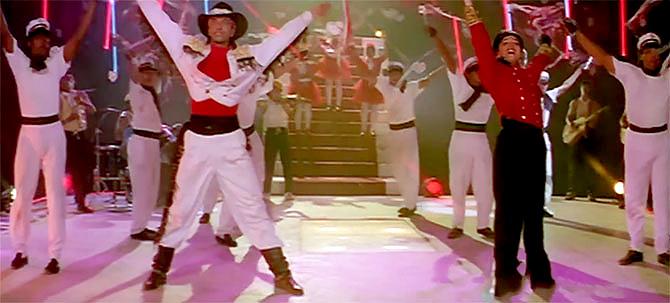 Madhuri Dixit's celebrated dancer finds a ideal partner in rock 'n' roll specialist Javed Jaffrey. The two have no problem setting the stage on fire in the surprisingly underrated De de dil of her superhit whodunit, 100 Days.
Khoon Bhari Maang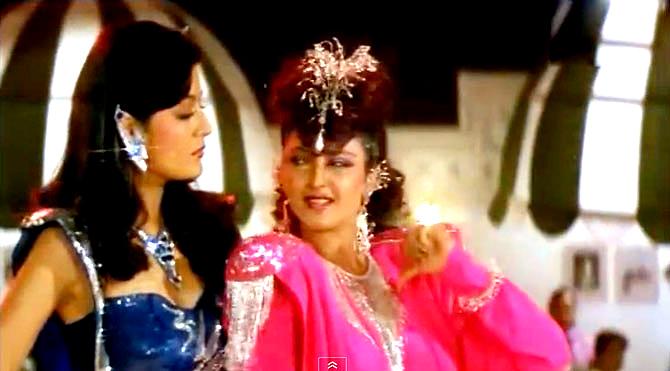 An ultra glamourous Rekha and Sonu Walia shake a leg, stare daggers and spar for Kabir Bedi's attention in Main Haseena Ghazab Ki.
Maqsad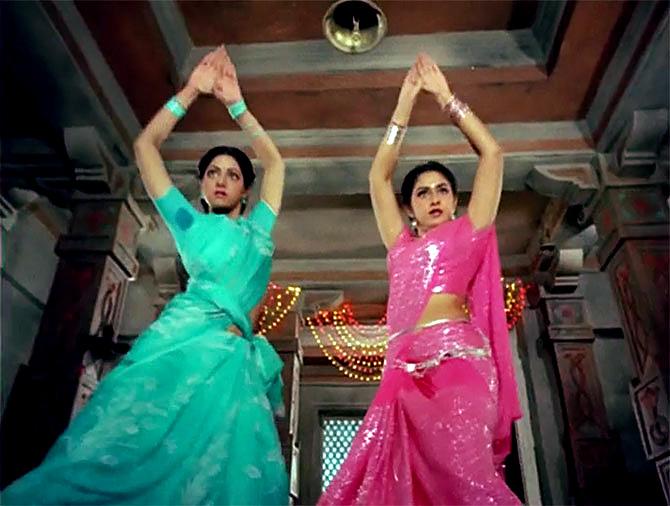 There was a time when Sridevi and Jaya Prada were considered arch rivals. And when D Rama Naidu's multistarrer masala flick roped in the two to break into a nagin dance, it wasn't short of a coup.
Rocky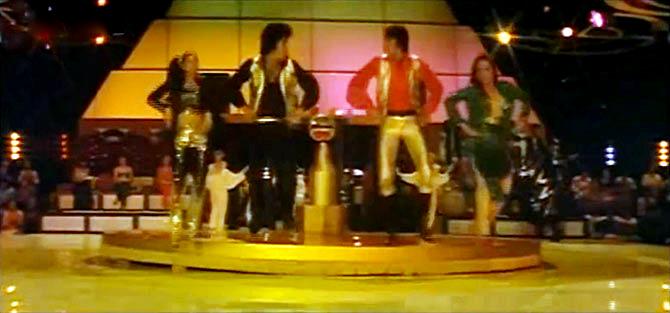 Sanjay Dutt and Reena Roy put their best feet forward in response to Shakti Kapoor and Tina Munim's energetic boogie in Aa dekhen zara aka the go-to song for all dance-offs and sentiment of rivalry.
Shatranj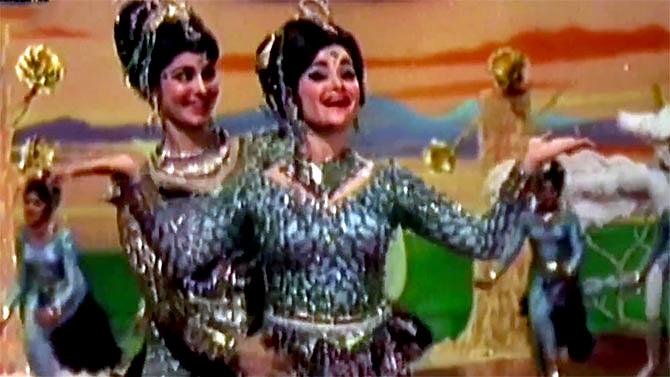 Whether portraying a person or peacock, leading lady Waheeda Rehman is forever compelling as is her skilled co-dancer Madhumati as they perform an imaginative peacock mating, Jungle mein mor naache?
Amrapali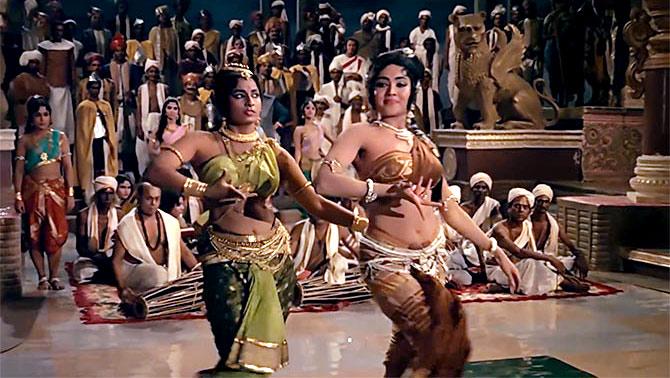 What's not to love about the dramatic Vyjayanthimala challenging Madhvi in a dancing duel to gain the title of Rajnrityaki in Lekh Tandon's 1966 period drama?
Prince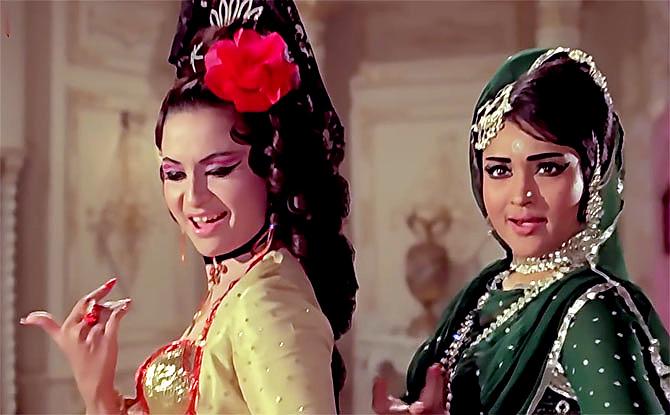 Sporting in spirit and respectful in its rivalry, it's more about the joy of two fine dancers coming together than the dilemma of picking a favourite in the manner Vyjayanthimala and Helen play out their desi versus western Muqabla in Prince.
Dr Vidya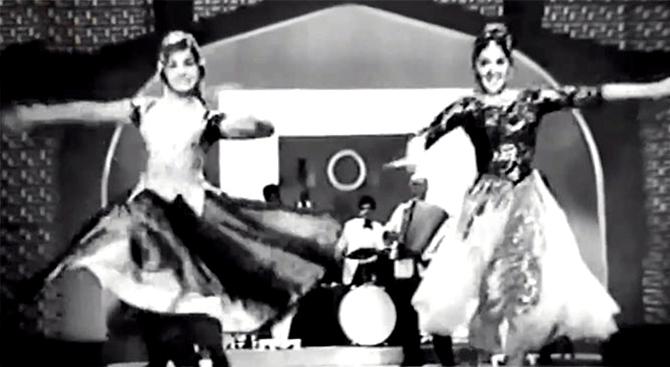 Ditto for Dr Vidya where one's modern woman views clash with another's sati savitri sensibilities leading to some foot-tapping banter in Aye haye dilruba.
Phir Wohi Dil Laya Hoon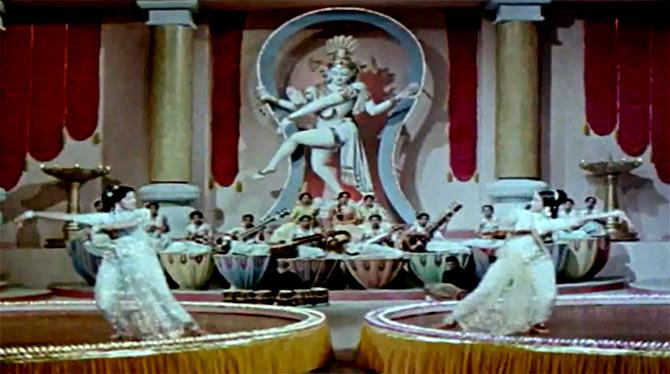 Trained dancer Asha Parekh gives Rani a run for her money in a typical newbie dethroning legend scenario of Phir Wohi Dil Laya Hoon's Dekho Bijli dole.
Chalti Ka Naam Gaadi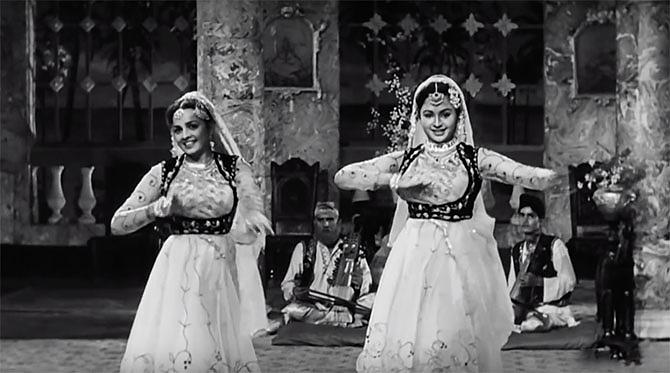 Cuckoo ruled the roost until Helen's entry. But the combination is a pleasure to watch in the charm and chemistry they exude in Hum tumhare hain.
Yahudi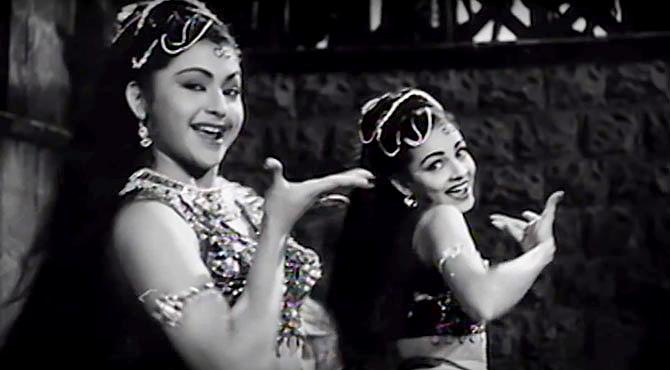 Dancer duo Cuckoo and Helen are it again for the lively song Bechain dil khoyi si nazar from Bimal Roy's adaptation of Agha Yashar Kashmiri's play Yahudi Ki Ladki.
Raj Tilak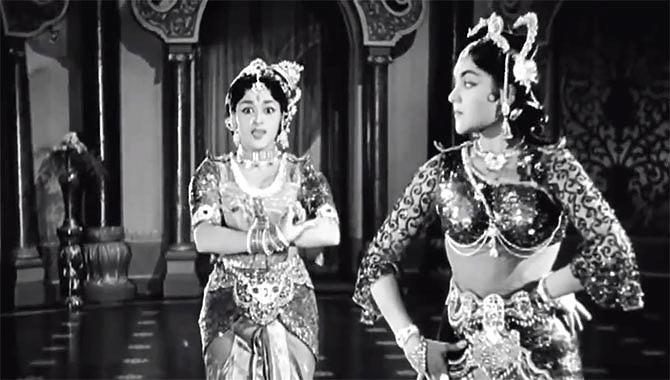 The jury is still out on who steals whose thunder in Raj Tilak's dance competition number, Aaja tu raja aaja. Padmini or Vyjayanthimala?
Azaad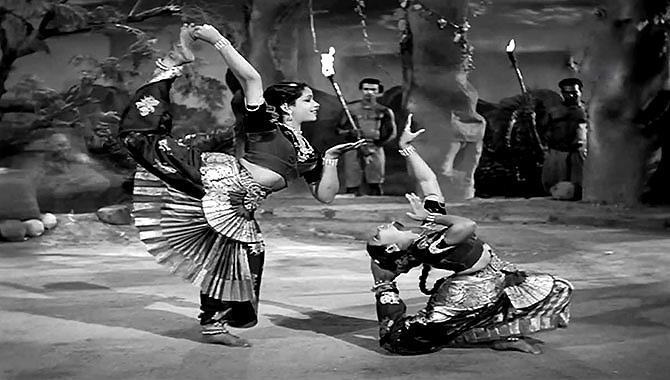 The virtues of classical dancing are for all to see in sisters Sayee and Subbulakshmi' super spirited and jaw-droppingly synchronised Bharatnatyam against Azaad's catchy Aplam Chaplam.