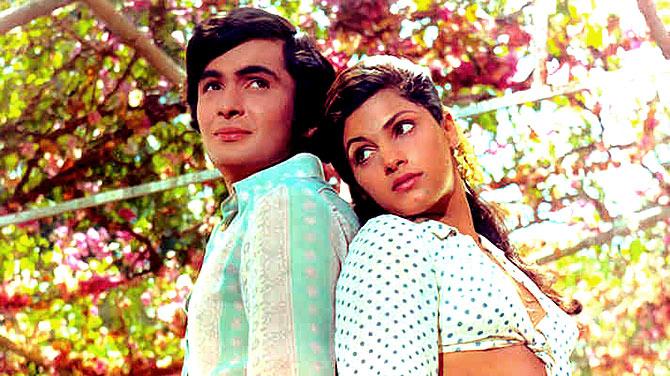 Right from the 1950s, every filmmaker has been in love with Lata Mangeshkar's voice.
But there were two filmmakers for whom Lataji was a muse and inspiration: Raj Kapoor and Hrishikesh Mukherjee.
They could not dream of making a film that would not feature their favourite voice.
At least two of Raj Kapoor's films -- Bobby and Satyam Shivam Sundaram -- were based on Lataji's songs.
After he made Sangam, the director had a massive fall-out with his muse.
Mera Naam Joker did not feature Lataji's singing, so Raj Kapoor planned Bobby with her favourite composers, Laxmikant-Pyarelal.
It was Laxmikant-Pyarelal, who helped Raj Kapoor patch up with Lata Mangeshkar.
Lataji's duets with Shailendra Singh -- Chabhi kho jaye, Jhooth bole kauva kaate and Mujhe kuch kehna hai -- made Bobby the biggest money-spinner of Raj Kapoor's directorial career.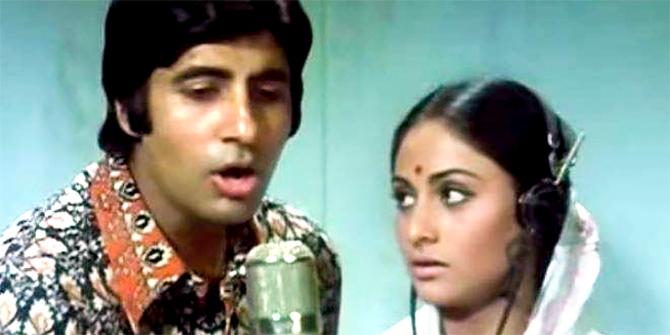 Hrishikesh Mukherjee's association with Lataji's also goes back to the time he started his career as a filmmaker.
From Musafir in 1957 to Namumkin in 1988, Lataji's voice was an integral part of his cinema.
Hrishida had revealed an unknown facet of Lataji's personality to Subhash K Jha: "Do you know she doesn't charge a single paisa for the songs she sings for me? She once made a mistake while singing one of my songs, Ek baat kahoon, for RD Burman in Gol Maal. I had my answer ready for people who asked why I allowed Lata to sing wrongly: 'A wrong Lata is worth more than all the right singers in the industry.'"
Speaking on her special bond with the two directors, Lataji said, "Rajsaab ke saath ghar jaisa sambandh tha (Rajsaab was like family). I saw his children growing up. I was very close to Rajsaab and his wife Krishna bhabhi. She was an extraordinarily beautiful and capable woman.
"Rajsaab was very fond of my voice. Since he was a musician himself, he composed some of the songs himself but insisted on giving the credit to the film's music composers. He had an unerring sense of music. My favourite songs from his cinema are Jaago mohan pyare (Jagte Raho), Ghar aaya mera pardesi (Awara), the title song from Satyam Shivam Sunderam and many more."
Lataji adds, "Hrishida was very close to me. He said he would never make a film where I didn't sing. I think I sang for all his films except the last one (Jhooth Bole Kauva Kaate). I loved my songs for Hrishida in Anuradha where Pandit Ravi Shankar had composed the tunes."