Rocket Boys offer an overwhelming experience to me and many others who saw Homi Bhabha in action at Trombay, notes Dr K S Parthasarathy, former Secretary, Atomic Energy Regulatory Board.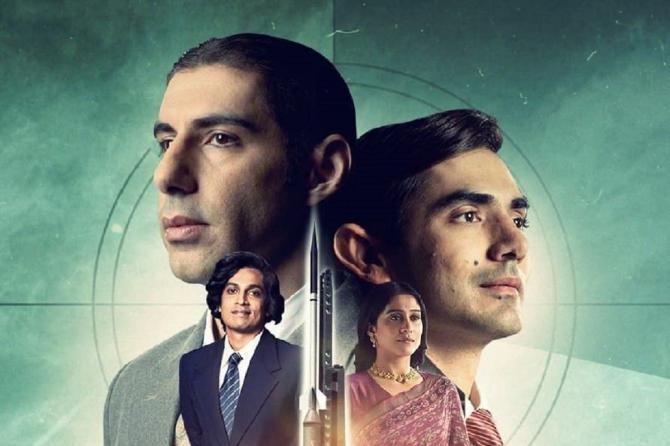 The Government of India set up the Atomic Energy Commission in 1948 and the Indian National Committee for Space Research in 1962. Film-makers have thus far ignored these momentous developments.
Abhay Pannu has richly compensated this inexcusable lapse by producing Rocket Boys, an eight episode SonyLIV series on eminent scientists Homi Bhabha and Vikram Sarabhai.
The series offer an overwhelming experience to me and many others who saw Homi Bhabha in action at Trombay.
Memories go back to the day we assembled in large numbers to pay our respect to his memory. There was an eerie silence. Many were weeping. Vikram Sarabhai, then a member of the Atomic Energy Commission, spoke with a tremulous voice. Bhabha had addressed us three days earlier, condoling Lal Bahadur Shastri's death.
The Actors
The Bhabha we knew was darker, chubbier and less stern in his demeanor. However, Jim Sarbh as Homi and Ishwak Singh as Sarabhai played their roles superbly to compensate for the minor differences. Ishwak Singh has closer resemblance with Vikram Sarabhai. After watching them in the series, we felt that our heroes have come back in flesh and blood.
The first episode starts with the meeting of the Atomic Energy Commission, called by Homi Bhabha. China has already started attacking Indian army posts. Bhabha wanted the AEC's approval for his proposal to make atom bombs. He revealed that he is going to meet 'Bhai' shortly. He always called Jawaharlal Nehru as Bhai.
Bhabha persuasively defends his proposal as the only way to give a message to China and to others who may have plans to attack India.
Vikram, who disagrees even when a few others agree with Homi, walks out of the meeting. Homi tries in vain to convince Vikram, calls him a fugitive and a traitor.
But Bhabha's emotional blackmail did not work. Vikram told Bhabha to consider that he is resigning from the AEC!
Clearly, the producer appears to have taken some creative liberty. Yes, there were many issues where Homi and Vikram differed during his career. 'They were only friendly fires', as Vikram confided to Homi months later in a scene while accepting Homi's proposal.
Facts and Fiction
Abhay Pannu judiciously mixes facts and fiction to portray vividly the contrasting characters of Homi and Vikram.
Homi is the son of an eminent lawyer, ambitious, intelligent and supremely confident. Vikram is the son of a Gandhian industrialist, suave, soft and calm. The contrast is evident as Bhabha coaches the love-smitten, diffident Vikram on ways to approach Mrinalini Swaminadhan.
Abbay Pannu demonstrates the intense patriotism of Homi and Vikram through a fictional episode in which Homi lambasts Crenshaw, a donor to the Indian Institute of Science-Bangalore. Crenshaw punches him in the face. Homi and Vikram climb up to the top floor of thge IISc building and replace the Union Jack with the Indian flag. The police arrests them and produces them in court. Darius Shroff adorably acts as Jehangir Bhabha (Homi's father) and wins the case.
There were a few scenes which reveal the strong bond of love between Bhabha and his mother. When Homi accompanied his father to meet J R D Tata to present his proposal to start the Tata Institute of Fundamental Research, Meherbai wished him well. To boost Homi's confidence she also confided that she has asked Choksi to put in a good word to JRD about his grant application.
"If you don't get the grant, he will be a dead man," she jokes. Meherbai used to accompany Homi for some important functions at the Atomic Energy Establishment Trombay (AEET). I vividly remember them sitting closely, smiling and chatting!
Admirable restraint
Abhay portrayed with admirable restraint Bhabha's affair with Pipsy (Parvana-Irani, played by Saba Azad) and the way it ended. Saba Azad acts as a witty, vivacious and confident lawyer, often teasing both Homi and Vikram in ample measure. Ironically, both Homi and Pipsy urge the diffident Vikram to take the lead in wooing Mrinalini; however, they themselves fell apart!
Abhay's portrayal of all scientists -- Mehdi Raza, Homi, Vikram and C V Raman -- is realistic and objective.
The role of Arjun Radhakrishnan as A P J Abdul Kalam is most notable. The latter, who became the people's President later, is well known for his humility.
"The list of institutes that have rejected you is as big as your name. Who mentions rejections in his resume? That's a bit eccentric even for me," Vikram asks Kalam when he met him. Kalam explained why he lost. Kalam asked him about his rocket programme. After some brief discussion, Vikram shook hands and said, "Welcome to India's space programme."
It is dramatic and believable, but not history. Kalam met Sarabhai for the first time when on invitation from M G K Menon he attended an interview (external link) at TIFR for the post of rocket engineer.
Abhay Pannu correctly portrays Vikram's early setback and labour unrest against setting up the Ahmedabad Textile Industry's Research Association (external link) because of his haste and the way his father sorted out the issues.
Friendly fire
I have some friendly fire at Abhay Pannu. He uses his creative licence too liberally in a few scenes. Firstly, when there was an issue on the timely start-up of APSARA, Homi collects a screwdriver, jumps into the 'swimming pool' of the reactor and fixes the problem. It was a poignant and dramatic situation.
Prime Minister Nehru is shown to be on the way to inaugurate the function associated with the operation of the reactor! Such over-enthusiastic presentation is counter-productive
Another instance is when Homi, the man Friday, appears last minute on the scene, rolls up his sleeves and organises the manual lifting of a huge rocket with ropes being pulled along with Vikram and his obedient crew (they obey orders as if they are in the army!).
The rocket could not reportedly be fired in the orientation because of a hydraulic leak, which may take a few days to repair. Scientists and technologists will not take such unsafe and dangerous decisions.
Homi's arrival by bullock cart is amusing, but is in the realm of possibility as a bullock cart was then a reliable form of transport in that part of the country!
The Nehru-Bhabha relationship
Homi never had any serious tiff with Nehru. In fact, he adored his company. How they resolved issues, if any, is a model for politicians on both sides of the isle to emulate.
After the successful launch of the rocket, when everyone has left, Homi informs Vikram that he had visited his Bhai. "He has sanctioned the bomb."
With bated breath, he waited for Vikram's words. "We should make the bomb." "Mother Mary, I was expecting a war," Homi said.
'His over-familiarity with the then prime minister, constantly addressing him as 'Bhai', a bit repugnant,' a film reviewer has suggested (external link). Indeed, Homi in many letters (external link) (some of them personal) addressed Panditji as 'Bhai' and Panditji more often addressed Bhabha as 'Homi'.
Vikram-Mrinalini
There were some poignant moments in the lives of Vikram and Mrinalini, which Abhay Pannu has handled with admirable sensitivity. Once Vikram could not be present at Mrinalini's dance programme, though she invited him in advance and kept a seat reserved for him.
She told him that 'many cancelled their tickets because they cannot approve of a daughter-in-law from a reputed family dancing in public'. Vikram could not make it in spite of his promise, as he lost time in endless negotiations with the union leaders to avert an impending strike.
Seconds before the programme started, she heard someone saying, 'Ambalal is here.' Her father-in-law Ambalal Sarabhai and her mother-in-law attended. The cameraman did a great job showing Mrinalini's face with a flickering smile.
When she returns at night. Vikram was at home. You expect some fireworks from his dejected wife. Nothing of the sort happened. The long silence of Mrinalini looking at the guilt-ridden face of Vikram was more eloquent than their romantic overtures later. Regina Cassandra as Mrinalini did a perfect job.
For many scientists working in strategic areas and others equally dedicated to their work in other areas, this scene may be all too familiar.
Dr K S Parthasarathy is a former Secretary of the Atomic Energy Regulatory Board. He is accessible at ksparth@yahoo.co.uk