While Calcutta has transitioned to Kolkata, Satyajit Ray's detective, Feluda, has remained unchanged in the Bengali consciousness
Here's a mystery for Prodosh C Mitter to solve.
How can a 27-year-old, 6-feet-2 inches tall, athletic detective step out of his 21, Rajani Sen Road address in Calcutta and then be found 50 years later just as young and just as enthusiastic about unravelling social enigmas?
Image: Soumitra Chatterjee in Sonar Kella
In this time, Calcutta became Kolkata, the much-smoked Charminars disappeared, and Japanese hatchbacks replaced the buxom Ambassador cars.
Feluda, as Mitter is more popularly known, however, has endured as his suave, athletic self in the mindscape of not only the city, but the country itself.
So, half a century later, he, 27 years old, continues to solve mysteries in Badshahi Angti, released as recently as four months ago.
Feluda entered Bengali consciousness in 1965 through the pages of the children's magazine, Sandesh, the story of his prowess at deduction conceived of by the genius of Satyajit Ray.
From that day onwards, the detective became the 'dada' that one ran into every day on the streets. When Ray wrote that first story, he had no plans of writing a series about the escapades of the detective. He had only wanted to experiment with the detective genre in children's writing.
"The immense popularity of Teen Shonkha led to an increase in the sales of Sandesh," says Sandip Ray, filmmaker and Ray's son. "Baba started getting calls from people, especially children, wanting more stories about Feluda. It was only then that he thought of a series of novels about Feluda. He also created Topshe (Tapesh, Feluda's cousin) as the detective's 'Watson'."

The inclusion of a sidekick seems to indicate Ray was inspired by Arthur Conan Doyle and his Sherlock Holmes. Indeed, he was, but unlike Doyle, he placed most of Feluda's adventure outside the city of his residence. The initial stages of the mysteries mostly begin with the purchase of train tickets at Fairlie Place and getting permission from Topshe's parents for him to leave the city. "The destinations for Feluda's adventures were places that Baba had travelled to," says Sandip Ray.

So while Ray was making his famous documentary on Sikkim, he also wrote Gangtok-e-Gondogol (Trouble in Gangtok). After he shot the desert sequence of Goopy Gyne Bagha Byne in Rajasthan, he located Sonar Kella (The Golden Fort) there.
Hirak Rajar Deshe was shot in Nepal; not surprisingly, Feluda went out of India for the first time in Joto Kando Kathmandute (It Happened in Kathmandu). Ray spent a day in Hong Kong en route to the 1982 Manila Film Festival, so the port city became the theatre for Tintorettor Jishu (Tintoretto's Jesus).

Despite having won fame, Feluda has always been down-to-earth, unwaveringly honest, not particularly interested in money and not above buying his own packet of Charminar. Not only is he fascinated with books, but he also befriends a thriller writer, Jatayu, whose 'soothing' green ambassador becomes an immense help in the detective's schemes.
Feluda's stories also present a picture of old Calcutta with the power cuts, dug-up streets in the pre-Metro days and an overwhelming presence of The Statesman.

What Feluda isn't is preachy.
"Baba was never a preacher. He hated the rigorous, forced methods of teaching children," says his son.
So, Feluda's adventures are pregnant with facts and information, but hardly pontifical.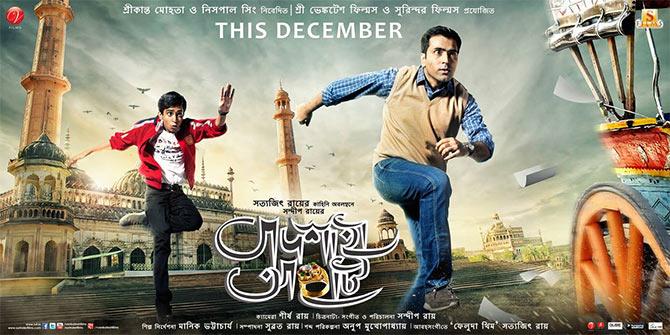 Image: The Badshahi Angti poster
"One could probably learn more from a Feluda novel than from a textbook," says actor Abir Chatterjee, who plays Feluda in Sandip Ray's latest directorial venture, Badshahi Angti. "Apart from being one of the greatest filmmakers, a good writer, cartoonist and music director, I think Satyajit Ray was an immensely capable teacher to every child."
The popular Sonar Kella begins: 'Feluda stopped reading and shut his book with a bang. Then he snapped his fingers twice, yawned and said, 'Geometry'.'
What follows is a brilliant expostulation on geometry, by far the best that has ever been done for children. Not once does Ray aim to teach, and yet teases the reader into wanting to know more about elliptical curves. Geometry is the leitmotif that binds the book dealing with telepathy, past lives, extra-sensory perceptions, the history of fingerprints and the local customs of Rajasthan.
"I still revisit the books as they are extremely engaging, full of facts that make it educative for every age group," testifies Manisha Mukherjee, a software engineer with Cisco.

Feluda mesmerised not just his Bengali community. Sandip Ray reminisces about last year's visit to Jaisalmer, the locale for Sonar Kella, and narrates how, even after 41 years, Kushal Chakraborthy, the actor who essayed the role of the boy, Mukul, in the 1971 film, was almost mobbed, all because the town had been written into the story as the home of Mukul in his previous birth.
"Mukul, and not Feluda, is the hero for the people there," laughs Ray.
When the film was shot there, the fort was almost an abandoned structure. Today it is a living fort, and one can spot Bengalis in every corner with an Ananda Publication Feluda in their hand.
"There is a hotel called Hotel Prince nearby where they serve Bengali food and Baba's pictures hang in the reception," smiles Sandip Ray. "That one film, that too a non-Hindi film, created tourism for the place."

Feluda has a compatriot in the equally endearing Byomkesh Bakshi, a film on whom released last week.
"As literature, each differs from the other," points out Chatterjee.
Feluda was always meant for children with crime patterns that they could understand. Byomkesh was created for adolescents and adults. "With all those sexual angles and women characters, the crimes in Byomkesh often originate as complications arising out of relationships," says Chatterjee, the only actor to have portrayed both Byomkesh Bakshi and Feluda on the big screen.

THE F FILES

* Despite being trained in martial arts, Feluda relies mostly on his analytical and observation skills to solve cases. He called this Magajastra, or the brain-weapon.

* Satyajit Ray, who hated going to clubs, became a member of the Calcutta Club after being prodded into it by friends. He chose this club because it had an excellent library that provided him with research material before he started writing the Feluda novels.

* Soumitra Chatterjee played Feluda in Ray's movies, Sonar Kella and Joi Baba Felunath, with Siddhartha Chatterjee as Topshe and Santosh Dutta as Jatayu.
Sabyasachi Chakrabarty depicted Feluda in Sandip Ray's television series for Doordarshan, while Saswata Chatterjee and Rabi Ghosh played Topshe and Jatayu, respectively.
For his films, Bombaiyer Bombete, Kailash-e-Kelenkari, Tintorettor Jishu and Royal Bengal Rahashya, Chakrabarty reprised his role as Feluda.
Sandip Ray's latest, Badshahi Angti, has Abir Chatterjee as the detective.

* Shiddeshwar Basu, aka Sidhu Jyatha (Sidhu Uncle), is an elderly character in the novels who describes himself as Sherlock Holmes' brother, Mycroft, living on Sardar Sankar Road. He has a photographic memory and a vast source of information that comes in handy whenever Feluda needs to check some facts. He was the 1960s equivalent of Google.

* Feluda possesses a .32 Colt revolver

* Satyajit Ray's wife, Bijoya, was a thriller addict. Ray used to hand over the manuscripts of the Feluda novels to her, asking her to mark the areas she felt needed change. Bijoya Ray also provided the writer with valuable suggestions on the motives behind the crimes.