'His relationship with Sridevi was not meant to work out, especially since both of them were ambitious, driven and passionate.'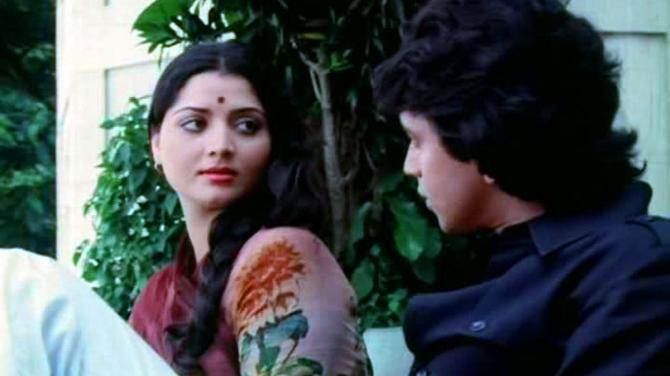 Mithun Chakraborty's love story with Yogeeta Bali was unique.
After being together for four years, they had a registry marriage at the actor's home.
But within a year came rumours of Mithun's affair with a Bollywood actress, whom he allegedly married too.
Yogeeta took it in her stride.
In an excerpt from Ram Kamal Mukherjee's book Mithun Chakraborty: The Dada Of Bollywood, she says, "I don't know if you understand this, but I am really very, very happy and content in my own little world. It is not out of any compulsion or pressure I am saying this. I mean it from my heart when I say that if my husband ever wants to marry her (the other woman), I will accept her."
An exclusive excerpt from Mithun Chakraborty: The Dada Of Bollywood: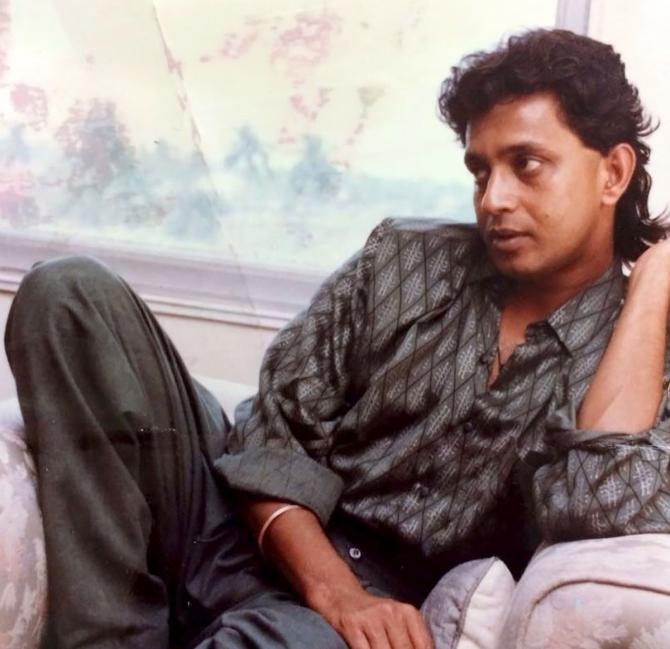 Mithun met Yogeeta Bali for the first time at the end of 1978, at a party in Bombay. He was still struggling at that time and used to stand every day at a particular time in front of a video-games shop in Pali Hill when Yogeeta passed by in her Fiat.
Yogeeta, who had started off as a child artiste in Chhoti Si Mulaqat (1967), was already an established actress then. Mithun would stare at her and Yogeeta always turned her face away. She fondly remembered in an interview to me:
I used to stay in Pali Hill and every day, while going for shooting, I used to see this tall, well-built young man standing on the road in front of a shop, staring at me. I didn't notice it at first, but it caught my attention when it became an everyday occurrence. I was beginning to get a bit alarmed and was thinking about informing the police, but one fine day, the young man was not seen any more.
But the young man remained in my mind.
I met the same young man after another three to four years at a party in Pali Hill. I was taken aback when I came to realise that this is the young man I have seen in Mrinal Sen's movie. I got to know his name and heard that he is an actor of great calibre.
I got introduced to Mithun and liked the way he spoke to me.
Within a few days, we became friends and also acted in a few films together.
Gradually, our relationship got deeper and deeper. We went to Ooty together during the shooting of the movie Be-shaque. I liked Ooty and so did Mithun.
He told me, 'Pinky, we will set up our home after marriage here in Ooty only.'
I told him, okay, we will stay at Ooty.
We spent around four years as friends. I wanted to be done with acting as fast as possible.
I did not sign any new films.
I wanted to quit acting after marriage.
Mithun hadn't told me anything about it. It was me who chose that.
We got married on 21 July 1982 all of a sudden in Mithun's flat in Bandra. It was a registry marriage.
Mithun had already notified the marriage registrar about the dates. The saath phere [seven vows] was also conducted in the presence of a priest.
The marriage initially alarmed Mithun's parents as they were quite apprehensive of how the actress-turned-bahu (daughter-in-law) would turn out to be.
However, after the initial rounds of introductions and getting to know her better, their fears were put to rest. Despite this, Mithun's marriage with Yogeeta was not always smooth.
For Yogeeta, it was her second marriage.
In 1976, she was married to the enigmatic singer Kishore Kumar. But it was not a relationship meant to last. They got divorced after two years.
Incidentally, when Kishore Kumar realized that his wife was in love with her Khwab co-star, who happened to be another Bengali, he was livid and refused to lend his voice to any of Mithun's films.
As a result, it paved the way for the meteoric rise of singers like Munna Aziz, Sudesh Bhonsle, Shabbir Kumar and, of course, Bappi Lahiri, who were singers, composers and Mithun's star musical partners in all his films.
Allegedly, Kishore Kumar even referred to his ill-fated marriage as a 'joke' and Mithun Chakraborty blamed Yogeeta's obsession with her mother as a reason for it falling apart.
In an article in Stardust, it was reported that since Kishore Kumar had stopped singing for Mithun, directors and producers felt that it would adversely impact Mithun's career. But fortunately, it didn't matter much and rather gave birth to newer talents.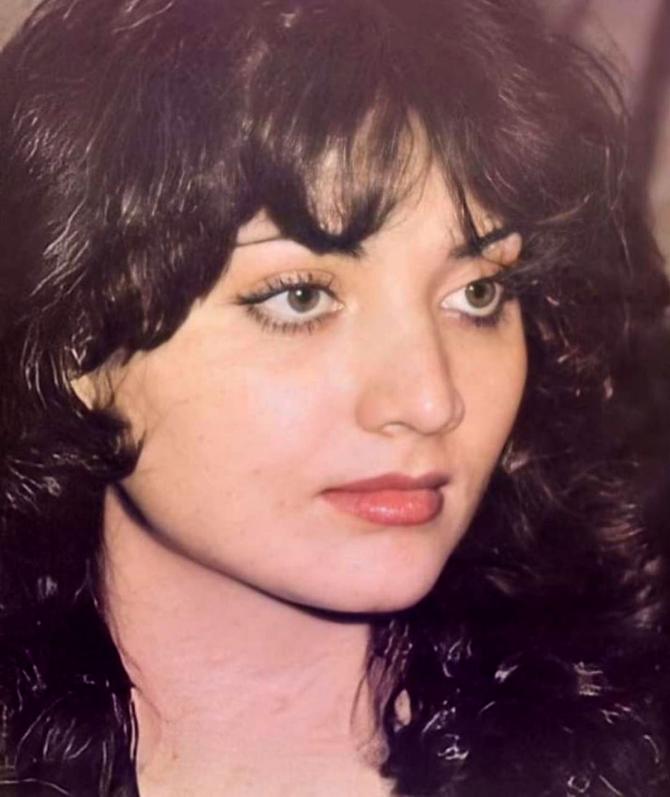 Yogeeta had a tough challenge on her hands.
There was a time when Mithun was allegedly having a roaring affair with one of the most promising and glamorous female stars of the time.
Things came to such a pass that Mithun apparently decided to secretly get married to her, having convinced her that he had already separated from his wife and the mother of his son, Mahaakshay (Mimoh). The truth came tumbling out soon enough, leaving scars that would last longer than the actual affair.
Where did things go wrong? About 10 months into their marriage, in an interview given to Stardust, she said proudly that 'my husband would never hurt me by flirting with other women'.
She even went to the extent of playing the martyr:
I don't know if you understand this, but I am really very, very happy and content in my own little world. It is not out of any compulsion or pressure I am saying this. I mean it from my heart when I say that if my husband ever wants to marry her (the other woman), I will accept her.
This was a remarkable transformation for a woman who was known to be very protective of her husband.
She went on to add, It is difficult to believe it, isn't it? But I really don't care what the world thinks of me, for I know that what I am doing is for my husband's and my own happiness. I am not ashamed to say what other women fear to admit, that I love my husband too much to let him go. If I walk out on him, I will be the loser, not him.
The Mithun-Yogeeta marriage has seen its ups and downs, but to their credit, their relationship has survived the rough and tumble. Both are quite protective about each other and any effort to bring out a negative response about the other half always turns out to be a futile effort.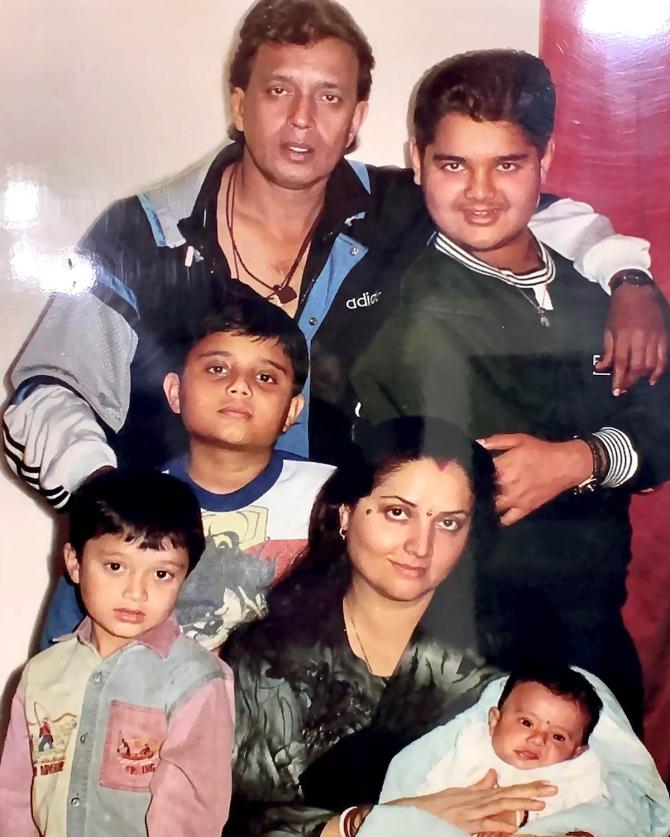 Yogeeta happily hung up her glamorous boots and turned into a thoroughly domesticated mother of four children. She has always maintained that she always wanted to have a family and step away from the arc lights. Perhaps this is what worked for Mithun and her.
Indrajit Bhattacharya, a resident of Kolkata, remembers his only meeting with Mithun at the then Airport Ashok Hotel in Calcutta in the year 1989. Indrajit could see Yogeeta in the other room as the door was open and she was cradling and rocking the younger one, Ushmey, who was around two at that time.
Mimoh was playing around in both the rooms.
Mimoh was the perfect child. He was fair, neither too fat nor too frail, and was very playful.
The rooms had their ACs on in full blast and big pedestal fans were on in full swing too. The rooms were cold and yet Mimoh was sweating profusely.
Mithun had a copper wristlet on his left hand and wore quite a few chains around his neck. He was barefoot and seemed absolutely comfortable being so.
Yogeeta, to Bhattacharya's amazement, was wearing a saree exactly the way Bengali homemakers do. And her movements and the way she cradled her baby belied the fact that she came from a film family. To him, she seemed homely and affectionate. She could fit right into a humble middle-class home.
Both Mithun and Yogeeta are very private persons and are rarely seen at awards nights and film parties.
Mithun has very simple family values that were instilled in him by his parents and grandparents, who had strong but simple, middle-class values -- a fact validated by his eldest sister, Kalyani, as well.
In one of the interviews given by her to me, she says, 'Our family is not the type to go to parties. Right from our childhood, we were brought up in a certain way and Dadabhai [Mithun] has got that thing in him as well. You will rarely find him or us at a party. We are private people who love to keep to ourselves.'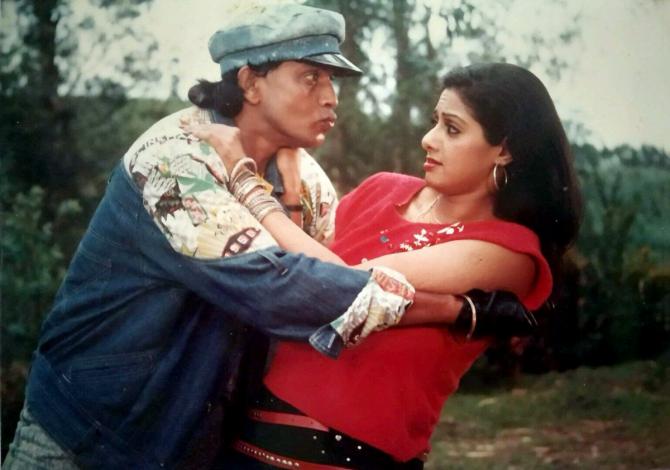 So, who was the other woman who almost disrupted this picture of blissful domesticity?
There have been stories about how the nine-month-old secret marriage that was conducted on 19 February 1987 with Bengali-Hindu rituals was marked by turbulence.
Mithun was finding it tough to juggle two parallel lives -- one with his legally wedded wife and children and the other with his second wife, a star whose fortunes were about to take off.
His relationship with Sridevi was not meant to work out, especially since both of them were ambitious, driven and passionate.
What eventually ended the chapter was Yogeeta's stoic acceptance and exemplary resilience. Mithun says he was amazed to find what Pinky (Yogeeta's nickname) was made of.
In a candid interview to Stardust magazine, Mithun admitted:
Her (Yogeeta Bali's) ability to absorb things amazed me. She knew everything, but she didn't ask me a single question. She did it all for my happiness. Usually the household goes for a turmoil. But nothing of that sort ever happened. She is above all this. She had strong faith in me that I would not leave her and my son.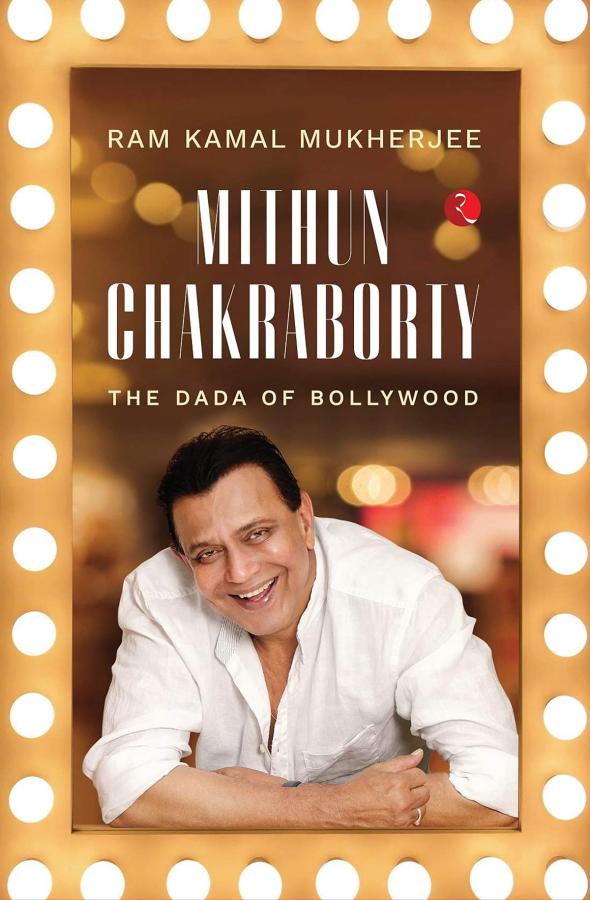 Mithun's father was a different hurdle altogether. He was furious when reports of Mithun's secret marriage began to surface and he threatened to disown his only son. He would not allow two wives at the same time. Mithun couldn't really do anything against the wishes of his parents.
On the other hand, he couldn't say anything to his lady love. Apparently, Yogeeta tried to convince his parents, 'If I can agree to this, why can't you?'
Despite Yogeeta's blessings and the 'arrangement' that many Bollywood stars have made with maintaining two families (Dharmendra being one such example) in a parallel universe, Mithun's heaven fell apart.
One night, the female star, who was done with playing second fiddle to the legal wife, upped and left.
'My doors will always remain open for you,' were Mithun's final words to his last great romance.
Excerpted from Mithun Chakraborty: The Dada Of Bollywood by Ram Kamal Mukherjee, with the kind permission of the publishers, Rupa Publications India Pvt Ltd.