'How do you stay so energised? So young?'
'Dev Anand flashed that familiar crooked grin and told me, "The mind never grows old. It urges you to surge ahead".'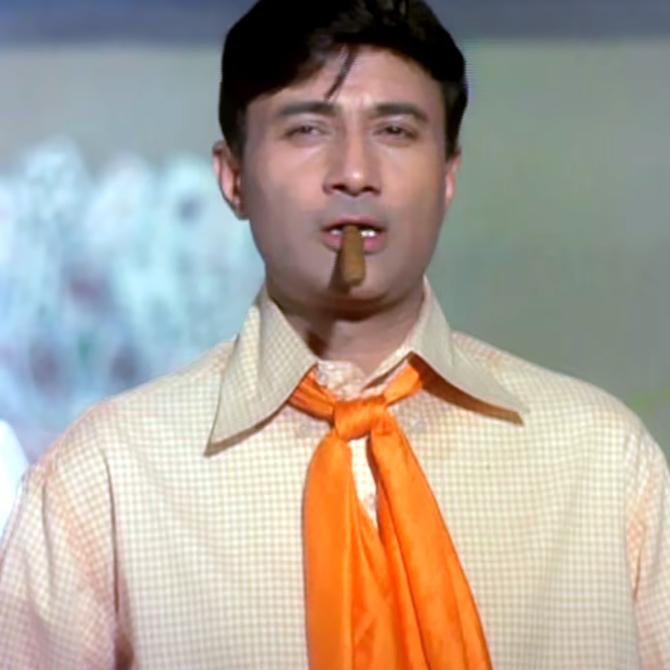 There was a relationship which began on screen. Him, the larger-than-life star, she, the wide-eyed teenager.
Roshmila Bhattacharya remembers the Peter Pan, who even at 80-plus, had the energy of an 18 year old. His eyes sparkled with so many dreams, some of which, including a Hare Rama Hare Krishna sequel, went away with him.
The last birthday
For Dev Anand, a birthday was like any other day. The busier, the better.
In 2011, with his crime thriller Chargesheet lining up for release on September 30, Dev Anand had a working 88th birthday.
It was a day like any other, except for the fans who streamed in from across the country on September 26, to wish their evergreen poster boy.
Devsaab was at the office, and met every one of them personally, patiently signing autographs, posing for innumerable photographs and cutting the customary cake.
Dressed in tan co-ords, teamed with a trendy blue shirt and his trademark muffler, his energy was boundless.
No one would have imagined that this would be his last birthday.
Guide for real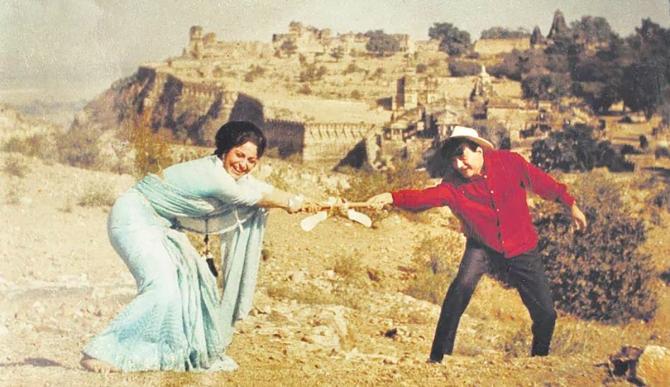 Dev Anand was a star but he wore his stardom lightly.
Once, when they were shootingGuide in Udaipur, a group of American tourists landed up.
Hearing Devsaab being addressed as 'guide', one of them instructed him to show them the sights.
Before anyone knew what was happening, he had herded the tourists into a boat and taken off across Pichola Lake.
It was only later in the evening that one of them, a Texas oil tycoon, when formally introduced to Dev Anand at a banquet as the maharaja's special guest, learnt that their 'guide' was a top-ranking Indian actor-film-maker who was there for the shoot of his Indo-American co-production, Guide, a Hindi-English bilingual.
It's a story I love because for me, it embodies the man and the star.
Why don't you come over?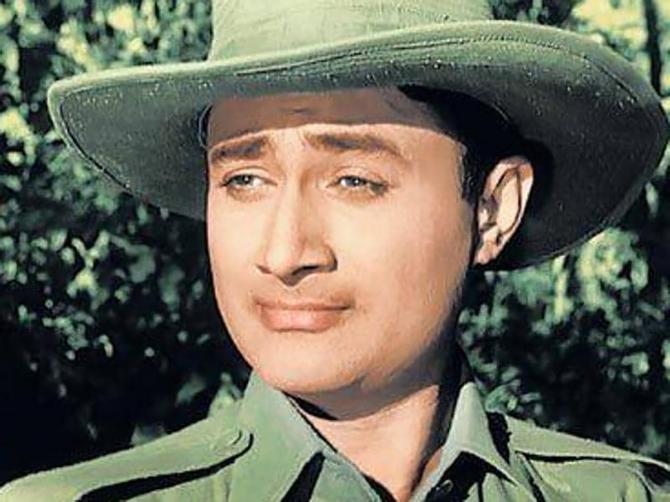 I grew up on his films which I had watched at home, on our 21-inch television, during the Doordarshan days.
A couple of my aunts were die-hard Dev Anand fans, and occasionally, when they got hold of a VCD of his new film, I would be invited over for a 'matinee show'.
Lootmaar, Swami Dada and Anand Hi Anand were not Kala Pani, Guide and Jewel Thief, but I was still mesmerised by the man with the swinging gait, the cocky cap and the crooked grin.
When I became a journalist, I got to meet him in person and he was just as charming and so approachable.
In my three-decade career, I have never come across another actor who, when he was in his office, answered the landline himself.
His jaunty greeting was unmistakable, as was his irritation because I wanted to interview him over the phone.
"Why don't you come over to Anand? We can have a cup of coffee together," he would urge.
Since I was working with a daily newspaper, deadlines were short, and I would cajole him to answer a few questions on the phone, promising to drop by soon.
On February 4, 2011, one of Navketan's last black-and-white films, Hum Dono, returned to the theatres after 50 years, in all-colour and cinemascope, with Dolby digital sound.
I met him a week or so before the premiere of Hum Dono Rangeen.
This time, he insisted I drop by his new office for that long-delayed cuppa.
This time I didn't say no, making an appointment for 4 pm, the next afternoon.
A moment with two lookalikes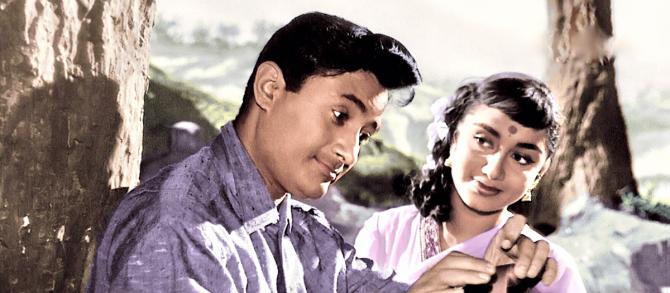 His desk was piled high with books and papers, the creative clutter was familiar and instantly put me at ease.
At 87, his excitement was palpable as he readied to bring back the 1961 cult classic.
Set against the backdrop of the Second World War, Hum Dono revolves around two army officers, Major Verma and Captain Anand, whose lives interlace because of their striking resemblance with each other resulting in a case of mistaken identity.
Devsaabacknowledged that the double role was one of his finest performances, he even picked out a favourite scene.
It's the one where Captain Anand finds and returns his wallet to Major Verma who calls for a drink, marveling at this strange stroke of fate that has brought together two lookalikes, coincidentally from the same town and the same army division, in the shadow of war.
As they sit together companionably, the younger officer opens his heart to his lookalike, who tells him that if his love is true, his lady will wait for him to return.
'And if she doesn't, it's best to forget her,' Major Verma advises, but admits that even a love that betrays is hard to forget as it doesn't die out completely, leaving behind a trail of acrid smoke.
Profound words, penned by writer Vijay Anand, based on a Nirmal Sircar story, en route to Kashmir.
Now for the best part. The Major wonders what it is that makes a man go to war, knowing it will only bring suffering and death.
Is it the pangs of hunger?
The quest for fame?
Or our innate humanity to fight atrocities that makes a man leave behind his mother, wife and lover when the opportunity to pick up the gun presents itself?
As he muses over this question, which to date, in the shadow of the ongoing Russia-Ukraine war, remains unanswered, the Captain breaks into a song.
Sahir's verse 'Kabhi khud pe kabhi halaat pe rona aaya', taking the narrative forward, towards its dramatic turning point.
"This film was way ahead of its time, that's why it doesn't seem outdated today," Dev Anand had asserted, even as he wondered how people would react to it half-a-century later.
A week later, at the film's premiere show, I watched Hum Dono Rangeein in a darkened auditorium, and realised anew that Dev Anand didn't grow old, and neither did his movies.
The Cannes story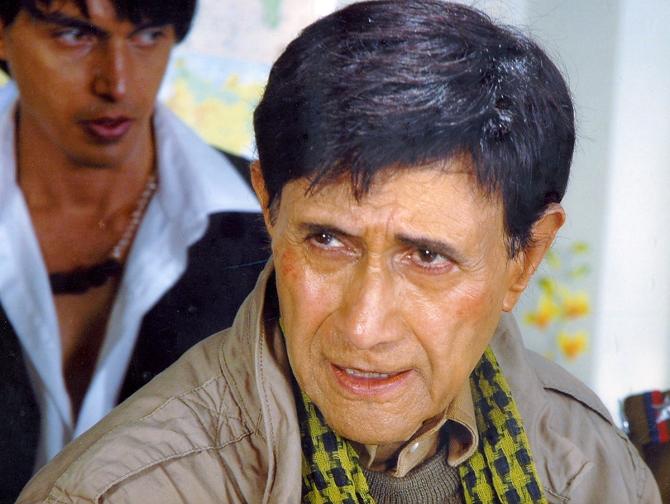 Six months later, he was back on screen with another film, Chargesheet.
This time he was older, but still a crusader.
His six-decade journey in wonderland had not blinded Dev Anand to all that was wrong with the real world.
At the same time, it did not disillusion or dishearten him.
"There are bad fish in every stream of life. That doesn't mean the system is corrupt," he reasoned, while we were discussing Chargesheet, a film about a murder investigation and police corruption.
He was a realist, but not a pessimist.
If anything, he was an incurable optimist.
Forty-two years after its release in 1965, Guide was screened in the 'Classics' section at the 2007 Cannes Film Festival, to an overwhelming reaction from a largely European audience. He now wanted to take Navketan's 37th film to the French Riviera.
"I'm hoping Chargesheet will be screened in the 'Competition' section at Cannes," he asserted with supreme confidence.
I admit I was surprised by his conviction, but I had also learnt by then that with Dev Anand, nothing was impossible.
Guide had been India's official entry for the 38th Academy Awards in the Best Film in a Foreign Language category.
Hum Dono had travelled to the Berlin International Film Festival in 1962 and its director Amarjeet was in contention for the prestigious Golden Bear.
Who knows what would have happened had he not taken that final curtain call?
Hare Rama Hare Krishna 2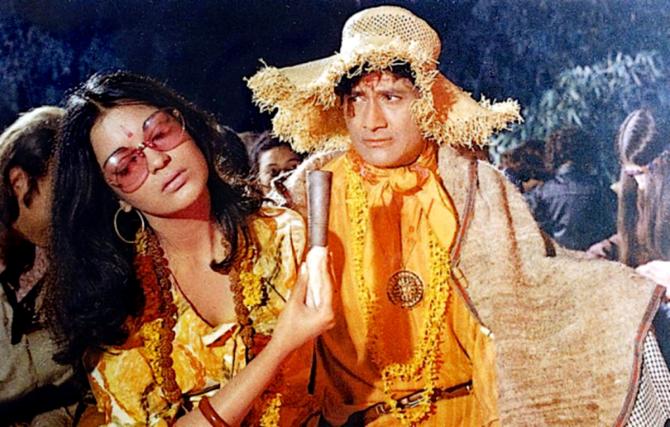 He couldn't visit London on his birthday that year.
But Dev Anand did fly out to his favourite city three months later, and succumbed to a cardiac arrest on December 3, 2011.
It was hard to believe that he was gone.
I flashbacked to that day in his office when his hands and mind had been filled with two releases.
Even then, months away from his 88th birthday, he was planning not one, not two, but four films.
"I want to shoot one in India, the other in the US, and a third in Croatia," he had shared.
And then, there was the sequel to Hare Rama Hare Krishna.
The original 1971 film was born when Devsaab was in Nepal to attend the then crown prince's wedding.
He had spotted a group of hippies smoking marijuana and decided to make a film on these flower children and the drug menace.
Dum Maro Dum, Mite Jaye Gum, Bolo Subah Sham, Hare Krishna Hare Ram...
For him, Jasbir's story hadn't ended because the menace of drugs hadn't ended.
"The script of Hare Rama Hare Krishna 2 is ready. It's a different story in keeping with today's trends. It will have to be with a new girl but maybe we could go back and shoot in Nepal," he had mused.
"How do you stay so energised? So young?" I had marveled, still a wide-eyed teenager in his presence.
He had flashed that familiar crooked grin and spreading out his hands to encompass the clutter around, had told me simply, "The mind never grows old. It urges you to surge ahead."
That day, Dev Anand taught me an important lesson: You don't need grass or weed or crack, life itself is the biggest high!