Hum Aapke Hain Koun..! completed 25 years today.
Renuka Shahane, who played the role of Pooja Choudhury, posted pictures on social media and wrote, 'With great humility and gratitude I thank #SoorajBarjatya and #RajshriProductions for giving me this once in a lifetime role in a once in a lifetime movie.
'I am forever grateful to the late Raj Babuji and Sudhaji for their kindness & compassion.
'I would like to thank our company make up person Jayanti dada, Production in charge P K Guptaji and Art Director Bijon Das Gupta for suggesting my name to Soorajji for this role.'
'I would like to thank all my co-actors.
'I miss Reema tai, Laxmikant & Ajit Vachhaniji.
'I thank our DOP late Rajan Kinagiji, editor Mukhtar Ahmed sir, Music Directors Raamlaxman ji.
'I want to specially thank late Mani aunty (Rabadi) for making my beautiful costumes.
'I'd like to thank the direction assistants who were so wonderful, Joshiji, Vinay, Nabh Kumar Raju.
'I'd like to thank Jayanti dad's make up assistant Pappu who later became my personal make-up man and my hair stylist Jenny who are still with me in all these 25 years.'
'I would like to thank the audiences for continuing to love this sweet film and to continue showering their blessings for making HAHK 25 not out.
'Spread love and joy and that warm fuzzy family-wala feeling'
She made special mention of Laxmikant Berde's family and Reema Lagoo's daughter 'Prreeya Berde Abhinay Berde Swanandi Laxmikant Berde Mrunmayee Lagoo.'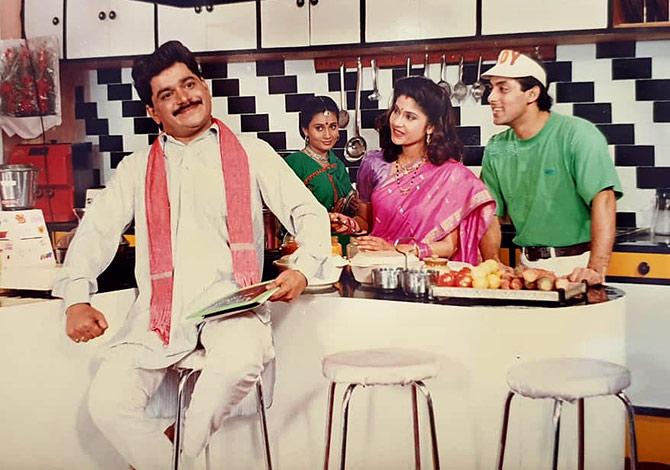 Renuka with the late Laxmikant Berde, Priya Arun (Laxmikant Berde's real-life wife, she played his love interest in the film) and Salman Khan.
Mohnish Behl in the famous garden cricket scene, along with Renuka and Salman.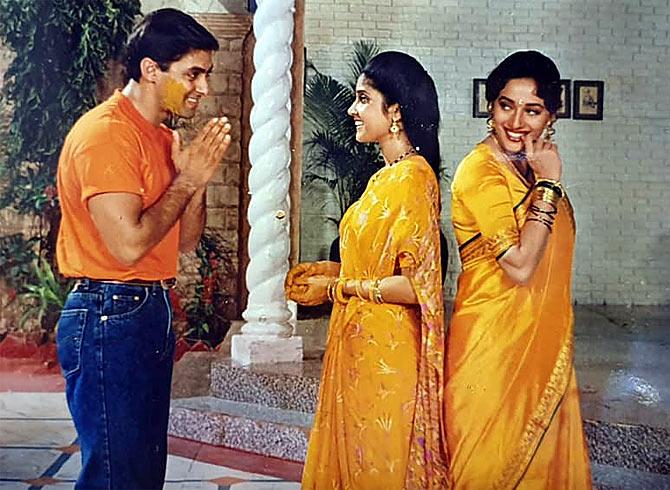 Renuka and Madhuri Dixit played sisters in the film.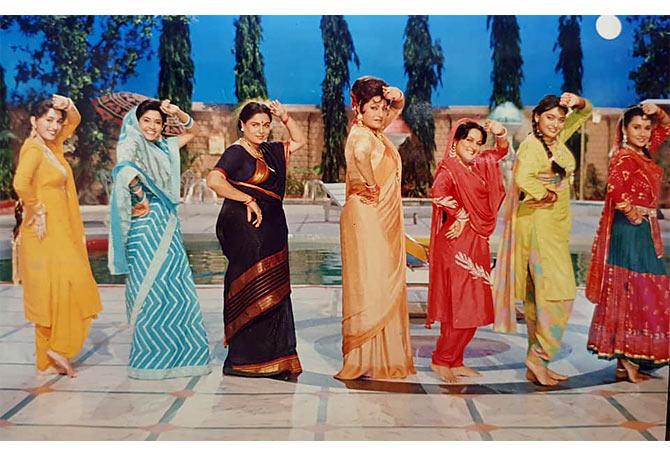 Madhuri, Renuka, Reema Lagoo, Bindu, Himani Shivpuri, Sahila Chadha and Priya Arun dance to Mayi ne mayi.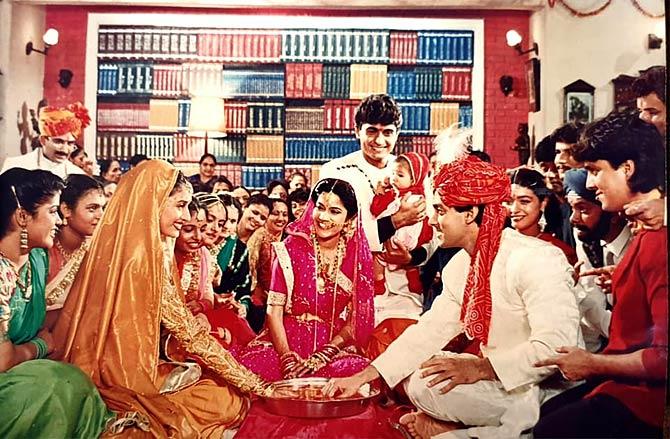 Madhuri and Salman participate in a post-wedding ritual game as Renuka watches.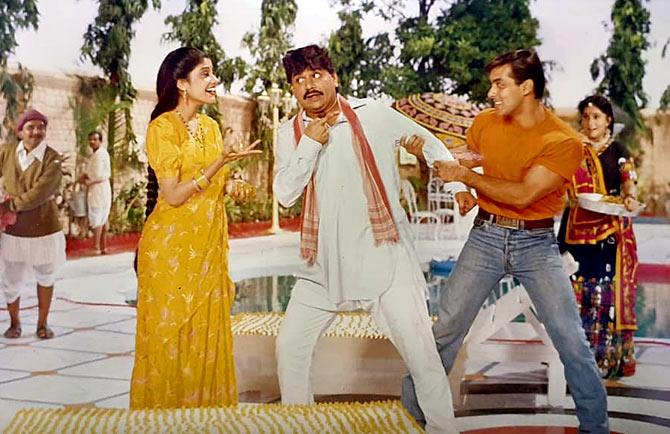 Hum Aapke Hain Koun..! was a remake of Rajshri's 1982 film, Nadiya Ke Paar, starring Sachin, Sadhana Singh and Inder Thakur.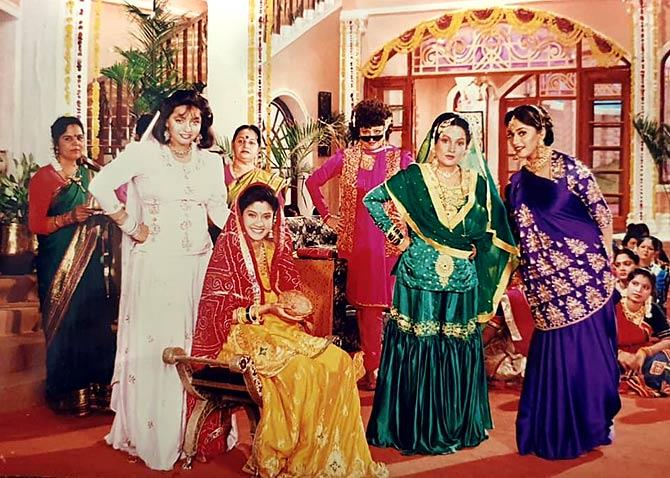 Renuka Shahane's godh bharai (baby shower) scene that came just before the hugely popular Didi tera devar deewana song.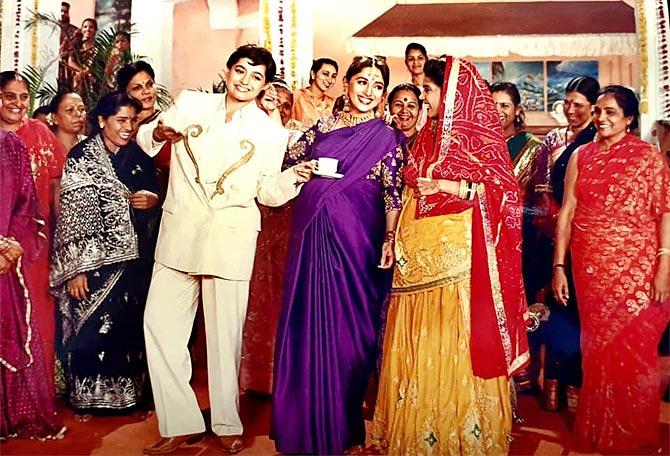 Didi tera devar deewana was reportedly inspired by Ustad Nusrat Fateh Ali Khan's song, Saare nabian.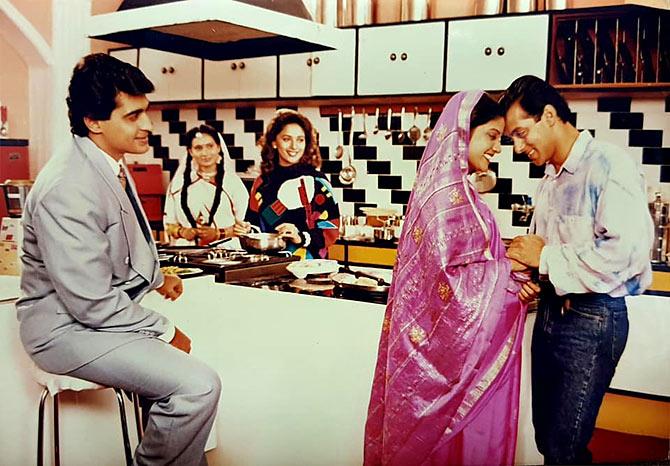 Lata Mangeshkar, who sang more than 10 songs in the movie, had long retired from accepting awards but, on public demand, she received the Filmfare Special Award that year for Didi tera devar deewana.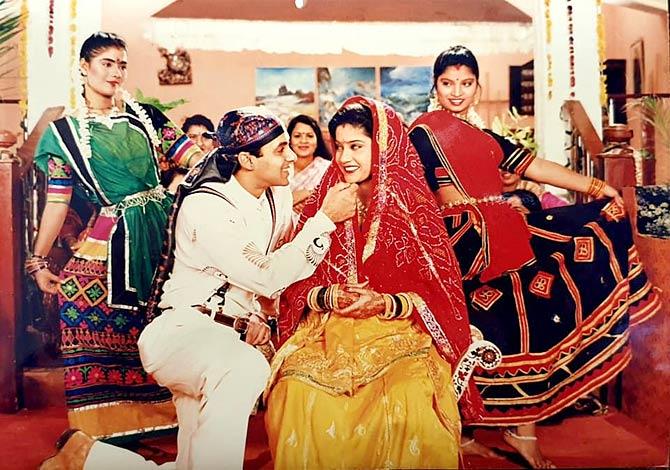 Did you know Karan Johar decided to become a director after watching this movie?
In an interview, he said, 'After seeing Hum Aapke Hain Koun..! I realised Indian cinema is about values, tradition, subtlety, romance. There is so much soul in it.'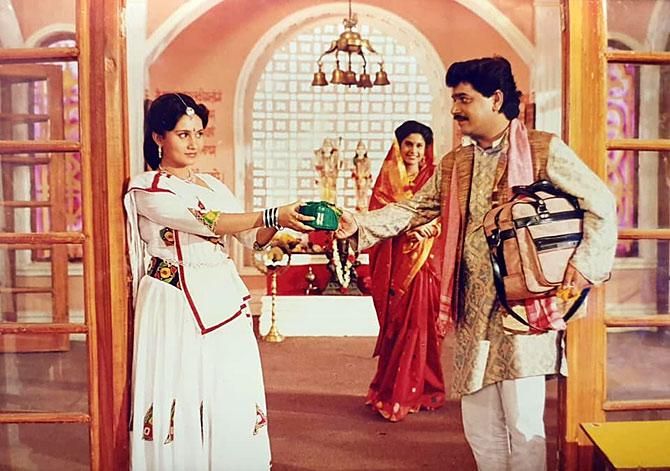 Laxmikant Berde and Priya Arun fell in love while acting in films.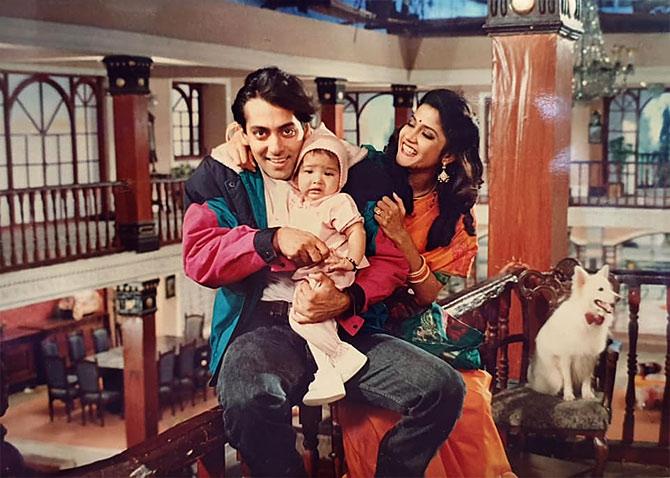 Aamir Khan was the original choice for the role of Prem, but he refused the movie because he didn't find the script appealing.
Salman, who was going through a bad phase in this career, was then signed for it.
The movie's stupendous success changed Salman's career graph.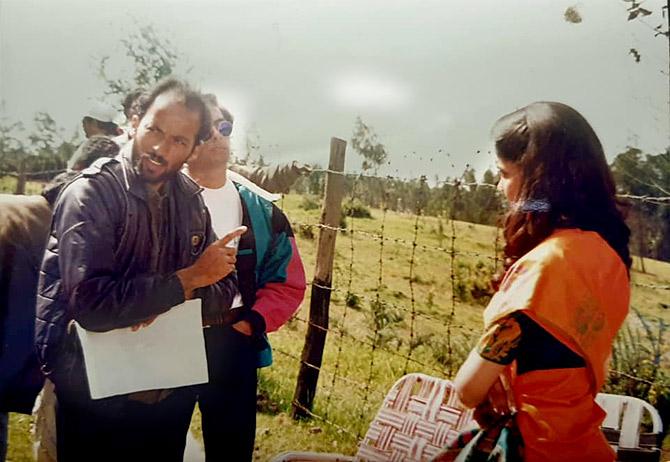 Director Sooraj Barjatya directs Renuka as Salman watches.
Photographs: Kind courtesy Renuka Shahane/Facebook