Its absence makes us restless. Its presence keeps our hands full.
It may be the most inanimate thing to look at but once it rings, it triggers all sorts of emotions in humans and birds (or so Akshay Kumar said in 2.0).
I am talking about the telephone, of course.
From wired to wireless, dial to touch, simple to smart, this beloved device has constantly evolved, tirelessly connected millions and bridged longest of distances through decades and across countries.
Aside from touching our reality, phone as a movie plot device is no less attractive.
Sukanya Verma complies Hindi cinema's most thrilling, romantic, terrifying, musical and comical tring tring moments on silver screen.
Dream Girl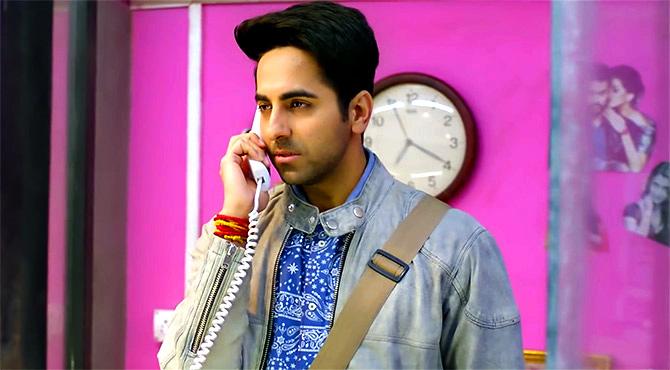 In Ayushhmann Khurrana's new entertainer, the actor plays a guy both in touch with his feminist and feminine side.
But the real fun and fluster begin when his dial-your-troubles away 'Pooja speaking' avatar inspires Dream Girl goals among his listeners.
All this time, the significance of the phone, handheld or handsfree, simply cannot be neglected.
Jaane Bhi Do Yaaron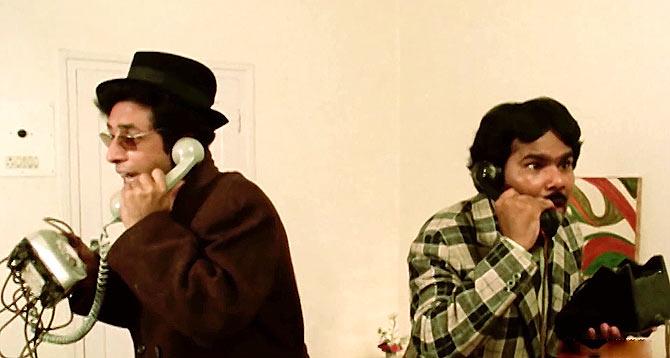 Even thinking about Naseeruddin Shah and Satish Kaushik's telephonic exchange across the room in Kundan Shah's masterful satire makes us laugh.
While business rivals Pankaj Kapoor and Om Puri talk shop, Shah sneaks away Kaushik on a 'secret' trunk call bearing the code word -- Albert Pinto Ko Gussa Kyon Aata Hai -- alluding to his own film.
The madcap, foolhardy tone of their animated chat is unparalleled.
Chachi 420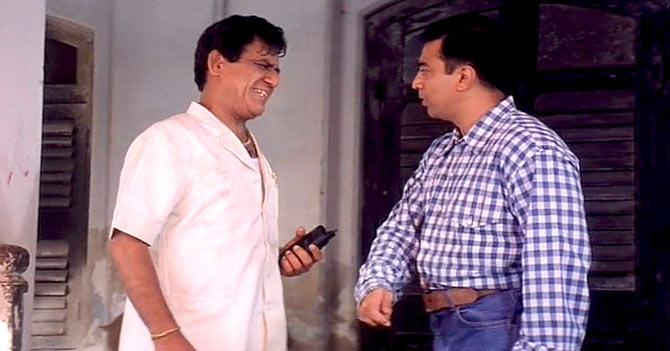 'Cellular ki kasam!'
Any article on big screen phones without the mention of Om Puri's Banwari in Chachi 420 would amount to blasphemy.
Back in 1997, when the film released, mobile phones were a fairly prized acquisition and it's not too hard to understand Puri's excitement over it.
At one point, his boss, played by Amrish Puri, cannot help but exclaim, 'Cellular na hua, Bhagwan ho gaya.'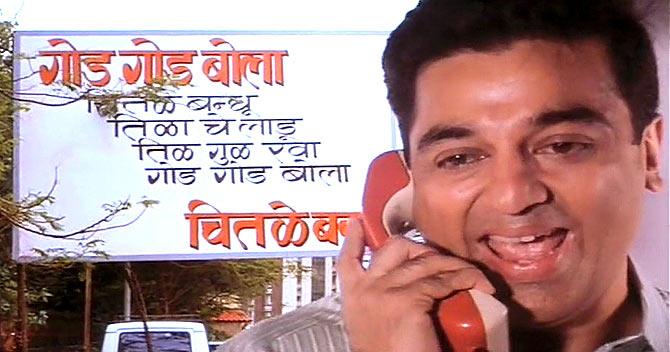 Another memorable scene features Kamal Haasan calling Amrish Puri for a nanny's position from a local booth and how looking at the advertisement hoardings gives him ideas to create a new identity: Laxmi Godbole.
Dil Chahta Hai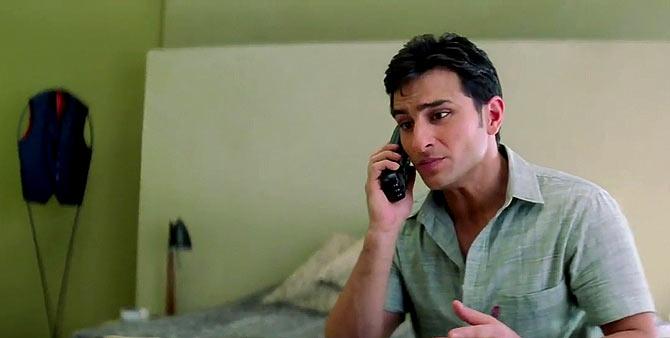 Saif Ali Khan's relentlessly interrupted 'Haan main... magar woh... suno toh... tumhe toh... lekin mein... kabse kya' phone call to his bossy girlfriend is clearly inspired by a scene from John Hughes' Uncle Buck. Not that that makes it any less funny.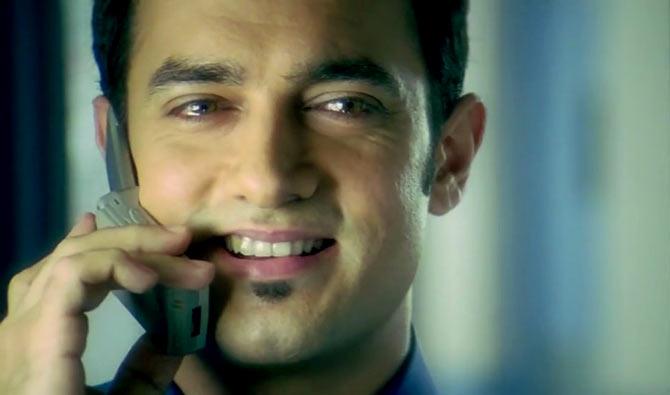 Another standout phone call in Farhan Akhtar's delightful slice of friendship is the one when Aamir Khan apologises to pal Akshaye Khanna in the climax scene at the hospital. When the latter inquires about his whereabouts, the 'perfectionist' quips, 'Just turn around.'
Andaz Apna Apna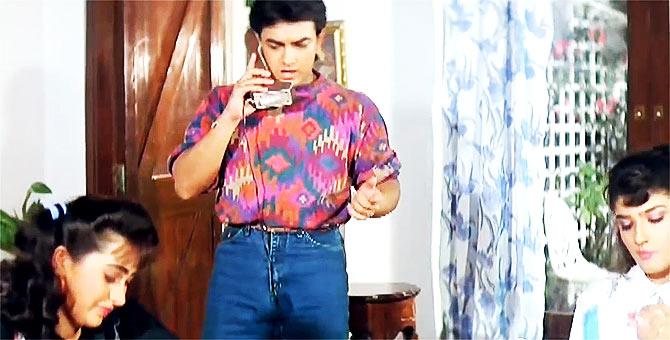 Every scene in Andaz Apna Apna is a riot, including the one where Karisma Kapoor talks down Paresh Rawal by telling him to speak to his 'boss log' instead. Nothing worse than a kidnapper no one takes seriously.
His humiliation continues once Aamir Khan comes on the line and gives back as good as he gets.
Baazigar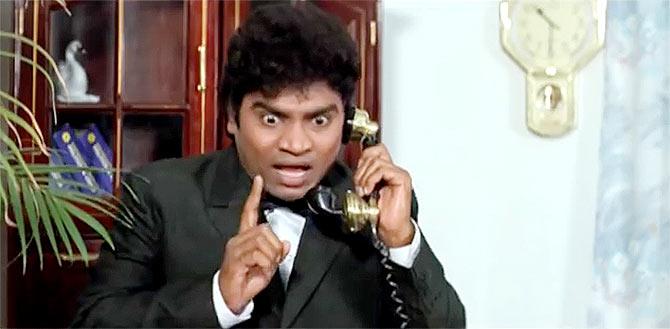 Every time Johnny Lever's absent-minded butler answers the phone in Abbas Mustan's 1993 thriller, comic relief is guaranteed.
But the funniest one is where he jumbles an all-important phone call with a request for ice cream and the final version he conveys sounds something like this -- Anarkali ka phone tha, ice cream khana zaroori hai.
Sujata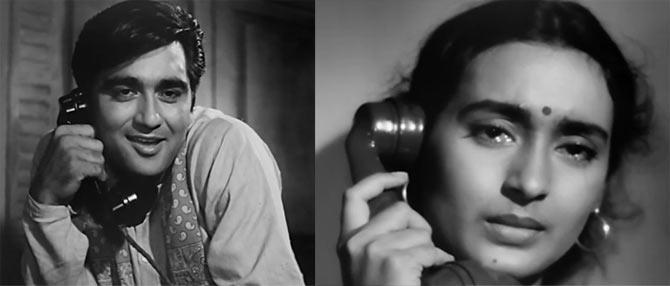 Oblivious to Nutan's tears and tender state of mind who's just overheard her guardians' plan to marry off their own daughter to him, Sunil Dutt sweetly serenades her over the phone to the melody of Jalte Hain Jiske Liye in Bimal Roy's poignant commentary on caste distinction.
Hera Pheri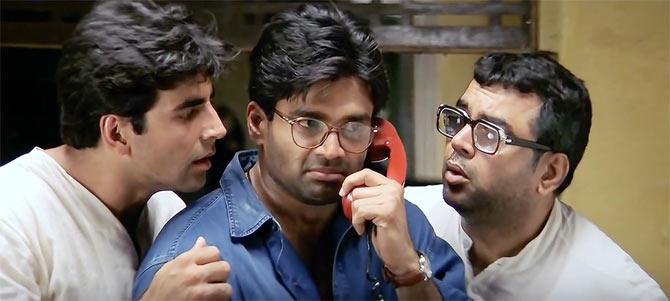 Paresh Rawal's accent as Baburao Ganpatrao Apte, Suniel Shetty's attempts to sound fierce whilst demanding ransom and Akshay Kumar's hissing prompter in the background as they engage in a telephonic conversation with the actual kidnapper -- generated by an erroneous listing in the phone directory -- is the reason to revisit Priyadarshan's Hera Pheri over and over.
Kuch Kuch Hota Hai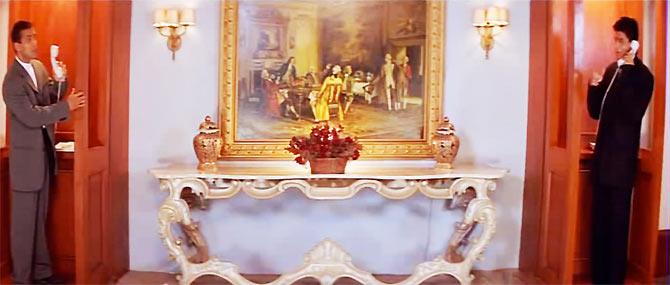 Confusion, confusion, what would Bollywood do without its love for mix-ups?
Karan Johar employs the ploy for his directorial debut in Kuch Kuch Hota Hai, wherein Shah Rukh and Salman Khan answer each other's calls at an on-going conference from two different people sharing the same name: Anjali. Only one happens to be SRK's daughter and another Salman's fiancée (and SRK's BFF).
Zanjeer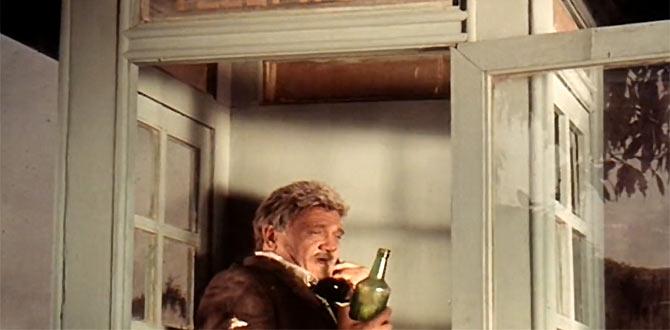 Om Prakash provides some intrigue in Zanjeer's proceedings as the shabby, sloshed and secretive informer giving out details of impending crime to Amitabh Bachchan's super cop.
Maine Pyar Kiya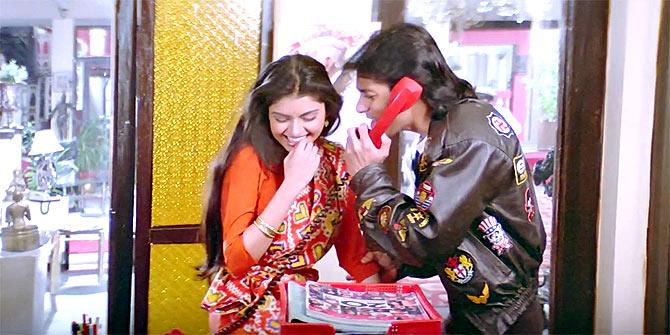 From using pigeons as message service to passing up phone receivers like microphones whilst crooning Aaja Shaam Hone Aayi, Maine Pyar Kiya's Prem and Suman prove there's no limit to being adorable.
Hum Aapke Hain Koun..!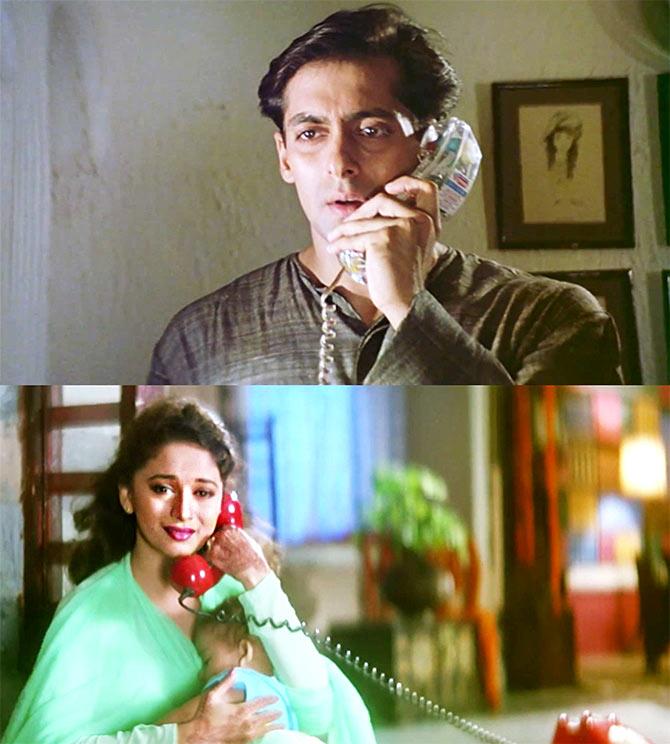 Sooraj Barjatya's love for telephones is visible in Hum Aapke Hain Koun..! too -- be it to demonstrate Salman Khan and Madhuri Dixit's flirting code -- uhoo-uhoo -- or to melodiously broadcast the supreme sacrifice of their affections for the sake of their respective families in Mujhse Juda Hokar.
Jo Jeeta Wohi Sikandar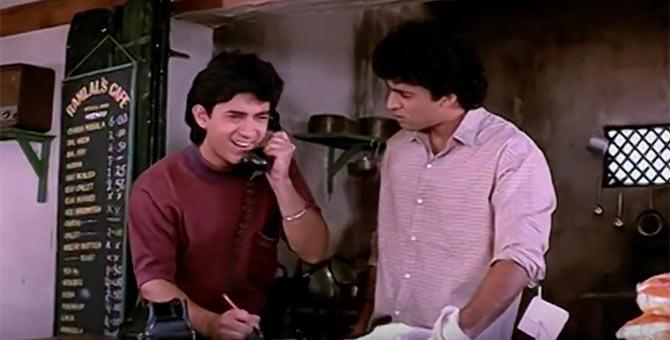 Dialing 202 can be prove resourceful if you have devilish schemes on your mind as Pooja Bedi finds out and Aamir Khan lends assistance to right before mocking Deepak Tijori over revelations about 'Kamla, Vimla' in scenes leading up to a hilarious episode in Jo Jeeta Wohi Sikandar.
Khiladi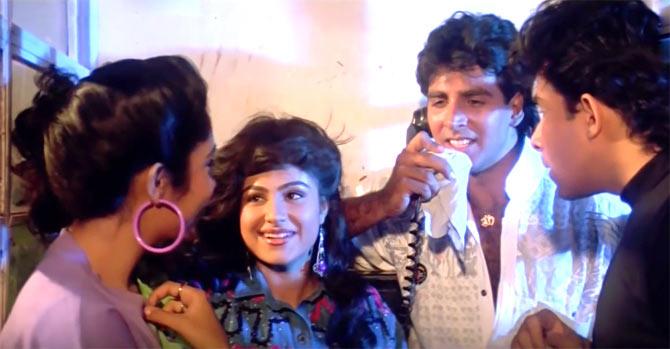 Noticed how characters create this fake scary voice whenever they need to demand ransom from a potential bakra? Especially when it's a phony kidnapping that Akshay Kumar, egged by his friends, amply demonstrates inside a phone booth to an understandably nervous Prem Chopra.
A Wednesday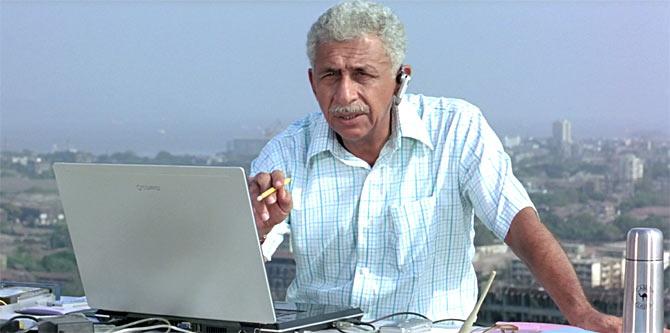 Armed with multiple SIM cards, mobile devices, laptop, wireless handset and other technical gear, Naseeruddin Shah sets up a snug office atop a building's terrace and threatens to blow off Mumbai if his demand to release a bunch of terrorists isn't addressed immediately.
For this purpose, he regularly calls and explains his idealogy to Anupam Kher's police commissioner in the gripping drama, A Wednesday.
English Vinglish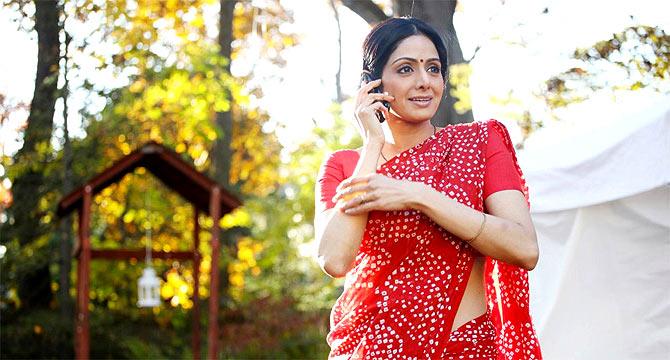 How to attend classes when there's a family wedding to help out at the same time? Where there's a will, there's a wireless phone.
One that comes to Sridevi's rescue after her classmates put the teacher on speaker allowing our determined heroine to catch up on her English speaking lessons.
Jab We Met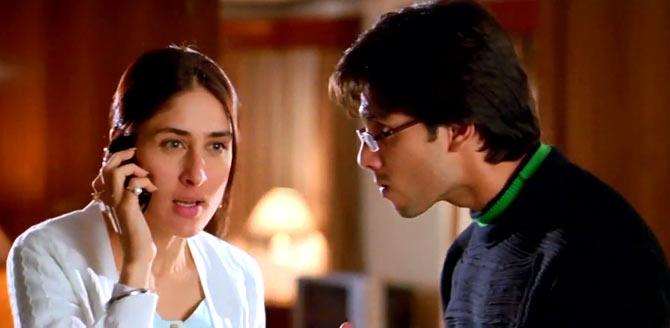 Geet Dhillon's brand of vent, characterised by an energetic crescendo of gaalis directed at the horrible ex-boyfriend, in an unforgettable phone call of Jab We Met is the coolest closure ever.
Leader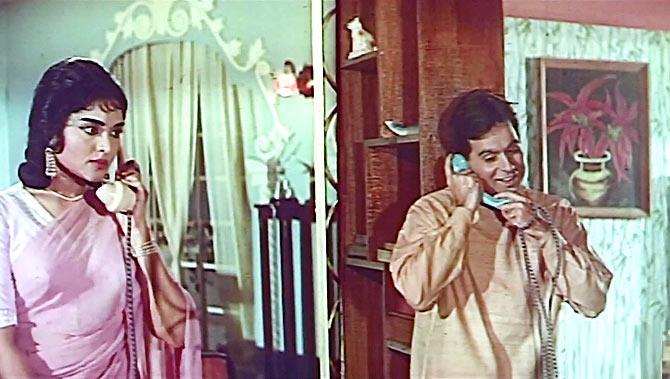 Why head to parks in the heat or steeply-priced restaurants when you can profess love like Dilip Kumar or play hard-to-get like Vyajayanthimala in Leader's telephonic courtship Aaj Kal Shauq-E-Deedar Hai?
Also, split screen, for the win!
Airlift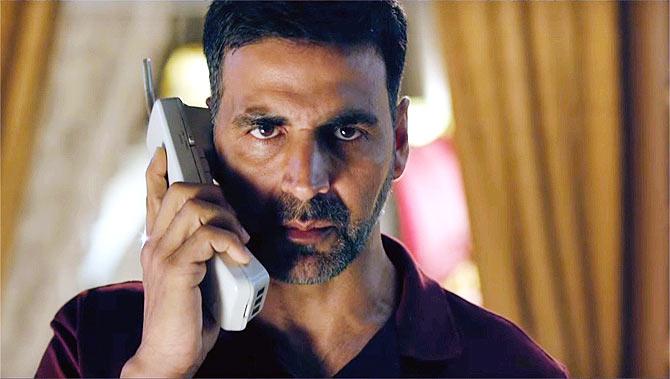 What elevates Airlift's narrative is how it lays emphasis on the significance of verbal, tactful discourse.
In place of action befitting his reputation to generate drama, we witness Akshay Kumar's Kuwait-based businessman make a good number of phone calls to expedite the evacuation of stranded fellow Indians.
Mr India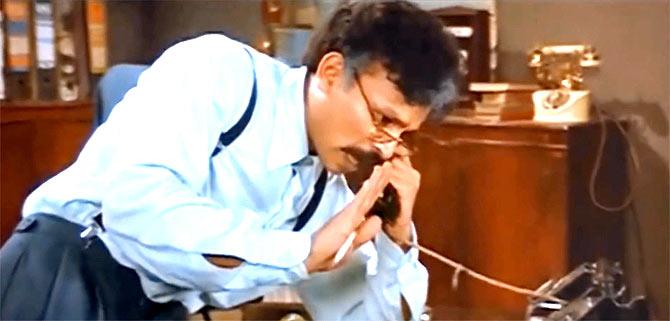 'Yeh Ruby Talkies nahi hai, bhai. Yeh akhbaar Times of India ka office hai,' bellows a riled up Annu Kapoor in perfectly expressed frustration of a man hounded by persistent wrong numbers in Mr India.
Dil Hai Ki Manta Nahin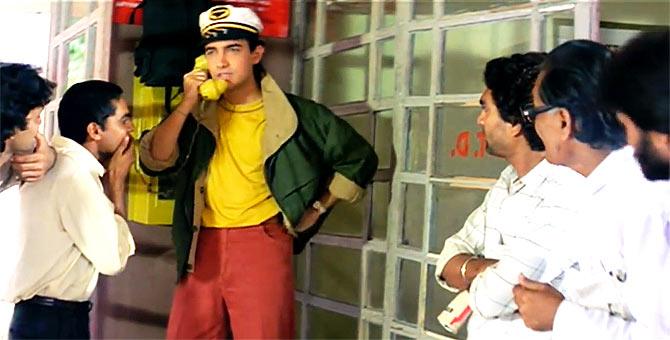 Aamir Khan's introduction scene in Dil Hai Ki Manta Nahin underlines his smart-alecky disposition.
Haggling with his editor inside a payphone booth, our man continues to project his high and mighty attitude even after the boss has hung up to appear important before the awestruck queue.
Kabhi Khushi Kabhie Gham

Irony plays itself out when daughter-in-law-deprived Jaya Bachchan enlightens mother-in-law-desiring Kajol on Karva Chauth etiquette in a long-distance phone call, not unaware of their true relation in KJo's idea of 'It's all about loving your parents.'
Dushman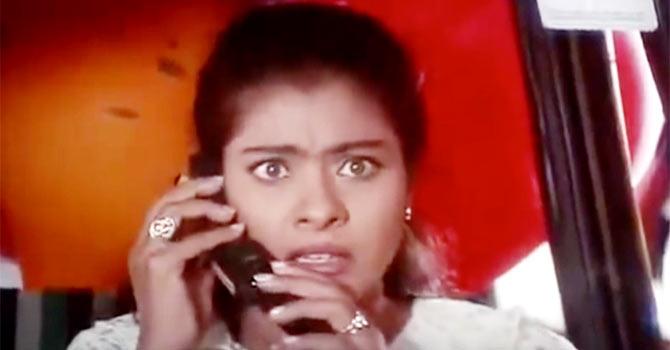 A pleasant conversation on the phone between Kajol's twin sisters takes an ugly turn when one is fatally assaulted by a demented man while the other helplessly overhears her cries for help in Tanuja Chandra's Dushman.
Ghajini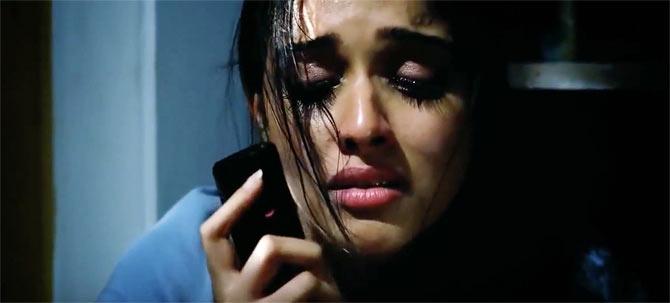 A similar tragedy occurs around Asin's character, battling criminals in the house, when she cannot reach Aamir Khan on the phone. He's left his cell in the car but is standing right outside her door. When he finally walks in, it's too late.
Mahaan

Who can forget the emotional reunion between Amitabh Bachchan and Waheeda Rehman over the phone and the subsequent rendition of Jidhar Dekhoon's tearful version? Filmed extensively in Nepal, the 1980s entertainer features the Big B in a triple role.
Baghban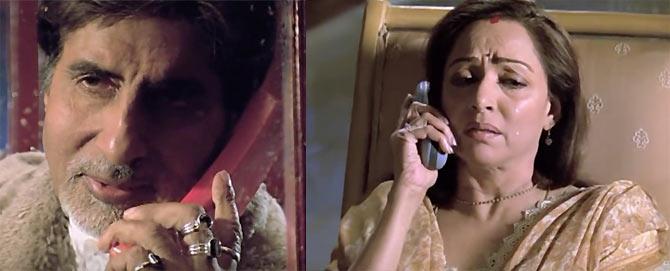 In Baghban, Bachchan revisits the sentiment while singing a love song, Main Yahan Tu Wahan to his wife, essayed by Hema Malini, who he's missing a great deal but is forced to live away from, no thanks to their self-seeking kids.
Patanga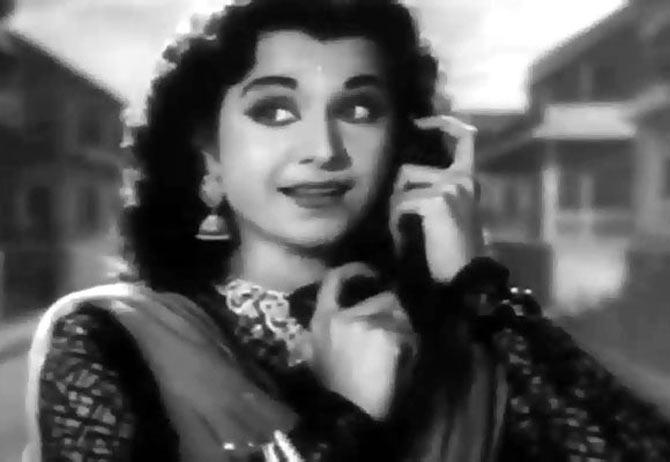 Mere Piya Gaye Rangoon Wahan Se Kiya Hai Telephooon' wins the ultimate Bollywood phone song hands down. Additional brownie points for the vintage phone model.
Tumse Acha Kaun Hai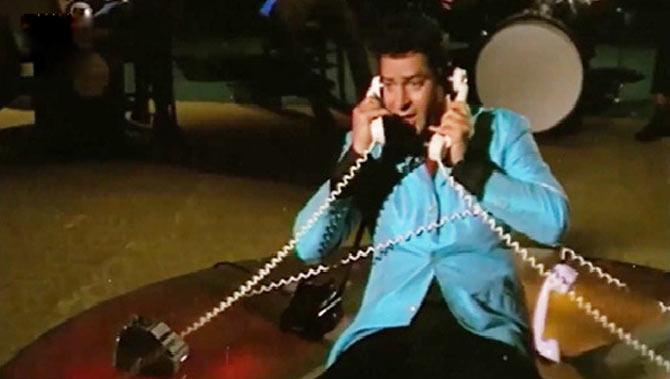 Blessed with too many girlfriends and phone accounts, Shammi Kapoor conveys the dilemma of an ultimate Casanova like only he can while lamenting Kis Kisko Pyaar Karoon in Tumse Acha Kaun Hai.
Dabangg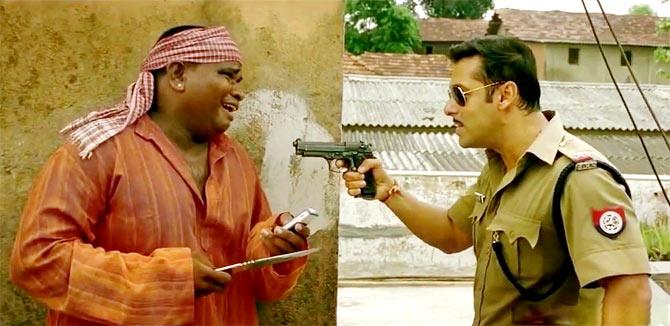 Caller tunes offer comic relief even in the middle of an action-charged sequence in Dabangg.
Salman Khan's maverick cop Chulbul Pandey forgets all about chasing the baddies to shake a leg on a burly sidekick's phone ring, which as it turns out, is Tera Hi Jalwa from his previous blockbuster, Wanted.
What's more, he even spares the said thug.
Good Night Good Morning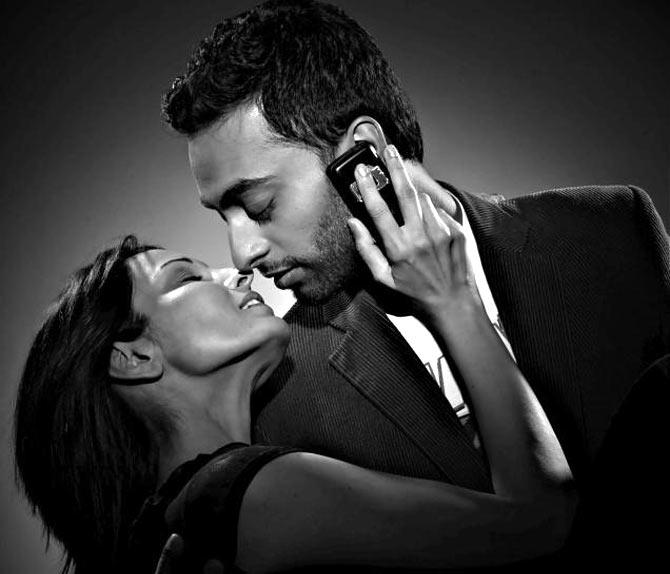 In the black and white indie, an intriguing telephonic conversation between two lonely hearts, reminiscent of an elaborate sequence in Cameron Crowe's Elizabethtown, fosters the script and the degree of their involvement.
This feature was first published in July 2016.