The 74th Cannes Film Festival ended with the jury -- headed by Spike Lee -- handing out awards to a number of international films from France, Iran, Finland, Israel, Norway, Japan and the US.
But while the films in the main competition made the most news, the festival also featured several remarkable works, many that did not get the notice they deserved.
The true character of a festival only emerges after one sees the range of films it offers.
Aseem Chhabra lists 10 of his favourite films that played in the various sections at Cannes.
It is an eclectic mix of charming, moody, dark and disturbing international films, including two from South Asia (India and Bangladesh).
Rehana Maryam Noor (Bangladesh)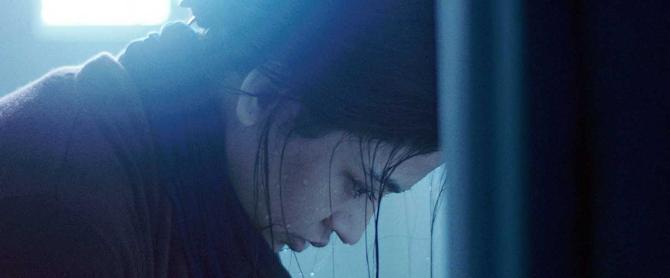 Stylistically inspired by the works of Iranian film-maker Asghar Farhadi, Director Abdullah Mohammed Saad's Rehana Maryam Noor is the first Bangladeshi official selection at the Cannes Film Festival.
Like his first film, Live from Dhaka, a black and white thriller about a partially handicapped man's attempts to find a way to leave Dhaka, Rehana also examines its protagonist's desperation.
Rehana is an assistant professor at a private medical college, widow and mother of a young child, struggling to balance her professional and personal life.
Her world gets tossed upside down when she finds herself in the midst of a number of complex issues -- a student is expelled for cheating in an exam while another student has been raped by a professor, and a complaint to the college authorities results in patriarchal reactions.
With the camera tightly focused on Rehana and sharp editing, we witness her as she is barely able to keep pace with her life -- raising a child as a single parent, hardly any support from her family, and taking a righteous position at work that does not win her any friends.
Saad's protagonist is an obsessive woman on the verge of a nervous breakdown, as she embarks on a journey on what she believes is the morally right path, even if it will derail her professional and personal life.
Rehana is a powerful film, one of the best from South Asia this year.
A Night of Knowing Nothing (India)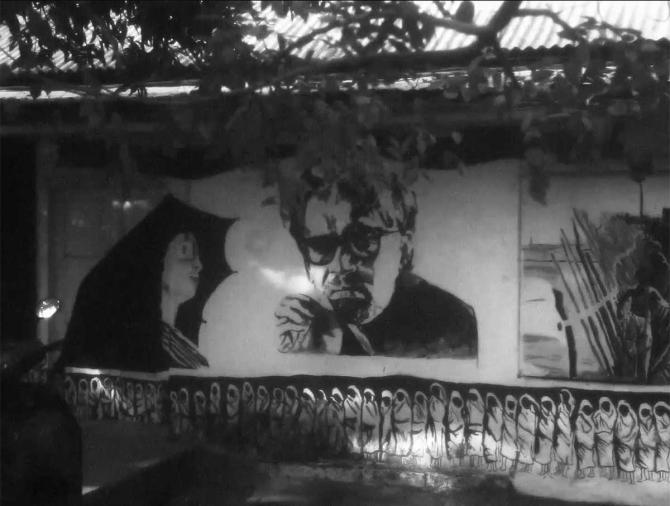 Payal Kapadia's experimental film A Night of Knowing Nothing won the Oeil d'or award for the Best Documentary as this year's Cannes Film Festival.
A graduate of the Film and Television Institute of India in Pune, this is Kapadia's second film at Cannes. The first -- a short called Afternoon Clouds-- premiered at Cannes in 2017.
Shot and edited by Ranabir Das, and written by Kapadia and Himanshu Prajapati, the mostly black and white A Night of Knowing Nothing starts as a moody piece.
The narrative follows a series of letters written by a student identified as 'L' to her former lover, who has left the FTII programme.
The letters read by theatre actress Bhumisuta Das, in a calm, almost mesmerising tone in Hindi and Bengali follow the mundane and sometimes more detailed aspects of the relationship.
As the film opens, grainy images show young students dancing in front of a screen playing the Chaiya Chaiya song scene.
We see Shah Rukh Khan's head, along with the dancers including Malaika Arora.
Later in the background, L's calm voice speaks, 'Sunday ki subah, campus abhi jaga nahin. Siraf kuch awajein chidiyon aur hamare kutton ki.'
Then A Night of Knowing Nothing takes up larger issues as we witness FTII student protests against the appointment of then chairman Gajendra Chauhan. The film then transitions to other student protests on campuses across India in 2020, including those at Jawaharlal Nehru and Jamia Milia universities.
Some parts of the film could be autobiographical.
It has been reported that in 2015, Kapadia was involved in the student strike against Chauhan and that led to her student grant being cancelled.
Kapadia's film took me back to my days as a JNU student, where education and classroom lectures were as important a part of the students' lives as protests, strikes, discussions and debates. All of that made me who I am today.
A Night of Knowing Nothing is a rare documentary, a story of India's students, the conscience keepers of the nation from another time and today.
Streetwise (Gaey Wa'r) (China)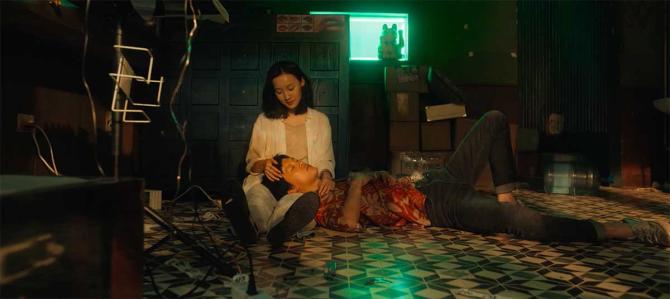 Director Na Jiazuo's dark, moody film focuses on a group of people living on the edge of society -- from street hoodlums to honest workers struggling to maintain sanity.
The assorted characters include the film's young protagonist Dongzi (Li Jiuxiao), who sometimes makes money as a sidekick to a debt collector, just so that he can raise enough money for his father's medical bills; and Jiu'er (Huang Miyi), who runs a tattoo parlor and hopes to escape the advances of her abusive ex-husband.
The haunting tone of the film is set by the partially lit scenes using yellow streetlamps, rain-swept streets at night and congested apartments lined in haphazard manner on hills facing the Yangtze river.
The tranquil shots of the rivers and green hills appear to be stark contrast to the hustle and bustle of the streets. That contrast mirrors in the daily struggles that people face.
Violence becomes a daily part of the characters' existence.
Some indulge in violence to get by. For others, violence is inflicted upon them.
There is so much pain and sadness in the characters.
In fact, the only time Dongzi smiles in the film is when he goes kite flying by the Yangtze river. At one point, when his father is hospitalised, Dongzi wonders, 'Is dying painful? Or is there no time to feel the pain? Like in life?'
Most of the characters in the film do not find a way out of their harsh existence.
But Director Jiazuao cares for each one of them, especially those who fail.
No wonder the first card in the end credits notes that the film is 'Dedicated to all souls in need of comfort.'
Streetwise is a heartbreakingly beautiful film, a visual treat and a balm for our souls.
Little Palestine: Diary of a Siege (Lebanon, France, Qatar)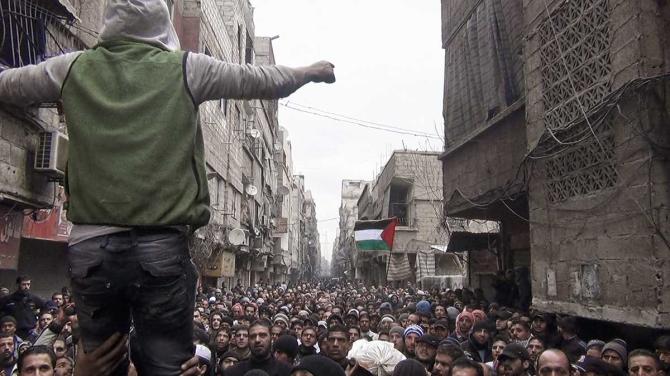 The Yarmouk district in Damascus hosts the biggest Palestinian refugee camp in the world. It is referred to as Little Palestine.
When the Syrian revolution broke out, President Bashar al-Assad's government blocked the refugee camp from the rest of Damascus and the world, denying its residents food, medicine and electricity. Assad believed Yarmouk was a refuge of rebels and resistance to his authoritarian regime.
When the siege of Little Palestine started, Director Abdalla Al-Khatib was a college student in Damascus and also worked at the United Nations Relief Works Agency. Al-Khatib decided to record everything that was happening around him.
At first, the siege seemed like a mini-event, kids played around and adults mingled.
People even got married. There was joy and celebration.
But the siege lasted four years -- from 2011-2015 -- and soon the conditions got worse, especially with food shortages.
Al-Khatib's camera captured the anger, the hunger and the hardships that the residents suffered.
It was a harsh lockdown.
Street vendors ran out of vegetables. The only thing left to eat was cactus.
Little children searched for weeds in the grass that could be boiled to make soup.
Attempts to acquire care packages from the Red Cross, resulted in shelling and bombing from the Syrian side.
And yet, there were signs of hope and resilience such when a group of men pushed a piano to the middle of a street. One man started to play the instrument while the others sang a song. Their spirits not broken even as gunshots could be heard in the background.
The siege finally ended and the world saw harrowing images of a huge mass of humanity, hungry and desperate. Over 180 residents of the camp died because of starvation.
Al-Khatib managed to escape to Germany with his mother where they were given refugee status. And that is when he looked at his footage, edited it and turned into a powerful documentary.
Little Palestine: Diary of a Siege is a vital human document that should be widely seen.
It is our recent history and we need to talk about it to understand all that is wrong with our world.
Softie (France)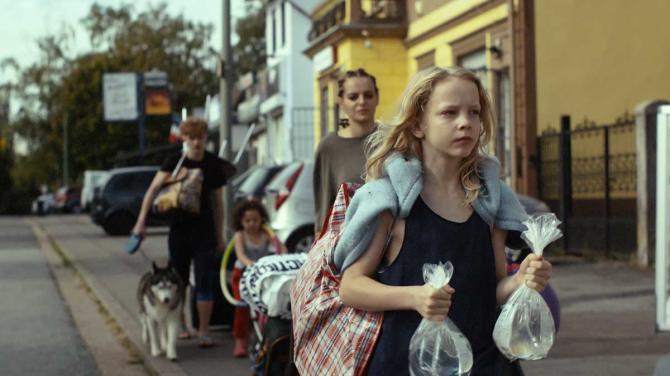 In Director Samuel Theis's disturbing drama, Johnny, a 10-year-old French boy lives in a low-income housing project with his mother, a younger sister and a teenage brother. There is no father in sight, although right at the beginning we see Johnny, with his soft delicate feature and long blond hair, rolling a cigarette for a man and then giving him a hug before the family is forced out of a flat.
Softie is set in Theis' hometown Forbach, a commune in France along the German border.
It is a working-class town, with drugs, alcohol and random sex as the only way out for many of its residents.
Though he is not even a teenager, Johnny has become an adult to his family, watching over his younger sister, walking her to and from school and at times even caring for his mother while she is lying drunk on the couch in the living room.
As Theis gives us a glimpse into the life of his protagonist, we see the kid getting close to a school teacher.
A fatherly approach by the teacher gives Johnny a wrong message.
Having seen his mother with various men and also been exposed to sexual material at a young age, Johnny makes an advance at the teacher, leading to discomfort and confusion.
As it examines a 10-year-old's sexual awakening, Softie is a tough subject for a film, but Theis handles the material delicately. His job is aided by the very believable performance by Aliocha Reinert, who plays Johnny.
It is hard to imagine a film with a narrative like this getting funding in the US, where studios and even independent producers tend to be conservative.
But Softie was made in France and that gave the film-maker a chance to talk about difficult human relationships with sensitivity and warmth.
Anaïs In Love (France)
Director-Actress Charline Bourgeois-Tacquet's first feature Anaïs in Love is a charming French production where the characters make seemingly wrong choices and yet we root for them, especially when it comes to matters of the heart.
There is a touch of lightheartedness that one associates with Woody Allen's works like Manhattan.
Some people may get hurt, but we still want our protagonist to succeed in her mission.
Anaïs, played by Anaïs Demoustier, reminded me of a young Isabelle Huppert. She is free spirited, with high energy and she even freckles on her face.
'I don't want to meet interesting people,' she says in the beginning of the film. 'I want to be interesting.'
Then she adds, 'My problem is I am too carefree. A voice tells me "You could die tomorrow so make the most of it".'
Anaïs is always on the run, in a hurry to go wherever she has to reach. She finds excuses to avoid what may be important -- finishing her thesis, a paid internship with a university professor, just so she can find her way right next to someone she is attracted to. Lack of money and an unwanted pregnancy are just minor irritants along her path.
Anaïs meets an older man in an elevator as they are heading to a party. He is a publisher, the same age as her father, but she seduces him. Later when she learns about her partner's wife, Emile (Valerie Bruni Tedeschi), who is an attractive author, Anaïs wins over her as well.
The relationship between Anaïs and Emile is beautifully portrayed in the film: A sensual lovemaking scene under the hot sun on a beach and a flirtatious dance in the evening in the garden to Kim Carnes' song She's Got Bette Davis Eyes.
Anaïs In Love is like a European summer romance we see sometimes in French films.
It is light, blended with fun and excitement, but it is also laced with heartache and disappointments.
Mostly, it is a memory Anaïs will carry with her as she grows older and moves on in her life.
Bruno Reidal, Confession of a Murderer (France)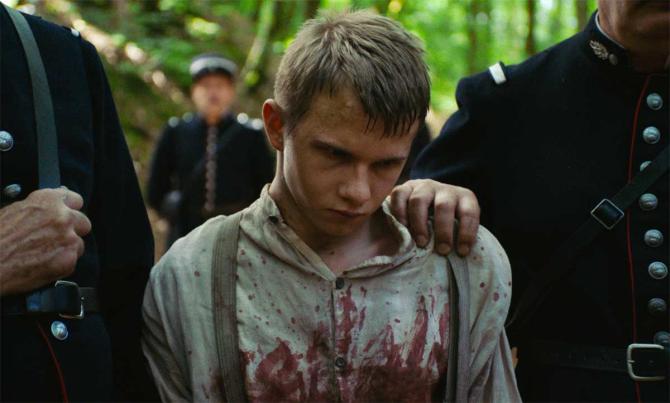 The opening shot of Bruno Reidal, Confession of a Murderer has the camera on the face of a teenager who seems to be struggling with something he is holding. There is a cracking sound and a splash of blood on the young man's face.
We realise he has killed someone.
Based on a true story, Bruno Reidal, Confession of a Murderer focuses on a 17-year seminarian Bruno (Dimitri Doré) who killed a 13-year-old boy by decapitating him with a knife. Later, he was examined by three doctors who were quite progressive in their thinking, given that the story is set in the early 1900s.
The doctors suggested Bruno should write a diary about his life, explaining his actions.
Bruno was born in a poor family. The one thing that worked for him was that he was bright, intelligent and always stood first in class.
But from childhood, he had the fixation to kill someone -- a kid perhaps.
As Bruno grew older, that thought got mixed with his sexual feelings.
The troubled child and later teenager struggled to fight these demons, but they would never leave his mind.
Eventually, Bruno attended a seminary on a scholarship.
Since his classmates came from wealthy families, a mixture of jealousy and insecurity added to the complexities of his mind.
Bruno Reidal is a strong film that portrays the mind of a very disturbed boy, whose childhood and teenage traumas could have been overcome had there been the right kind of intervention. But it was a very different time period and no one noticed the signs.
It is the clarity with which film-maker Vincent Le Port directs, along with a fine performance by Doré that should put Bruno Reidal on all film lovers' must watch list.
The Story of Cinema: A New Generation (Britain)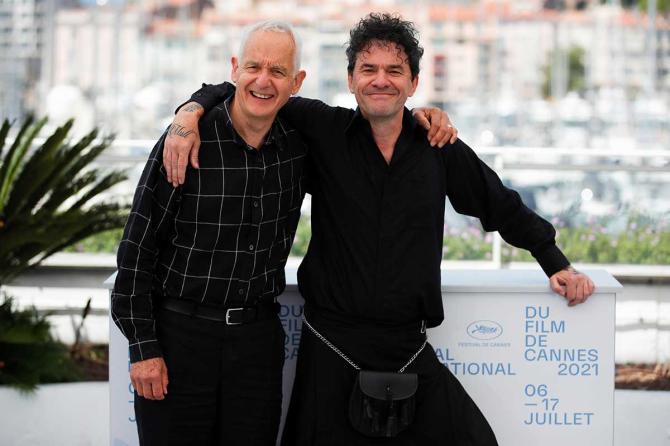 Ten years after his landmark 15-hour-long documentary The Story of Film: An Odyssey Irish British film-maker Mark Cousins is back with a sequel.
The Story of Film: A New Generation is shorter in the time period it explores -- the decade of cinema from 2010-2020. Its length is just over two-and-a-half hours. But it's equally ambitious.
Here, Cousins looks at movies that pushed the conventions, explored brand new ways of doing things while also giving a renewed life to medium of film.
Cousins visits clips of 90 films made around the world -- from the popular Joker to the art-house favourite Cemetery of Splendour by the Thai master Apichatwong Weerasethakul. And he touches upon films in various genres -- action (Mad Max: Fury Road), musicals (Singin' in the Rain) and new age thrillers (Under the Skin). In between we watch scenes from a range of films -- Bong Joon-ho's Parasite, Hong Kong master Johnnie To's Vengeance and the Disney favourite Frozen.
Because he has a special passion for Indian cinema, Cousins also shows clips from a cross-section of Hindi films like PK, the Thattad Thattad song in Ram Leela (the most choregraphed dance scene, he says) and the assassination of Sardar Khan scene from Gangs of Wasseypur.
Throughout the film, Cousins speaks in a hushed tone, giving brief descriptions of the clips he is sharing with us. He is like a friend you invite for dinner, who sits next to you on a couch as he shares with you his favourite films.
'Movies, it's clear still have the power,' Cousins says at one point in the film. 'They still compel us. They still play us like a violin.'
Watching The Story of Film: A New Generation, it feels good to be a violin, this time being played by Mark Cousins himself.
The Gravedigger's Wife, (Finland-Somalia)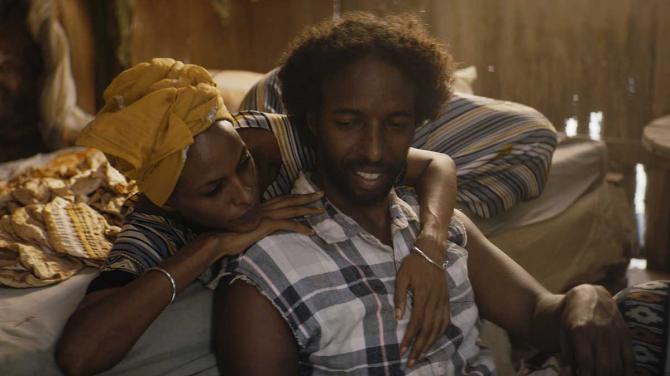 In Finnish-Somali Writer-Director Khadar Ayderus Ahmed's Somali language film, but shot in neighboring Djibouti, a gravedigger Guled is troubled with the lack of money and an unstable job.
The film opens with Guled and his friends standing outside hospitals waiting for ambulances to arrive.
But they are different kinds of ambulance chasers, since they are looking for dead bodies to bury.
At one point, Guled (Finnish-Somali actor Ammar Abdi) says to a friend: 'I hunt for dead bodies for living, I can't be an example to my son and my wife's health is getting worse.'
Guled's wife Nasra (Canadian-Somali model Yasmin Warsame) is a tall, elegant woman and suffers from a serious kidney ailment.
She requires urgent surgery, which will cost $5,000.
To raise money, Guled travels by foot through the Saharan desert to get to his village, with the hope to take his share of the goats owned by his family.
There are many sweet moments in the midst of the tough life such as when Nasra tells her son how she met his father when they were young and eloped. Or when Guled and Nasra gatecrash a wedding and have a time of their life, eating, drinking and dancing.
The Gravedigger's Wife is a story of poverty and struggle that may sound familiar, but by setting the film in Djibouti, Ahmed gives us a taste of life in a part of world that we know so little about.
Away from the world of warlords, pirates hijacking international ships, The Gravedigger's Wife introduces us to the human side of Djibouti.
It is not always pleasant and often terribly sad, but it is face of a nation and its people that we can all relate to no matter what our backgrounds are.
H6 (China)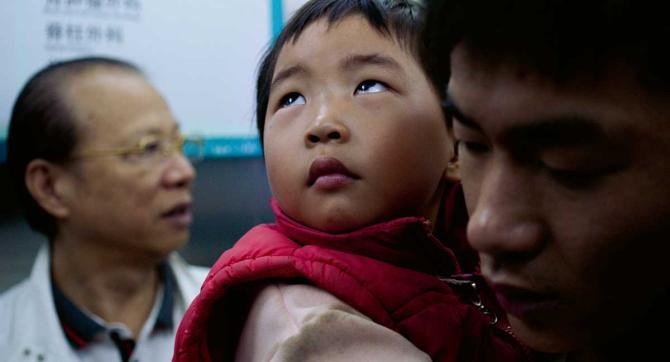 Chinese Director Yé Yé's H6 takes us inside Shanghai's largest hospital in pre-COVID times. The film is a moving documentary about patients admitted to the hospital and their family members.
The characters we meet include a little girl whose hand is broken after a bus accident, always clutching on to her father; a man who has damaged his spinal cord and is kept steady in one position with a metal contraption holding his head; a man having lost his wife in an accident now sings to his daughter who is recovering from the same tragic incident; an old man whose wife is in a coma and he brings her home cooked food.
Patients lie in large wards, there is no privacy and not much space between the beds.
The family members sleep at night in the hallways.
As the film progresses, we get to know the characters, and start to care for them.
We feel for them as they break down in tears.
Family members worry about the rising medical costs, and how expensive some of the surgeries would be.
Things are often beyond their control, but the hospital staff is warm and very caring.
H6 is a sharp commentary on the Chinese Communist society.
The authorities might claim to be running an egalitarian system, but the opportunities, especially medical care, are not the same for all citizens. And the poor struggle just as they do in other parts of the world.
Feature Presentation: Ashish Narsale/Rediff.com