'It is always wonderful to discover a gem of film at an international film festival. It is even more exciting when that film is from India.'
Aseem Chhabra/Rediff.com lists his favourite movies at the Toronto International Film Festival.
How does one manage a 10-day film festival with 400 films and a press pass that opens the doors to every possible press screening? The answer is: With much difficulty!
It is impossible to see every film at the Toronto International Film Festival. Yet, one can't miss films made by renowned filmmakers and those that carry a lot of buzz.
Here is my list of 12 must see films from TIFF, in alphabetical order.
PS: The list does not include two films that opened last week in New York -- the charming French production Bird People, and the quietly paced, Hollywood thriller The Drop, with an exceptional Tom Hardy and James Gandolfini in his last performance.
Take a look:
Clouds Of Sils Maria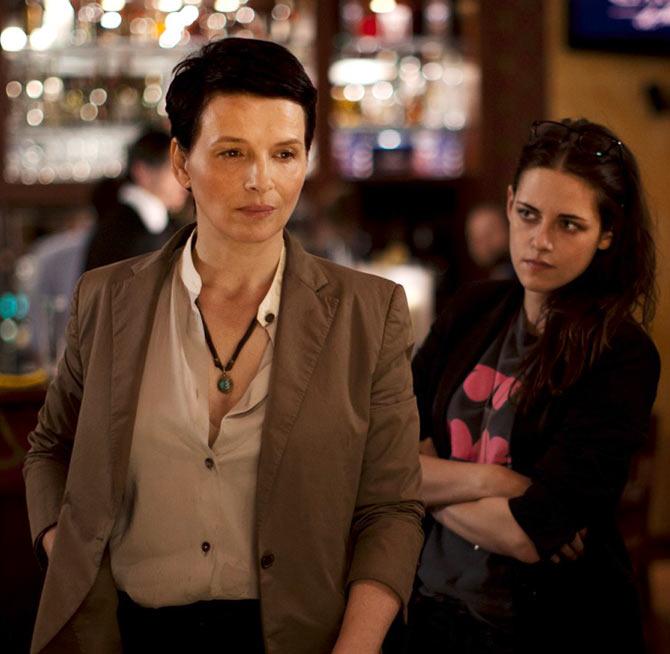 Image: Juliette Binoche and Kristen Stewart in Clouds of Sils Maria.
Two years ago, French master Olivier Assayas showed us his autobiographic film Something in the Air. It examined his political awakening during the May 1968 rebellion in France and how he became a filmmaker.
Now one year short of his 60th birthday, Assayas has given us an authentic exploration of mid-life crisis.
In Clouds of Sils Maria, an internationally renowned actress Maria Enders (played by Juliette Binoche) has to accept a supporting role in a play. The irony is that at the start of her career, Maria has played the lead in the same play.
Now she has to face the reality that she has aged and that a younger Hollywood actress with the propensity to appear in tabloids will get all the laurels.
Binoche is luminous in the film, speaking mostly English.
But the real surprise in the film is Kristen Stewart, who plays Binoche's trusted assistant and perhaps even lover. At 24, Stewart has had her own share of tabloid-packed stories, but here she shines.
Coming Home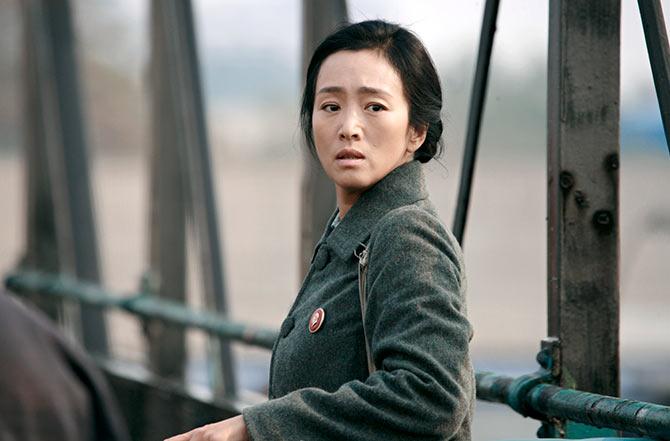 Image: Gong Li in Coming Home.
Chinese master Zhang Yimou's new film Coming Home deals with a man who returns home to his wife after spending 10 years in jail during the Cultural Revolution.
The title has a more immediate meaning.
After making fantastic big budget films like Hero and House of Flying Daggers, Zhang has returned home to the territory of quieter dramas -- Red Sorghum, Ju Dou and Raise the Red Lantern -- that made him an international sensation.
In Coming Home Zhang once again works with his one-time favourite actress Gong Li, who plays a retired school teacher with an adult daughter, and longing for her husband's return. The years of waiting take a toll on her. By the time the man returns, the woman is lost in a dementia-like state and does not recognise him.
It is a terribly tragic film capturing the ordinary life of Chinese citizens during the harsh days of Communism under Mao Zedong. Zhang is in his best form here.
The Crow's Egg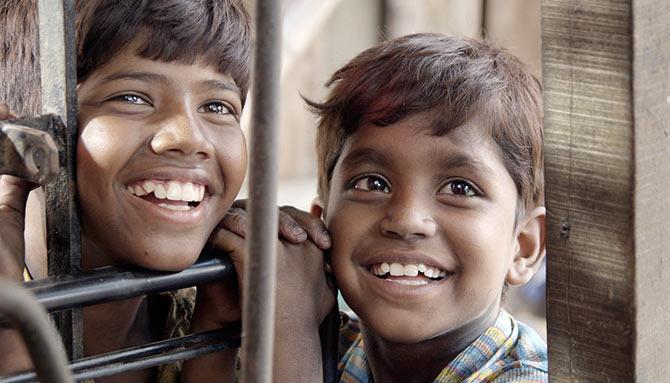 Image: Ramesh and Ramesh Thilaganathan in The Crow's Egg.
First-time Tamil filmmaker M Manikandan and his producers Dhanush and Vetri Maaran have made an utterly charming film about two brothers living in a slum in Chennai.
Their lives are harsh -- the mother works hard, the father is in jail, but the kids, played by first-time actors, Ramesh (he has only one name) and Ramesh Thilaganathan, have amazing spirit.
The premise of the film is simple. A pizzeria opens across the street from the slum and the brothers want to eat there. Most of the film focuses on the kids finding ways to earn money to achieve this goal.
Similar in tone to many Iranian classics like The White Balloon and Children of Heaven, The Crow's Egg has a small feel to it. But it has a big heart that won over audiences in Toronto.
It is always wonderful to discover a gem of film at an international film festival. It is even more exciting when that film is from India.
Eden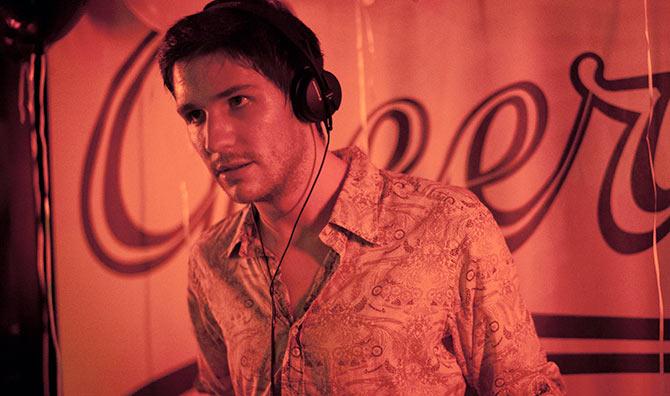 Image: Felix de Givry in Eden.
Mia Hansen-Love's French film Eden is inspired by the experiences of her brother Sven, who co-wrote the script.
Sven was one of the pioneer DJs of the French club scene in the early 1990s. Much of the film takes the viewers through the house, garage and electronic party scenes and the struggles of its protagonist Paul (Felix de Givry), as he sets out to have a career at a DJ, against his mother's advice.
As much as the party scenes -- and there are several in Eden
Givry's only other film credit is in Olivier Assayas' Something in the Air.
Hansen-Love is married to Assayas and like that film, Eden has the feel of floundering youth, trying to make sense of the larger world events surrounding them.
Force Majeure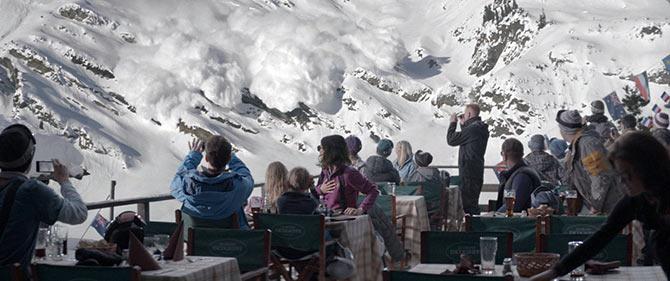 Image: A scene from Force Majeure.
Swedish director Ruben Ostlund's remarkable film Force Majeure won the Grand Jury prize in the Un Certain Regard section at this year's Cannes Film Festival.
A young Swedish family of four goes on a ski trip to the Swiss Alps. All seems to be going well initially.
But on the second day, while they are having lunch in an open air restaurant, facing a ski mountain, a sudden avalanche hits them.
The family survives the avalanche, but the event will become a defining moment in their relationship.
Force Majeure takes up complex issues of a marriage under stress, but adds comic moments to balance out the emotional tension.
Yet, it is a very engaging film and goes to places that films rarely do.
This is Sweden's official entry for the 2015 foreign language Oscar race.
Kill Me Three Times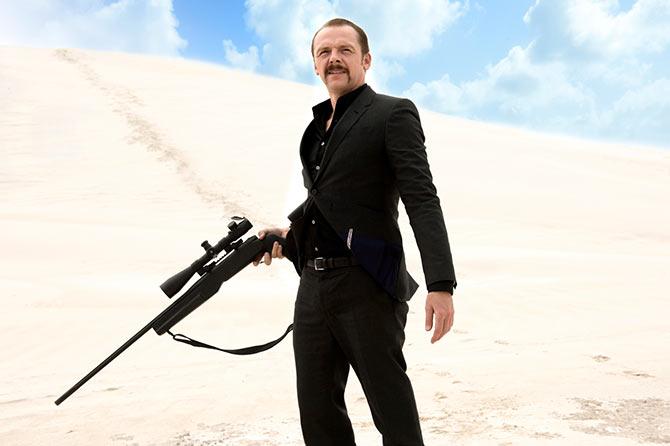 Image: Simon Pegg in Kill Me Three Times.
If you take the Coen Brother's first film Blood Simple and cross-pollinate it with the wackiness of Quentin Tarantino's sensibilities, you will get a thrilling, hilarious, dark comedy like Kill Me Three Times.
A surprise film like this makes visiting a festival a totally worthwhile experience.
There are so many twists and turns in Kill Me Three Times, and practically every character has layered motivations.
By the end of the film, one small town in Australia is littered with so many bodies that I wished the end credits summarized all the killings for the audience.
Suffice to say that the film is packed with outrageous humour, and gruesome murders with husbands, wives and lovers scheming against each other and nasty killer played by Simon Pegg.
Kill Me Three Times' violence may not be for everyone, but I found the film a refreshing change from the serious films at TIFF.
Learning to Drive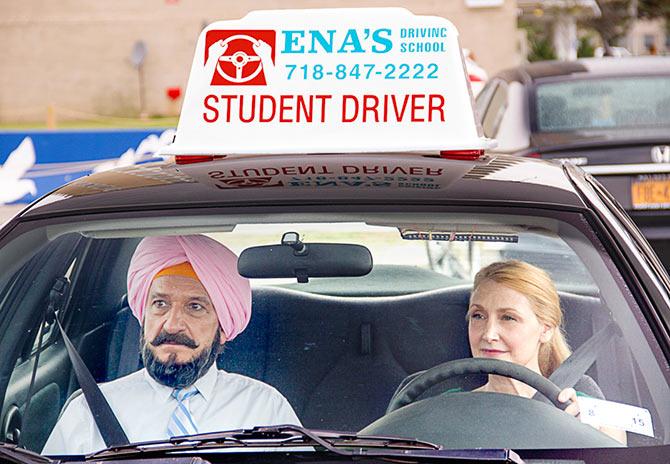 Image: Ben Kingsley and Patricia Clarkson in Learning to Drive.
He played Gandhi with a lot of finesse, but the idea to cast Ben Kingsley as a Sikh cab driver and a driving instructor from Richmond Hill, Queens, New York is one of the boldest casting calls I have ever seen.
Spanish filmmaker Isabel Coixet works for the second time with Kingsley -- they also collaborated on the 2008 film Elegy.
This time, she gives the Oscar-winning British actor a beard and a turban.
Kingsley is Darwan Singh Tur, a political asylum case sharing a crowded Richmond Hill house with a number of other Sikh cab drivers.
Tur is hired to teach driving to newly divorced Manhattan writer Wendy (Patricia Clarkson). A friendship develops between the two, but before it can go any further, Tur's wife (Sarita Choudhury) arrives from Punjab.
Kingsley's beard and turban look odd in the film, but within 15 minutes, his character becomes totally believable. There is so much good humour in this crowd-pleasing film. No wonder Learning to Drive won the first runner-up mention for the People's Choice Award.
Margarita, With A Straw
Image: Kalki Koechlin in Margarita, With A Straw.
California-based Indian-American filmmaker Shonali Bose's first film Amu dealt with the memories of the 1984 anti-Sikh riots following Indira Gandhi's assassination. Her new film Margarita, With A Straw deals with the sexual awakening of a college student, who has cerebral palsy.
Inspired by the true story of her cousin, Bose cast Kalki Koechlin in the best role of her career till date.
Playing Laila, a spunky Delhi University student, Koechlin works mostly with her facial expressions, showing her joy and desires in a strong subject matter that is rare for Indian cinema.
Margarita is full of hope, but it does not fall into the tear-jerker territory.
Yes, the film can be sad, and the audience will feel tears in their eyes, but Bose never manipulates us.
Phoenix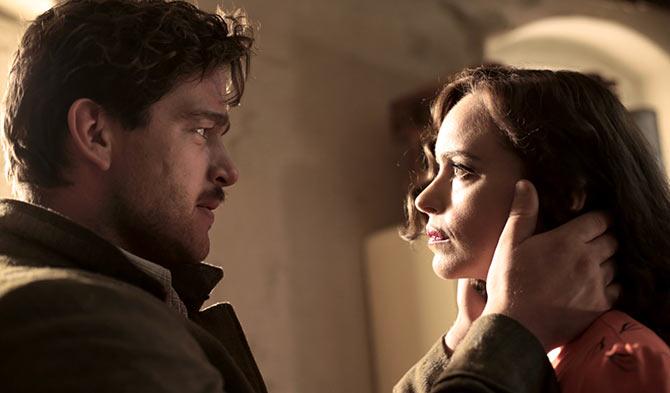 Image: Ronald Zehrfeld and Nina Hoss in Phoenix.
Christian Petzold is one of the best young German filmmakers. Two years ago, he directed Barbara, a thriller set in East Germany. The film, starring Nina Hoss, won the Silver Bear for Best Director at the Berlin Film Festival.
In Phoenix, Petzold works once again with Hoss.
Here, the German actress plays Nelly Lenz, a Jewish woman, a concentration camp survivor, who has to go through extensive facial reconstruction surgery.
Nelly's new face gives her a chance to rise from the ashes and create a new life, but not until she finds out if her Christian husband had given her up to the Nazis.
Petzold is one of the few Germans to be working with the themes of memory and exploring the horrors of the Second World War. Beautifully shot and paced like a quiet thriller, Phoenix backs the desire of its determined protagonist to live a new life on her own terms, even in a society as divided as post-war Germany.
Red Amnesia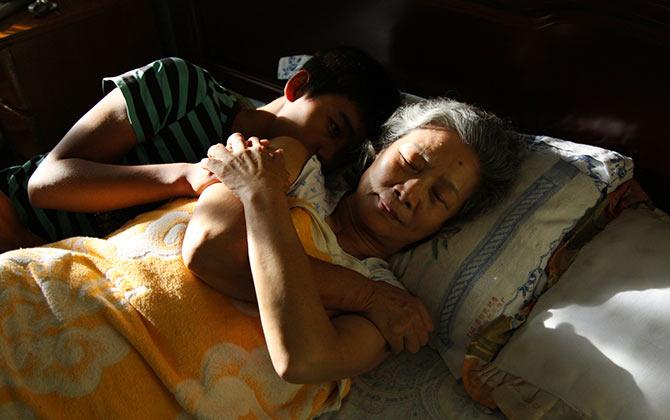 Image: A scene from Red Amnesia.
Red Amnesia is a thriller about an elderly Chinese woman who spends her days talking to her dead husband and meddling in the affairs of her two adult sons -- one married and the other gay, both choosing to live on their own.
Then one day, the lady starts receiving prank phone calls from a person who does not identify himself. A brick is thrown at the woman's window and finally a mysterious young man shows up in the neighbourhood. He has a calm, caring face, but is he the menacing stranger who has been harassing the woman?
It all gets unraveled by the end, but unlike Hollywood thrillers Red Amnesia is in no rush to solve a mystery.
Instead, the film takes us through the methodical details of the daily routine of an old woman. But when things start to go wrong, we are really rattled.
Still Alice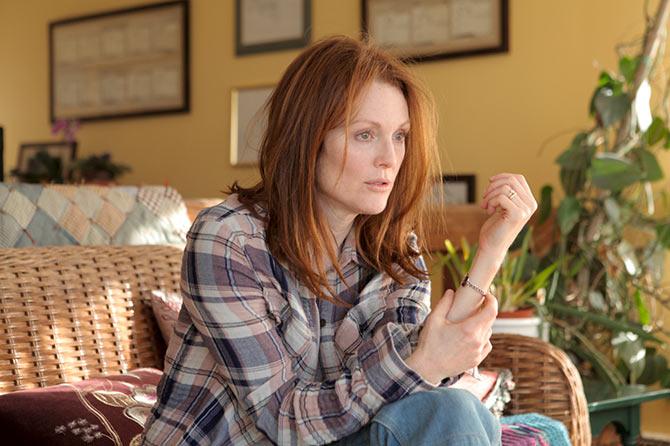 Image: Julianne Moore in Still Alice.
Julianne Moore is such a fantastic actress with a radiant, freckled face and red hair. She has played so many wonderful roles, but despite four Oscar nominations, this 53-year-old actress has yet to win the golden statuette.
This time with her devastating performance of an Alzheimer patient in Still Alice, Moore has an excellent chance of getting another Oscar nomination and perhaps even winning it.
Going into Toronto, Still Alice did not have a distributor and it seemed to be getting late to launch an Oscar strategy for a small film. But now Sony Pictures Classics has acquired the film and they will do their best to support a project with a heart.
Moore plays a Columbia University professor married to a caring husband (Alec Baldwin) and with three children, including a terrific Kristen Stewart (her second film at TIFF).
Initially, Moore's problem appears to be a case of occasional short term memory loss. But pretty soon, it becomes clear that she is dealing with something serious. There comes a time when she cannot be left alone at home.
Directors Richard Glatzer and Wash Westmoreland, working on Lisa Genova's novel, have created a compelling film about the sudden decline of a beautiful woman and how that impacts the caregivers around her.
Still Alice is not an easy film, but audiences will feel rewarded by its heart-wrenching experience.
While We're Young
Image: Ben Stiller and Naomi Watts in While We're Young.
Filmmaker Noah Baumbach turned 45 this month and Ben Stiller, his somewhat alter ego, will be 49 in November. So it is no surprise that the two have made a film dealing with a mid-life crisis.
Given Baumbach's quirky writing and Stiller's many comic roles, it is no surprise that the film is hilarious even as it reveals the truth.
Stiller plays Josh a documentary filmmaker, stuck on one project for years.
Naomi Watts is his wife who produces documentaries for her renowned filmmaker father.
One day, Stiller meets a young couple (Adam Driver and Amanda Seyfried) and is blown away by their energy and youth.
Soon, Stiller and Watts are hanging out with the younger couple and trying to emulate their lifestyle.
Until things go terribly wrong.
While We're Young is a smartly written indie film and much more approachable as compared to Baumbach's last work Francis Ha. There is already talk about Baumbach getting an original screenplay Oscar nomination, a much deserved recognition after his 2005 nomination for The Squid and the Whale.