Happy birthday, Mr Devgn!
Ajay Devgn is Bollywood's go-to guy for intense and brooding roles.
Be it Phool Aur Kaante, The Legend of Bhagat Singh, Lajja, Gangaajal, Once Upon A Time in Mumbai, Singham or Raid, they all highlight his serious, sarcastic, stunt-loving prowess to the hilt.
Ask anyone about Devgn's off-screen persona though and they'll tell you what a prankster he is.
Now, some of that horseplay appears to have rubbed off on his movies too.
On his 50th birthday, we recall 10 times Ajay Devgn, for better or worse, shattered his no-nonsense image and let his hair down to unleash a blockhead, brat and buffoon.
Total Dhamaal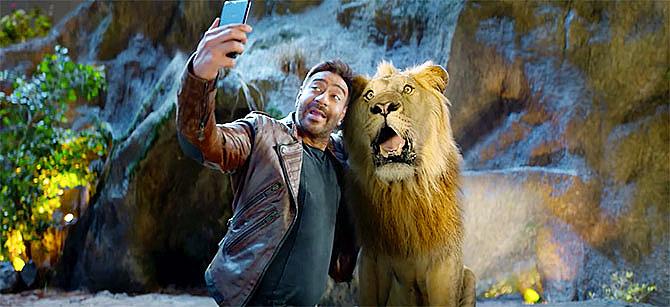 From balancing himself on two bikes to posing with a shell-shocked lion for selfies, what do you think of Devgn's latest brand of daredevilry?
Himmatwala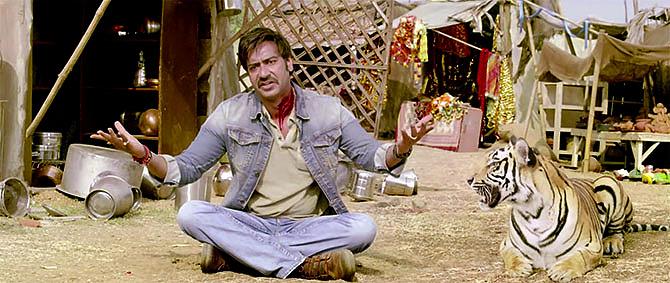 Remember the time when he thwacked India's national animal and jested 'Save the Tigers' in a scene evoking Big B's face-off in Khoon Pasina?
Son of Sardaar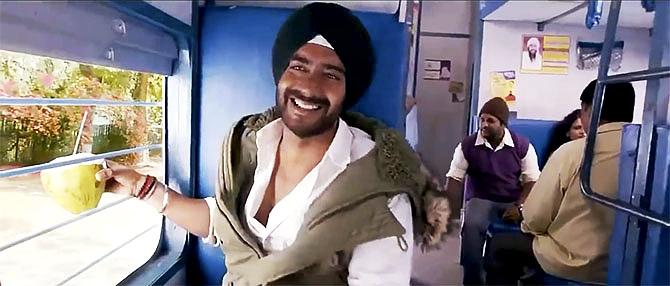 Devgn's silly smile and Sardar jokes aim to please.
Golmaal: Fun Unlimited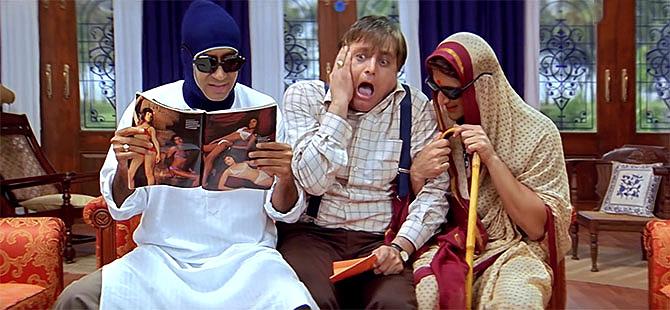 Notice how much the actor unintentionally resembles A K Hangal while masquerading as a porn-reading old couple with Arshad Warsi in the first installment of the Golmaal franchise?
Golmaal Returns
From Amitabh Bachchan to Aamir Khan, no actor has been able to resist the classic drag trope in Bollywood movies.
Devgn's curly-haired, floral frock floozy gets adequate support from fellow fools Tusshar Kapoor and Ritiesh Deshmukh.
Golmaal Again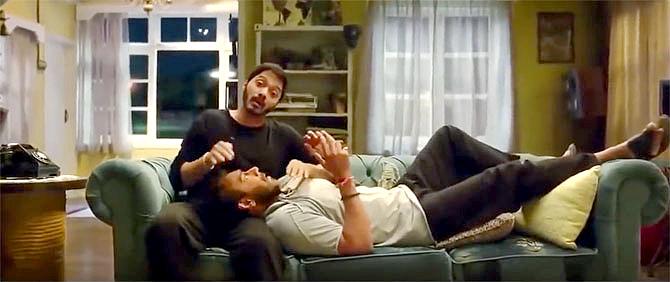 From an action hero whose bravado is flaunted across movie titles like Jigar, Action Jackson and Shaktiman to a scaredy-cat shaking like a leaf at the mention of bhoots in Golmaal Again, Devgn's fear factor sparks a lot of fun.
Bol Bachchan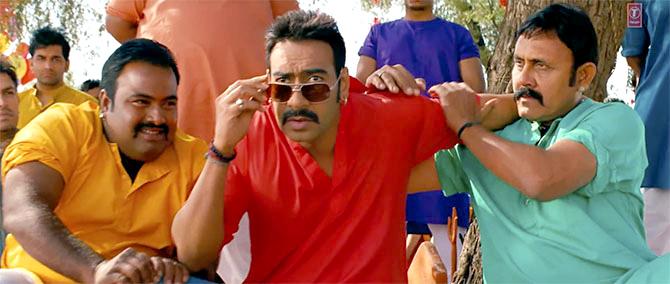 From Qayamat's Jab baat Hindustan Pakistan ki ho rahi ho, toh har Hindustani ek hi taraf hota hai to Singham's Aata majhi satakli, Devgn's dialoguebaazi has hit many high notes.
And then he shows up in Bol Bachchan, a grammar Nazi's ultimate nightmare, mouthing woeful Hindi to English translation for laughs.
Sample these:
Honesty is the best mutual policy.
Necessity is the mother of Discovery Channel.
When elders are getting cozy, younger don't bring nosy.
I will make you remember Milk No 6.
Toonpur Ka Superhero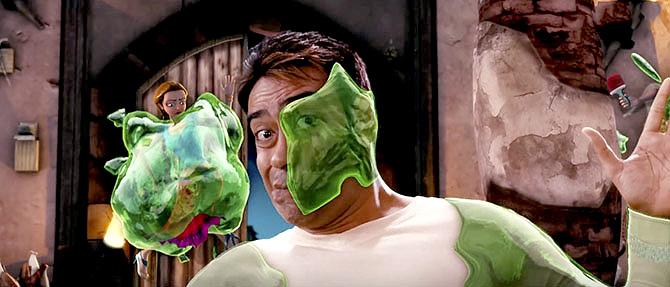 Too bad Devgn couldn't find any takers for his loony act around a bunch of cartoons in this Space Jam rip-off.
Ishq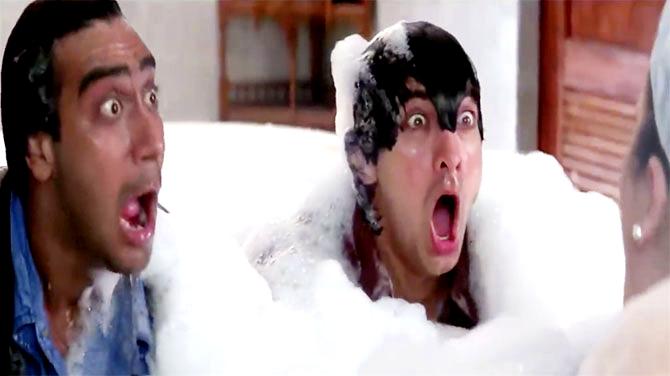 Devgn's efforts to play fool next to natural gagster Aamir Khan in Indra Kumar's over-the-top force deserves our admiration if not awe.
Kanoon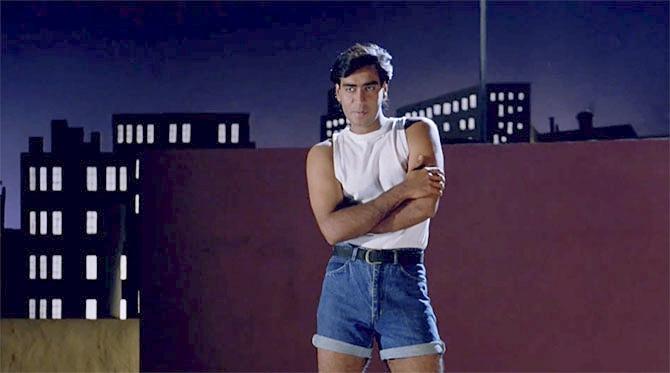 Everyone who thinks Ishq is Devgn's first attempt at comedy clearly missed seeing him in THOSE shorts in Kanoon.