The 21st Jio MAMI Mumbai Film Festival brings together 190 movies from 53 countries.
This year's Indian selection, selected from various parts of the country, carries promise.
As the eight-day festival kicks off, Aseem Chhabra picks the must watch Indian movies, in alphabetical order.
Aamis (Assamese)
In Bhaskar Hazarika's second feature film, a PhD student lands at the pediatrician's door with an emergency.
His friend has eaten too much meat and is suffering from an acute stomachache.
A brief conversation between the two reveals that the student named Sumon (Arghadeep Baruah) runs a meat club with his friends where they cook a range of dishes from north east India.
The doctor Nirmali (Lima Das) is a married woman with a child, and she is intrigued by Sumon. Charmed by her, he starts bringing her meat dishes.
What begins as an innocent friendship eventually takes a dark turn, quite unlike anything one can imagine.
Hazarika's first feature film -- the National Award-winning Kothanodi was an anthology of Assamese folk tales with dark twists.
With Aamis, the most original film made in India in a while, he enters unchartered territory.
Aamis is shocking, although thoroughly enjoyable.
I have watched the film twice with audiences in New York. They appeared disturbed, but in the end, they were blown away.
A Dog and His Man (Chhattisgarhi)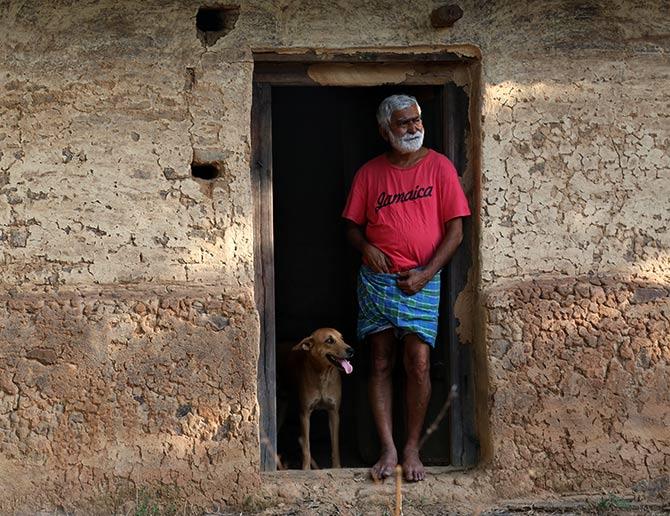 Siddharth Tripathy's first feature film is set in Chhattisgarh's coal mining region where big corporations are acquiring forests and land occupied by villages.
There are promises of jobs and better futures, but the villagers do not understand the full implications of what they are getting into.
A Dog and His Man is the story of an old man Shokie with a puppy called Kheru.
While all the villagers, including his wife and son move out, Shokie challenges the powerful corporation and refuses to abandon his home.
The flat that the company promises him has running water and electricity but it's not home.
Home for Shokie is where his forefathers lived and died.
Tripathy's heartbreaking film focuses on the larger issue of displacement.
A group of village women are turned away from entering a forest recently bought by the mining company.
'Damn this barrier, we have become prisoners in our own land,' one woman says.
Another asks, 'How does one buy the forest? They will now buy the wind also.'
Axone (Hindi, English, Nepali)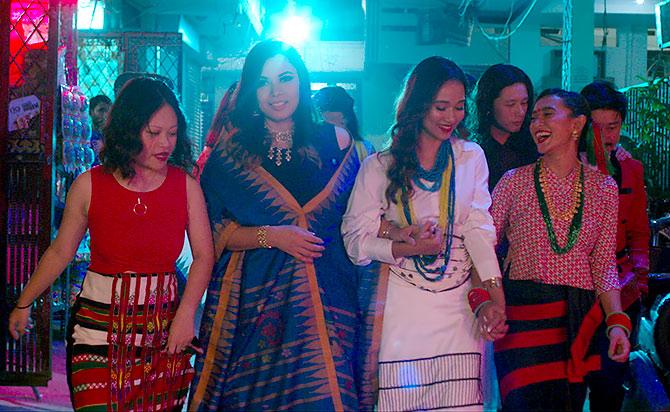 Racism experienced by Indians from the north eastern states is the underlying theme of Nicholas Kharkongor's second feature, Axone.
But it's also a fun film, where a group of friends plan a wedding party with a twist.
The main dish at the wedding will be a smelly delicacy called Axone made with pork, vegetables and some secret ingredients.
Much of the film has a group of characters struggling to find a place where they can cook the dish without attracting attention.
They face a number of hurdles -- the cooking gas cylinder is suddenly empty and they fear a nosy landlady (a hilarious Dolly Ahluwalia), who is intrigued and upset by the smell of Axone.
The cast is led by a terrific Sayani Gupta -- playing a Nepali immigrant with perfectly accented Hindi and English -- and Vinay Pathak.
The film is shot mostly in Delhi's Humayunpur village, located behind Safdarjung Enclave and is better known as the capital's north east outpost.
To give the real feel of being in Humayunpur, Kharkongor uses several other languages in the film, including Ao, Mizo, Galo, Bodo, Sema, Tangkhul, Meitei and Khasi.
Aunty Sudha, Aunty Radha (Hindi)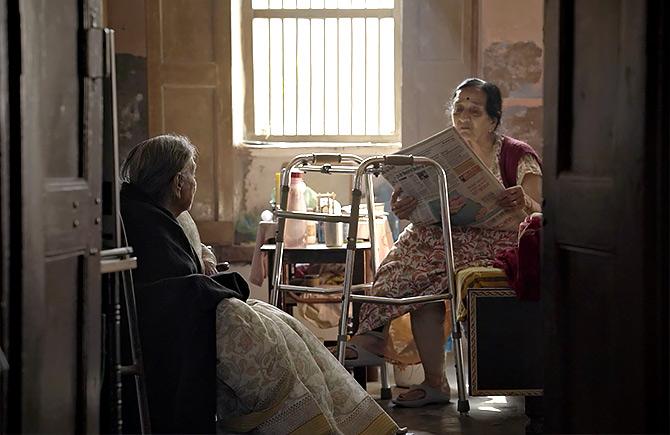 Tanuja Chandra has defied being pigeonholed throughout her career.
She has made thrillers like Dushman (1998) and Sangharsh (1999) and a romantic comedy Qarib Qarib Singlle (2017).
Chandra is back with a lovely surprise -- a 50 minute long, charming personal documentary called Aunty Sudha, Aunty Radha, in which she tracks the daily lives of her two aunts.
Aunty Sudha, 86, and Aunty Radha, 93, live quiet, yet busy, lives in an ancestral family house in a village in Uttar Pradesh.
They are surrounded by an entourage of domestic help -- all of who are essentially extensions of the family.
Chandra herself appears in the film, but does not take the focus away from the two ladies, who sleep in the same bed, argue, disagree and yet cannot live without each other.
Eeb Allay Ooo (Hindi)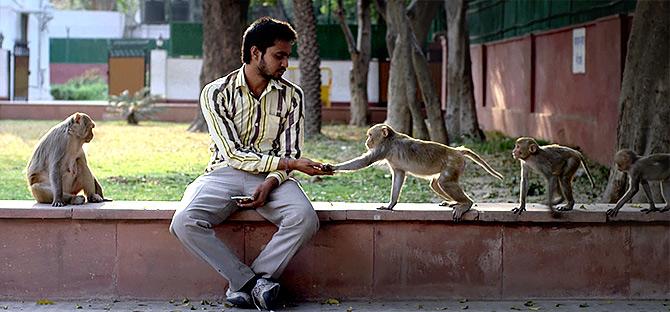 The grand government buildings at the centre of Lutyens's Delhi have a huge problem -- a monkey menace that can be dangerous for residents of the area, office goers and the public.
The government earlier used langurs to frighten the monkeys, but now, they have a new solution.
They use human beings to mimic the sounds that the langurs make to scare the monkeys.
So this is the 'prestigious' government job our hapless Bihari immigrant Anjani gets when he arrives in Delhi to stay with his pregnant sister and brother-in-law.
All day long, he goes around the buildings, yelling, 'Eeb allay ooo' making himself a player in this absurd and disturbing game.
Director Prateek Vats's first feature narrative Eeb Allay Ooo (he earlier made the National Award-winning documentary A Very Old Man With Enormous Wings) takes up a unique subject and tackles it with so much heart.
The film is an absolute winner.
Gamak Ghar (Maithili)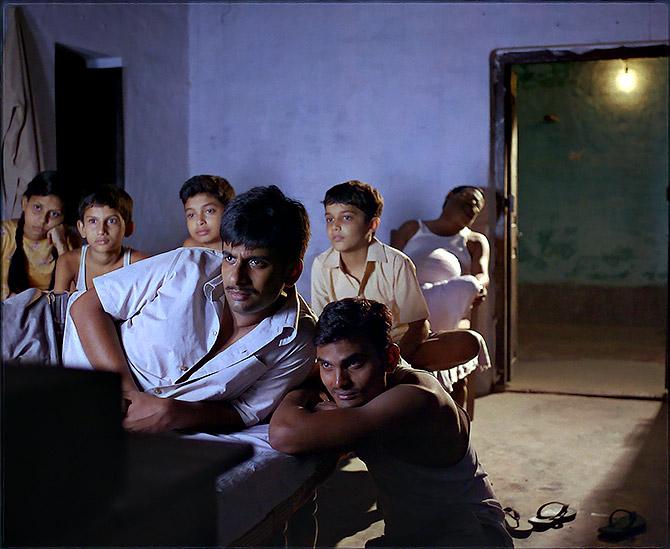 Director Achal Mishra's film is broken into three chapters, exploring the narrative of an ancestral family home and its residents.
The film begins in the late 1990s with a bang -- a lively family gathering with men playing cards, women cooking and singing, and kids running around in the courtyard.
But by the second and third chapter, the elders have passed on, the second generation prefers to live in big cities and the kids feel no connection with village life.
The 90-minute-long film features a large cast of characters who come and go, but they barely touch us.
Our only connection stays with the house, the film's main protagonist.
It is the house that we care for, a house that we shed a few tears for.
Gamak Ghar's director -- a resident of Darbhanga -- is only 22 years old, but his first feature, laced with memories and heartache, is a very mature film.
At times, Gamak Ghar is so gentle that it gives the feel of works by the Japanese masters Yasujiro Ozu and Hirokazu Koreeda.
Musk (Marathi, Hindi)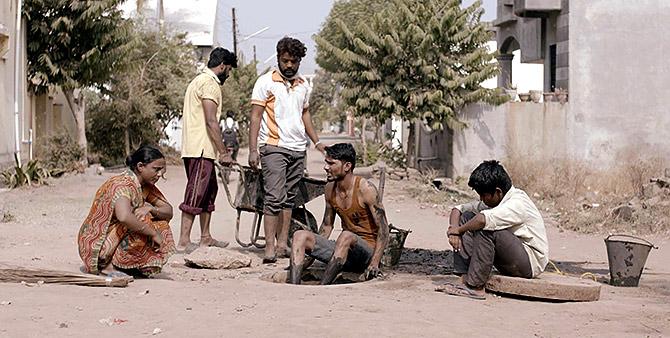 In Vinod Kamble's first feature Musk (Kastoori), 14-year-old Gopinath Chavan is burdened by his father's profession as a manual scavenger.
Often, his father is called to dispose off dead bodies from the village's hospital morgue.
As classmates make fun of Gopi, he starts to believe that his body and clothes carry the smell of his father's profession.
So, he tries to get kastoori or Indian musk to repel the smell from his body.
There is a touch of Fandry's Jabya in Musk's Gopi.
But Nagraj Manjule's National Award-winning Fandry was an angry film, as reflected in its resentment against the higher castes.
Kamble -- an engineer-turned-film-maker -- has made a gentler film.
Gopi is a good student. He even wins an essay competition award and that fact alone gives Musk a hopeful tone.
Raahgir (Hindi)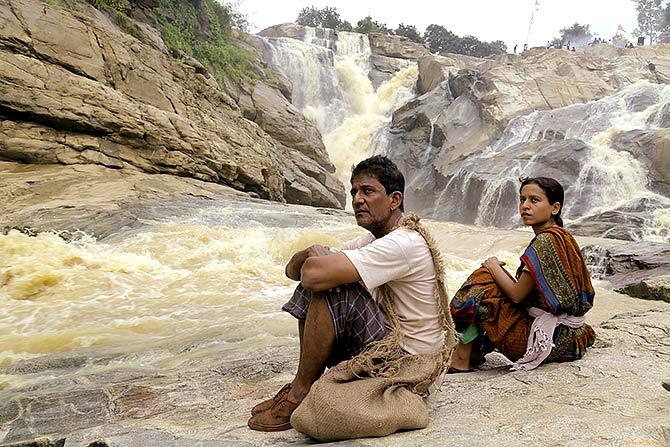 Thirty-five years ago, Bengali film-maker Goutam Ghose made Paar, a devastating look at the plight of India's poor.
Based on Samaresh Basu's short story, Paar won major awards, including National Awards for Naseeruddin Shah and Shabana Azmi.
After a range of films, Ghose is back with one of his strongest works that recalls the mood and emotional heft of Paar.
Raahgir, based on a short story by Prafulla Roy, is essentially a two-character film with Lakhua (Adil Hussain) and Nathuni (Tillotama Shome) on a long journey from their village to the big city in search of work.
Shot in a stunning location in Jharkhand, a sparse landscape made up entirely of large rocks, Raahghir takes its two characters through an arduous journey.
Along the way, they meet a third character Chopat Lal (Neeraj Kabi), who is dragging a rickshaw-like vehicle to transport two elderly villagers to hospital.
Despite its tough tone, Raahgir is a compelling watch, heralding the return of a master.
Sindhustan (English, Sindhi)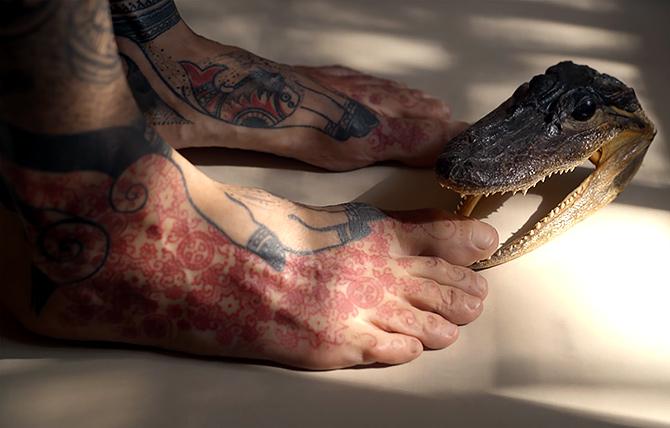 In one of the most unique documentaries made in India, film-maker and celebrity hairstylist Sapna Bhavnani tracks the migration and dislocation of Sindhis after the Partition of India in 1947.
Based mostly on memories of her grandmother and other elderly folk, Bhavnani's film has a lovely lyrical mood, touched with a lot of sadness.
The beauty of the film is not just in the memories, but how Bhavnani takes the tragedy of Sindh and Sindhis and makes it into a personal exercise.
As the film progresses, Bhavnani starts to illustrate the narrative on her body through tattoos.
Using body ink forms from Sindh (Ajrak) and India (Madhubhani), Bhavnani has made herself the narrative of Sindh.
She carries the film in herself.
It is a story that she lives and breathes with at all times and it will stay with her until the end.
The Illegal (English)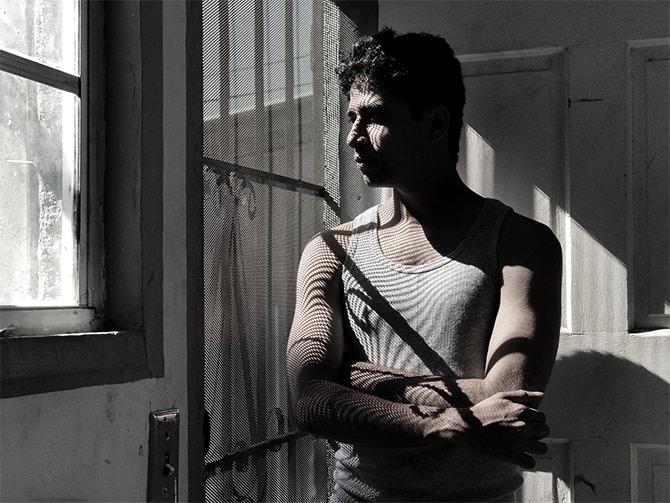 Los Angeles-based film-maker Danish Renzu has covered stories set in the US as well as in his native Kashmir.
His new film The Illegal follows the story of a student from Delhi -- Hassan (Suraj Sharma) -- as he struggles his way through film school in Los Angeles while also working at an Indian restaurant.
Some aspects of Hassan's struggle may seem familiar to those who follow working class immigrant stories in the US.
But it is the earnestness with which Sharma plays the role that makes his character believable.
We want to hug him and tell him that all will be fine.
Renzu gives Sharma the opportunity to play his first adult role, along with a romantic subplot.
Suddenly, the teenager who Ang Lee placed in a boat with a CGI created tiger in Life of Pi is all grown up.