Satellite Shankar is a fun, time-pass, film, feels Prasanna D Zore.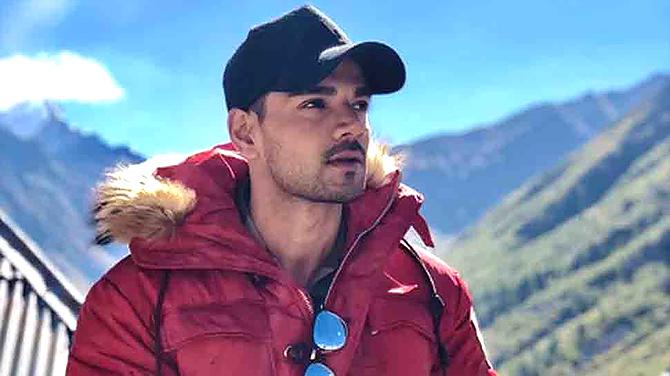 If the audience can somehow cope with the first half of Irfan Kamal's Satellite Shankar, the second half rewards are sweet.
It's not that the first half does not have its moments, but the scene when Satellite Shankar (Sooraj Pancholi) meets Pramila (south side actress Megha Akash makes her Bollywood debut, and what a debut it is!).
Before the meeting, Shankar-Pramila's on-off romance on the phone and Meera's exploits (brilliantly played by Palomi Ghosh; she bagged the National Award for the Konkani film Nachom-ia Kumpasar) will endear moviegoers towards these young heartthrobs.
Satellite Shankar is a quiet, coy, good soldier.
While he enjoys a funny shootout with Pakistani soldiers when posted at the border, he is equally adept at spreading cheer among the morose family members of his friends from the Rashtriya Rifles.
The film makes a half-hearted effort to highlight the pangs of a soldier's life at the border and how families have to cope with long absences and dead bodies.
It exploits stereotypes about Kashmiri men (evil, stone-pelters) and women (good, saviours) to end at a climax that could have been done better.
Pancholi as Satellite Shankar comes across as an awkward, camera-shy actor with potential.
Though Satellite Shankar is his second film after Hero, he needs to work hard on his acting skills.
The only time he seems comfortable facing the camera is when he plays the angry soldier asking Meera -- a video blogger (reminds me of Nawazuddin's Chand Nawab in Bajrangi Bhaijaan), who meets Shankar accidentally, and then blogs about his adventures without his knowledge -- to stop creating a hero out of a soldier.
Though Pancholi fails to create a solid impression, it is the Megha Akash-Palomi Ghosh pair that keeps your interest alive during the first half of the film and lifts your overall experience in the second half.
Both Akash and Ghosh perk up the proceedings in between Satellite Shankar's heavy-duty action and good-Samaritan acts.
Akash, who plays a Tamil nurse, looks confident and bubbly.
Ghosh does her video blogger act with charm.
Satellite Shankar is a fun, time-pass, film despite the not-so-perfect first half.
Rediff Rating: