Bigil packs in enough entertainment in its three-hour running time, feels A Ganesh Nadar.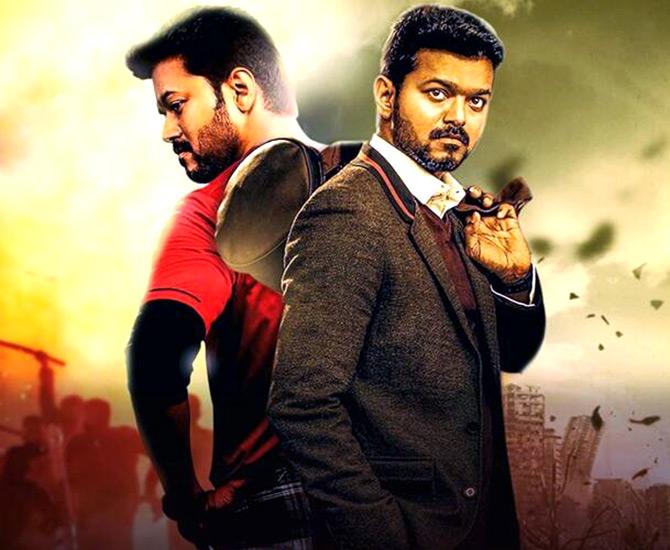 Vijay's latest film Bigil has *a lot* of action.
The actor fights in every imaginable situation -- on foot, on a bike, when he has cocaine, with his hands, with a cycle chain, with a sword, with a nan chaku...
Of course, he wins all of them.
But yes, the film has a story too.
It's about the coach of a girl's football team. No, not a hockey coach like Shah Rukh Khan in Chak De! India.
One of the players is Pandiamma who attacks the opposition players and doesn't even spare a biased referee.
Then 'yeh 70 minute' pep talk in Chak De is replaced by the coach ridiculing his wards in the game's interval.
He feels that way, he will charged them up and they will take their anger out on the field.
C N Annadurai, the DMK's founder, had a habit of extending his thumb and first finger when he spoke. MGR, who founded the AIADMK, appropriated that image and made it his party symbol.
Vijay uses the AIADMK symbol of two leaves throughout the movie.
For those who don't understand subtlety, they show a picture of MGR and his song plays in the background, as Vijay takes down yet another bunch of hoods.
And if you *still* don't get it, Vijay hums the song as he fights.
Chak De! India had a big budget, so the film took the story to Australia.
This is also a big budget movie, but the games are restricted to the Nationals. We have the Tamil Nadu team facing Manipur in the finals in New Delhi.
In the Nationals, state players have to wear their state colours and name.
We take cinematic license and the players wear a T-shirt saying 'Bigil', which is their coach's name when he plays football. His name, otherwise, is Michael.
For sidekicks, Vijay ropes in veteran villain Anandaraj and comedian Yogi Babu. Comedian Vivek appears as the team manager.
The music is foot tapping.
While watching the songs in the theatre, one could not hear the lyrics at all. The audience was throwing paper balls on the screen, and dancing.
A R Rahman composes music and also makes a special appearance in a song.
Nayanthara looks good as always. She makes her presence felt in the songs.
Her best scene is her introduction scene, where she beats up a couple of boys with a cup that Vijay wins in a tournament.
The story shows women empowerment as well. Housewives are allowed to play football; an acid attack victim is thrown in to show her bravery under trying conditions.
The scenes with the victim are emotion packed and add a touch of humanness to the film, which would otherwise have only action, songs and football.
Jackie Shroff is the main villain, but there are many more.
You can't expect one Vijay to fight them all, so we have two Vijays -- father and son.
How do you tell the difference? The father stutters!
Director Atlee does a very good job, in that every single character -- even if they have only one dialogue -- is clearly etched, and have their moment in the sun.
Vijay acts well too, which is a first. Usually, he acts only as himself.
Bigil packs in enough entertainment in its three-hour running time.