Baadshah Pehlwaan is a thorough entertainer as well as a thought-provoking film, feels Prasanna D Zore.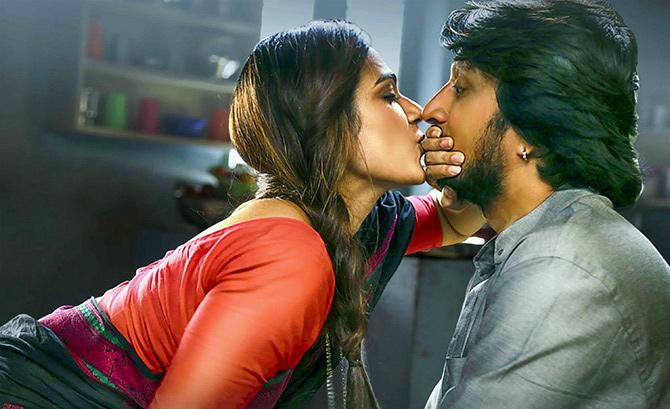 Director S Krishna's Baadshah Pehlwaan is a complete entertainer, so what if it's a Hindi dubbed version of the Kannada film, Pailwaan, that has also been released in Malalyalam, Telugu and Tamil languages.
With Sudeep and Aakanksha Singh in leading roles -- accompanied by Suniel Shetty, in his debut Kannada film -- and Sushant Singh in a supporting role, Baadshah Pehlwaan is a typical Bollywood film.
There is a love story, plenty of action, drama, melodrama, longing, separation and a social message that punches you like a boxer.
Born as an orphan and brought up by Sarkar (Shetty) -- a wrestler trainer, whose dream is to produce a national champion from his akhada -- Krishna aka Kichcha enters Sarkar's life in a scene that remains the central theme of the film: the lead character's benevolence to the underprivileged.
Director Krishna deftly spins a romance between the lead couple, and then keeps twisting and turning the plot until the finale when Kichcha the wrestler turns into Kichcha the boxer.
In between these twists and turns, you are treated to a liberal dose of drama (between Sarkar and Kichcha), action (between Kichcha and Sushant Singh's villain Rana Pratap) and romance (the chemistry between Aakanksha's Rukmini and Kichcha is easy on the eye).
Most of the songs are mundane but Yeh Zameen Ke Hain Taare, shot in a documentary style with a dark social message about spotting talent among the underprivileged is the best piece of the film.
Full marks to the director to hook you in a romantic-action film and then slyly slip in a scene where Kichcha explains to Sarkar that his reason for fighting a boxing league is simply the money.
Directors of films like Chak De! India and Dangal would, in retrospect, probably regret not to have done what Kichcha did with his multi-lingual film.
Krishna has achieved a tremendous feat by dedicating 10-15 minutes of this two hour 45 minute-long film to the have-nots of society, who rarely find a place in our filmi world.
There's never a dull moment on screen, as Krishna spins his celluloid magic, ably assisted by Karunakaran's cinematography -- the rustic landscape, the colourful costumes in the song sequences, the action scenes in the akhadas and the boxing ring -- all blend together seamlessly to create a fantastic visual impact.
In the acting department, Sudeep, Aakanksha, Suniel Shetty and Kabir Duhan Singh, as the villainous Tony, play their characters with style.
The film's screenplay adds solid substance to these characters too.
It is only Sushant Singh who sometimes goes overboard with his devilish smirks and over-the-top shenanigans.
While the film takes an inexplicable turn towards the end -- one wonders the need to have Kichcha play boxing matches even as he is portrayed as a champion wrestler throughout the film -- all is excused as the climax alone is worth the price of the ticket.
Baadshah Pehlwaan is a thorough entertainer as well as a thought-provoking film.
Rediff Rating: