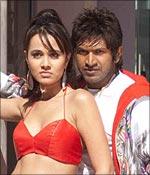 Kannada film Raaj, the Showman directed by Prem starring Puneet Raj Kumar and Priyanka Kothari is a technically good film with fantastic music. Puneet Raj Kumar has shouldered the responsibility of the entire film with his brilliant performance and fights. But the film suffers. And that is mainly because of director Prem's half- hearted work.
The film belongs to Puneet who shows tremendous energy while performing a role that lacks consistency. Fights have always been his strong point but they have been overemphasised in Raaj. He has also tremendously improved in his dubbing work.
Harikrishna who has composed the music and Krishna who has worked behind the camera have done their work remarkably well. Hari Krishna's background score is also top class. The way Krishna has shot the two songs -- Hey Paro and Poli Ivanu -- deserves appreciation.
Raaj is made with huge production values, lilting music, top class cinematography, lovely choreography and some superb fights just required for a superstar. It has everything except a good script (by director Prem himself) and a credible story line.
His idea of having a song with the five heroines of Dr Raj Kumar has failed to make any impact. 
To be fair to Prem, there are certain sequences that are good like the hero's introduction scene in the prison and the twist at the interval.
The story goes like this: Muththuraj who stays happily with his parents in a village, has only one desire; to be an actor. He comes to the city to become a junior artist in films. An associate director who has full confidence in his talents starts his new film with Muththuraj as the hero. But the film's heroine Parvathy walks out. Sensing that his chance to become a hero will be under a threat, Muththuraj starts pestering her to work with him.
Meanwhile, one of her relatives who has underworld connections wants to marry her. She is forced to escape with Muththuraj. The second half deals with how Muththuraj saves Parvathy and realises his dream.
Puneet has given a brilliant performance as Muthuraj. Priyanka's lack of talents is more than compensated by her skin show. Muni and Aadi Lokesh score well as the villains. Shankar Aswath shines in a small role.
All in all, Raaj is just an average film that will be remembered only for Puneet's performance and the songs.
Rediff Rating: