If packaging is half the work done, then Sree Lakshmi Prasanna Pictures' Tamil venture, Yennai Theriyuma?, tuned by Achu, certainly ought to do the trick. All the songs except one have been penned by Na Muthukumar. So what's the verdict on this brand new arrival? Check it out.
Or Paarvai Parthu, sung competently by Sriram Parthasarathy begins softly, melodiously, and reminds you of Poongatrile, from Dil Se. Still, its steady rhythm and simple, romantic lyrics make it worth a listen. The song shifts from angsty emotion to sudden crescendos of delight, which sometimes doesn't gel. Still, with good picturisation, it ought to work.
Gentle keys of the piano commence Enna Matramo, while Karthik kicks off yet another romantic piece. It makes for pleasant listening with Bombay Jeyashree's voice joining in. A neat flute interlude reminds you a bit of the theme music from Lagaan -- but the poetic lyrics and, once again, predominance to the vocals makes the song a neat piece.
Vineetha Ajith's wheezy voice kicks off their presumably exotic number, Thanni Karuthiruchi -- a rehash of the yesteryear hit, as per the present trends. This time, they've roped in actor Silambarasan to do the honours, and he does so with a gusto that is worthy of a fast-paced jig. With the pieces of a kuthu pattu firmly in place, the composer has gone to town in bringing the original's rhythm into place -- and you have a guaranteed frontbencher-pleaser on your hands.
O My Love almost seems to pick up from where the previous song ends. This mish-mash of English and Tamil, rendered by Sunitha Sarathy and Achu, have been pitched as a 'modern romantic number,' complete with synthesised music, staccato beats and random rap phrases. The tune isn't your average sickly-sweet romantic number. Too many random notes, however, jar your concentration. Still, a dance-worthy number.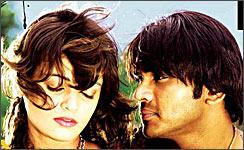 Premgi's trademark voice is easily recognisable in Yedho Yedho, which kicks off in style with a neat guitar and veena piece. Harini supports him in this casually paced piece -- though she seems to be rather uncomfortable with the highly pitched notes. Premgi raps through the song and the brisk pace grows rather interesting as the song progresses. This number seems to heap more emphasis on a fellow-feeling, than outright romance, which makes a nice change.
Percussion, violins and synthesised music start Thirumbi Pogave, sung by Naveen and Ranjith. It proceeds at a brisk pace and though not terribly interesting, seems like it would work with good picturisation.
You keep wondering when this number will make an appearance in the album, considering the title and then, as the harmonium starts, there it is, almost at the end: the hit MGR song which set feet tapping in his hey days -- Ennai Theriyuma. To give credit to the composer, he's remixed the number with a modern take, a hip, peppy, enthusiastic song, which works mainly because of the original lyrics and music. In Bhavan's voice, it works. Its magic even after all these years, proving that old is always gold.
Strains of the violin play the mournful, yet eternally beautiful Poove sempoove song, as the movie's theme music begins. Its taken over by flutes and the piano and makes for a peaceful, soothing piece.
All in all, this album tries to bring in a little of everything and through some clever usage of old hits and new music, succeeds in providing reasonably interesting fare.
Rediff Rating: