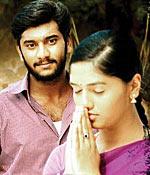 Pavithra Srinivasan reviews the Tamil movie, Vamsam.
Very few people can take up the tried-and-tested village formula, infused with scythes, knives and violence, and show something new that successfully grabs your attention.
Pandiraj, who gave the hit Pasanga, returns to the silver screen with Mohana Films' Vamsam (Lineage), and spins a new version of the age old tradition-and-bloodshed story, with a good many of his own touches.
This time around, the movie also happens to be the launch vehicle of CM Karunanidhi's grandson, Arulnidhi Thamizharasu.
Truth is: Vamsam scores at certain points and loses at others.
You might be forgiven for thinking this is yet another bloody rural story, because that's how it starts: with two towns, Pulivathanam and Singampidari (both are identified with their ancient names of Kanaadu and Konaadu), stronghold of the Devar community, and a fortnight-long festival that's the focal point of them both, all through the year.
The town's scrawny police force, consisting of a few men who gaze haplessly at the local populace, explain to the new Inspector about the lay of the land: eleven clans, each tracing their lineage to the times of monarchy and who shares the honours of the village, and their respective strength and weaknesses.
Among the eleven, the principal are Nandan Koppan, Nanjunda Ma Oh Si, Vanathi Virayar, Yanaiyaik Kutriya Ainutru Puraiyar, Kanaatu Puraiyar and Eppadu Pattalum Pirpadu Kodathavar -- the last of which our hero, Anbarasu (Arulnidhi), happens to be the only descendant of.
There are umpteen rules that govern the festival. While all eleven tribes accept and share honours amicably during the festivities itself, there are undercurrents running through them all. Since it's the rule that any death that happens during the festival cannot disturb it, those who have the misfortune to die (or be killed) during this period must have their last rites performed with no honour at all.
This is also the reason for why there are a number of murders during this period, and every party that does an honour killing celebrates it with a meal of pork and arrack.
In this melee of bloodshed lives Anbarasu, with his widowed mother, a lanky, peaceable youngster with no outward pretensions to greatness but strength runs in his blood, or so his lineage says. His mother, however, decides that there's been enough murder in the family; Anbarasu's first instinct, when confronted with a fight, therefore, is to simply run away.
His uncle is his only support; his idea of help is to take his nephew into the shelter of Seenikannu Devar (Jayaprakash), Singampidari's big-shot, and who's had a hand in practically every murder in the area.
In the meantime, Anbarasu runs into a young girl as she's fishing for crabs in the lake; she throws a feisty answer at him as he asks her about the cow tethered to the banks and Anbarasu is instantly smitten.
But the lovers haven't taken into account Seenikannu Devar, his enmity with Anbu's father Rowdi Rathinam (Kishore) and the secret behind his murder. 
Pandiraj's knack for humour, and his complete understanding of rural life save the screenplay more than once. There's a certain magic in the way he introduces these ancient clans who, centuries ago, were monarchs who ruled their people. Equally impressive is the gloomy overtone that envelopes the screen during the flashback sections, courtesy Mahesh Muthusamy's camera-work.
Unfortunately, despite these points in his favour, the screenplay begins to falter and loses some of its spontaneity. The proceedings dissolve into screeches, plans, vain attempts at killing against the backdrop of festivity. The climax is almost a damp squib. It looks like Pandiraj has been forced to choose between giving his hero a "mass" image and giving his script precedence, and the tug-of-war shows. To his credit, the director does try to downplay the "hero" and let the story rule. Logic and rationale do find some part, here.
Admittedly, this is Arulnidhi's debut film and he deserves some slack but his whiny dialogue delivery, unsure body language and lack of screen-presence don't contribute much to the movie.
Sunaina, by contrast, in her mischievous avatar does very well. Jayaprakash dons an evil role this time and cackles with glee; Ganja Karuppu and others secondary characters add colour.
Taj Noor's music just barely passes muster; the songs slacken the pace. Devarajan's art-work is quite good, and brings the right touch of realism.
Vamsam is an intriguing tale of the clash of clans, but it suffers from overkill.
Rediff Rating: