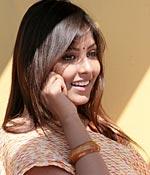 Pavithra Srinivasan reviews the Tamil movie, Pathinaru. Post YOUR reviews here!

The very word Pathinaru evokes instant pictures of youth, romance and a cocktail of emotions, which is precisely what the producers -- Passion Movie Makers -- of Pathinaru (16) seem to have gone for.

Director D Sabapathy, who's given us movies like VIP and Punnagai Poove, returns with yet another love-story that seeks, once again, to redefine love. You have to admit that he's had some success. On the other hand, you wish he had tried to tell it without beating around the bush so much, though.

Shiva (Mirchi Shiva) and Indhu (Madhu Shalini) are young lovers who cavort around town without a care in the world. Everyone, from the college staff to their friends and even random people on the streets know of their romance and fall in love with the lovebirds themselves.

Life goes on, until, one fine day, Indhu's parents (Abhishek and Amritha) suddenly find out about their daughter's heart -- and her mother decides to take action. After a spirited argument against love, she literally drags Indhu and Shiva home, thrusts a book into their hand titled, intriguingly (and perhaps not so surprisingly), 16. And cue a flashback, as we journey to Poomparai, on the edges of Kerala, a charming rustic village which tells the tale of two youngsters, Ilavarasi and Gopalakrishnan.

Ilavarasi belongs to a rich family, albeit a loving one; Gopalakrishnan, as is the norm, is poor. The two grow up together a la Paruthiveeran, and yet, for all the similarity in theme, this is a refreshing story, more so because Ilavarasi is a very out-spoken, headstrong girl, firm in her decisions and willing to go against everyone to get them done. Her family is bent on getting her married to Sakkarai (Mari), who adores her. Ilavarasi, however is attracted to the simple Gopalakrishnan who idolises her. And so matters go on;

one party against the other, leading to a clash of wills and egos, ending with a surprise twist.

The flashback, in turn, leads to the present, putting Shiva and Indhu in a dilemma about their own lifestyles and decisions.

For a movie that advertises Shiva as its hero (and he certainly needs a break after Va ¼ Cutting), there's precious little of him in the movie itself. He tries to play the spirited lover-boy and does get a couple of gags right, but the screenplay doesn't give him much choice. Shiva himself, doesn't look very comfortable doing a serious role, and needs to work on it. Madhu Shalini acts like a pro. So does the girl who plays Ilavarasi. In fact, the movie belongs to her. The rest of the cast shines in the flashback section, especially the women of Ilavarasi's family.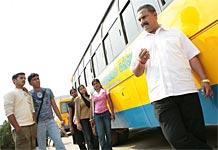 Yuvan Shankar Raja's music is pleasing to the ears; Adada En Meethu is particularly melodious. The whole score in fact, fits the film and adds some depth to it. Arul Das's camera-work draws you in, especially during the flashback sequences, while R K Mahalingam's dialogues work well; mostly, they are rational and logical, instead of with the usual lackluster quality you see during romantic movies. G Ramarao's editing is near-perfect -- the film is quite short, and ends in just over two hours.

For a film that has so many plusses, 16 doesn't quite bring you the satisfaction of having watched a film rich in content. The reason? The characters never quite gel.

You're not invested enough in their love-stories to sympathise with them. There's no heart-warming story behind either Indhu-Shiva's love, or the Ilavarasi-Gopalakrishnan story which should, by rights, move you to tears. For all the emotions, the twists and turns are quite predictable and you're left blinking with dissatisfaction by the time the credits roll.

16 starts off on the right note and sentiments, but doesn't quite capitalise on its characters or story

Rediff Rating: