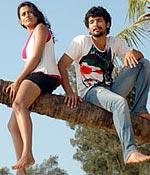 Shruti Indira Lakshminarayan reviews the Kannada movie, Pancharangi.
Director Yograj Bhat's big release
Pancharangi
comes as a shot in the arm to the Kannada industry that is looking for hits.
Pancharangi is a story that unfolds in a span of two days. Bharath (Diganth) meets Ambika (Nidhi Subaiah) in Mangalore. He has gone there with his family to fix the marriage of his elder brother with Ambika's sister. Bharath is a student of Kannada literature and is passionate about his language and land. He is a complete contrast to his US based 'well settled' software engineer brother and thus a 'black sheep' in the family. But Ambika, for whom this is hardly a cause of concern, falls for Bharath.
Will Bharath, who walks around with a cynical view on love and life reciprocate her feelings? And what about the alliance between his brother and Ambika's sister? This is where we take a backseat.
Education, love, profession, marriage, family...  Bhat tackles these serious issues in a fun and non-preachy way and kudos to him. The film registers a slow start but gains momentum and energy following the scenes where Bharath's family arrives in Mangalore.
Post interval, there are "give and take" scenes between Diganth and Ananth Nag on life and relationships, followed by the peppy lifeu ishtene... song lighting up the screen.
The second half looks deeper into prejudices attached to the institution of marriage and career choices, but not once does it carry with it philosophical overtones. Bhat introduces a marriage broker (Raju Talikote) to provide comic relief. But he fails to create the desired effect. However, where they fail, the lead pair make up.
Both Nidhi and Diganth get just not their comic timing right but also their emotions. They are particularly good in the scene where Diganth mistakes Nidhi to be her sister. Nidhi, with this film shows she can go beyond just looking good and Diganth outdoes his Manaasare (his previous film with Yograj Bhat) act. He gets both his dialogues and expressions right. The director again needs to be congratulated for having woven the characters keeping in mind the true persona of these actors.
Sudha Belavadi and Padmaja Rao are among the actors that Bhat repeats in this film. However the character that shines among this usual cast is that of the house help. She plays a very small role but leaves an impression. Lyricist Jayanth Kaikini and actress Priyanka Upendra make guest appearances.
Pancharangi, like Manaasare looks at life and its various elements. Bhat rests heavily on punchy dialogues to make his point and they are sure to be a hit with the college crowd.
Songs by Mano Murthy are situational and easy on the ears. The song udisuve belakina seereya... is picturised differently and backed by contemporary dance moves. Camera by Thyagarajan adds life to the film.  
In a nutshell, Pancharangi is a good family entertainer.
Rediff Rating: