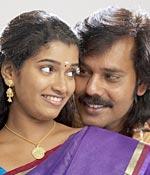 Pavithra Srinivasan reviews the Tamil film, Milaga.
It might be yet another Madurai story with all the characters employing the region's unique slang, but Sri Nataraja Arts' Milaga (chilli), directed by Ravi Mariya has a few things going for it: the slang never quite bores you; the strong coterie of friends who appear throughout, and the rather uniquely styled romantic angle. These make up the positives.
Problem is, the movie doesn't quite capitalise on these strengths.
Azhagar (Natraj, cinematographer) takes life easy in Madurai, even as he puts in odd hours at his father's chilli business. That's only occasional; his full-time occupation is to spend time with his friends, headed by the jovial smart aleck Paruthi (Singam Puli) and Co. One of their friends who owns a furniture shop gets into difficulties, and the foursome eagerly pitch in to help.
What follows is a rather hilarious adventure as Azhagar and Co manage to get their hands on the money owed at the risk of angering the local bigwig (Ilavarasu). That's a comic caper though; the real consequence of Azhagar's bravado comes when Thenmozhi (Poongodi) a college student happens to observe their rough and ready ways.
Thenmozhi has problems of her own. Their home is nothing but a luxurious prison, and the girl seeks every opportunity to escape. Which is when she stumbles upon Azhagu and his don't-care attitude. And they, in turn, get entangled with the show's villains.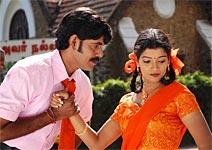 So far, so good. Post intermission, though, everything slowly descends into filmi chaos.
You'd think, judging from the credits, that it's Natraj who's the hero, and certainly, he performs all that's required of him diligently; dancing, fighting and drawling as much as he can. He doesn't quite have the hang of things, you can see him fumble at times but he has a certain quirkiness in him that saves the day. He's still not star-material, of course.
The real hero is director Singam Puli, who scatters jokes left and right with a deadpan expression and coolly walks away with the honours. He is the reason the movie is even halfway watchable. The rest of the cast is just adequate.
The technical side is the biggest let-down, though. Sabesh-Murali's music is terribly bland, while Jai Shankar's editing is patchy. The lip-sync goes haywire at times, making Ravi Mariya's stilted dialogues in the later half even worse.
For a movie that's allegedly trying to make its way into Hindi as well as Mirchi, Milaga loses much of its heat halfway.
Rediff Rating: