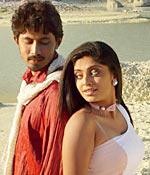 One thing is clear right from the opening credits of Kola Kolaya Mundhirika; director Madhumitha's latest film is modelled after Pink Panther. The animation and Crazy Mohan's dialogues will have you laughing non-stop.

Madhumita's Vallamai Tharayo might have been a dull reworking of Mani Ratnam's Mouna Ragam, but her attempt at comedy sparkles. A zamindar who hides away his diamonds, thieves who're after the gemstones, a couple of murders, a lost heir and the only clues to the treasure being hidden in four antique chairs make for a hilarious film.

Three petty thieves -- Krish (Karthik Kumar) and Veni (Shikha) and her father (M S Bhaskar) -- will do anything, wear any costume and act any part for a quick buck. The secret of the antique chairs falls into their hands, and the two teams, indulging in one-upmanship until then, reluctantly join hands.

From then on, it's a non-stop laughter riot: Krish, Veni, another band of thieves headed by Veerappan (Anandaraj, back after a long time in a rib-tickling role) and inept inspector Mathrubhootham (Jayaram), a tribute to Inspector Jacques Closeau, fall in and out of adventures, hunt clues, disarm each other and run around in circles until you your sides ache from laughing so much. Considering that the story and dialogues are both Crazy Mohan's, that's not surprising; puns corny enough to draw blood are bandied about.

In the midst of it all this is Chair Collector Karan Muthiah (Sarath Kumar, in a guest role), holding a secret that unlocks the mystery.

There's not much reason and rationale, but you don't expect either in a movie like this. The songs are just breaks, evolving a romance angle that works well enough without them.

The cast have all had a ball, and it shows: Karthik Kumar looks a bit gaunt, but manages to retain an air of peppy youthfulness; Shika is a bundle of energy and her dubbing voice (Suchithra) works very well. Jayaram and Anandaraj are a riot, while M S Bhaskar delivers a fun-riddled performance.

The camera-work and editing are neat. The SFX team deserves a special mention for the title credits. The climax, though not eye-popping, is neat as well.

KKM is the perfect summer entertainer; all you have to do is have a blast. Logic and rationale go for a toss, but who cares when everyone's in for a jolly ride.
Rediff Rating: