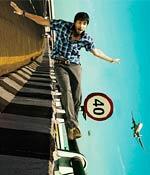 AGS Entertainment's Tamil movie Bale Pandiya directed by Sidharth Chandrasekhar promises to be a riot of comedy and romance.
Piaa Bajpai and Vishnu of Vennila Kabaddi Kuzhu are the lead pair. Music director is Devan Ekambaram and lyrics are by Vaali and Thamarai. Here's a listen at the album.
Sirikkiren Naan Srikkiren begins slowly, in almost anguish-ridden fashion, with peppy beats, rendered by Naresh Iyer, Mano, Shiva Chidhambaram, Dr Burn and Uma Shankar. There's a classical touch which adds some depth to the number. A musical medley, a combination of guitar strings and violins makes a brief appearance, before moving onto the charanam which has a catchy rhythm that's instantly appealing. Post the second interlude, the tune moves here and there without any appreciable method but the madness attracts you, not to mention the almost breathless beats. And when it shifts to the Mama-Maple routine that was so integral to the original film Bale Pandiya, the experience becomes worthwhile.
There's an instrumental version, rendered by Arun Ramamamurthi (violin) and D A Srinivas, which is equally captivating.
Happy begins almost like a homage to the yesteryear hit Happy, with a melodious whistle and finger-snaps. A host of singers that almost takes up the whole of the cd's back cover -- Haricharan, Devan Ekambaram, Naresh Iyer, Naveen Madhav, Paravai Muniyamma, Malayasia Vasudevan, Ranjith, Aalaap Raju, Raqueeb Alam, Anuradha Sriram, Srinivas, Velumurugan, Manikka Vinayagam, Mukesh, Malgudi Shuba, Divya Vijay, Anitha, Suchitra Karthik, Vijay Yesudas and Rahul Nambiar. There're ribald comments about movie-world's actresses, dress codes in colleges, discounts in shops, petrol, diesel woes, even a tongue-in-cheek dig at Satyam's IT woes -- and all at the same pace. The chorus reminds you of a sing-along, sort of like Church musical, especially in the final moments, it's very urban. Definitely a different experience -- pleasant and gentle.
Water flowing gently segues into a flute's notes, providing almost a 40's Hollywood musical feel to Aaraadha Kobamillai, before giving way to an instrumental medley and into what seems like a curious fusion. Raman Mahadevan and Mahalakshmi Iyer's vocals seem to echo to a different era, while the instruments seem a combination of the nineties and eighties style. A sax interlude, accompanied by a flute helps you appreciate the charanam better. The lyrics are no different from the usual romantic number though it doesn't remove the bizarre feeling of having jumped into Ilayaraja's Agni Nakshathiram score. It has its moments, though.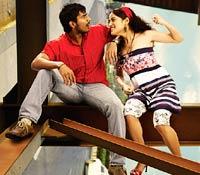 After a few moments of Ivan Thedal, you divine that this profusion of rap from Dr Burn and Arun Ramamurthi is a sort of theme song, especially when the refrain "Bale Pandiya!" rings out. The instrumental medley is an intriguing one, and does grab your attention, especially the veena interlude. It might be interesting to know how this number will be picturized, since the lyrics are a mixture of love, failure, trying to make it to your destination and others.
Unnikrishnan and Mrinalini contribute their considerable vocal charms towards Kangalae Kamalalayam which begins like a bonafide western number, complete with guitars and then switches to classical strains. It sounds rather like an early A R Rahman composition.
A raspy voice asks if the mike is fixed correctly, and then launches straight into a rural  account, which morphs into Bale Pandiya, a mixture of synthesized beats and thaarai thappattai. Velumurugan, Naresh Iyer and Ranjith contribute their vocals while the harmonica makes a bizarre appearance, cowboy fashion. The lyrics are hilarious but the tune is nothing to speak of.
Bale Pandiya might tread the familiar path sometimes, but composer Devan Ekambaram has made a conscious effort to produce a different listening experience and in the end, that makes this album a pleasant listen.
Rediff Rating: