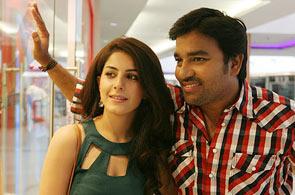 A remake of Superstar Rajnikanth's yesteryear blockbuster by the same name, Thillu Mullu fails to evoke spontaneous laughter and lacks the brilliance and rib-tickling humour of the original, writes S Saraswathi.

Gol Maal directed by Hrishikesh Mukherjee, starring Amol Palekar, released in 1979 and became one of the biggest blockbusters of that time. Rajnikanth's performance in the Tamil remake Thillu Mullu, in 1981, directed by K Balachander, is still considered one of his best performances.

Thillu Mullu was Rajnikanth's first full-length comedy and his adaptation of Amol Palekar's character in his typical Rajini style earned him many accolades.

The latest version of Thillu Mullu is produced by Vendhar Movies and directed by Badri.

Mirchi Shiva of Thamizh Padam fame is in the lead role. The cast also includes Prakashraj, Kovai Sarala, Ilavarasu, Soori and Sathyan. Santhanam plays a cameo in the film.

Though Thillu Mullu 2 has the same basic storyline as the original, the screenplay has been adapted to give a more modern twist to the story.

Pasupathy (Shiva) and his sister are going through a very rough patch and have their hopes pinned on a land dispute case, which if it goes in their favour, will put an end to all their financial troubles.

Unfortunately, they lose the case and Pasupathy is forced to seek employment with Shivagurunathan (Prakash Raj), chairman of a water purification company, who is a devotee of Lord Murugan. To get into his good graces, Pasupathy smears holy ash on his forehead, wears khadi clothes, appears guileless and claims to be very spiritual.

Outside the office, Pasupathy has a completely different persona; he hangs around with a bunch of good-for-nothing friends, is rude, boisterous, drinks a lot and is a huge cricket fan.


Things are smooth for a while until one day Shivagurunathan witnesses Pasupathy's drunken brawl at an after-match party.

Desperate to save his job, Pasupathy creates an imaginary twin brother, Ganguly Kandhan (also Shiva), to whom all the vices are attributed. But one lie leads to another and, struggling to keep up the pretence, he is compelled to invent a mother (Kovai Sarala). To add to all the confusion, Pasupathy as Ganguly falls in love with Shivagurunathan's daughter Janani (Isha Talwar).

That situations such as these have all the right ingredients for a great comic entertainer has already been proved twice in the past. But though Prakashraj and Shiva have tried their best to recreate the old magic, the predicaments and situations in the film seem to be forced and lack the brilliance of the original. Also, all the excitement and fun in the movie is lost because of the slow pace at which the story unfolds.

Thillu Mullu'smusic is jointly composed by the legendary M S Viswanathan, who composed the music for the original Thillu Mullu, and Yuvan Shankar Raja. Two of the original compositions have been retained and are perhaps the highlight of the film.

The song Thillu Mullu with lyrics by Vaali has been given a new twist by Canadian rapper Tha Prophecy. The song has been picturised on both Yuvan and M S Vishwanath, making it more interesting.

Raagangal Pathinaru, another all time favourite too has been retained and is beautifully picturised on the lead pair, Shiva and the slim and svelte Isha.

Though it may seem unfair to compare the two films, it is inevitable. With Shiva playing a dual role and the presence of the very seasoned Prakashraj, you do expect a lot of laughs. And though both have given their best shot with absolutely no support from the rest of the cast, there is still a sense of disappointment and being let down at the end.


Sadly, Mirchi Shiva's Thillu Mullu fails to evoke spontaneous laughter and lacks the rib-tickling humour of the original.

Rediff Rating: