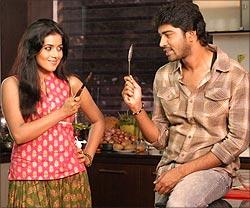 Radhika Rajamani reviews Telugu film Seema Tapakai. Post YOUR reviews here!
Allari Naresh always chooses scripts that entertain. The audience can happily shut themselves away from their real-life hassles and have a roller-coaster ride of emotions and laughter watching Allari's and his antics.
Incidentally his films have something to talk about: A theme/subject relevant to contemporary times, woven seamlessly to induce hilarity much to the audience's delight. Seema Tapakai, his latest release, too falls in the same category -- a story with a message and thoroughly entertains in the first half and adds a tinge of seriousness in the second half.
Director Nageswara Rao has ensured that Naresh's success streak more or less continues with Seema Tapakai and also introduces a new heroine Poorna (a known name in Tamil film industry) in Telugu.
GK (Sayaji Shinde) is a crorepati who wants to amass more wealth. Though he lives well with his family, he is stingy when it comes to parting with money or doing charity. One of his sons Krishna (Naresh) falls in love with Satya (Poorna). Satya is against crorepatis. She is forever mouthing anti-crorepati dialogues and espouses for their wealth to be distributed amongst the poor and the needy.
She teaches slum children and does whatever she can for the betterment of the poor. When Krishna is smitten by her he is forced to act like a poor guy and makes his family to pretend he wants to earn Satya's love.
Now, the crorepati family is made to act like paupers. They wear tattered clothes, sell Mirchi bhajias, bananas, flowers, iron clothes etc., all so that Krishna could earn Satya's affections. Since the family loves Krishna they do it for him at his behest.
 
Later it is revealed that Satya is the daughter of a factionist (Nagineedu) and her uncle Rao Ramesh saves her from being kidnapped. Krishna comes to know this story but hides it from his family. There is enough bloodshed, revenge etc as another factionist Venkatappa (Jayaprakash Reddy) too pitches in.
Will the lovers unite against all the opposition? Well, you got to check that out yourself.
But the first half is a nice laugh riot. It's enjoyable to watch Naresh's antics to woo Satya. At times one feels there's an overdose of the anti-crorepati mouthed by the leading lady. The director ensures that there are no dreary moments in the first half.
The second half does become a bit sentimental and melodramatic, though.
There are quite a few songs -- one of them reminiscent of yesteryear backdrop and costume. The dialogues induce laughs. Of course there's Brahmanandam to add more to it although his role is not properly etched and sounds repetitive. MS Narayana and LB Sriram add their share of comedy.
Naresh can sleepwalk through such roles. He is convincing in whatever he does generally. Here too he's believable as the poor guy despite being the son of a crorepati. Newcomer Poorna is okay. She displays her glamorous side in the songs too. She dances fairly well but it would do her good if she could improve her expressions.
Sayaji Shinde, Sudha, Ravi, MS Narayana, LB Sriram, Nagineedu and Rao Ramesh fit their roles to the tee.
In a nutshell, Seema Tapakai is a time-pass film -- full of Naresh's fare. More so in this heat, one can escape to the cool confines of the theatre and have fun watching it.

Rediff Rating: