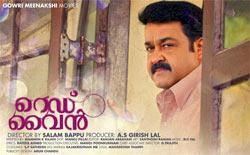 Paresh C Palicha says Red Wine may not be a gripping muder mystery but should be watched for the performances by the lead actors.
The experimentation in Malayalam cinema is on full throttle with new directors bringing in new narrative techniques and telling old stories with new perspectives.
Red Wine, directed by Salam Bappu (who has been assisting Lal Jose for the last decade or so) is one such experiment, with a subject that looks like a pure whodunnit on the surface. But if you dig a little, you understand that this is the story of two characters who are exactly the opposite, with the third character trying to solve the puzzle of their lives.
Anoop C V (Fahadh Faasil) is a theatre enthusiast who sets aside time from his busy schedule to do serious theatre. The night after a performance he is found dead in a lodge room.
In the course of the murder investigation, ACP Ratheesh Vasudevan (Mohanlal), pieces together Anoop's character. It turns out that Anoop was a Leftist comrade with a progressive vision who was working for the betterment of the people around him in Wayand.
As Ratheesh speaks to people connected with Anoop, we get a deeper understanding of what Anoop was all about. He was a qualified engineer, who instead of taking up a lucrative job joined active politics to bring in positive change. He was proficient in English, tech-savvy and could also discuss Michael Jackson and Bob Marley with music crazy youngsters.
Ramesh (Asif Ali) is the third point in this triangle. He is the opposite of Anoop. A two-wheeler salesman who aspires for an upper class life, he is neck deep in debt, with a pregnant wife.
Anoop, Ramesh and Ratheesh spend little time together on screen, yet their lives are entangled with each other in a peculiar way.
The murder mystery is solved very early in the first half if you are attentive enough, and that proves to be a dampener.
It is surprising to see Fahadh in a typical 'good guy' role without any shade of grey or without any complexity, but he excels here too. Asif has to look ambiguous and tense throughout, and he carries it off without much effort. Mohanlal, in the subdued role of an investigating officer is a treat to watch.
Of the supporting cast, Shaiju Kurup as Navas, the ad-filmmaker friend of Anoop, grabs most of the attention as he is the one who strings together Anoop's story for us.
Though Red Wine is not satisfactory as a murder mystery, it is worth watching for its approach and its lead actors.
Rediff Rating: