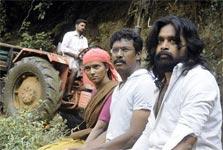 Pavithra Srinivasan feels that Tamil film Poraali works because of its one-liners.
Samuthirakani's
Poraali
traverses a familiar path and though there are plotholes, takes you to the finishing point.
The film is almost like two different films linked by an intermission; so different are the stories and locations occupied by both. First, you have a random scene where two men escape their quarters into the pouring rain and then, it's straight to bustling Chennai, where Ilankumaran and his friend (Allari Naresh) make a swashbuckling entry into Ganja Karuppu's home, and set up camp there.
Much hilarity ensues, as you're shown glimpses of life in middle-class Chennai: a couple permanently squabbles, the house-owner says that he lets his house out only to "families"; a drunk bachelor who awards kisses to everyone he meets.
Ilankumaran gets himself and his friend a job at the Indian Oil bunk and pretty soon, he proves himself adept at dispensing assistance and advice (plenty of the latter), to everyone he meets. He's the good samaritan and could easily have turned out to be a bore but his pithy one-liners and quirky smiles save the proceedings.
As expected, romance makes an appearance in the form of Bharathi (Swathi), a dancer in the movies, who rubs him up the wrong way and then (predictably) realizes his good heart.
But things are not all hunky-dory: Kumaran has a mysterious past, and men are looking for him, with only one motive -- his death. Just when you think that it's your average villain-chasing-hero
story, you're given a twist at intermission which does take you by surprise.
There's a certain magnetism connected to Sasikumar that makes the film work even when he flips his unkempt hair and utters platitudes by the dozen. He isn't saying anything new and yet, his deadpan expression, and sincerity make you believe that he's not just spouting random words, but is speaking from experience.
The lurking humour in his eyes make sure you laugh at the jokes, and he's ably assisted by Ganja Karuppu who has thrown off his lewd tricks and is back in form.
Swathi has improved from her original turn in
Subramaniapuram
, while Nivetha puts in a good performance.
The Chennai neighbourhood and the drunk, in particular, are hilarious; Jayaprakash appears in a brief role and as usual, does well. And Soori (of
Vennila Kabaddi Kuzhu
fame) is fantastic with his comic timing and punches.
The minuses are the jerky pacing. The story meanders in about half a dozen directions before you connect all the threads, and the climax is just a
masala
fest. A bit disappointing, when you consider the hard work invested in the two hours, so far.
Sundar C Babu's music is, frankly, terrible. His background scores shrieks and screams at odd places, and tries to infuse drama where the movie tries to be subtle.
Kathir's camera work makes sure it pushes the story to the forefront; the editing could have been tauter.
The director manages to infuse enough humour and heart into
Poraali
  to make it work.
Rediff Rating
: