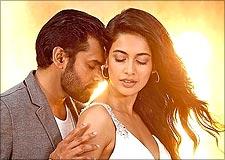 Radhika Rajamani feels Panjaa is let down by a weak script.
There have been umpteen films set against a mafia backdrop and another such attempt calls for new ideas and novelty in presentation. Merely getting new actors and covering up the lack of substance with style, or putting together bits and pieces from other films, is not really going to work.
And it doesn't with Vishnu Vardhan's
Panjaa
. Even the presence of Pawan Kalyan is not of much help as the plot line is so clichéd and pieced together from so many films that one feels one has seen it all before.
The gangsters are Bhagwan (Jackie Shroff) and Kulkarni (Atul Kulkarni), who was originally a part of Bhagwan's gang but broke away to start his own 'empire'.

Kulkarni is unable to make much headway because of Bhagwan's overarching presence and enormous clout. So he waits for his moment. Jai (Pawan Kalyan) is Bhagwan's favourite and carries out all his commandments faithfully. He is indebted to Bhagwan for sheltering him when his mother and sister died in Kolkata.
The simmering gang rivalry has its twists and turns with the presence of Munna (Sesh Adivi), the psycho son of Bhagwan and Guruvaiyya (Tanikella Bharani).
In the midst of all the friction, Jai falls in love with Sandhya (Sarah Jane Dias) who comes to work in the nursery he runs with the help of Chotu (Ali). There's another girl, too, Jahnavi (Anjali Lavania) who is another reason for the discord between Jai and Munna.
Vishnu Vardhan, who makes his debut in Telugu cinema, comes up with a product that is slick and stylish, but the content is sourced from so many films that one feels a sense of
déjà vu
.
Panjaa
also reminds one of Pawan Kalyan's own earlier movie,
Balu
.
The second half of the film lags a bit. There doesn't seem to be much originality in the story telling. The film meanders along with strong doses of violence and then peters out aimlessly.
In fact there is quite a bit of violence in the film--particularly the scenes where Munna is present and the horrifying killing of Jahnavi. The director seems to lose his grip over the narration with the introduction of the Brahmanandam episode which doesn't gel with the story and with the pace of the film. The dialogues, too, are not powerful.
Pawan Kalyan does the action sequences with tremendous ease, but is let down by a weak script in other scenes. His character lacks intensity and he comes through as rather subdued.
The two debutante heroines, Sarah Jane Dias and Anjali Lavania, don't exactly set the screen on fire. They may have the glam factor but both deliver barely satisfactory performances.
Tanikella Bharani is convincing in his role. Jackie Shroff looks jaded but delivers a competent performance as Bhagawan. Atul Kulkarni, unfortunately, doesn't have much of a role although he is a brilliant actor. Sesh Adivi is worth watching for his 'maniacal' performance which is just the opposite of what he did in
Karma
, his directorial and acting debut. For a change, Ali does something different.
Technically, the film is on solid ground. P S Vinod's cinematography is quite good and so is the art direction, where one gets to see quite a bit of Kolkata where the film has been extensively shot.
Yuvan Shankar Raja's music is okay although the songs are not played in full, barring two. Sreekar Prasad does a decent job with the editing.
On the whole,
Panjaa
is nothing extraordinary and even a bit disappointing.
Rediff Rating
: